Aston Martin has one of those cult followings. Whether you fell in love with the sleek lines of its era-defining sports coupés of the 1950s and '60s, or the rumble of its British-built naturally aspirated engines, or even just admired James Bond's latest toy on the silver screen.
Aston is a brand that resonates far beyond the levels of its production, with the power to thrill, entertain and conjure emotion within almost anybody. It doesn't matter if you like motor sport, or even cars, Astons usually found a way to entrance.
So, when the Gaydon marque announced in 2004 that it was planning a full-scale comeback to international sportscar racing, and specifically the holy grail of them all – the Le Mans 24 Hours – it was a pivotal moment for fans. Finally we'd see a full-bore Aston, pushing the limits with equal measures of performance and beauty. Of course, Aston had a glorious history at La Sarthe, winning in 1959 with its beautiful DBR1. Now, over four decades after Carroll Shelby and Roy Salvadori took the chequered flag in France, the brand was back with the aim of refreshing the fading memories of its sporting success.
With prototypes taking over at the front, Aston's most marketable option was a GT1 programme. After all, when you have cars that look this good it makes sense to race them against your big rivals. While the proposed GT1 programme couldn't deliver an overall victory, the engagement of no less a firm than Prodrive to design, build and run the new car at least underlined the seriousness of Aston Martin's intent.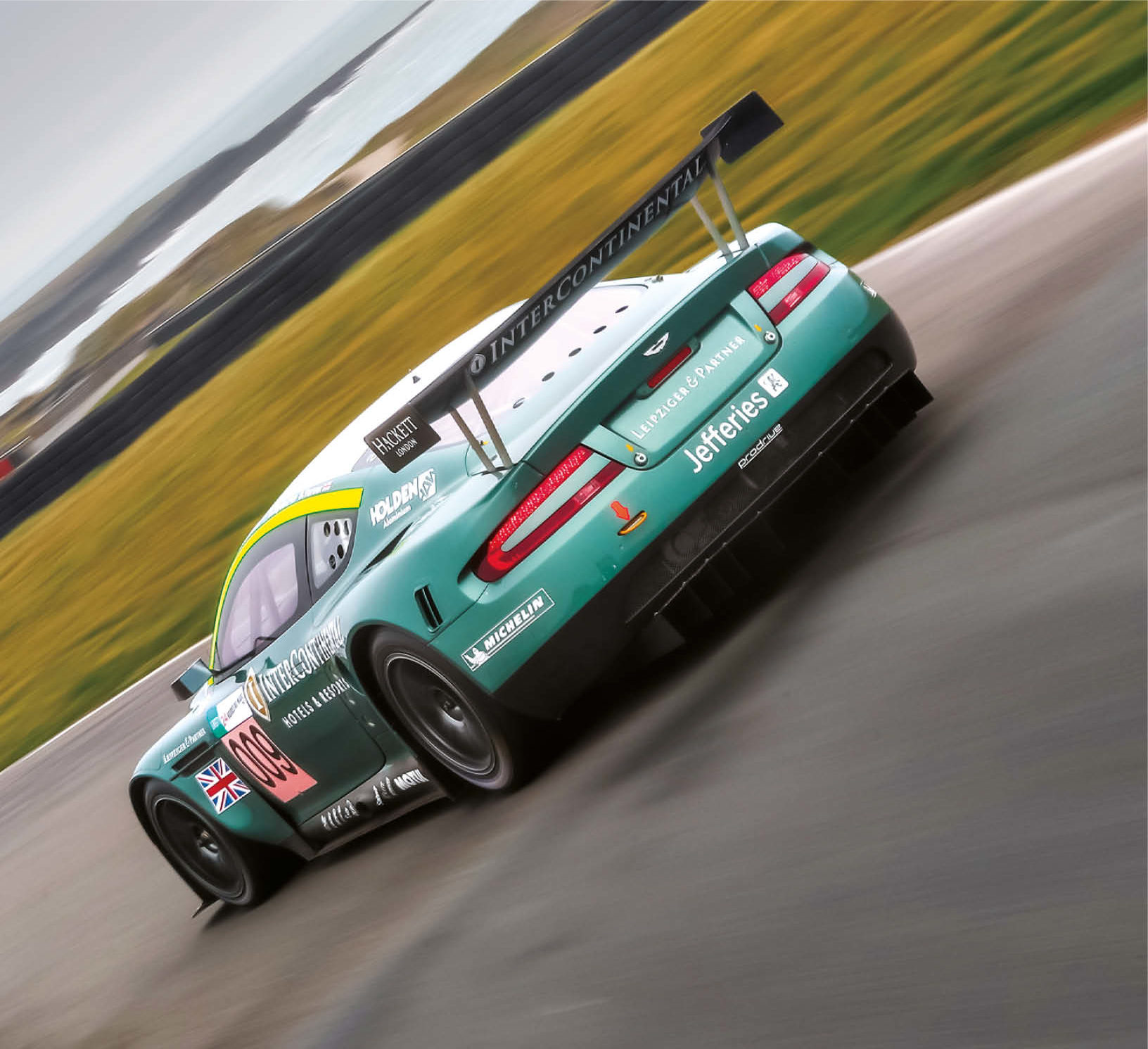 Banbury-based Prodrive had by then already masterminded umpteen touring car, sportscar and World Rally Championship victories on behalf of multiple manufacturers – including Honda, Ford and Subaru – under the leadership of David Richards, and it was working hard on a Formula 1 entry at the time. Crucially, it came to the Aston Martin project fresh from the perfect field test: a privately funded effort to turn Ferrari's 550 Maranello into a Le Mans class winner – a mission it accomplished in 2003.
Richards led a consortium to purchase Aston Martin from Ford in 2007. Armed with sufficient cash courtesy of the new ownership structure (which included Richards) and reinvigorated sales thanks to the ultra-desirable DB9 and V8 Vantage models that led the marque's commercial overhaul, the Prodrive effort became the best funded attempt to return Aston Martin to the top of the podium since the 'project' cars of the early 1960s. This programme needed to deliver.
Based on the elegant DB9, Aston Martin Racing's new GT1 shed around 600kg before hitting the race track. Only the chassis, roof, engine block, cylinder heads and door handles were saved, every other component was completely redesigned and purpose-built for racing. The naturally aspirated, six-litre V12 was shoved as far back from the front axle as possible to improve the centre of gravity and, despite breathing through mandatory restrictors, still produced close to 600bhp, all fed to the rear axle via a six-speed sequential gearbox from Xtrac.
That the car retained its elegance while being plumped and plucked by the engineers at Prodrive is a happy coincidence. Surfaces were aggressively slashed for cooling, smoothed to reduce drag, warped, stretched and flicked to create downforce. And what a very good job they did too, for the DBR9 astonishingly won on its racing debut at the brutal 12 Hours of Sebring in 2005.
"It was Aston's first attempt at Le Mans since the project cars of the 1960s, and it had to deliver"
The traditional opener to the sportscar racing season, the Floridian heat and the violence of the bumpy airfield circuit is renowned for punishing a car more than at Le Mans. That the DBR9 enjoyed success so soon left onlookers in no doubt: here was a car that really could give Aston Martin the contemporary Le Mans triumph it so craved.
Further successes followed throughout 2005 and 2006 in the FIA GT Championship and American Le Mans Series, but victory at La Sarthe evaded the firm. Having snatched defeat from the jaws of victory in 2006, retiring from the lead in the 21st hour with clutch failure, AMR decided to concentrate all of its effort and resource on Le Mans only in 2007, and stood the factory team down from all other races.
That decision seemed to pay off as car 009, driven by Darren Turner, Rickard Rydell and David Brabham, navigated appalling weather and a fierce battle with Corvette to finish fifth overall and win the GT1 division after 24 hours of racing.
Chassis 10 is perhaps unique among the 18 examples built, in that it only contested one race, Le Mans, and won it. Thereafter it was immediately parked and preserved. Until today, as I have the great privilege of conducting a shakedown test after a recent recommissioning by Tim Samways' Sporting & Historic Cars equipe.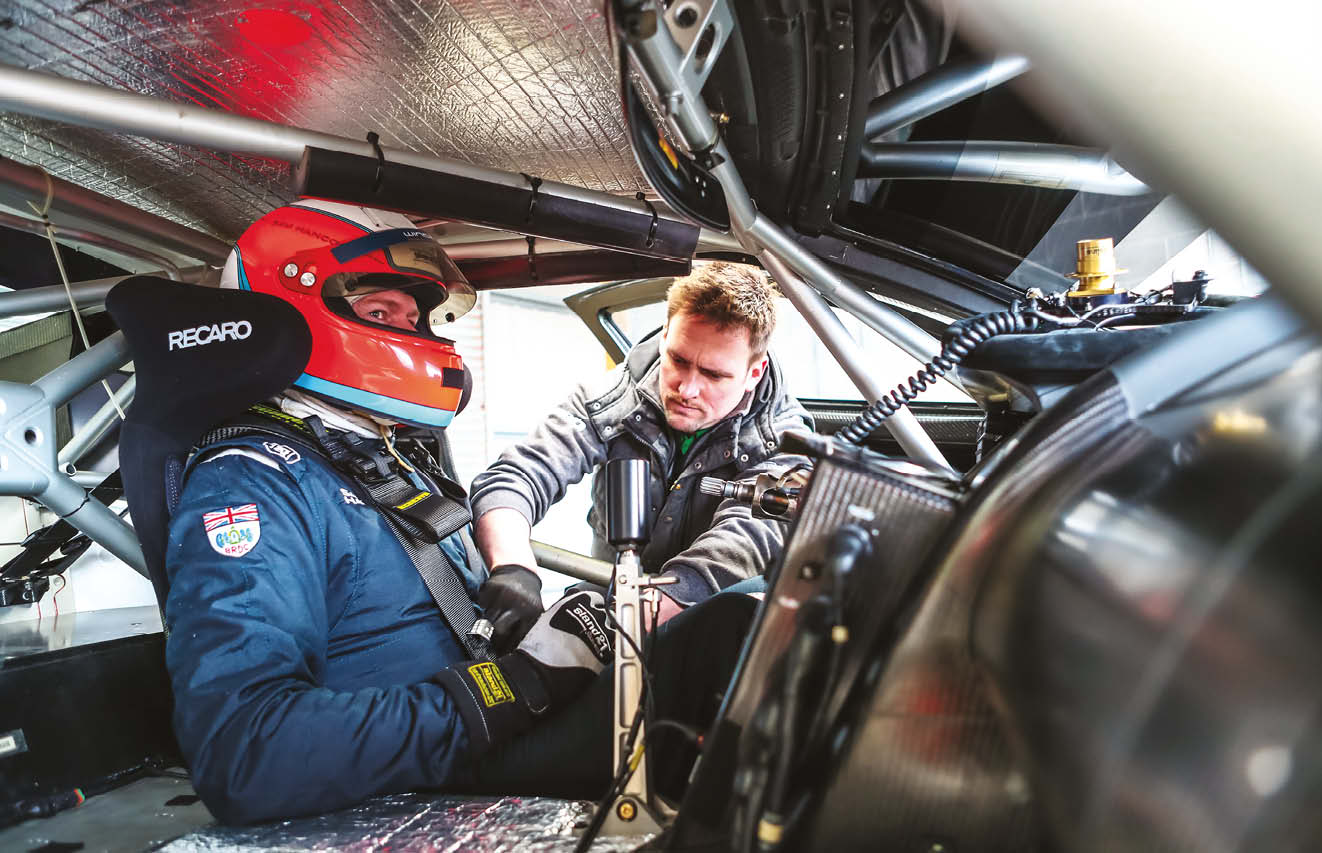 Sadly cleansed long ago of its hard-earned grit and grime, it is nonetheless resplendent in its original Le Mans livery. Still draped in extremely low-drag Le Mans-spec bodywork, chassis 10 sets itself apart from two further examples here today in the most subtle of ways: various cooling ducts are blanked, front-end dive planes are missing, wheel arches are more discreetly sculpted, the rear wing lies a little flatter. I am surprised to learn that the Aston Martin badge on the bonnet is raised from the surface rather than lowered flush within it, after Aston found it to assist the airflow over and around the car. No detail too small…
The interior is pleasingly peppered with mementoes of that great June day: the original scrutineering stickers are unmolested, the driver identification and radio sockets each retain labels of the victorious pilots and, my favourite: a printed map of the Circuit de La Sarthe resides, beautifully faded, on the dashboard beneath transparent tape – each corner numbered to assist the team with its radio messages.
There is no 'sliding' into the cockpit of a DBR9. Ingress – and particularly egress – requires a yogic dexterity I must have mislaid in my 20s! Once in however, it's a remarkably cosy environment. Cocooned by an abundance of carbon-fibre, steel, and aluminium heat shield there's no sense of having to reach out for anything. Like a stay in the finest hotel, everything is brought to you exactly where you want it, when you want it.
The suede Momo steering wheel juts forth from the dashboard, deep toward my chest. The sturdy gear lever stands tall and proud, tilting ever so slightly left to save me the onerous effort of moving my right hand a further centimetre from the wheel in order to use it. The crude switch panel, looking painfully dated, dazzles with fluorescent highlights and indecipherable labels.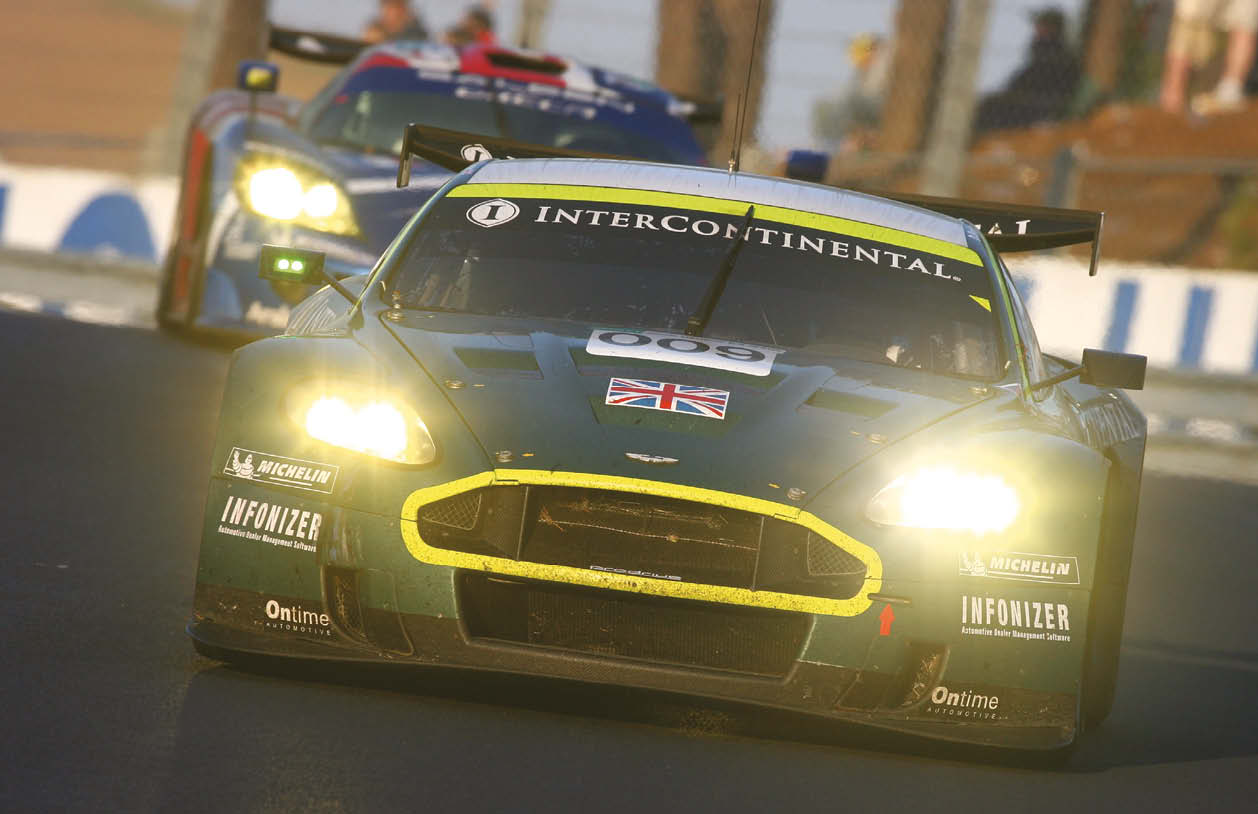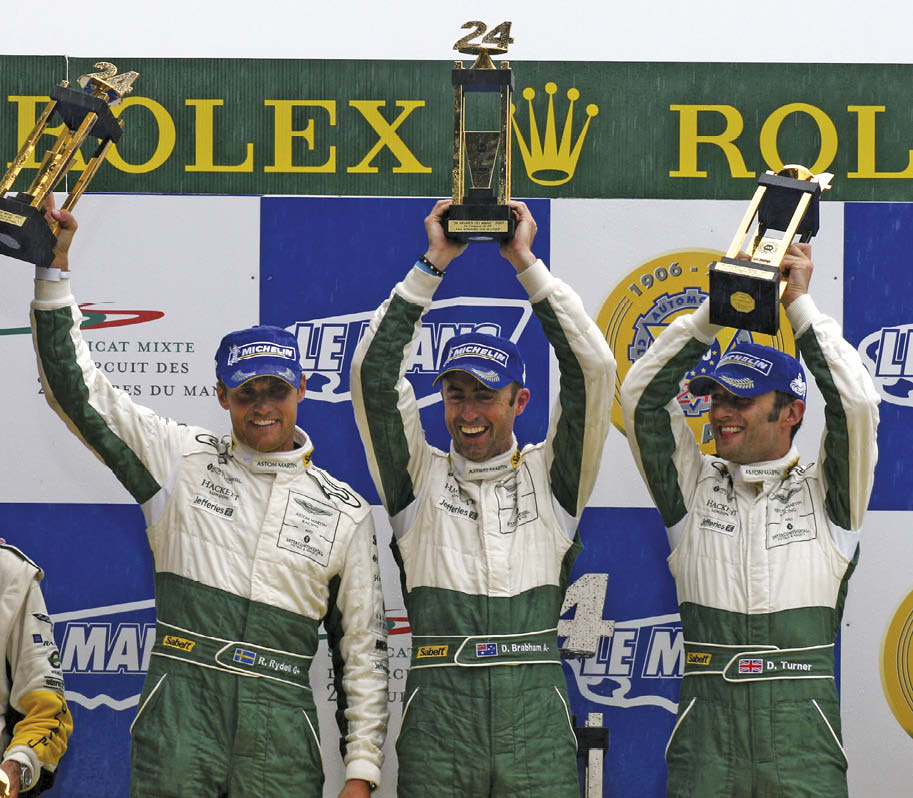 The pedals feel close, but comfortable, thanks to the uninhibited space above my high-rising knees. Only the intrusive girth of the roll cage as it flanks the A-pillars troubles me, so selfish is its consumption of my field of vision. The view through the windscreen is, by default, halved in depth thanks to the enormous sun strip that steals over half its surface area. It would be of concern if I didn't have prior experience of modern GT cars. I'm sat so far back that I can only liken it to driving from the back seat of your road car. I can't say I have any real idea where the extensive bonnet ends, or quite where the front wheels lie, but I'm sure I'll work it out.
A flick of the ignition, press of the starter button and the isolated peace that surrounds the remote Anglesey Circuit is shattered in an instant. The front-mounted, 6-litre V12 roars into life and doesn't so much shout, as scream. Ear plugs are mandatory. So light is the flywheel that the revs obey my right foot with the precision of a concert orchestra. There is no lag.
The friendly clutch is remarkably progressive for a 'serious' race car and, having selected first gear with a rearward pull on the enormous gear lever, I drive away with surprising ease – no doubt a deliberate design consideration by Prodrive to minimise risk of time-consuming stalls.
My out-lap is a mess. The pre-heated slicks hit every apex, yet the cold carbon brakes are numb and their response is lacklustre. So sensitive is the throttle that my little 'blips' on downshift light up the dash like a Christmas tree. The gear shift mechanisms – calibrated only for flat-out driving – are unimpressed by my early prudence and reshuffle cogs stubbornly. I need to recalibrate my inputs entirely – and with residual temperatures conspicuously bleeding from the tyres, I need to do it quickly.
"The 6-litre V12 doesn't so much shout, it screams. Earplugs are mandatory"
At the end of the long 'not-quite' straight, I bury the firm centre pedal from high speed with as much force as my right foot can muster. The car responds accommodatingly with a sharp improvement in retardation as pad warms to disc. Two or three applications later and the vigorous deceleration demands I brake later. Much later.
I can feel the DBR9 positively begging to be released. I oblige and allow the coastal scenery to blur. The V12 sings in appreciation. Not the prettiest sound, it is in fact somewhat harsh. Tight. But the ferocity with which it is delivered is utterly intoxicating.
At full speed, and now with a little temperature, everything suddenly just works. Upshifting is fast and effortless – with no need for the clutch, or even a lift of the throttle, thanks to the momentary electronic cut triggered by my pull on the gear lever. And with less time to rattle the sequential gearbox down to its shorter ratios, my previously over-enthusiastic heel-and-toe inputs find balance with just the faintest pivot of my right foot. De-clutching on downshift is theoretically optional but it feels smoother to use it, especially to engage the lower gears.
Dart-like and nimble, the Le Mans victor feels alive. Torque delivery is smooth and versatile, the V12 still pulling easily out of the tight hairpins when I experiment with second instead of first. Hell, even third isn't too bad! These can't be Le Mans ratios…
In the tighter contortions of the Anglesey circuit, the DBR9 belies its 1100kg weight, feeling lithe and capable in quick direction changes. The balance is outstanding with an abundance of mechanical grip.
Attacking the fast right hander that leads onto the back straight, however, chassis 10 suddenly feels a little light on its heels through the entry. I soon learn to peel pressure from my trail braking earlier than I would like in order to keep the car a little flatter. It forces me to brake earlier, but I make up for it somewhat by getting on the power sooner, helping further re-engage rear tyre with track.
This pitch sensitivity at high speed is, I suspect, an unavoidable compromise of the low drag, Le Mans-spec, bodywork – and I doth my cap to the boys who had to navigate the blisteringly fast Porsche curves 343 times in appalling conditions.
Interestingly, when hammering the brakes from full speed in the heavily curved braking zone at the end of the not-quite straight, the whole car feels absolutely bolted, teasing me to brake later with every passing lap. Reminiscent of the tricky entry to Mulsanne corner at Le Mans, I expect this was a welcome handling trait.
"The balance is outstanding with an abundance of mechanical grip"
After a few runs, I feel dialled in, the speed of my inputs having now caught up with the natural pace of the car. Confident, and more at ease, I stumble upon a level of performance that I could easily have missed had I not been afforded so much track time.
This hidden window appears after a few laps of what already feels like 'maximum-attack'. The now hot tyres and brakes seem to trip into their peak operating zones and suddenly I'm teleported to a discreet new realm. The braking response is immense, the sense of retardation almost double. Arriving faster at the corners, I now feel too quick as the mass of the car finally becomes apparent – and yet the car still sticks. The lateral load and sense of roll you feel through your body, combined with the huge steering input (dampened by the effective power steering) feel utterly incompatible, like I am surely going to spin. But I don't, the grip is there throughout, and I just scythed through the apex five, 10, 15 kilometres per hour faster than before. Later, on new Michelins, this is amplified and now some of the braking zones become too short for the quantity of required downshifts. The limitations of a sequential gearbox exposed, I find myself yearning for paddles or an old school H-pattern such that I might loop a gear or two.
At this level the car is a colossus, bordering on prototype levels of performance. And yet it's so drivable. Not nervous and, in these cool temperatures, not particularly physical. All of which will be of great comfort to the more gentlemanly drivers who own and campaign these cars today in 'not-so historic' racing.
In my seven appearances at Le Mans between 2003-2012, I raced in all the classes except GT1. I now know what I missed.