Road car buying guide: Mercedes-Benz 300 SL
As dramatic as it was daring, and perhaps America's finest automotive import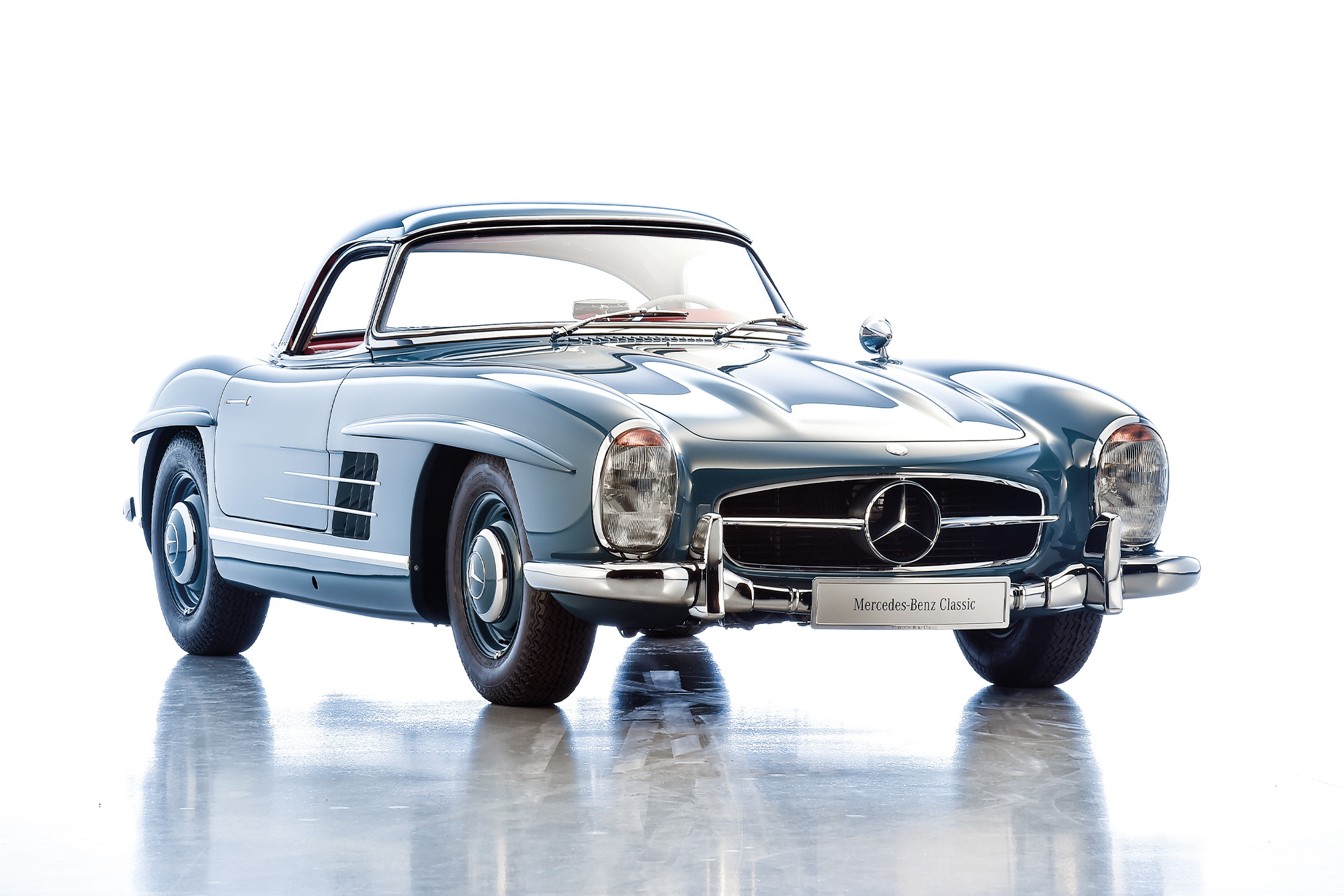 Max Hoffman managed to create a rather rare platform in automotive history: an independent car dealer who can claim to have led the development strategy of an automotive giant.
Being Austrian-born and Jewish, Hoffman had fled his homeland during World War II to seek domicile in New York, before going on to become a leading luxury car importer. Brands such as Alfa Romeo, BMW and Porsche did their Stateside dealings through Hoffman.
It's a self-made success story, but perhaps Hoffman's star achievement came in a Stuttgart boardroom in 1953, when he suggested Mercedes should cash in on European racing success and the strong post-war US economy.
The Mercedes W194 racer had swept the board at Le Mans, the Nürburgring, the Carrera Panamericana and had only just missed out on victory in the 1952 Mille Miglia. Hoffman boldly wagered that if Mercedes built a road-going version of the W194, then he could sell them to Americans craving high-performance machines during an economic boom.
Mercedes needed convincing, so Hoffman put his money where his mouth was, personally placing an order for an initial batch of 1000 cars. Mercedes' finest then began work on what would become the legendary 300 SL.
Mercedes started from a proven base by utilising Rudolf Uhlenhaut's ultra-lightweight tubular steel spaceframe racing chassis from the W194. The entire frame weighed only 82kg before it was mounted onto a steel base platform from the W184 saloon. It had a sleek sheet-steel body, complete with a bonnet, boot
lid, sill and doors made of light aluminium.
This design led to one of the all-time great design features, even if it was a compromise. The steel chassis and high tubing frame combination gave the SL a very high sill line, ruling out standard doors. Mercedes was forced to carry the vertically opening gull- wing doors across from the racing concept, to ensure customers could get in and out.
The W194's 3-litre engine had a makeover. It was Mercedes' largest capacity unit at the time, but it never reached its potential in the race car. Producing 175bhp, Mercedes went a step further for the road offering by re-engineering a Bosch mechanical direct fuel injection system, previously used on Messerschmitt fighter planes to help the 300 SL reach 240bhp.
In keeping with the initial order, Mercedes shunned the conventional motor shows in Europe and instead unveiled the 300 SL at the International Motor Show in New York in February 1954, intending to deliver directly to the American market first.
People were stunned by the swept-back, aerodynamic shape. It was also the fastest production car in the world at the time thanks to a claimed 163mph top speed.
True to Hoffman's claims, the 300 SL orders filled up so quickly that by the end of 1955, the 1000 units had sold out. When coupé orders slowed in 1956, Mercedes re-engineered the platform to create a roadster with normal doors. Mercedes reckons around 80 per cent of all SL models were sold into America, and just over 2600 300 SLs are said to still exist.
We have Hoffman to thank, and he didn't stop there. Following the 300 SL, he went to Porsche and convinced it to tone down its race-bred 356 into the lovely 356 Speedster. He then coerced BMW into building the beautiful 507 Roadster, even if that project fell rather flat when only 252 were made, due to the car's high cost and low sales. Yet it hardly puts a dent in Hoffman's legacy as one of the car industry's all-time great salesmen and innovators.
---
Mercedes 300 SL Gullwing
Price new 29,000DM
Price now £800,000-£1.1m
Engine 2996cc M198 straight six with Bosch direct fuel injection, dry sump oil system and water cooling
Power 240bhp l 0-62mph 7.7sec
Top speed 163mph
Rivals Jaguar XK120C, Chevrolet Corvette, BMW 507
Verdict The first true racer for the road
---
Market view
Why now is the time to buy a Merc 300 SL
With its iconic doors, the 300 SL Gullwing stands out as one of the most beautifully designed cars in Mercedes-Benz history, and prices show that the market agrees. Over the past five years, values achieved at UK auctions have held consistently strong, consistently selling in the £840,000 – £940,000 range, and resisting the tailing off that other marques have suffered since 2017.
The 300 SL Roadster followed a pattern which is true of the wider market, rising from 2014 through to a peak in 2017 before softening slightly and reverting to 2014 levels.
Sales in 2014 were around £600,000-650,000, climbing to £850,000-1,000,000 in 2017 with the most recent sale in July 2019 achieving just under £600,000.
International sales show a similar pattern in relation to the pricing difference between the two models. Since 2019, Gullwing sales have averaged $1.1m in America (£890,000) and €1.1m (£960,000) in Europe while Roadsters have averaged $925,000 (£745,000) and €925,000 (£810,000).
With Roadster prices softer in the UK compared to the international market, we would target a Roadster at 2014 prices of £600,000-650,000.
Robert Johnson,
Classic and Sports Finance
Target deal
300 SL Coupé £800,000 – £1.1m Roadster £600,000 – £650,000