2021 Porsche 911 GT3 review: Downforce majeure
Lighter, more accurate and with improved aerodynamics, the 911 GT3 is fast in, fast out, fast everywhere, says Andrew Frankel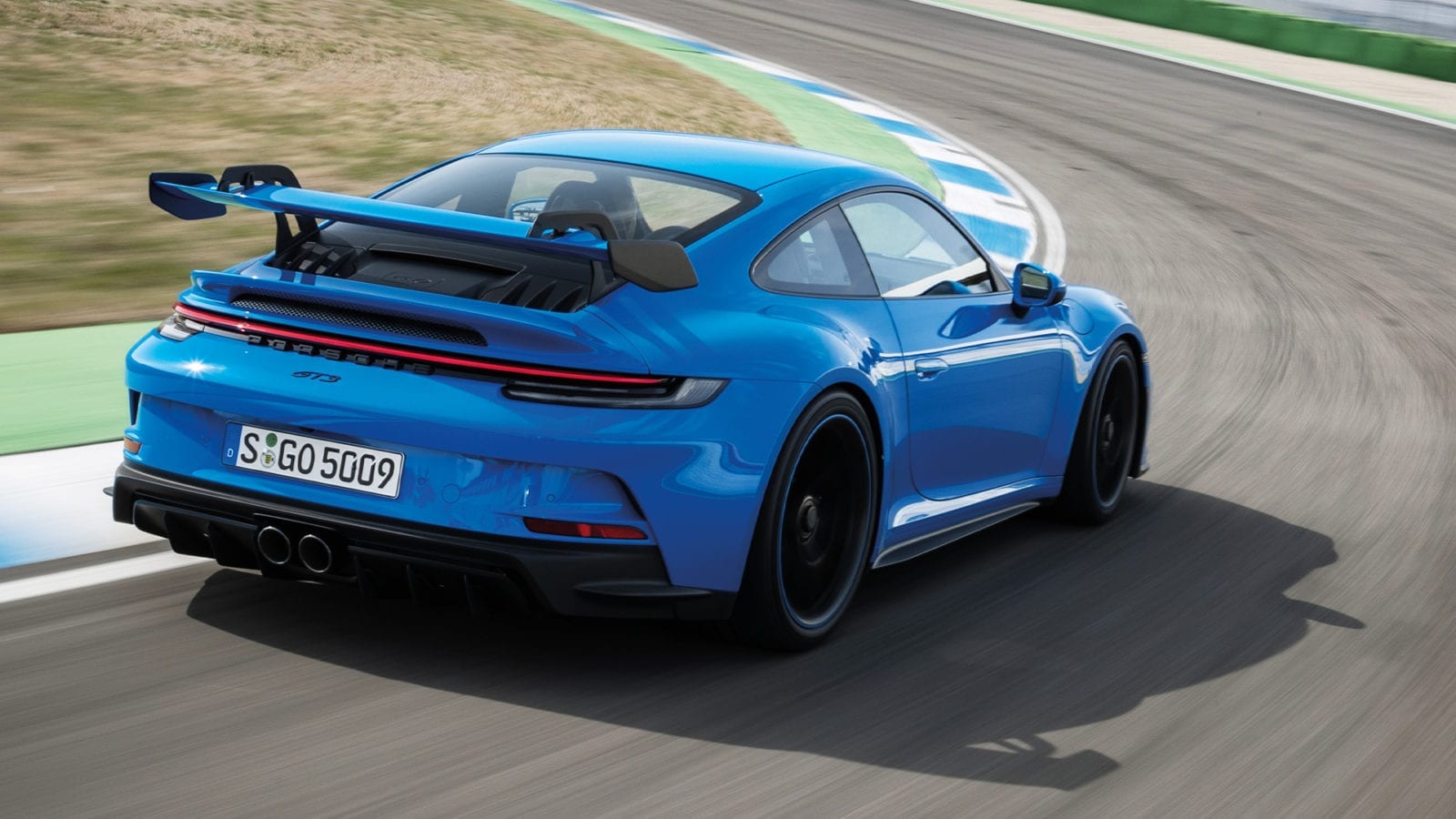 It will not have escaped your attention that fast car manufacturers are engaged in a seemingly endless, futile and entirely counterproductive power struggle. Porsche is as guilty as anyone, but not its Motorsport department, responsible for its GT series cars. The engineers who work there beg to differ.
Which is why this new 911 GT3 has a grand total of 10bhp more than the last, not enough to shave so much as a tenth off its 0-60mph time. Then again, if what you want is a normally aspirated engine producing around 500bhp from a 4-litre capacity, that's the price you pay. The reward is a motor that is internally identical to that in the Carrera Cup racing car, revs to 9000bhp and makes a noise of which a modern V8 Ferrari or McLaren could only dream.
Instead Porsche has chosen to make the GT3 not only faster – think 18 seconds around the Nürburgring faster – but better to drive fast too. There is the usual obsessive attention to weight loss. The additional mass of the 992 series bodyshell and its GT3-specific aero addenda are almost completely offset by weight saved in the exhaust, battery, bonnet, glass, rear deck, engine mounts, engine internals, wheels and sound deadening material.
"Porsche decided to make this GT3 not just faster round a track, but more sporting on the road, too"
That wing package comes with adjustable rear spoiler with swan neck mounts to free the flow of air under the wing and an adjustable front diffuser. The driver can also alter the toe, camber, ride height and anti-roll bar settings.
The biggest change is the one you can't see, unless you remove a wheel. Behind its 408mm disc you'll find the first double wishbone suspension system to be fitted to a street 911. Only the RSR Le Mans car is similarly equipped.
Fully rose-jointed, it removes not only what little slack existed in the previous MacPherson strut system but probably the last mechanical link back to the 1963 original if, of course, you except the flat-six motor in its boot.
There's not much else to discuss in the powertrain and nothing whatever that will surprise an existing GT3 owner. The engine is the same extraordinary howling, wailing orgy of mechanical ecstasy it was in the last car, the PDK gearbox remains as good an example of a double clutch system as you'll find, and six manual gears remain a no cost option.
The chassis, however, is very different indeed. Porsche has decided to make this GT3 not just faster around a track, but more sporting in feel on the road, too. Its front spring rate has near enough doubled, meaning some of the compliance of the old system has been lost. I certainly wouldn't want its B-road ride to be any firmer and I hope that when the wingless, road-oriented Touring arrives towards the end of the year it will have less challenging settings.
But take it to a track, as Porsche insists the majority of GT3 drivers will, and it's obvious from the out lap why it's been set up this way.
The first thing you notice is front-end grip no GT3 on standard Michelin Cup 2 tyres has ever had. It's quite unlike a 911 in this regard, where the nose has always needed quite careful management to get it turned in. Not any more: this one has a voracious appetite for an apex. Once you've got over the surprise, the GT3 feels more neutral, fluent, accurate and much faster. The entire car feels better balanced and more like the mid-engined machine it clearly isn't.
The old 'slow in, fast out' 911 adage can now be modified to 'fast in, fast out, fast everywhere'.
And this is almost exclusively good news, not least because the improvements in the GT3's suspension are matched by an aero package that is most definitely not there for the sake of appearances. With the rear wing at its steepest angle it produces 385kg of downforce, which I'd say is close to optimal for this kind of car. Any less and it would not feel so settled and confidence-inspiring in quick curves, any more and it would require stiffer springs to support the body, compromising low-speed grip on track and the firm ride quality on the road.
If all this new-found ability has a downside, it is that the car is more serious and less playful than before. Of course you can still break the back loose and vaporise the Michelins in a series of extravagant drifts, but this is a car whose natural inclination to slide has been reined in at both ends: less understeer on the way into a corner, less oversteer on the way out. Clearly it's the quicker way to go. But more fun? That depends on how you choose to drive such cars, and the truth is that despite what we see on television, even GT3 drivers don't tend to spend their time in a state of perpetual opposite lock nirvana. It's not easy, you look foolish if you get it wrong and it can be expensive, too.
This, then, is so much more than the next GT3 down the line. Porsche has decided to do this one quite differently, and while some will welcome its ability on track, my advice to those planning on using a GT3 as a regular road machine is to satisfy yourself that its ride and refinement remain within acceptable bounds. But if you're going anywhere near a track in one, prepare to be shocked by its abilities.
In this regard it's now not so far away from the previous GT3 RS, which can mean only one thing: the GT3 RS we'll see next year will have to be mad to maintain the gap. I can't wait.
---
2021 Porsche 911 GT3 statistics
Price £127,820
Engine 4 litres, 6 cylinders
Power 503bhp
Weight 1435kg
Torque 479lb ft
Power to weight 351bhp per tonne
Transmission Seven-speed double clutch, rear-wheel drive
0-62mph 3.4sec
Top speed 198mph
Economy 21.7mpg
CO2 293g/km
Verdict Whether used on the track or as a daily car, you will be satisfied.