Lunch with... Patrick Head
Aged 12 he shared a whisky with Mike Hawthorn and in 2012 he is leaving Formula 1. In between there is a career of outstanding achievement
Part one, before the goldrush
Some big names in Formula 1 can be unrewarding to interview. For understandable reasons, they are guarded in the presence of a journalist, and swathe what they do say in the bubble-wrap of polite PR-speak. Patrick Head, in this as in many other ways, is different. An honourable and entirely honest man, he always says exactly what he thinks. Moreover, he positively enjoys sharing the multifarious experiences – the humour and fun, as well as the sweat and tears – of a hugely rich and successful F1 career that has only now, after nearly 40 years, come to a close.
Not that he's retiring: as a forward-thinking engineer, he is merely changing tack. Since 2004 he has delegated the day-to-day role of technical director at Williams Grand Prix and been engineering director. Henceforth, after 35 seasons as Frank's partner at the top of the Williams F1 effort, he will be devoting his energies to WHP – Williams Hybrid Power. It seems a good moment to ask him to lunch. We meet at the Bluebird on King's Road, in the building where Sir Malcolm Campbell once housed his record-breakers. He orders the yellow-fin tuna starter, then appropriately no-nonsense fish and chips and a glass of Pinot Grigio.
Patrick was introduced to motor sport at an early age. His father, Brigadier General Michael Head, was military attaché to Sweden in the early 1950s. "He bought an ali-bodied XK120 and used it for ice races. Then he got a C-type, and won a lot of local races in Sweden and Finland." For the 1955 Swedish Grand Prix at Kristianstad he hired a D-type from his friend Duncan Hamilton and finished sixth, behind the Mercedes 300SLRs of Fangio and Moss and Castellotti's Ferrari. Posted back to England, he was a government advisor on military affairs. "Each evening he'd come home from the War Office and go into the garage to work on his Cooper-Jaguar. My mother and sister and I would watch him racing at Goodwood and Silverstone, happy family weekends with a big picnic hamper, stopping on the way home with the other drivers at a good pub. The racing was quite serious, but the rest of it was very social. Maybe in hillclimbing there's still some of that left today.
"We lived between Woking and Byfleet, and my parents used to throw good parties. They had one at the end of 1958, when I was 12, and lots of motor-racing people were there, but I was upstairs in bed with 'flu. Mike Hawthorn, who'd just returned from the Moroccan Grand Prix as world champion, came up to commiserate, bringing a very large whisky and soda. He sat on my bed and chatted while I consumed most of the whisky. He admired the balsa kit of a de Havilland Chipmunk I was making, and told me he had a real Chipmunk. He said when I was better he'd take me up in it. A few weeks later he was killed, so I never got my ride.
"I don't think I had any aspirations to be a racing driver: I was always keen on the engineering side. At Wellington I started building a hillclimb car in the school metalwork shops, but it never got completed. It had a Norton engine which I was going to supercharge, using contained oxygen from pressurised cylinders in the cockpit. I'm not sure I'd done all the numbers correctly, and it would probably have barely lasted for one 30-second climb."
By a circuitous route he went to Birmingham University to study engineering. "Another of the students was a lad with a heavily modified Singer Chamois called Andy Dawson, who was well on the way to becoming a serious rally driver. I went to watch him on a rally in Wales, and he came through at the halfway stage absolutely livid because his co-driver was car-sick. When he saw me he chucked him out and shoved me in the left-hand seat for the second half. I'd never done a rally, I couldn't read a map, and I found myself in this little sick-streaked car at dead of night, sideways on tiny narrow roads at up to 100mph. It was a massive shock, and it gave me a sort of terrified enjoyment. I'd say, 'I don't know where we are,' and Andy, without lifting his right foot, would be steering with one hand and jabbing at the map and saying, 'Look, we're there.'
"He entered us for a daytime special stage rally two weeks later. He'd been at a party all night, and hadn't been to bed. He climbed into the back of the Chamois and went to sleep while I drove to the first stage. Then he got in the driver's seat and off we went. We won the event easily. He was a seriously good driver. Later he got interested in engineering, but if he'd focused solely on the driving he'd have been one of the best rally drivers in the world.
"At Birmingham I also spent weekends with Broadspeed, helping out John Fitzpatrick and John Handley at the tracks. But I failed my first year's exams, and ended up completing my degree at University College London. I spent one summer at Harry Weslake's place in Rye. They were doing the V12 F1 engine for Eagle, with Dan Gurney popping in and out. I also raced a bit myself, sharing a U2 with Mark Sharpley. He was quicker than I was, so I did most of the work and he did most of the driving.
"When my degree course was finished in 1970 I decided I'd like to work for Lola, because they were building more racing cars than anybody. Eric Broadley interviewed me for all of five minutes, wasn't very enthusiastic, but he said, 'The only way we'll find out if you're any good is if you start on Monday. At the end of the week if you're no good we'll tell you to go away.' So I went, and I stayed. Eric's a lovely man, and for me it was a wonderful education. I was put in the design office, and John Barnard was working there. I was paid £18 a week. In those days you could live on that.
"For the 1971 Can-Am series Carl Haas signed Jackie Stewart, and Eric came up with the fairly radical T260. It had inboard front brakes, which were the new thing then – the Lotus 72 had them in 1970, and there had been questions about brake shaft breakage being part of Jochen Rindt's accident. Stewart came up to Lola for his seat fitting, long hair, black corduroy cap, and knew exactly what he wanted, down to the last detail: he brought up a Tyrrell-made wooden gear knob for us to fit, and a piece of black corduroy like his hat which he wanted made into a pad on the steering wheel boss. He looked over the car, then went into Eric's office. When he came out there were lots of long faces, because the car had to go to the first round in four days, and Jackie had said point-blank he wouldn't drive it with inboard front brakes.
"So overnight I drew new front uprights, brake caliper mountings and steering arms, and they were made next day. Three days later, with new front bodywork for bigger wheels to clear the brakes, it was ready to go to Canada. Eric went to most of the rounds himself, and on Mondays as soon as he got back I'd have to draw new wishbones and modifications to the pick-up points. In Eric's mind every problem could be solved by changes to suspension geometry." With Stewart's ability in the cockpit the car ended up racing well: against the near-invincible McLarens of Peter Revson and Denny Hulme, it won two rounds of that year's Can-Am and led three more, finishing third in the series.
"I'd always had entrepreneurial leanings, and while Lola were supplying shoals of SuperVee chassis, mostly for the American market, nobody seemed to be producing any engines. So I decided to set up an engine company in a shed in St Ives where Geoff Richardson Engines was based. One of Geoff's customers was Richard Scott, who was doing F2 with a Brabham BT38. Mike Cane, who looked after Richard, persuaded him that I should do him a new car for 1973. They shared a railway arch in Battersea with Guy Edwards, and I went down there with the idea that I'd design the Scott F2 over the winter, then go back to Geoff's place and start making some money selling SuperVee engines. A few weeks later I had a phone call from Geoff saying his shed had burned down, and my two prototype FSV engines had ended up as modern art, melted into a big flat alloy biscuit with conrods and other steel bits sticking out. That was the end of my plan to run an engine company.
"The Scott turned out quite well. Testing it at Goodwood Ron Dennis was there with the Rondel Racing F2 team, very smart with a big transporter, and we turned up like amateurs with an old trailer behind a Transit van. But Richard set competitive times." In its fourth race, in the wet at the Nürburgring, he came through from near the back of the grid to a fine seventh. But then the budget ran out, although the Scott later scored a couple of wins in Formula Atlantic guise. It still exists.
"I was now building myself a schooner in the Surrey Docks, plus I worked for Ron Tauranac, who was doing the 1974 F1 Trojan, based on his F5000 car. Tim Schenken was a perfectly good driver, but the car was undeveloped, and its whole budget for an F1 season was £60,000, including buying the engines, all the travel and hotels, everything. It was pretty primitive, but all part of a very important learning experience for me. At Lola I'd been used to drawing everything, then it was made outside. Ron was much more hands-on. He was a fantastic practical engineer, a man of unbelievable tenacity. I'd look at something and think, no, that's not going to work. But if Ron had an idea he would just be determined to force it to work. He taught me about the blood, sweat and tears of engineering: a lot of it doesn't just fall into place, you must battle it through.
"I was now based in a Clapham railway arch with a great character called Ronnie Grant. He raced in SuperVee and I built his engines. He was known as the racing taxi driver, although he was much more than that – he had a fleet of 20 black cabs driven by characters with names like Coldhands and Lefty. One day Ronnie said, 'Oi, Patrick, some bloke called Williams wants you to ring him.' I called the number. 'This is Frank Williams. I want to meet you. I'll see you at the Carlton Tower off Sloane Street.'
By now, with building my boat, I was very short of funds. My transport was a Renault 4 van, which had cost me £40. It was brush-painted bright green and smelt awful. I drove it up to the Carlton Tower wearing jeans and an old sweater reeking of resorcinol resin, the glue you use building wooden boats. There was Frank in his Dougie Hayward suit looking very smart, and he did a bit of a double-take when he saw me.
"It turned out that at some dinner Frank said he was struggling to find an engineer, and Guy Edwards mentioned I'd done some work on Guy's F5000 car which had worked out OK. So I was hired: Chief Designer, Frank Williams (Racing Cars) Ltd, on a salary of £100 a week. Just days after I started, working in a Portakabin behind Frank's place in Bennet Road, Reading, I got hauled into the front office. There was Frank and another guy he introduced as Harvey Postlethwaite. Frank explained he'd just sold his company to an Austro-Canadian millionaire called Walter Wolf. The deal involved the remains of the Hesketh team, which meant Harvey and the Hesketh 308C. Frank told me I could stay on, working under Harvey, or take a pay-off of £500 and go. Since I was utterly broke, I took the former.
"Harvey gave me a lecture on what a great car the 308C was, way ahead of the F1 field. In fact it was a complete shitbox. At Hesketh during 1975 Harvey thought the 308 was wonderful and James Hunt was an average driver. Come 1976, when James started winning for McLaren and went on to be world champion, it became clear that it was the other way around. Harvey was a lovely character, but at that time I don't think he fully understood the things that make a quick car – although later on he certainly did.
"At Wolf the 308C was rechristened the FW05, but it was still dreadful." The team's lead driver, Jacky Ickx, failed to qualify four times, and all season they never scored a point. "The monocoque wasn't stiff enough, and we embarked on a massive stiffening programme, but the real problem was it had a very narrow track, the idea being that the small frontal area would make it quick down the straights. But the turbulence from the wheels massively corrupted the airflow over the rear wing, so it had no downforce. But, again, it was all wonderful experience for me, because poor Harvey was taking all the brickbats, and I kept my head below the parapet and started to understand how not to set about F1.
"Early in 1977 I was down in Kyalami with Jody Scheckter testing what became the WR1, which was a very much better car. I had a phone call from Frank. 'I've left Walter. I'm starting a new thing. Come and join me. We're buying a March, we've got Patrick Neve to drive it, he's bringing £100,000, I've pulled together another £100,000.'" Frank had got some of that from the Saudia airline, which was the beginning of a crucial relationship for the new team.
"So I joined the newly named Frank Williams Grand Prix Engineering. In F1 in those days you were allowed to run one car, and you didn't have to do all the races. So we missed Monaco because we knew we wouldn't qualify, and the races in Japan and South America because we couldn't afford them. Max Mosley had sold us the March as a 1976 car, but we found orange paint underneath – it was a Brambilla car from 1975. Max must have laughed his head off about that. It was time to do our own car, so in September I stopped going to the races and started designing."
Part two, Williams hits its stride
In the winter of 1977 Patrick Head was working on his first Formula 1 car which, following the sequence of Frank Williams' earlier efforts, would be called the FW06. "The Lotus 78 had won five GPs in '77, and obviously there was something very special about it. Mario Andretti and Colin Chapman put out some flak saying the secret of the car's speed was in a high-tech differential, but it had these sidepods and not very efficient plastic skirts. I didn't really understand what it was doing or why it was so good, so in the FW06 I tried to design a simple, light, well-balanced car. And then Frank persuaded Alan Jones to join us.
"Alan was already a Grand Prix winner, and his arrival made us say, We'd better shape up here. It wasn't as if we weren't already working hard, but it gave us a focus that maybe we hadn't had before. You've got to remember that Frank's reputation from his early efforts in Formula 1 was not great. He was known as 'Wanker' Williams, and everybody thought his cars were just there to fill up the grid. It was a shock to the whole pitlane when suddenly Frank's cars were something to be reckoned with.
"Alan turned in some great drives in the 06, and we should have won two or three Grands Prix. But we had a lot to learn about reliability. He finally got Williams' first podium with second place at Watkins Glen. Alan liked the 06, felt he could throw it around. But while he was getting it to all angles in corners, he said Mario and Ronnie in the Lotuses would be just as quick apparently steering with one hand.
"Neil Oatley joined us that year more or less straight out of college, so now we had two in the design office, and a lad called Ross Brawn was in the machine shop. We bought a second-hand 4ft by 5ft wind tunnel which would take a quarter-scale model. Towards the end of 1978, when we were designing the 07, Frank Dernie joined. The biggest thing he did, which he did very well, was the system which allowed the skirts to stay on the ground whatever the loading.
"Frank had now got more sponsorship from Saudi Arabia, and for 1979 we moved up to a two-car team with Clay Regazzoni joining Alan. After Long Beach – where Alan finished on the podium in the 06 – we tested the 07 at Ontario Motor Speedway. Alan went round the twisty infield section, did four laps, came in, switched off and said, 'Bloody hell. Now I understand what Andretti and Peterson have had. This car has so much grip I can't slide it.' By the end of the test he was sliding the car, of course, but he'd had to step up to a new level. He said the grip was mind-blowing.
"We had more reliability issues in the 07's first races, and at Dijon we weren't desperately competitive. Alan only finished fourth. The next race was Silverstone. The aluminium undersides on the 07 didn't fit up close to the engine, and there was a lot of aerodynamic leakage. So we did new panels shaped to seal right up to the engine, and at the Silverstone test Alan's times literally jumped 1sec. In qualifying the other quick boys were doing 1:13s. Then Alan went out. Bang! 1min 11.8sec. His, and our, first pole. Standing there with my clipboard, I could feel the effect on the pitlane. All heads turned towards our pit, and suddenly Wanker Williams was the man everybody was looking to. It was stunning.
"Come the race Alan quickly built up a 20-second lead. But to fit those new aluminium panels tight to the engine we'd had to modify the water pump, and just after half-distance a weld cracked. Water leaked out and a piston seized. But Regazzoni was there in the second car to take Williams' first victory. Then Alan won the next three races on the trot – Hockenheim, Zeltweg, Zandvoort – and Montreal too. If we'd got our act together a bit earlier, we'd have won the 1979 championship.
"Alan was the greatest fun, a terrific driver, and a right scallywag in many ways. Clay was a fantastic bloke to have in the team: humorous, well-rounded, easy-going out of the car but a passionate racer. He'd generally qualify about one second behind Alan, then by the time you were 10 laps into the race and he'd be about 15 seconds behind him, he'd start to go just as quickly as, or even quicker than, Alan.
"For 1980 I told Frank we'd never be able to maintain the advantage we'd had in 1979. It was a hard decision, but we agreed to replace Clay because his slower qualifying would put him in the middle of the grid. After one or two incidents at Lotus Carlos Reutemann was looking for a move, so he agreed to drive alongside Alan for '80 and '81. His contract stated that if our cars were lying first and second with Carlos in front, he had to give way to Alan."
Williams won the 1980 drivers' and constructors' titles with the FW07B, and started 1981 with a Jones-Reutemann 1-2 at Long Beach for the FW07C. Then in the wet at Rio, with Reutemann leading, Jones a close second and nobody else within half a lap, eight laps before the end Reutemann was told to let Jones by. Reutemann ignored the signal and duly won the race, leaving Jones extremely aggrieved and the relationship between the two drivers permanently damaged.
"As a team, our view has always been that if our two drivers don't get on it's a problem for them, not for us. We never allowed ourselves to get sucked into separate debriefs and that sort of thing. It probably became worse in the days of Piquet and Mansell: still common debriefs, but no doubt each would get in a huddle with his race engineer afterwards."
During 1981 the Williams duo split the victories between them, but at the final race in Las Vegas Alan could no longer win the title, while Carlos was leading Brabham's Nelson Piquet by a single point. Jones won the race – his last for Williams. Reutemann, having taken pole position, drove a lacklustre race into eighth. "From pole, Carlos came round at the end of the first lap already down in fifth place. And he went on going backwards. Piquet drove past him, finished fifth and won the drivers' championship by one point. After the race Carlos didn't really talk to any of us. He was such a private person that you never really knew what he was thinking. He just left the track and flew back to Argentina. Apparently he said to his engineer that the gearchange was notchy. Carlos was an artist and to give his best everything had to be exactly right. We took the box apart when we got home, the dogs were perfect and we couldn't see anything wrong. Frank's view was, Let him cool down, leave him alone over the winter.
"Alan had told us at Monza that he intended to retire, and it didn't leave much time to find a replacement. In November I wanted to start evaluating the FW08 and we didn't have a test driver. Somebody said, 'Why not give Keke Rosberg a run?' Keke had been struggling manfully with the uncompetitive Fittipaldi that year. So we sent him down to Ricard to do the test, and at the end of the first day Charlie Crichton-Stuart was on the phone to Frank and Frank Dernie was on the phone to me, both saying, 'We've got to give this guy serious consideration, he's dynamite.' Frank rang Carlos, now our No 1 driver, and said, 'What do you think? And Carlos said, 'I don't know, Frank: the Gucci briefcase, the Rolex, the hand-made shoes, the gold bracelet, I'm not sure he's serious.'"
But Frank signed him, and in the first Grand Prix of 1982 at Kyalami Rosberg out-qualified Reutemann. In round 2, in Rio, Keke qualified third and finished second (although he and winner Nelson Piquet were later disqualified for being underweight) while Carlos qualified sixth and retired after colliding with Lauda's McLaren and then, a lap later, Arnoux's Renault. A week later he announced his retirement. "Maggie [Thatcher] had taken us off to the Falklands, and he was an Argentinian driving for a very British team, and he said to Frank, 'This is getting too complicated.' Carlos was a very articulate, intelligent man – he has gone on to a significant political career in Argentina – and he had a phenomenal memory. He could recall every gear ratio he'd run at every track, even every engine number. Remember, drivers in those days tended to be in their mid-30s rather than their mid-20s as now. Being 10 years older they were perhaps more sophisticated human beings.
"Meanwhile Harvey had gone to Maranello and led the design team on what was perhaps his best-ever car, the honeycomb turbo Ferrari 126C2. A seriously advanced car and very effective. Either Gilles Villeneuve or Didier Pironi should have won the championship, but sadly Villeneuve died at Zolder and Pironi crashed at Hockenheim. Meanwhile Keke, up against the turbo Ferraris, Renaults and Brabhams, was amazing. He'd stub out his cigarette with his racing boot and say, 'OK, let's do it.' He'd go out there and be absolutely on the ragged edge, all the time. His victory at Dijon, from eighth on the grid, was incredible, and with five other podiums he won the drivers' championship.
"Renault and Ferrari, having spent vast sums of money on developing their V6 turbos, were not very impressed at being beaten by a £7500 off-the-shelf normally-aspirated V8. It was difficult for them to develop fully competitive ground-effect cars. They were able to influence FIA president Jean-Marie Balestre, and by 1982 Brabham had joined the turbo brigade with the BMW, so they now had Bernie on-side. The best way to shaft the Cosworth cars, which could maintain more speed through corners, was to ban ground effects. So in 1983 we were hanging on with our fingertips against the turbos with the flat-bottomed FW08C.
"A week before the first race, Brazil, Keke and Frank Dernie went out to Rio for a test. On the Sunday evening Keke called me and said, 'Patrick, listen to these numbers.' He read out a list of lap times on full tanks and on half tanks. Brabham were now doing refuelling stops, and Keke said: 'We have to have refuelling by next weekend.' So that Sunday night I drew up a list of what we would need. I decided one of those big aluminium beer barrels could do it, pressurised with air. By Monday afternoon we had the beer barrel with a two-inch Avery Hardoll aircraft refuelling connector welded on the top, a bag tank with a separate breather, and a new catch on the top of the tank with welded-on fittings. We tried it out on a spare chassis and it all worked fine. So the kit went on the Tuesday night plane to Rio.
"Brilliantly, Keke qualified on pole ahead of all the turbos – the next normally aspirated car was Lauda's McLaren, ninth – and he and then Piquet in the Brabham-BMW led the race until Keke came in for his refuelling stop on lap 28. On went the beer barrel, but because the aluminium panel had distorted the bolts had come loose, and a little fuel leaked out. When the fuel hose came off, the hot gases from the exhaust ignited the splashed fuel. It went whoompf, Keke's head was enveloped in flames, and the whole of the cockpit was orange with fire. Keke came out of the cockpit like a jack-in-the-box and ran to the back of the pit. He'd decided the race was over. With a CO2 extinguisher we put the fire out, I had a look around and saw that the fuel in the tank was untouched. So I ran to the back of the garage and shouted, 'Keke, it's all fine, the fire is out, the car is OK, get back in and go!' By this time he had his helmet off, and he said, 'I am not getting back in that car. I have burned my moose-tash.' I shouted as loudly as only I can, 'Keke, get back in the f***ing car!' Totally intimidated, he got back in and off he went. He rejoined in ninth place, and it took him 24 laps, driving his heart out, to get back up to second place. That's where he finished, 21sec behind Piquet. But we'd had to push-start him to get him back out of the pits, so after all that he was disqualified.
"Three races later we were at Monaco. The track was wet. Keke had qualified fifth, with turbo Renaults and Ferraris ahead of him, so we knew we had to take a gamble. We sent him out on the warm-up lap on slicks, so he could see how it felt, and back on the grid he said, 'It's not great, but not as bad as I'd expected.' He took the lead from Prost's Renault on lap two and led to the end.
"By now Jacques Laffite was Keke's no2. A lovely man, and if the car was good he was a very quick driver. But if it was a pig he wouldn't really push it, whereas Keke drove whatever we gave him just as hard as he bloody well could, whether it was a dog or not. We had the Honda turbo now, and at first it was absolutely terrifying to drive because of the dreadful throttle response: no power when it was off boost, and then suddenly it would all happen. Keke's win on the Dallas street circuit in 1984 was pretty amazing.
"We decided we wouldn't continue with Jacques for 1985, and our thoughts turned to Nigel Mansell. Mansell had been quick in '84 with the 95T Lotus-Renault, and he'd led Monaco until he slid off. That was when Peter Warr made his much-quoted remark, 'That man will never win a Grand Prix as long as I've got a hole in my arse.' So Frank was reluctant to sign him. I said, 'Frank, we need someone with turbo experience. Just get him on board.' So he did. A lot of people said we were mad and it was a crazy decision. Keke was very against Nigel to begin with, but steadily over time he grew to respect him, although I wouldn't say they were ever bosom pals.
"During the summer Keke told Frank he was moving to McLaren for 1986, so in August Frank signed Nelson Piquet. Nelson was a double world champion, we'd be going into the new season with Nelson as the lead driver and Nigel very much as the no2. Nothing was specified to that effect in the contract, but I don't think Nelson had ever worried much about contracts. Then in October Nigel won back-to-back races at Brands Hatch and Kyalami, so suddenly he was a winner. We went into 1986 with the Honda-powered FW11 – and on March 8 Frank broke his neck."
Returning from a pre-season test at Paul Ricard to Nice airport, Frank's Ford Sierra hire car went off the road. He was very gravely injured: his passenger, team member Peter Windsor, was unhurt. "Frank was in hospital, to all intents and purposes as close to death as you could imagine, and I was suddenly faced with running the team. Two weeks later we were at the first round in Brazil, which Nelson won. I decided that the spare car would alternate between Nelson and Nigel, and Nelson said: 'I was told I was the no1 driver, I would always get the spare set up for me.' But that wasn't in the contract. Then we had Nelson going to the London hospital where Frank was lying more or less unconscious and trying to talk to him: 'Frank, remember what you said when we signed the contract?' It was a complicated time.
Frank had always been a strong, bouncy presence, lots of energy, passion, determination, and very disciplined. I think he'd say himself that he left the main operational decisions to me, because by that time he was very involved in the financial and sponsorship side. But he loved the racing, he always wanted to be there. And he was a good race engineer: he didn't know much about car set-up, never really knew what an anti roll bar did, but he was always absolutely on the ball about having the right amount of fuel in the car at the right time, knew just when it was going to spot with rain, always got the car on the track at precisely the right moment.
"Sheridan Thynne dealt with the sponsors now, but we were well into bed with Honda by that time, and I think I went to Japan 15 times that year. Clearly the FW11 was good, and we won the constructors' championship again by a big margin. But by letting Nelson and Nigel take points from each other we lost the drivers' championship to Alain Prost. We weren't really helped by Goodyear. We'd had some tyre failures, and we told them the tyres weren't up to it. They said, 'We haven't had this trouble with the other teams.' We pointed out that we probably had more power and more downforce than the others, so we were the first to come up against the limit of the tyres. Anyway, in the final round in Australia Nigel had that famous tyre failure. After Nigel's shunt Nelson was leading, on course for the title, but on the pit wall I had to make the decision to bring him in for fresh tyres. So Prost won and was champion. To Nelson's great credit, he never said, then or later, that my calling him in lost him the title. He was very much a team player. Nelson was a great character with a great big personality, a fantastic bloke. But not a good enemy to have, as I think Ayrton discovered."
Part three, brilliance before the slide
In 1987 Nigel Mansell's FW11B won six Grands Prix, Nelson Piquet's three. But Mansell's practice shunt at Suzuka, which injured his back, handed the title to Piquet. Then the Honda engine went to McLaren, and Williams used the Judd V8 for a season until the Renault V10 arrived for 1989. By now Mansell had gone to Ferrari, and Thierry Boutsen had joined Riccardo Patrese in the team. But Mansell was back for 1991. There were some great battles with Ayrton Senna's McLaren-Honda, and then in 1992 the wondrous FW14B took 10 victories, six of them one-twos, and the drivers' and constructors' titles. Beside Mansell the quiet, courteous Patrese is often forgotten, but Patrick Head has high praise for him.
"Riccardo was very serious opposition for Nigel in 1991. It went a bit wrong for him when we did the active-ride conversion of the FW14, because in its cruder early stages it would go into a corner, develop roll, and then correct itself. While it was rolling it would momentarily lose aerodynamic downforce and slide, and when it corrected the grip would come back – although later it became more sophisticated as we were able to put predictive feed-forward into it. Once Nigel realised that the grip would be there he could drive through that, whereas Riccardo always liked to feel instant feedback, so it suited him less well. But Riccardo was a seriously fast driver.
"As for Nigel, he was certainly high-maintenance, but bloody quick. Bloody quick all the time. Remember how it was for Graham Hill when Jim Clark came along? Clark was an artist at the wheel, so Graham somehow picked up this media reputation that he made up for being less talented with determination and hard work. Actually, look at his record – five Monacos, Indianapolis, Le Mans – and you realise that Graham was very talented. Nigel was given the Graham Hill mantle of the gritty grafter who didn't have the skill and artistry of Senna or Prost, overcoming it through sheer determination. I don't think that was fair. I would put him right in the same class as Prost. Whenever Nigel was out there, he was on it in the biggest possible way, dry or wet. He didn't have the joie-de-vivre and humorous personality of Nelson, but when he turned up everybody sort of snapped to it, because they felt: This guy is going to be pushing the boundaries, and we've got to do our job well. People made fun of his moustache and his Brummie accent, but he won 29 Grands Prix for us. I agree in '92 he had the best car, but he did a brilliant job with it. And only nine of the 29 were with the 14B. I won't accept anybody saying Nigel was anything but top, top drawer."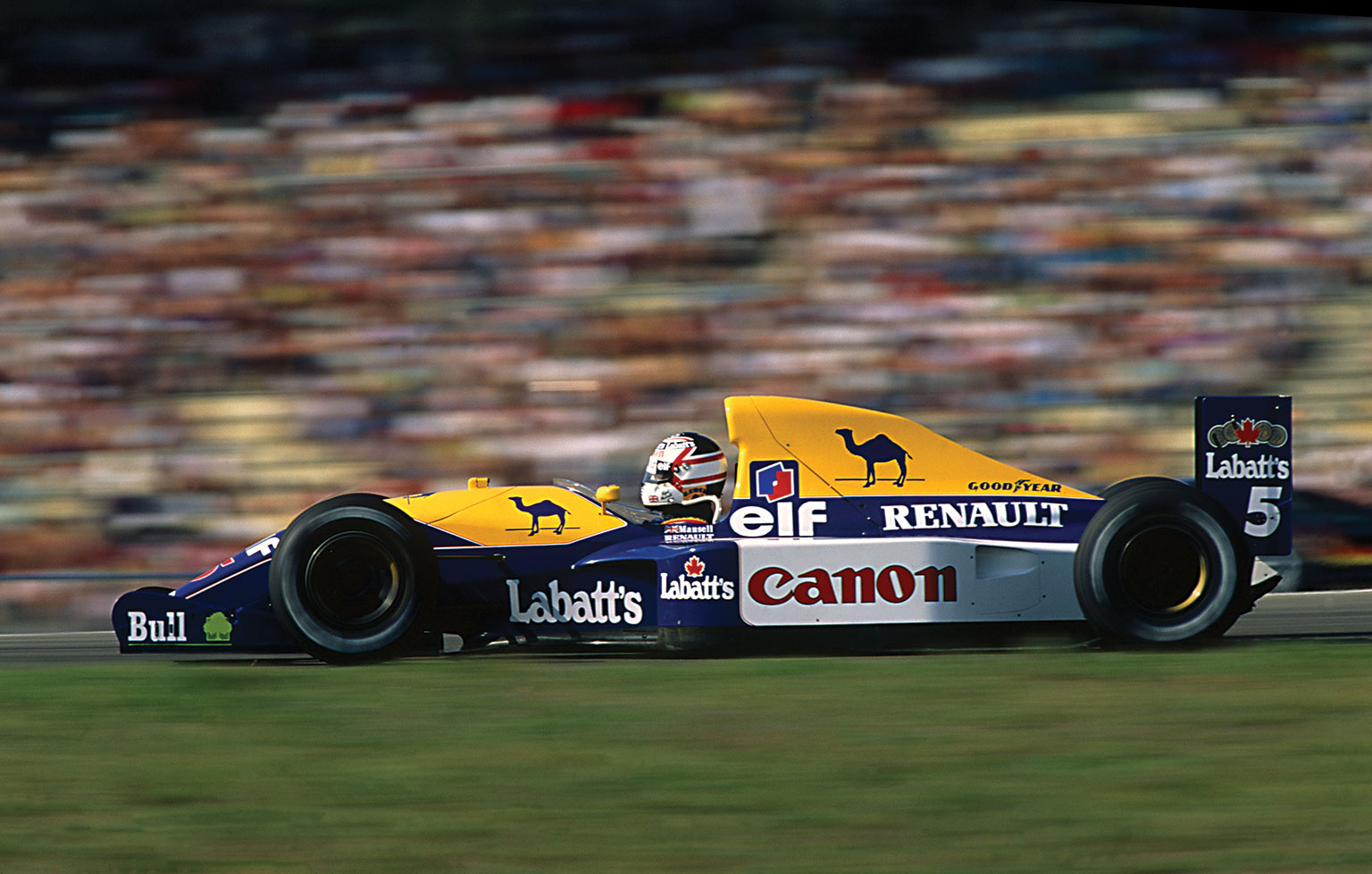 Mansell had already clinched the 1992 drivers' title when, on the morning of the Italian GP at Monza, he called an impromptu press conference and announced that he was retiring from F1. In a quote that made headlines in the tabloids, he said: "To say that I have been badly treated [by Williams] is, I think, a gross understatement." Twenty years later, Patrick's dispassionate memory of the events that led up to Mansell's departure is somewhat different.
"The manner of Nigel's leaving was a shame. Back in April he'd told us he wanted to talk about 1993, get his deal done. Frank came up to an early Silverstone test, and all I can tell you is a deal was done. I was there. Frank shook hands with Nigel; I shook hands with Nigel. The terms of that agreement were sent to the Isle of Man, and three weeks later they had not been returned. Frank spoke to Nigel's accountant, who said, 'Nigel has reconsidered, and he thinks he's worth more money.' Frank felt that was out of order, because we'd done a very significant financial deal, with a big increase on what he'd been paid the previous year. Frank has always been a man who believes a deal is a deal.
"In Hungary in August, we reluctantly improved the deal to considerably more than what we'd agreed at Silverstone. At Monza four weeks later Frank was not told that Nigel had called a press conference, and didn't know that Nigel was already talking to Carl Haas about an Indycar deal. Frank would have preferred Nigel to have been a man of his word. I don't think Nigel was dishonest: I just think he was very badly advised by his management. I still get on very well with him – and of course he drove for us again, two years later, did four Grands Prix in 1994, and won in Australia."
Without Mansell, and with Alain Prost, the drivers' and constructors' titles were won again in 1993, with Damon Hill scoring three of the wins. Then Prost retired, and for 1994 Ayrton Senna arrived. But on May 1 came Senna's fatal crash at Imola.
"Imola was a dreadful weekend altogether. Following Ayrton's death, quite rightly the Italian authorities wanted an investigation. To start with they were prosecuting everybody – the race organisers, the circuit owners, the tyre manufacturers, and of course us – but eventually the other prosecutions were dropped, leaving us. The whole thing went on for years. We were able to show that the steering column had been intact up to the accident and that it was broken in the impact, but in the end their verdict was that something, they couldn't say what, must have broken on the car and that as the senior person involved in the design of the car I had to bear the responsibility for that." By the time the court reached that verdict in 2007, 13 years had passed, and no further action was taken. "Ayrton's death was a dreadful and much regretted tragedy, and in its way the most significant event in my entire career."
In the aftermath of the Imola tragedy Damon Hill found himself, still in only his second full season of F1, leading a top team.
"Damon had travelled a long, hard road to get to F1. By the time he joined us he was already 32. In his battles with Schumacher I always remember Suzuka 1994. It was very wet, the race was red-flagged and after the restart Damon had to turn round a seven-second deficit to Michael. The Williams didn't have any real advantage over the Benetton – a bit more horsepower, which in the wet didn't mean much, and the same tyres. For 37 laps he was right on the limit in really dreadful conditions, and he beat Schumacher in the end by 3.4sec. It was maybe his finest race.
"In 1995 our car was better than the Benetton-Renault, not by a mega margin but certainly a few tenths a lap. But Benetton were streets ahead of us in strategy. In a two-stop race we'd rather dully run three equal fuel loads, but they'd do a short fill on their first stop to get Michael ahead of Damon, so in the second stint Damon would not only find Michael ahead of him but also running a lighter car. Damon's head would go down and he'd lose a few more seconds. Then Michael's second stop would be slower and heavier, but by then he'd have broken the back of the race. So the fact that we got well beaten in 1995 wasn't all down to Damon. But over that winter he sat down and decided: I'm going to win the championship next year. There'd been all this talk that Schumacher was incredibly fit, so Damon got himself super-fit and he came back for the 1996 season not feeling inferior to anybody. That was a very large part of it." Hill won eight races, Jacques Villeneuve four, and once again Williams were double title winners.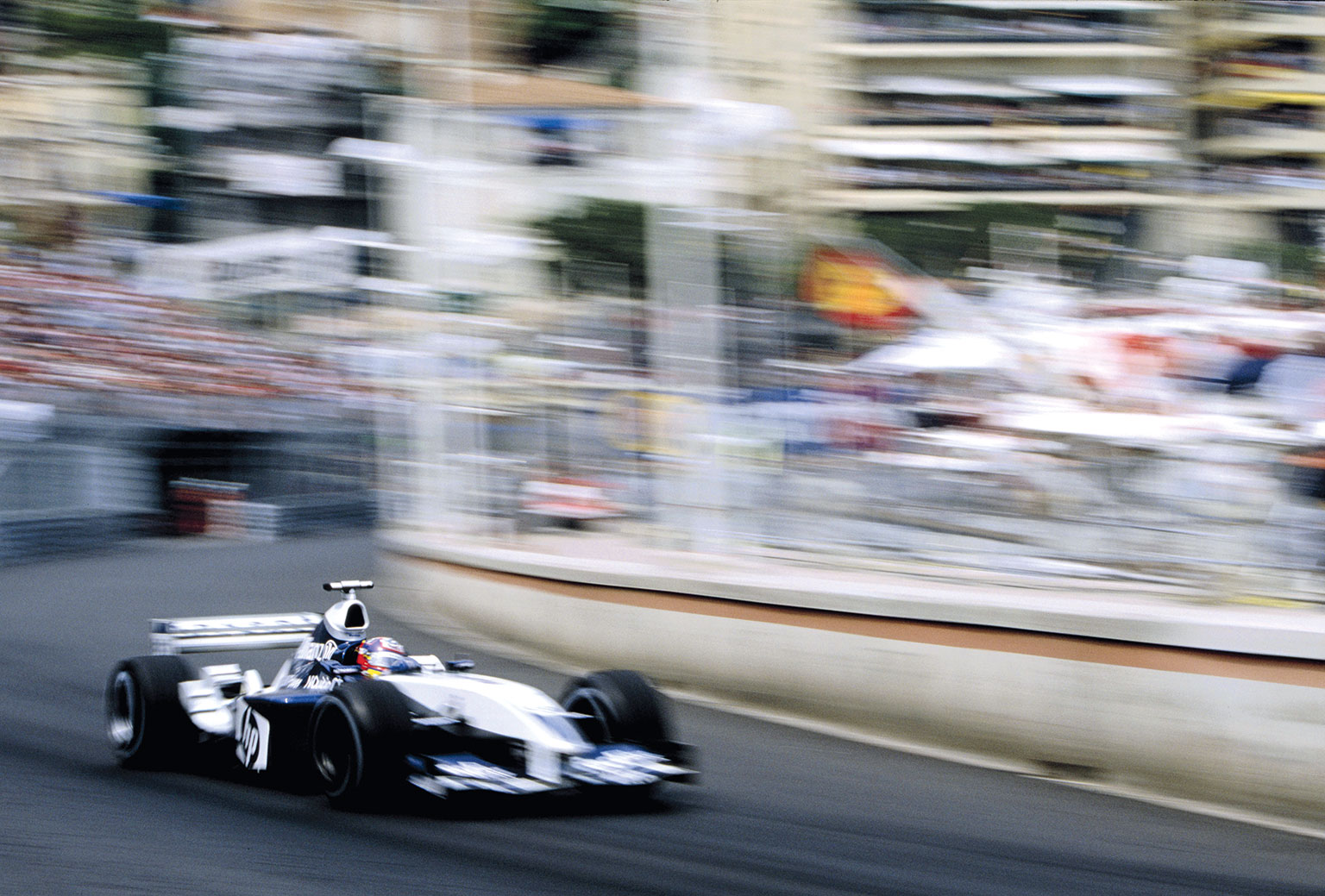 In 1997 Villeneuve won Williams' seventh drivers' championship, and Williams its ninth constructors' championship. "Jacques' coming to Williams in 1996 was our decision, but very much pushed by Bernie Ecclestone. Bernie thought, rightly, that Jacques was a colourful character who would be great for F1. We gave him 22 test days before the start of his first season, and the way he competed with Damon right from the start was impressive. He was always outspoken, very much his own man, yet paradoxically quite shy. He had a very good working relationship with Jock Clear, his engineer. You got the impression he wanted to suck Jock into his own little world. In 1997 in particular it was almost as though they thought the rest of the team was against them. It was a rather immature attitude because that was never the case."
Covering four decades of Formula 1 with Patrick is impossible over one lunch, even an extremely long one, for we are still talking in the now deserted Bluebird long past 4pm. We have no time to talk about his non-F1 projects, like the Le Mans-winning BMW LMR, the Metro 6R4 rally car, and the championship-winning BTCC programme for Renault. But I persuade him to comment briefly on two more F1 drivers: Ralf Schumacher, who joined in 1999 and stayed for six seasons, and Juan Pablo Montoya, who started his F1 career with Williams in 2001 and stayed until 2004. "Ralf was enigmatic, because on his day he could be very dominant. He won six GPs for us, but he wasn't as single-minded and committed as his elder brother. We gave him a good car in 2003, the FW25-BMW, and he and Juan Pablo were competing strongly for the championship. Juan Pablo wanted the people working with him to be only for him, not for the team. As far as he was concerned, Ralf's mechanics were his enemies. He was very confrontational, almost as if he had a persecution complex. Jacques had an element of that, so did Nigel."
We pass rapidly over Williams' difficult recent seasons. Patrick confines himself to saying, "I want to see Williams get back to being a winning team. They're not going to do it overnight, but they are capable of doing it. A lot of good decisions have been made. I participated in the decisions about the people we've taken on board and in the decision to go with Renault, which I think will be good. I don't like seeing Frank looking grumpy and ill-tempered behind his screen in the pits, I want to see him with a big grin all over his face. And any time Frank wants to ask my opinion I shall happily give it, as I have always done…"
Meanwhile Patrick will continue as a director of Williams Hybrid Power. "We have a lot of significant projects on the go. Porsche's hybrid GT3 car has won races already. Its energy storage system, instead of using a lot of super-capacitors or a very heavy bank of batteries, is done within our filament-wound carbon-fibre flywheel spinning at 50,000rpm in a vacuum. The Porsche system stores braking energy and turns it into linear kinetic energy. Our unit turns it into rotary kinetic energy and thence it is fed back as drive energy. It's very efficient and the losses are low. There are other serious motor-racing applications for this technology, but it also has great possibilities for trucks and city transport."
Finally, I have to ask Patrick about his extraordinary personal relationship with Frank Williams, which has so far lasted 36 years since he turned up at the Carlton Tower in dirty jeans reeking of marine glue. "We've managed to survive over a long period of time because each respects the other. I've always respected Frank's determination and passion for racing, and the way he will never, ever give up. I realised early on that he had skills I didn't have, particularly in charming people to support him and his team, and Frank realised that I had engineering skills that he didn't have. So I looked after the engineering and the machinery and Frank stuck to generating the money. Also we complemented each other. Frank could be indecisive and, rightly or wrongly, there were times when I said, 'Sod it, Frank, let's do it' and go off and make it happen.
"I don't think I'm quite as gruff and intimidating as I sometimes read I'm meant to be. I don't go round shouting at people. The trouble is, when you do something like that once – like when I shouted at Keke in Brazil – it tends to stick. There has been the odd occasion when I have been forceful. There have certainly been times when Frank and I have disagreed. I'll always say what I think, whereas Frank – it's part of his skill , sometimes finds the best way to get what he wants isn't to shout and bang the table. But if he believes in something strongly he will never give up.
"Frank has always been a great pragmatist. You've got to remember that in his early days, Frank was rebuilding his own DFVs using out-of-life parts because he couldn't afford to get Cosworth to do it. So he got stick when his engines blew up. His resilience is phenomenal. He will always look at whatever situation is in front of him and work out how to make the best of it. His wife Ginny's book is called A Different Kind of Life, because after the accident Frank said to her, 'We've had one type of life so far, and from now on it'll be a different kind of life.' You see his pragmatism all the time. He deals with his physical limitations, and sometimes serious health problems, by bringing extraordinary discipline to bear. He organises himself, his diet, all the other things, with military precision. That's how he has been able to continue running a large company in the 25 years or more since his accident – he's 70 in April – and why the prognosis is good. Formula 1 is still is his passion and he remains the guiding force of the company.
"When Sherry Thynne died in November Frank was in Qatar chasing budget, so I called him with the sad news. At the end of the conversation I said, 'Frank, you know, one of these days either somebody is going to ring you to tell you I've snuffed it, or somebody is going to ring me to tell me you've snuffed it.' There was a long silence. Then Frank said, 'Patrick, the competitive instinct in me rather wants it to be me getting a phone call about you, rather than the other way round.' That's Frank – still a competitor in everything."
That's Patrick too – an extraordinary competitor whose remarkable talents have brought Williams 113 Grands Prix wins and 16 championships. Clearly, in the very different world of hybrid power, he will be just as determined to oversee engineering that is good enough to beat the competition.