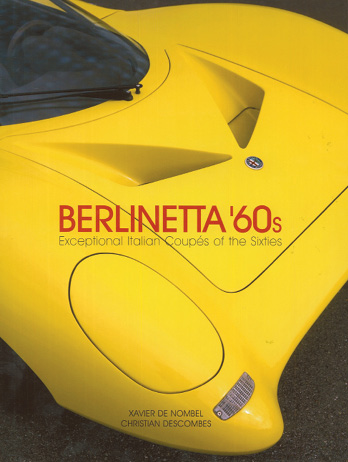 Berlinetta '60s – Exceptional coupés of the Sixties
Xavier de Nombel & Christian Descombes. Published by Dalton Watson Fine Books, £125. ISBN: 978-1-854432-99-5
With its startling yellow cover this is clearly a book led by design, and it follows the same authors' similar work about 1950s Italian coupés. Niche works? Yes – and why not? Setting aside the chrome-plated, futuristic but barely practical jet fighter inspirations that American design houses were creating, it was Italian design houses which led the automotive aesthetic advance in the two decades after WWII. Pininfarina's ground-breaking Cisitalia 202 coupé of 1947 finally banished separate wings, instead integrating them into one shell with a continuous wing line, and though hand built in limited numbers its influence was overwhelming. One example remains in the permanent collection of New York's Museum of Modern Art.
Having illustrated that first post-war decade in their previous book, the authors have now turned to the 1960s, a period of increasing prosperity when designers had more freedom, and more customers, than ever to realise their concepts, exploiting the hand skills of Italian artisans to turn sketch into metal. It was not just the Ferraris and Alfa Romeos which provided bases for these exciting creations; as this book lavishly demonstrates, small coachbuilders at home and makers from Britain, the US and France also turned to Milan, Turin and Modena to clothe otherwise mundane products, mostly for motor shows but occasionally bringing the results to production.
"Designers had a sort of limbo-dancing rivalry to squash their cars as flat as possible"
Both authors are well qualified: de Nombel has photographed beautiful cars for many magazines and has his own collection, while Descombes has been part of French magazine Automobiles Classiques for 25 years, and their collaboration provides a picture of Italian car design through this period, including cars which might have passed you by such as the ATS Allemano, Apollo 5000GT, and Bizzarrini Manta.
This was a significant period in car design, embracing the arrival of mid-engined architecture which meant the fading away of the 'long bonnet equals power' mantra and a new vocabulary of visual balance, with rear air intakes and shovel noses presaging the angular wedges of the 1970s.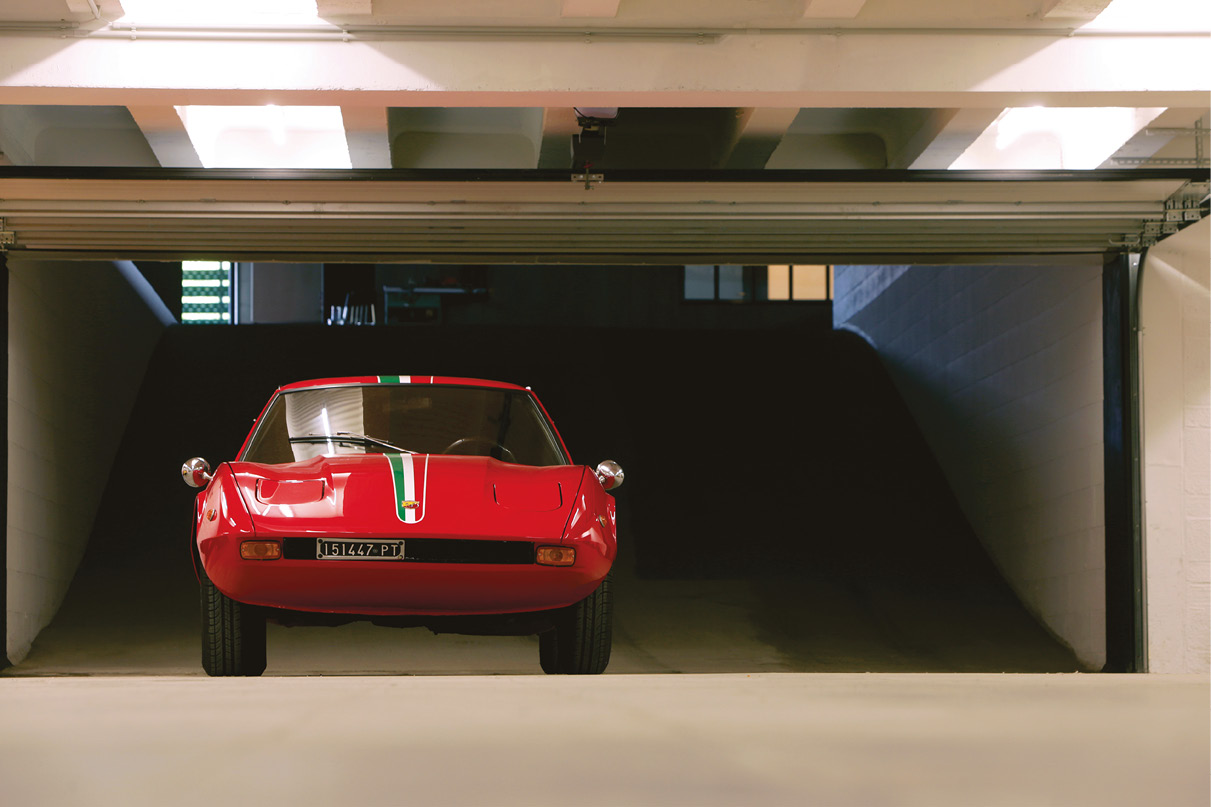 In something of a coup for the book it is one of the greatest of those artists in metal who provides the foreword – Giorgetto Giugiaro, author of Alfa's Giulia GT, Maserati Ghibli, Alfasud and Golf as well as a string of supercar concepts – and he offers a wealth of information and insight about how these new shapes required new techniques, and about the lesser-known people in the tight community of Italian coach-building. He is openly admiring of many cars from his peers and rivals, notably Marcello Gandini, author of the timelessly wonderful Lamborghini Miura, and also draws a parallel between 1970s car and furniture design, when seating went lower and lower and so did cars: it was after all the era of beanbags, and designers had a sort of limbo-dancing rivalry to squash their cars as flat as possible. Bertone's 1968 Alfa Romeo Carabo was just 39in high, while Gandini's 1970 Lancia Stratos Zero was almost two-dimensional, requiring the driver to step in via its near-horizontal opening windscreen. Any distinction between cabin and body disappeared as nose flowed into roof into tail, where of course the engine resided – only a mid-engined machine could be made as flat as any racing car.
This was when Giugiaro started his own studio, Italdesign, soon to be a revered name, and of course his first solo project, the Bizzarrini Manta concept, follows the same line with a windscreen lying at 15 degrees to the road. The visibility, he admits, was terrible which is why he put three slats in the nose that the driver could look through; it's this sort of detail which makes this work so interesting, and it is highlighted by including some of Giugiaro's own sketch designs slotted in on tracing paper like views in a 19th-century novel.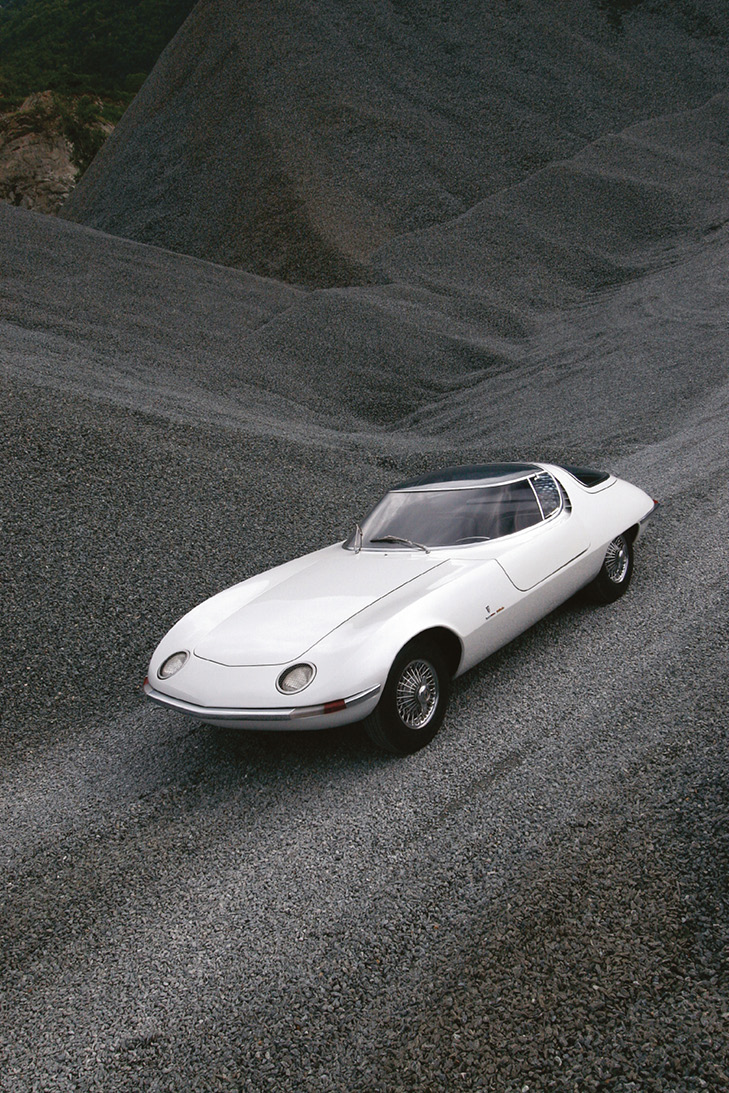 The main body of the book is grouped into sections from the decade's newcomers – Iso, Bizzarrini – through limited editions from the big names up to concept cars with little likelihood of production but designed to be catchy billboards for manufacturers – and of course individual design houses. Pointing out that design houses were now vigorous rivals for larger-scale work, Descombes calls them "bait" for the big makers. Every model, even the one-offs, gets the same attention, with its own body of text offering copious information and generous photographs taken by de Nombel specifically for this book. For example the Alfa-engined Aguzzoli Condor (of which only two, one horrible, one pretty, were built by an optimistic ham magnate in Parma) occupies similar space to the well-known Miura.
I met several cars new to me, such as an extremely pretty Touring-bodied OSCA 1600GT, and I learned a new word too – "elaborati", referring to tricked-up versions of series cars, which is what small workshops were forced to switch to once unitary construction ended the supply of separate chassis to build on. Short summaries of each coachbuilder are a handy addition, and the smooth translation deserves a mention.
If car design excites you this era must be a highlight, and Italy a favourite locality. With its combination of industry context, individual focus and fine presentation in a slip cover, it's a book to savour.