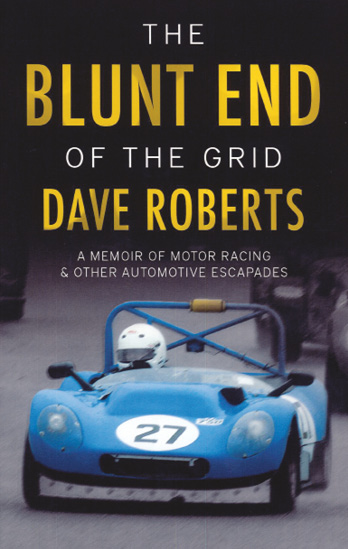 The Blunt End of the Grid
Dave Roberts. Published by The Book Guild, £9.99. ISBN: 978-1-912575-64-0
Search under the 'motor sports' tab at Amazon Books and 'Ferrari' throws up 301 results, 'Porsche' some 158 and 'Lewis Hamilton' 98. Attempt the same exercise with 'Dave Roberts' and it returns only this, so it's safe to say he's breaking fresh ground. (Don't confuse him with the Dave Roberts who has written a legion of books about non-league football.)
A refreshing antidote to bland paeans about the overly familiar, it's a self-deprecating look at motor racing – and other automotive matters – through the eyes of somebody who took up the sport fairly late, admits he hasn't always approached it in the most logical manner and has always been happy simply to be on the track whenever he finishes first or, far more likely, 21st.
Whether he's writing about the drawbacks of buying any car with a British Leyland logo on its flanks, his time as a taxi driver, life in the paddock at 750 Motor Club meetings or the rather obvious flaw in buying a second kit car when your first isn't yet finished, Roberts has a gentle, engaging writing style that makes adversity sound vaguely appealing. He also captures the true spirit of a nation's grass roots.
I have to confess to feeling a certain – and unexpected – personal resonance, too, while perusing the early chapters. Roberts was schooled in Manchester, as I was, and makes reference to the long-demolished Aaben in Hulme, a popular arts cinema located in what was once (particularly during the 1970s) a notoriously crime-ridden suburb. Dispatched by a French teacher to watch some film noir, as a denizen of William Hulme's Grammar School I always felt somewhat vulnerable wandering the streets in a freshly pressed blazer.
Roberts turned up there in an MGB, politely declined when a young lad asked, "Can I look after your car, mister?" and returned to find a brick through his rear window – a sliver of familiarity that probably shouldn't have made me smile, but did.
In the publisher's words this is "a defiantly unprofessional memoir". In mine, it's all the better for it. SA
---
Science of Supercars
Martin Roach, Neil Waterman and John Morrison. Published by Mitchell Beazley, £20, ISBN: 978-1-78472-363-7
A laudable idea – a history of supercars built around the science inside with long sidebars on various tech aspects and input from Gordon Murray and Adrian Newey adding gravitas.
Yet something doesn't gel. It doesn't bode well to read that "1918-38 is not a high watermark for supercars…" before listing syncromesh, twin cams and supercharging in the era. What about the Alfa Romeo 2900B and Bugatti 57SC? And are turbos really the most significant supercar feature? Not dear, but could have been better. GC
---
Autocourse 2018-2019
Edited by Tony Dodgins. Published by Icon, £55.00, ISBN: 978-1-910584-31-6
Now 68 seasons young, Autocourse is as much a part of each grand prix season as Ferrari political implosions – and also proof that print is alive and well in a digital world. There are few things more comforting than plonking oneself in an armchair towards the year's end, smothering a few cubes of ice with a generous helping of malt and reliving the peaks and troughs of the campaign just past.
Autocourse has always been a watchword for high quality – and remains so on the watch of the current regime. SA
---
The all-British Marendaz special – The man, the cars, the aeroplanes
Graham Skillen. Published by Fonthill Media, £25, ISBN: 978-1-78155-702-0
Better than a Bentley? That was what Marendaz claimed about his cars – but then this dogmatic man spent his life making unbacked assertions. Marendaz wrote often to Motor Sport criticising WB and his "fraudulent" work and I too suffered his phone complaints.
Skillen kindly suggests that unjust wartime internment broke the man, but his detailed story implies he was always a bad-tempered dreamer. Impressively researched, this must be the last word on a colourful blusterer. GC