Race car buying guide: TVR Tuscan Challenge
The TVR Tuscan Challenge: once the UK's best one-make series, now a classic racer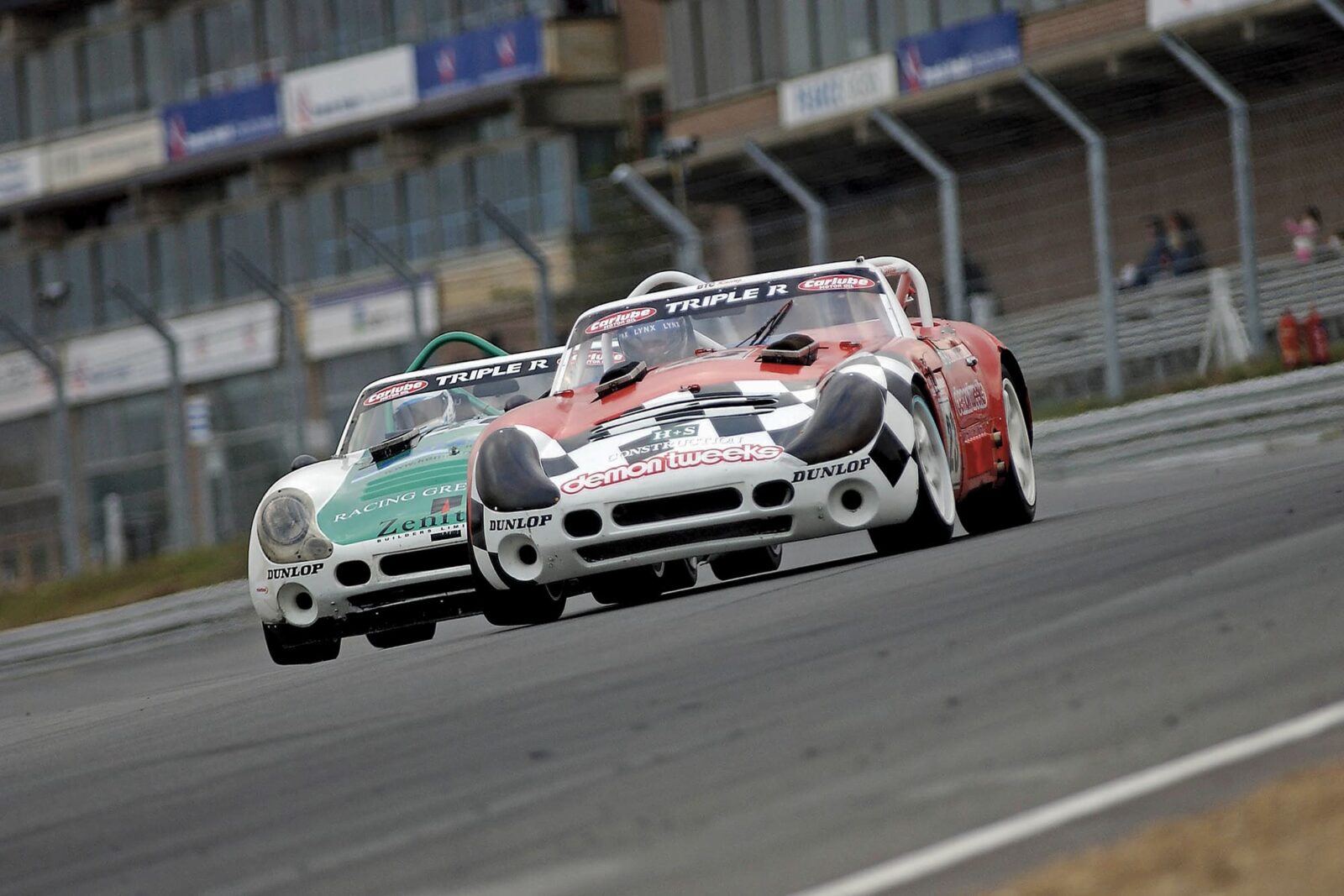 For many racegoers throughout the 1990s, the sight – and sound – of the TVR Tuscan Challenge was the highlight of any given weekend. The series proved so successful that it arguably set the tone for every single-make sports car championship since, and it did so using simple but effective ingredients.
It had the drama of vibrant, curvaceous, open-topped sports cars, with huge V8 engines that endowed them with more power than grip. They looked spectacular, sounded even better, and were usually sideways, everywhere… What's not to like?
The TVR Tuscan Challenge epitomised a key era in British sports car racing. It came way before a Lamborghini Super Trofeo or a Ferrari Challenge, and led the way in Britain when Porsche's mighty Carrera Cup was still only in its infancy in Germany.
It was a mighty achievement for a diminutive manufacturer from Blackpool. However, it came about almost by accident.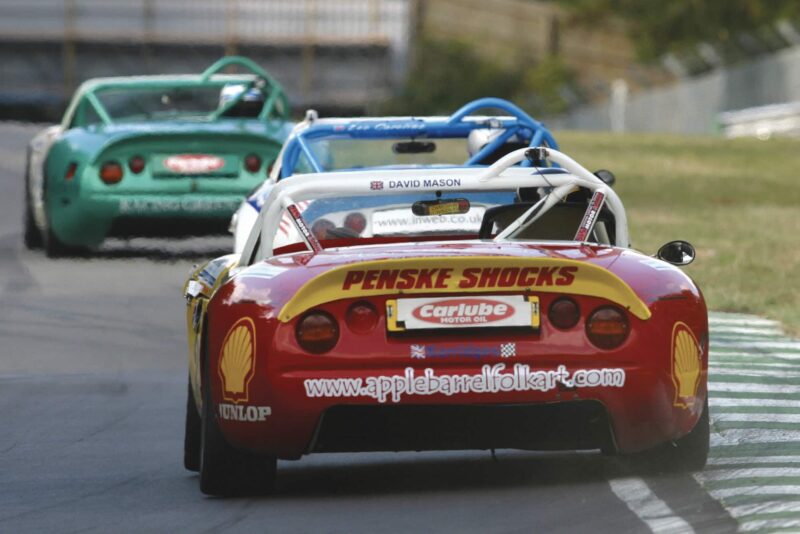 In the early 1980s, TVR was going through changes. Its second owner, Martin Lilley, sold his shares to Peter Wheeler, a chemical engineer and TVR fanatic. Wheeler instigated a change in engineering, ditching the more economical V6 engines Lilley had leaned toward in favour of moving back to a TVR heartland, a thumping V8. That brought an inevitable cost rise for TVR models, meaning a gap opened up for a new entry-level affordable model. That design was the S series, which arrived from 1986 as an open-topped roadster, initially using a Ford V6. However, customers wanted more, so Wheeler sourced a supply of 4.5-litre Rover V8s. To boost interest in the more powerful model, Wheeler decided to show what it could do on the race track.
High power, low grip and often sideways: David Mason is in pursuit of Lee Caroline
At the British Motor Show in 1988, the wraps came off the new V8-powered prototype, which resurrected the Tuscan name. Starting a race series was a gamble, but to ensure a healthy grid straight away Wheeler offered a tempting deal. Customers could buy their Tuscan and enter the Challenge for just £16,000 + VAT, provided they committed to at least six of the 12 races. Should they fail to do so, they'd be met with another £16,000 invoice.
The first batch sold out and the series was such a success during its first year in 1989 that plans for the road car were shelved to keep up with demand for the race cars, which initially offered 400bhp and a manual Borg-Warner transmission in a car weighing only 1000kg.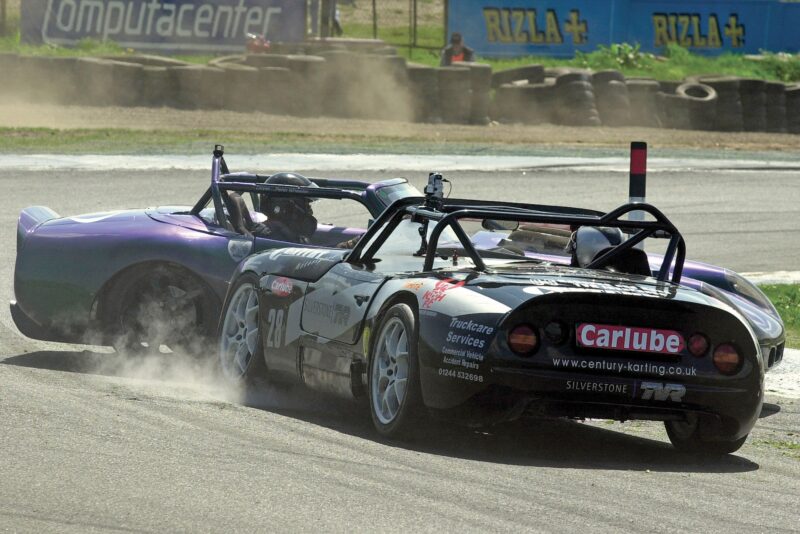 Car development didn't stand still, either. With the TVR Power-tuned Rover V8s soon maxing out at around 450bhp, Wheeler went looking for a replacement. Dead against having a German engine in his cars, Wheeler instead contracted engine gurus Al Melling and John Ravenscroft to work alongside him to develop an all-new lightweight V8, and so was born the AJP8 – the name formed from the designers' shared initials. The AJP boosted peak power to 536bhp and allowed a Tuscan to accelerate from 0-60mph in around three seconds and on to a top speed of over 190mph, making it the UK's fastest race series.
Motor Sport's own Jeremy Walton got a turn at the wheel of the series' guest car at Mallory Park in 1991, where he reported that the Tuscan "made the 500bhp Ford Sierra Cosworth I also raced that day feel comparatively civilised."
TVR head Peter Wheeler competed regularly, even if things didn't end well here in a clash with Nathan Freke (28)
With the AJP, Tuscans retailed at closer to £22,000, but against the higher costs of something like a Porsche Carrera Cup car, they still represented great value, and by now had front-line TV coverage as support to the British Touring Car Championship and a host of star drivers, too. Names like Jamie Campbell-Walter, Bobby Verdon-Roe, Martin Short, Gerry Marshall and even TVR's top brass such as Wheeler himself all competed regularly. Even the great Colin McRae jumped into a guest car for a play.
Wheeler's sale of the company to Russian Nikolay Smolensky brought a halt to the Challenge as we knew it when the new owner stripped the class of factory support in 2005.
Tuscans continue to race today, and around 35 original Challenge cars survive, with a handful still owned by their star drivers. Others were re-bodied to the Sagaris, and some even converted for road use.
TVR Tuscan Challenge
• Price new £16,000
• Price now £40,000-£60,000
• Engine TVR Power naturally aspirated 4.5 Rover V8, TVR AJP8 4.5 V8
• Rivals Porsche 944 Turbo, Ferrari 348 Berlinetta
• Verdict One of Britain's great racing successes. Cost-effective, simple and glorious.