2020 F1 season: Triple trouble
Sparks have flown between Hamilton, Verstappen and Leclerc already. Mark Hughes examines the hidden factors that could help a titanic three-way battle burst into life
Max Verstappen's signature on a Red Bull contract extension to the end of 2023 has neatly put in place the line-ups of the three top teams for the foreseeable future. Widely perceived as the king-in-waiting, with Lewis Hamilton preparing for his 14th Formula 1 season, Verstappen's signing was crucial for Red Bull to remove him from Mercedes' possible grasp as a long term Hamilton replacement. Even more so once Ferrari had taken Charles Leclerc off the market a couple of weeks earlier by announcing a five-year contract that takes him up to the end of 2024.
Outside of Hamilton, Verstappen and Leclerc, who else could Mercedes, Ferrari or Red Bull have slotted in as bona fide would-be champions over the next few seasons, given the right equipment? Daniel Ricciardo? Carlos Sainz Jr? Sure, and possibly a couple of others, too – but without the certainty and solid gold status of this trio who are primed to slog it out over the next few years. It's a mouth-watering prospect and promises to be F1 box office.
What could derail the title fight?
This is the final season of Hamilton's Mercedes contract, but will both parties continue in F1? The team has not yet committed to F1 post-2020, the contracts of both its race drivers run only to the end of this year, and its long- term third driver Esteban Ocon has been released to Renault for now.
In the long term, the internal combustion engine is an ever-smaller part of the car industry's focus, and Mercedes already has its Formula E team.
On the other hand, it has recently been spending a lot of money on upgrading its facilities, investing before the regulation cost cap for 2021 onwards activates, which would seem to indicate a commitment to F1.
So, let's assume Mercedes is staying on in some form beyond 2020. If Hamilton can win a Michael Schumacher-equalling seventh title this year, will he be satisfied? On 84 grand prix wins, there's every possibility he will surpass Schumacher's record of 91 this season. Seven titles and more than 91 victories would  make him statistically the most successful driver in F1 history, meaning he wouldn't need the eighth title to take that record. And if Mercedes does exit afterwards, or if team boss Toto Wolff moves on, then it would seem an opportune time for Hamilton to transition to a new phase of his life. Or does the lure and love of racing remain too strong, especially when he's still at the height of his powers? Perhaps a late career move to Ferrari alongside Leclerc would prove irresistible.
But let's assume that both Mercedes and Hamilton are continuing together into F1's brave new post-2020 era. Another factor that could frustrate the ideal 'three top drivers in the three top teams' line-up would be the specifics of Verstappen's Red Bull contract. Honda is committed as the team's engine supplier until the end of 2021. It would be unusual for a top driver's contract not to have a works engine break clause in it – potentially where the driver is not beholden to the contract if the team loses its works engine status. As well as taking Verstappen out of Mercedes' reach for 2021, his signing by Red Bull can also be read as a way of enticing Honda into extending its stay. Verstappen is increasingly viewed with awe by the racing arm of Honda, and managing director Masashi Yamamoto recently compared him to 'a young Senna'. Verstappen pointing to the Honda badge on his overalls on the podium in Austria after last year's breakthrough victory was emotionally powerful for the manufacturer. But if the anti-F1 faction of the Honda board should prevail, then Verstappen could be back on the market as early as 2022.
Could age catch up with Hamilton?
A very strong case could be made for hybrid-era Mercedes being the greatest team in F1 history, eclipsing even the Schumacher-era Ferrari. And then in Hamilton it's matched with one of the most devastating driving talents F1 has ever seen.
With F1 so tightly regulated, success is all about optimisation and depth of research, because the engineering facilities and brains are massive. Mercedes is unlikely to get beaten by a brighter idea and there's no tyre war to randomise things, so it comes down to meticulous excellence and depth, and that's why Mercedes is so strong. It won this hybrid era three or four years before it started, and the momentum is still carrying.
But time nibbles away where it can't be seen, in the neurons, in the minds, in the collective energy as entropy has its way. That's the biggest challenge facing Mercedes and Hamilton individually and collectively; keeping that process at bay against the surging tide of youth and unsatisfied ambition.
Already last year, the Mercedes power unit gave way to Ferrari as the pacesetter, and on race day power it was almost matched by Honda and Renault late in 2019. There were some races where Mercedes' downforce advantage wasn't enough to overcome the associated drag penalty. They are two key specific challenges to address for 2020 and beyond, all while trying to keep the cohesion of the team in place.
In terms of the competitive intra-team dynamics, this one works well in that Valtteri Bottas is never a disruptive force and is given a fair opportunity. As he stepped up his game, Hamilton had to respond.
Last year Hamilton didn't quite deliver the sort of devastating qualifying laps he's done in the past. There was no equivalent of Singapore 2018, for example. It was a very contained campaign by his standards, and it took a few races for him to definitively establish an edge over Bottas after his number two performance engineer was switched to become Bottas's lead engineer during the off-season. It illustrates the delicate balance required to be constantly on that high wire. Was it only that, or was it the first indication that his raw speed cannot be readily summoned as it once was? After all, Hamilton would begin the 2022 season as a 37-year-old. With an equal car, would he race the young guns on their terms of all-out attack, or would the more street-smart Hamilton – who once left a tempting but impossible gap for Verstappen to try around Turn Eight in China 2018 – make more regular appearances.
As an all-round package, Hamilton was the best last year. Verstappen and especially Leclerc had moments of impetuosity. But in the intensity of wheel-to-wheel racing, Hamilton admits he doesn't quite know how to treat Verstappen other than to give him plenty of room. At Monza, Hamilton had the intelligence not to stand his ground when Leclerc resorted to driving him off track on corner approach in order to protect his lead. Hamilton insisted had he not still been chasing the title, he'd have stayed right where he was – and they'd have crashed. Those sorts of moments are sure to play out with greater regularity in the future, if Ferrari and Red Bull-Honda can produce consistently Mercedes-level cars. Hamilton says: "I'm going to be a machine this year, on another level than ever before". But how much appetite is there following six or seven world titles to go wheel-to-wheel with someone you don't quite trust at 200mph? Tick-tock…
Red Bull's trials ahead
The challenges are obvious: the team doesn't control its own destiny due to its reliance on an engine partner, something neither Mercedes nor Ferrari need worry about. Also, Honda has been equivocal about its F1 future despite 2019's breakthrough success. But Red Bull remains formidable, a superb combination of disciplined rigour but left-field ingenuity. It does rely quite heavily upon the creative vision of Adrian Newey, and although there's a great foundation in place that allows him to do what he does best, he's been 30 years in F1 now and becomes more frustrated with each additional piece of prescriptive technical regulation. And the 2021 regulations are very prescriptive. Can he remain motivated?
After its painful hybrid-era beginnings with McLaren, Honda has made remarkable progress. The exciting thing about its 2019 season was that the improvement curve remained steep even after it established race-winning form. The relationship between Honda's racing people and Red Bull is fantastic; different cultures but a common understanding and shared determination. The ambivalence about the programme is coming from corporate, not engineering or racing.
Red Bull isn't structured in the same way as Mercedes or Ferrari. It has more outside suppliers and isn't as integrated. But that smaller core can make it more flexible and quick to react. It's brilliant at developing its car through the season but too often in recent years it's started the year behind and then clawed itself back to full competitiveness.
That was the case last year and in 2017, and although a strong case could be made that regulation changes specifically hurt Red Bull's aerodynamic philosophy, the team's most immediate challenge is to hit the ground running in 2020.
As for Verstappen, he's the most exciting thing to happen to F1 since Hamilton, a sublime talent and the perfect racing attitude. His moments of excess – not slowing for the yellows in Mexico qualifying the most obvious – will probably remain part of his make-up. That extremism has won him races just as it has lost them. His challenge isn't so much to draw more performance from himself, but to be in a position where his team provide him with a car as consistently and relentlessly competitive as Mercedes has for Hamilton. Verstappen could be a crucial part in making that happen and could prove the lynchpin that secures Honda's future. Because if that partnership cannot be made to work, there's a danger of career underachievement. Five years into F1, the 22-year-old has only eight wins and two poles on his CV. Arguably, no one could have achieved more in the same circumstances, but at what point does the driver dictate his own path?
Eras can change suddenly. It takes only a few races for a revolutionary change of form to become the new normal. Could Red Bull, Honda and Verstappen together conjure something that applies the crucial pressure cracks to Mercedes? Absolutely. Will it? That's probably up to the Honda board.
Can Ferrari and Leclerc learn from the past?
This is an exciting but perilous combination; a team bursting with promise and creativity but still young together. At the end of 2019, both parties were still a little fragile but had greatness within them. The pressure upon the Scuderia is always immense but was only intensified last year by the combative on-track relationship between Leclerc and Sebastian Vettel. That's just one of the challenges facing Mattia Binotto as he tries to shore up Ferrari's place in the competitive hierarchy.
Ferrari arguably lost the 2017 and 2018 championships just as much as Mercedes won them. Even though last year's car was less consistently competitive than its predecessors, it could have been a title contender had the team (and drivers) not made so many errors.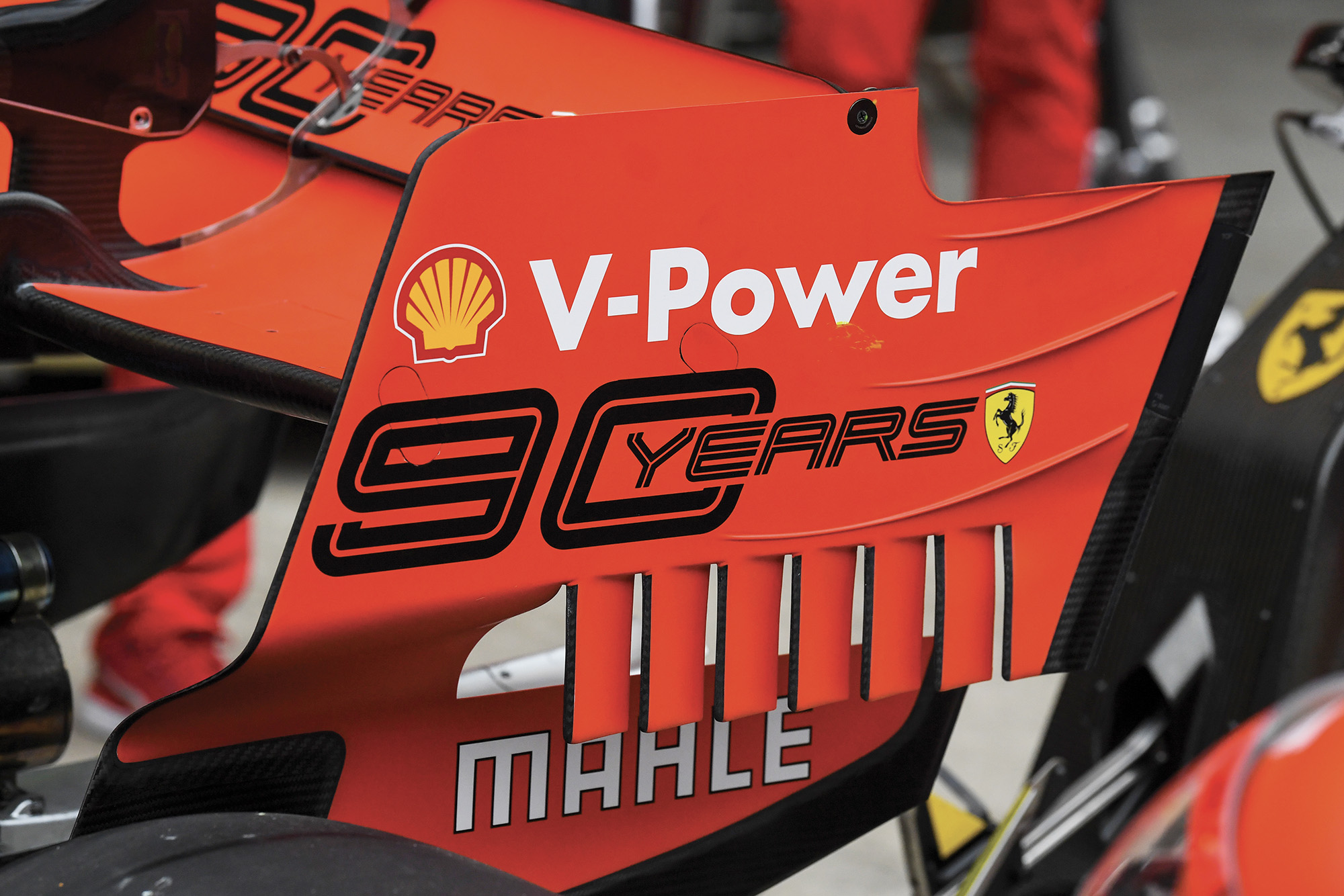 Technically, Ferrari has been the most creative team of the last three years, with many clever aerodynamic innovations that have since been incorporated into the cars of everyone else. The power unit department has excelled, and for the last two seasons it has had the most potent engine in the field.
Aerodynamically, the new regulations of 2019 derailed the productive path Ferrari had been on since 2017 and it took until Singapore for a basic aerodynamic flaw in the car to be properly addressed. But with lessons learned and unchanged aero regs for 2020, Ferrari should be well placed to get back to its 2018 level. The more prescriptive aero regulations of 2021 and beyond may also work in Ferrari's favour in placing emphasis on the power unit.
But for that to have any relevance, the team needs to improve operationally. It's not yet at Mercedes or Red Bull standards in its strategy calls or reliability processes. Then there's the tricky dynamic between the drivers, something which on occasion fed into the strategy failures (Monza qualifying, Sochi race). As a proud multiple champion, Vettel is not ready to relinquish automatic leadership to Leclerc, who in turn is not prepared to be restricted. The momentum is with Leclerc and historically the Scuderia has preferred to operate a number one and two policy. It's difficult to imagine Vettel complying.
Leclerc meanwhile has shown himself equally capable of swashbuckling, attacking drives, stretching his great talent out to the edge and putting in composed drives when the car just cannot deliver.
His competitive relationship with Max Verstappen – played out very obviously in Austria and Great Britain – is intense and goes back to their karting days. There is arguably less tension in the dynamic between him and Hamilton – although Italy's Roggia chicane incident suggests things could yet get more strained between them.
An equally matched Mercedes, Ferrari and Red Bull in 2020 could be the prelude to one of the greatest contests F1 has ever seen, with a fascinating dynamic of two young lions challenging the old master to be head of the pride in F1's new era.
---
Twists and turns
The Mercedes call that unlocked the driver market merry-go-round
The big names were all under contract with their respective teams until the end of 2020 but there were a number of decisions that hinged on what Mercedes chose to do with its 2020 line-up. Stick with Valtteri Bottas or throw an F1 lifeline to Esteban Ocon? The Silver Arrows opted to extend Bottas's contract and release Ocon into the wilds of the driver market, where he was immediately snapped up by Renault.
Romain Grosjean's F1 career was up in the air, but after a torrid 2019 stuck with a car it didn't fully understand, Haas decided to retain him alongside Kevin Magnussen.
Red Bull's game of mid-season musical chairs ended with Alexander Albon impressing enough in place of Pierre Gasly to keep his seat next to Max Verstappen for 2020. Gasly remains at the renamed AlphaTauri for 2020.
With Ocon taking his seat at Renault alongside Daniel Ricciardo and Haas sticking with Grosjean, it meant Nico Hülkenberg was out of a seat. He wouldn't find a new home as Alfa Romeo confirmed Antonio Giovinazzi would remain, while Williams chose Formula 2 runner-up Nicholas Latifi to replace Robert Kubica for 2020.
Kubica found a simulator role with Alfa Romeo, returning to the team that gave him his F1 debut and first win in its previous BMW Sauber guise.
---
Carey: F1's message must evolve rapidly
F1 CEO Chase Carey tells Ian Parkes why Formula E isn't a threat and how grand prix racing must roll with the times
With Formula E continually growing and environmental concerns filling the news agenda, Liberty Media head Chase Carey is adamant F1 will not be out of touch. "We recognise the environmental issue is important to our fans and our partners," says the man who has spent the last three years in charge of the sport after Liberty's buyout in early 2017.
"We're a platform that, in many ways, has led the automotive world from the get-go, and we now have a chance to play a leadership role in showing how the internal combustion engine and a hybrid engine can fit into creating a better environment for everybody."
F1 embraced hybrid technology in 2014 but Carey says greater measures can be taken: "There's a lot of work being done on synthetic fuels, energy recapture, and I think those solutions are important in many ways.
"A hybrid engine today is the most efficient engine in the world. We haven't done a good job of telling that story, but we can continue to build on that. We need partnerships with the original equipment manufacturers and the oil companies to continue to make those steps, and we can be a platform that shows what's possible."
Carey claims F1 is "not competing with Formula E" and insists he is not being negative in describing it as "mostly today a social cause and a street party". Instead, he says F1 has a bright future: "F1 captivates the world's imagination. It is a unique sport that shocks your senses. Those are features that stand out and what we will continue to build on."
And what of his own future? Rumours are rife a successor is being lined up, and commercial boss Sean Bratches has left the fold. "My future is probably, by definition, short-term because I'm too old to have a long-term future," says the 66-year-old. He switches, perhaps inadvertently, to past tense: "This has been a wonderful adventure, a fascinating one. I'm not building careers anymore. If I was 50 years old, I guess, I'd have to worry about my future.
"At some point in time, there will probably be somebody younger than me, better positioned, to carry it [F1] forward."
---
Runners & Riders
A muted 'silly season' doesn't mean 2020 storylines are lacking. Mark Hughes analyses the hopes and expectations of the grid
Lewis Hamilton 
AGE 35 LAST YEAR 1
Valteri Botta
AGE 30 LAST YEAR 2
Mercedes Brackley, UK LAST YEAR 1
MARK HUGHES: Overall, Mercedes had the best car last year, but there were times where it was revealed as out-powered and too draggy. Hamilton has identified these two areas as the targets for improvement if Mercedes is to maintain its clean sweep of hybrid era titles.
Charles Leclerc 
AGE 22 LAST YEAR 4
Sebastian Vettel
AGE 32 LAST YEAR 5
Ferrari Maranello, Italy LAST YEAR 2
MARK HUGHES: Ferrari's challenges can be grouped as technical and operational. It needs a better aerodynamic concept and to retain its power advantage even under stricter fuel flow regulations. Also it must be sharper, eliminate errors and find calmness between its drivers.
Max Verstappen 
AGE 22 LAST YEAR 3
ALEXANDER ALBON
AGE 23 LAST YEAR 8
Red Bull Racing Milton Keynes, UK LAST YEAR 3
MARK HUGHES: Derailed by the introduction of the new aero regs for 2019, it took the team half a season to recover. The challenge now is to begin the season fully competitive and for Honda to continue its impressive recent rate of progress. Then a title challenge is realistic.
Carlos Sainz
AGE 25 LAST YEAR 6
LANDO NORRIS
AGE 20 LAST YEAR 11
McLaren Woking, uk LAST YEAR 4
MARK HUGHES: Until its new wind tunnel is online (mid-2021) McLaren can't realistically challenge the big three. But remaining 'best of the rest' in its final season with Renault would be an achievement, while eradicating some of 2019's 1.2sec deficit to the front of the field.
Daniel Ricciardo 
AGE 30 LAST YEAR 9
Esteban Ocon
AGE 23 LAST YEAR N/A
Renault Enstone, UK LAST YEAR 5
MARK HUGHES: Renault underdelivered technically in 2019, with an aerodynamically flawed car, despite it being created within hugely upgraded facilities. Nothing less than a clear 'best of the rest' and obvious gains
would be acceptable to the parent company.
Pierre Gasly
AGE 23 LAST YEAR 7
Daniil Kvyat
AGE 25 LAST YEAR 13
AlphaTauri Faenza, Italy LAST YEAR 6
MARK HUGHES: The renamed team had two remarkable podiums in 2019, but will be targeting a more consistently competitive season with its 'half-a-Red Bull' car. If Gasly can continue with his psychological rebuild after his Red Bull battering, that would help a lot.
Sergio Perez
AGE 29 LAST YEAR10
Lance Stroll 
AGE 21 LAST YEAR 15
Racing Point Silverstone, uk LAST YEAR 7
MARK HUGHES: Last year's car was flawed in concept because of the combination of it being created when the team was financially insecure and a new set of aero regs. The target has to be to retain its former status of best of the rest – but the competition is fierce.
Kimi Raikkonen
AGE 40 LAST YEAR 12
Antonio Giovinazzi
AGE 26 LAST YEAR 17
Alfa Romeo Zürich, Switzerland LAST YEAR 8
MARK HUGHES: Still suffering the long-term effects of the Sauber team being starved of investment a few years ago, the squad is steadily being built back up. Like Renault, a more balanced exploitation of its upgraded facilities is needed.
Kevin Magnussen
AGE 27 LAST YEAR 16
Romain Grosjean
AGE 33 LAST YEAR 18
HAAS F1 Kannapolis, USA LAST YEAR 9
MARK HUGHES: Haas believes it understands why last year's car was such a disaster on race days. With unchanged aero regs, it should be in a position to reassert itself among the head of the midfield – which is where McLaren, Renault and Racing Point all expect to be, too…
George Russell
AGE 22 LAST YEAR 20
Nicholas Latifi
AGE 24 LAST YEARN/A
Williams Grove, uk LAST YEAR 10
MARK HUGHES: Getting back to a footing of technical respectability after two utterly desolate seasons is the only realistic target for this one-time colossus of a team. Just getting into a position where it's not an automatic Q1 casualty would be a good starting point.
---