Jenson Button, team owner: A new chapter begins
While their British GT debut didn't go to plan, Jenson Button and Chris Buncombe are only just starting to write their own story of team ownership. Robert Ladbrook caught up with them
A decade is a long time to wait for a 14th place at Silverstone. Especially if you're a Formula 1 world champion and have a Le Mans 24 Hours class winner alongside you.
In truth, Jenson Button and Chris Buncombe's British GT Championship debut back in November was a letdown in terms of result – the pair largely held back by a tired McLaren and a lack of any serious testing before the three-hour Silverstone 500 event.
But what it lacked in terms of silverware it more than made up for in terms of personal enjoyment for the firm friends.
"We've waited a long time for this," says Button before sliding into the McLaren 720S GT3 for the race. "We know we're off the pace, and we don't like to be because as a racing driver you want to be competitive and fighting at the front in everything you do, but it's a special weekend regardless."
Buncombe – part of the 2007 Le Mans LMP2-winning Binnie Motorsport team – smiles: "How many years have we been talking about doing this? I've lost count!"
It's been a while since Button has enjoyed a race in the same way he enjoyed the Silverstone 500. This one wasn't purely about pace, performance and perfection. This was about pride, friendship and family heritage. This was the first time Button had raced a car under his own banner, and the first time he's entered a circuit race alongside best buddy Buncombe, and the first time he's raced anything with 'Rocket' on it since his karting days alongside his father, John.
The story of the formation of Jenson Team Rocket RJN is threefold, bringing together a trio of competitors who all went their own ways, but who the racing gods have seen fit to converge again.
Let's start with that Rocket part, which goes back beyond both Jenson and Chris, to their fathers, John Button and Jonathan Buncombe, who both worked together at John's VW-Audi dealership in Trowbridge, Wiltshire. And they both raced, too, with John proving himself a star in rallycross – runner-up in the 1976 British Rallycross Championship – while Jonathan headed to tin-tops, winning the 1971 Special Saloons title. That success raises a bone of contention between the two these days.
Buncombe: "Originally our dads knew each other as late teenagers when they both worked in the same car dealership, then they lost contact. My dad went off to race touring cars, and John went off to take part in rallycross; Jenson did karts, and I went to ride motorbikes."
Button: "See, my dad never won the British championship, and yours did. Mine only finished second, and yours won. I was always jealous of that…"
And then along came these two. When Jenson was old enough, John gave up his racing career and instead supported his son through karting. So much so that he founded his own team, Rocket Motorsport. Jenson won the 1991 British Cadet Championship with a Rocket-tuned engine and then went off to Europe, leaving Rocket to win a total of 11 British junior championships before John called time on it after deciding to travel the world with Jenson after his graduation to Formula 1.
"The saying was you had a Rocket engine, or got beaten by one"
"Karting is where all this actually started," says Jenson. "A lot of drivers of a certain vintage will know Rocket Motorsport from the karting days, because the old saying was that most either had one of the Rocket engines or got beaten by one!
"It's really nice to be able to bring the Rocket name back – it feels like keeping a bit of family tradition going. When I got into F1, Dad wanted to travel around with me so he couldn't carry on the business. From 2000 until last year really Rocket Motorsport didn't exist. A lot of drivers like seeing it back and some have commented to me that it reminds them of their karting days and stirs up old memories, so it's a nice thing to do."
The second element is Button and Buncombe. We all know about Jenson. Formula Ford Festival winner, did some other stuff, won an F1 title for the ultimate underdog team, etc, etc. But the foundations for this particular project were actually laid during that magical 2009 world championship season. More on that later…
With Jenson in the Formula 1 bubble, Buncombe forged his career in both touring cars and sports cars, after some formative steps in single-seaters.
Buncombe: "I started off in motocross, but that got pretty dangerous pretty quickly, so I went and raced for Rocket in karting."
Button: "In that old octagonal awning… I remember it leaked everywhere."
Buncombe: "That's the one! You were already well established in karting when
I started, but we reconnected through that and took it from there. I did some Formula Vauxhall and Renault, and then joined the Nissan Motorsport Europe team to race its Primera touring car in 1999. That's where I first met Bob."
And so we come to perhaps the most important strand in the Jenson Team Rocket RJN union – Bob Neville. "Everything goes through Bob," says Button. "We'd be nowhere without Bob." Bob – or Robert James Neville – is 'Mr Nissan' in European racing circles, and has been for over two decades. He looked after the touring car programme that ran Chris, the factory GT programme that ran Chris's brother Alex Buncombe, and when Nissan stopped factory racing he founded RJN Motorsport in 2000 to carry on racing Nissans, and has been the brand's go-to guy ever since.
However, when Nissan eventually did decide to pull the plug on all its factory programmes with the successful GT-R GT3 in order to redirect its attention on Formula E at the end of 2018, RJN needed a new direction.
Cue Button and Buncombe, and that 2009 world championship.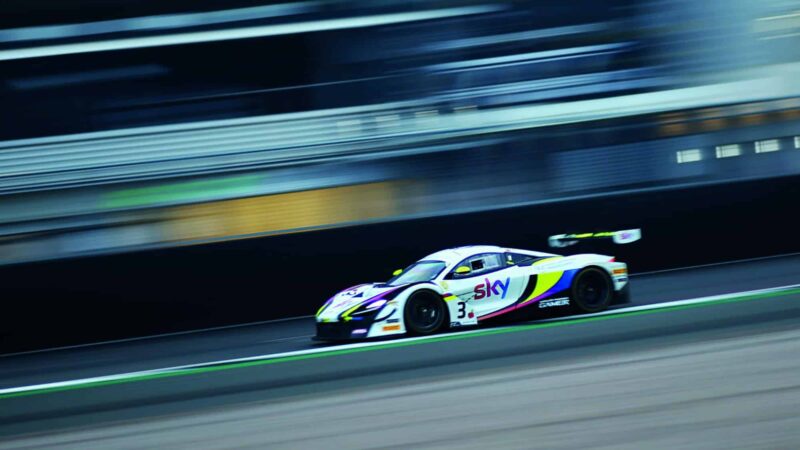 With Jenson firmly in the title hunt with Brawn GP, Chris decided to mix his Aston Martin sports car programme with trips to support his friend. He attended 15 grands prix with Button that year, and began a hospitality business off the back of it.
"We always used to say, 'Wouldn't it be great to get something and do something between us,'" says Buncombe. "We spoke about it all the time, and quite seriously, but back then we were all so busy we'd never have the chance to share something and have a bit of fun. Well, a decade later and that's exactly what we're doing!"
When Jenson called time on his F1 career in 2017, he could take his pick of opportunities, and was determined to try as many different disciplines as possible in order to rekindle his love of racing outside of the restrictive world of F1.
He did a Japanese Super GT season with Honda – and won the 2017 championship alongside Naoki Yamamoto in an NSX-GT – and did his first Le Mans with Russian LMP1 squad SMP Racing.
And then he turned his attentions offroad, buying a Brenthel Industries 6100 Trophy Truck and entering it into the gruelling Baja 1000 for Chris's 40th birthday present (see sidebar, previous page).
But for 2020, there wasn't much on the table. So all three factions decided to gather round and serve something up.
"I was chatting to Bob, who was looking at new directions and needing a new manufacturer relationship," says Buncombe. "At that time Jenson was racing in Japan with Honda, but that was winding down, so we all got round a table and put our heads together and this was the result. We all wanted to figure out our own new chapters, and RJN has a great, diverse history of racing in GTs, touring cars, Dakar… so it just all fits well with everything we want to do."
Jenson Team Rocket RJN was born. A hat-tip to John Button's karting team that helped both Jenson and Chris get a career foothold, and a new direction for RJN.
Button adds: "Originally we were going to run a Honda. But we wanted to try the McLaren and we wanted to work with them, so I called and we did a deal. It wasn't like we were just handed the car or anything. It kind of works with my McLaren past, but it certainly wasn't fully built on that."
First thing for the team was to add a fourth strand to the union in the form of a partnership with the World's Fastest Gamer, the digital talent search run by Darren Cox – the man who also founded Nissan's GT Academy programme aiming to give gamers a taste of real-life racing with… you guessed it… RJN-run race programmes.
The winner of WFG, James Baldwin, was the team's first confirmed driver for its new McLaren, alongside Michael O'Brien. They were due to run in the GT World Challenge Europe, but the pandemic led to a change of plans and a move into British GT for 2020. And that's what brings us here.
"Why should those two have all the fun?" jokes Jenson. "We had the team here already, why shouldn't we race ourselves, like we always wanted to?"
Button borrowed the second McLaren for Silverstone. But the only one left in the workshop was the development mule, which has conducted tens of thousands of miles of testing during its lifetime and also lacked some of the more modern upgrade parts found on the sister car.
"Why shouldn't we race a car ourselves, like we always wanted?"
A suspension problem led to wayward handling at high speed and limited Button and Buncombe to 17th on the grid after qualifying. The team identified the issue and changed the dampers in time for Sunday, and the pair fared better – rising to 14th at the flag – but even then still had their issues.
"The car was definitely better after the suspension changes, but what we got back through high speed we lost in low speed," says Button. "I think we also had a clutch issue as we had problems downshifting from third to second, and the car was also trying to crawl in the pitstops, even with the clutch pedal fully depressed. The result could have been better for us, but that doesn't mean we didn't enjoy it.
"I definitely want to race GT3 again, but we'd just need to have more testing beforehand next time, and it's been great to be back in a British championship again. My last British championship round was Formula 3 back in 1999! I couldn't believe how professional everything has become. In Super GT it's like going karting. The paddock is tatty, the trucks are 20 years old and there's no hospitality. Here there's beautiful trucks, big teams, great cars and everything just feels right.
"From the moment I walked into the paddock, I've felt at home. I've seen so many faces from the old days, people like Rob Bell and Charlie Hollings, both of whom I raced against in karting. And Richard Williams, who is a great friend to both Chris and myself. We've talked about one day all three of us sharing a car in the Spa 24 Hours. It hasn't happened yet, but it certainly could."
"My last British championship round was Formula 3 back in 1999"
So, after the slightly underwhelming opening chapter for Button and Buncombe's GT3 career, what more adventures does the story hold?
Well, this year there will be a DTM entry (drivers unconfirmed at the time of going to press) and the likelihood of that planned GT World Challenge Europe programme, virus permitting, and perhaps even more British GT racing as the team chases its ultimate goal of heading to Le Mans.
Then, building on his off-roading experience, Button has also taken up a spot in the Extreme E field. He will handle one of the all-electric buggies for his own JBXE team, becoming the third F1 world champion to lend his name to a team, following Lewis Hamilton and Nico Rosberg.
Plus Button will be back on the F1 trail as a pundit for Sky and in his new role as a senior advisor to the Williams team.
"It's always hard to head into a new championship and be competitive against the regulars, regardless of who you are or what you've done before, and British GT is very tough," adds Button. "But we're definitely keen to give it another go."