Tom Kristensen — The Motor Sport Interview
From humble beginnings as the son of a garage owner, via a brief career in banking, Tom Kristensen battled the odds and rose to become 'Mr Le Mans', setting records that may never be broken along the way
Tom Kristensen won the Le Mans 24 Hours at his first attempt, having never seen the circuit until his practice laps in 1997, and went on to win the race another eight times, a record that still stands today. 'The Great Dane', as he is affectionately known, has also won the Sebring 12 Hours six times, another record.
In 2014 the Queen of Denmark appointed Tom 'Knight of the Order of the Dannebrog' in recognition of his international success. Having won the German F3 championship in 1991, and the Japanese title in '93, he narrowly missed out on the Japanese F3000 title in 1995. He seemed destined for grand prix stardom but, despite a testing contract with Tyrrell, he opted for endurance racing and was world champion in 2013. From his home in Hobro on the Jutland Peninsula he reflects on a record-breaking career.
Motor Sport: When you first started racing, Denmark was not what you'd call a motor racing country, so how did you take your first steps up what Jackie Stewart called 'the staircase of talent'?
TK: Yes, you're right, it was very humble beginnings, growing up at the family's gas station but my dad was racing touring cars, on both gravel and asphalt circuits, so I grew up in a racing environment. I got an old, rather unreliable and not very fast kart when I was eight years old. We used to run it round the gas station before we took it to the local track at Mou [a kart track near Aalborg in Denmark] to make sure it worked.
"With no racing, I did my training to become a bank clerk"
The first year we raced at Mou and here I was very happy, racing with my dad. It was where I wanted to be. My mum, she was not so happy. As a teenager I got some support from a local kart dealer, won some Danish championships and beat Mika Häkkinen to the Scandinavian championship in 1985. So now I was up against the top drivers, racing in Italy, going to America, and runner-up in the 1987 world championship.
Then, for three years – from 1987 to early 1991 – I did not have a drive, just a test here, a race there. At this point I did my training to be a clerk at a Danish bank, and my mum was happy again, but for what I call my '1000 days', I had no chance to be a racing driver. Despite this, I kept my belief in myself because I'd done well in karts previously, my rivals were maturing as champions in cars, so I knew that if I got the chance, I had the talent and determination to succeed.
You most certainly did because you won the German F3 championship in 1991. How did that big break come along?
TK: I'd met a lot of people. They knew how fast I was in karts. It was Bertram Schäfer who signed me up for his F3 team in Germany just before the season started and I put the car on pole for my first race at Zolder. It was a big championship; the year before it was Schumacher, Rensing and Kaufmann fighting for the title. So this was a huge breakthrough for me and I won that first race, led the championship from beginning to end. So now I was a professional driver and I'd moved to Bitburg to work with the team on a daily basis. It was the foundation of everything. At Christmas my mum tried to convince me to stop. She said I'd had my dream, proved myself as a winner and now it was time to go back to the bank. You know, it's crazy, but I was actually on leave from the bank the year I won the F3 title.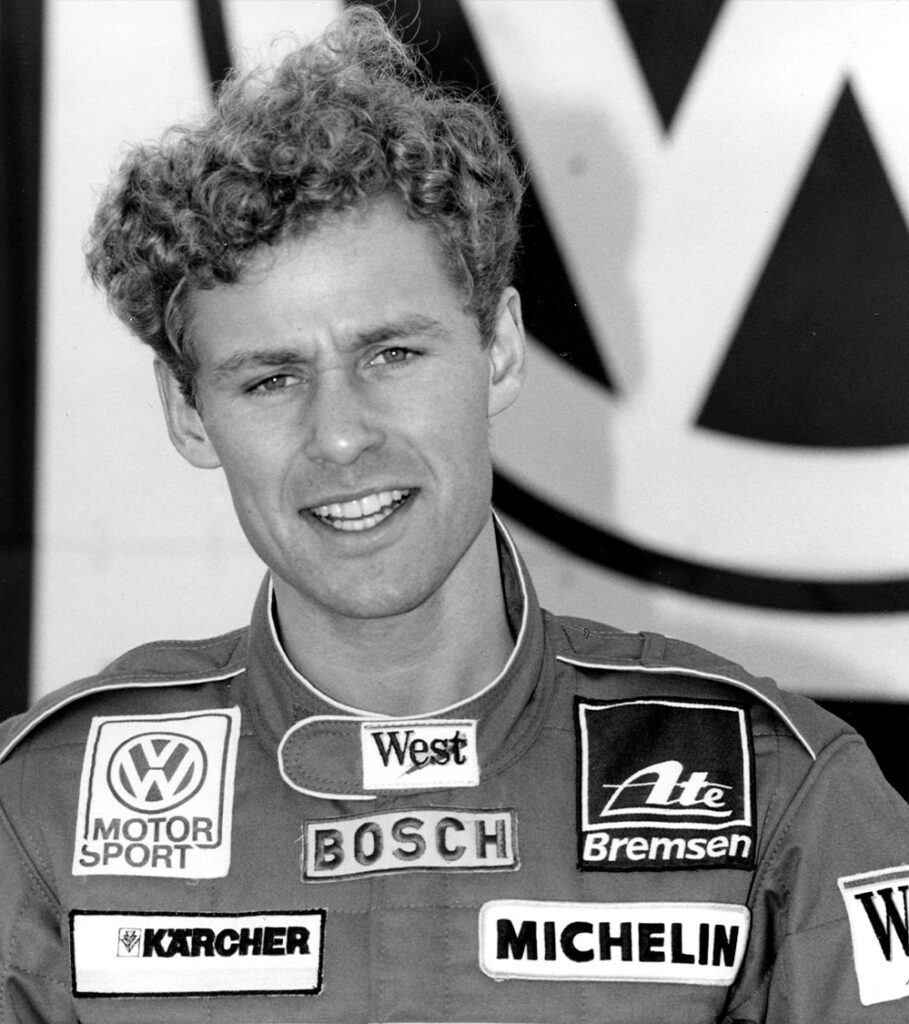 Did you already have your sights set on Formula 1? Was this the ultimate goal as German F3 champion?
TK: Of course, it was a realistic target, but you have to understand that everyone in Denmark said that was impossible. There was no money, no backers, and they said Formula 1 would not be the right place for any commercial sponsorship, it was just too far away. There was very little private money in Denmark at that time. There is more today, but there was not going to be any support to take me to F1. There were no patrons like maybe there were in other countries at the time. I think possibly I had come too far too soon, it was going too well with too little experience and I had nobody behind me to help manage this.
In the end it was Alessandro Zanardi, a team-mate from karting, who got me a test drive with Giuseppe Cipriani's Il Barone Rampante F3000 team. He was racing for them in '91, fighting for the championship with Christian Fittipaldi. So I did the test at Mugello, it went well, but I didn't have enough sponsorship, so it was at Macau for the F3 race that I got my next huge breakthrough. TOM's Toyota came to see me and offered a contract for F3 in Japan. It didn't take me long to say yes to that, and the next journey began.
This was a very big step for you – a new culture, first time away from Europe and a fiercely competitive series that had attracted many other top European drivers. Was that at all daunting?
TK: No, I loved my five years in Japan, there was great camaraderie, I made many friends, raced so many different cars, learnt a lot of challenging tracks and matured very much as a driver. We had a lot of fun as well as a lot of good racing. It was another important turning point in my career. It wasn't just all the gaijins [Japanese for foreigners] staying together. The group changed all the time, and we had Japanese team-mates. We all socialised together. A great community.
One of my best races was my victory in the international Macau/Fuji F3 International ahead of the world's leading F3 drivers. Then in '93 I won the F3 title ahead of Rickard Rydell and Anthony Reid and just missed out on the Formula Nippon title in '95 behind Toshio Suzuki. I also got experience in a lot of other cars like the Nissan Skyline in GT, a heavy 4WD car, Super Touring, lightweight, front-wheel drive, some testing for Toyota in Group C. I made my sports car debut with Eddie Irvine and Jacques Villeneuve in the Toyota TS010. They joined TOM's at the same time as me and we are all still friends. Then there were the circuits, we used 12 in all, very varied layouts, which is yet more great experience. So, you know, such a great variety of cars and tracks, and that is what made racing in Japan like a university education for so many drivers who hoped one day to make it to Formula 1.
Back in Europe you were winning in F3000 and then came your first victory at Le Mans in the summer of '97 after a surprise call from Joest. We know you treasure that maiden victory.
"If a German was speaking English to me I must be doing a good job"
TK: I do, yes, it was the very foundation of my whole Le Mans career. I never expected to be anywhere near Le Mans in the summer of '97. I'd won the opening round of the F3000 series at Silverstone, come second in Pau, and was leading the championship when I got a call from the Joest team. They were running the TWR Porsche WSC-95, the same chassis that had won the year before, and I was to share with Michele Alboreto and Stefan Johansson. So this call was a big surprise. I mean I signed with Joest just four days before the race. I was playing tennis when the team called me and four days later I was in the car. I'd never seen the track before, and did just 17 laps in qualifying before the race actually started. I was full of butterflies, preparing to impress the little Joest team, which was just 12 people back then.
Michele put the car on pole, he was so fast, but we knew we had to be faster than the works Porsches because we carried less fuel and had to make more fuel stops than them. Anyway, the car was reliable and I got a new lap record along the way to beating the works McLarens, Porsches and Nissans by a lap. I remember my engineer Ralf Jüttner coming on the radio saying, 'Schnellste runde, schnellste runde,' and then he came on again, 'Lap record, lap record… now keep it steady.' And I realised, hey, if a German starts speaking English to me, then I'm doing a good job. Great memories. I drove the car again for the first time since at Goodwood SpeedWeek [last year] and it was just the same, big fat tyres, old-school gearbox, open cockpit, head in the wind – and I still fitted the car perfectly. A wonderful reunion.
So now you've won Le Mans, impressed in F3000, and in '98 you're offered an F1 test by Tyrrell. Did you believe you were now on your way to grand prix racing?
TK: Yes, but at that time Tyrrell was in a bit of a mess, in the midst of a takeover by BAR and not the great team it had always been. They asked me to do a test – but I'd already driven for Tyrrell when I drove Ken and Harvey Postlethwaite to the railway station after a race at Suzuka… so, you can say that was the only time I'd driven for Ken before the test. Anyway, I did the tests, at Monza and Magny-Cours, with the takeover going on in the background, and I realised all this was to put pressure on the existing drivers to bring more sponsorship… so I never got to race. It was the same with Williams-BMW. I did a lot of Michelin tyre testing for them in 2000 but the opportunity for a race seat never came along.
I will say, however, that the F1 tyre testing proved to be very useful because later we used Michelins on the sports cars.
Do you have any regrets about not showing your talent in F1? At the time many people said you had a great future in grand prix racing.
TK: No, no, I don't, even though it had been my dream. I was a Le Mans winner, working for BMW, and on my way to Audi the following year in '99, so I was in a good place. Wolfgang Ullrich [Audi's head of motor sport] had contacted me and signing with Audi was a great decision, the best I ever made as it turned out.
I did drive Formula 1 cars as we have said, and I have no doubt I would have gone well in grand prix racing, but I have always been very satisfied with the challenges, the cars, the teams I raced for, in my sports car career. Long-distance racing is very challenging, the circuits we go to, driving hard and fast for many hours, heading into the dark, sharing all of this with my team-mates. I had 16 teammates in 18 years of Le Mans and the years with Dindo (Capello) and Allan (McNish) were special. We were a very strong team. In '97, I was very much the new boy alongside Michele and Stefan, then at the end, with Loïc Duval and Lucas di Grassi. I was now the 'old boy' in the team.
So, no regrets. I would not have wanted to miss the career I've had, and I never had the backing for a proper F1 chance. Also, I was always fighting to go forward in my career and the setbacks only make you mentally stronger.
Did your victory first time out at Le Mans in '97 have a big impact in Denmark? Was there now more support in your homeland?
TK: Yes, it was a breakthrough for me. The win in '97 for a Danish driver generated more interest even though football and handball were still by far the biggest sports at home. As for motor sport, it was speedway that everyone was watching and following. Remember, John Nielsen had already won at Le Mans in the Jaguar in 1990 and Jan Magnussen was in Formula 1 with Stewart Grand Prix, but neither Le Mans nor F1 were broadcast live on Danish TV so it wasn't like you might expect. Later, when the fans started going to the races, there was a huge following with Magnussen coming to race in LMP1 and I was on a roll with Audi.
In April 2007, when you'd won Le Mans seven times, you had a very nasty accident at Hockenheim in the DTM, putting your whole career in jeopardy. You've rarely talked much about that…
TK: Yeah… it was a huge setback, I was out for two months, and there were questions about whether I should come back to racing after that. It was a big impact, a long recovery from the after-effects, and it was mentally incredibly tough to come back in time for Le Mans in June. A lot of kind people were saying it was time for me to stop but I'm very glad I didn't because the next seven years brought so much success.
I have no regrets about returning to what I absolutely loved doing, competing at the highest level. It was rare for me to crash but on the first lap of a DTM race there are a lot of wild, hungry drivers all fighting for the lead. At turn three, I got a tap from my teammate – I'd gone over the kerb trying to avoid that – and my first reaction was to try and keep the car out of the barrier. But… I was now in a wild spin, sort of hidden in a tyre smokescreen, so I was in danger from the cars coming from behind. I was hit by Alexandre Prémat. He was doing nearly 200kph [125mph] and went straight into the 'A' pillar of my car. Then I got a second hit, on the other side, and at this point I passed out. My life was saved by the monocoque construction and the support of the HANS neck device, but I was out cold for nearly 30 minutes. Of course the other drivers had no chance to avoid me so you can't complain about that.
The recovery was very tough and it wasn't until the Monday morning of the week before Le Mans that I decided I would race. The team was supportive, the doctors cleared me to race, and it was the right thing for me to do. I'm glad I did that.
Are you able to explain what makes a great endurance racing driver, what you need for this discipline?
TK: Aaaah, this is not an easy one to answer. First, obviously, you need to be fast and consistent and always be thinking of the big picture, the whole race, not only the next corner. It's important to manage your determination, to keep your focus, your concentration, you need to find an inner strength which helps you to keep the focus, the concentration over a long distance. It's about the mental strength, the discipline. Always be fast, yes, but sometimes you need to wait before you overtake someone, maybe some minutes, choose the moment, and all the time keep your rhythm.
"I was in a wild spin, hidden by tyre smoke when I was hit at 125mph"
You must race hard, for sure, but you must have the capacity to see that it's not about your position, it's about lap times, and looking after the tyres, the fuel and the brakes. This means you must give yourself some freedom within the rhythm of the whole race. It's something you learn, you feel, and not so simple to explain.
In November 2014 you and Audi chief Wolfgang Ullrich held a press conference in Copenhagen to announce your retirement. Why did you decide to stop when you were still at the top of your game?
TK: Well, the trigger for this came two years before when Dindo decided to stop, guys like Emanuele Pirro and Frank Biela had already stepped aside, and then Allan stopped at the end of 2013. Also, my dad died in 2013 and so he was not there to ask me why wasn't I faster, why hadn't I won this race or the other, and why did I overtake where I did, things like that. I missed his input, that intimacy with him. These kind of conversations you can't always have with the team.
Then in 2014 we had the new regulations, and that was a challenge I enjoyed, the lift and coast and all of that, but it required a very different style of driving. So, you know, I was now the oldest in the team, I was 'Uncle Tom' and all in all I thought it was time to stop. The week before the last race in Brazil I decided I would call it a day as a driver. I did the final stint and it was just great to be on the podium at Interlagos with Loïc and Lucas for the last time. I have stayed with Audi, a team I like very much, as an ambassador and I am still working with the drivers there, which is fantastic. It was very important for me to finish strongly. It was the perfect time to stop.
We had lived in Monaco which was, apart from the financial side, good geographically for travelling to testing and racing, but we moved to Denmark. That was important for my wife, my two sons and my daughter, and it's nice for the family to make our home here in Hobro, where I was born.
---
Tom Kristensen's autobiography Mr Le Mans is published in March by Evro and is available via the Motor Sport shop.