The quickest ever Ford RS200 — EVO2
There are RS200s, and then there's the one-off EVO2, first owned by the King of Jordan. Simon de Burton checks a majestic race car
Looking for a decidedly fast Ford with truly serious power and provenance? If so, you'll struggle to find better than this spectacular RS200 EVO2 which was originally sold to the late King Hussein of Jordan so he could indulge his passion for racing.
An enthusiastic daredevil and incurable adrenaline-seeker, Hussein was potty about cars, motorcycles and aircraft so it was inevitable that the 250-odd horsepower produced by the 'regular' road-going RS200 homologation special wouldn't even come close to satisfying his need for speed. Instead, he ordered this, which is claimed to be the quickest RS200 ever to be despatched from Ford Motorsport's HQ in Boreham, Essex.
It was transported to his highness aboard a Royal Jordanian Air Force cargo plane in 1986 – along with Ford's rally co-ordinator John Taylor and star racer Stig Blomqvist, both of whom were sent to instruct the king in the finer points of handling the 700-plus horsepower fire-breather.
With a little training from Blomqvist, King Hussein spent a season hillclimbing the car and setting a few records in the process before, as Jordan's economy spiralled into recession, he sent it back to Boreham where it was prepared as a factory entry into the 1989 European Rallycross Championship.
Indeed, readers of a certain age may well have seen chassis 20 dancing around various continental circuits during the BBC's Grandstand live coverage of the series, variously with Blomqvist and fellow star driver Jonathan Palmer at the wheel. And the last time the car was driven in anger was during qualifying for the Brands Hatch round of the championship – although the race proper was called off due to dense fog.
Very soon afterwards Wisconsin-based racing driver and legendary Ford competition car collector George Stauffer acquired the RS200, which he immediately dressed in un-raced bodywork to ensure the original panels were preserved. They remain with the car today, meaning that it is still exactly as it was when it finished its works duties.
It also retains the many one-off features fitted in period, including a special interior with Blomqvist's personal wheel, and the original fire extinguisher system from 1989. Elsewhere, the car also carries the correct rallycross front differential, unique ECU and specially placed oil tank which, unlike any other RS200, sits on the front right-hand-side beneath the windscreen.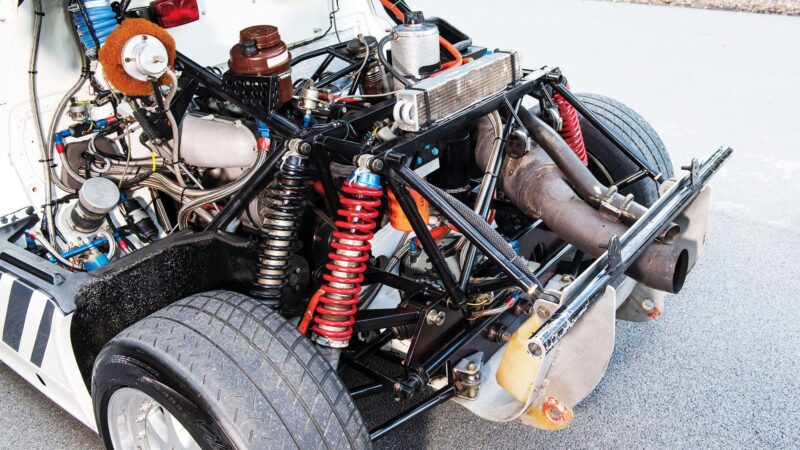 Sold to the current vendor by Stauffer, the four-owner car has been kept continuously on the button and in full running order since 1989. It's claimed to be the most original factory RS200 in existence, and the icing on the cake for any aspiring British buyer is that it's also registered for road use in the UK.
So you won't just need to stick to the rough stuff. You could also pop to the shops. And do the school run…
Ford RS200 EVO2
On sale with Duncan Hamilton Rofgo, Winchester.
£POA
dhrofgo.com