1985 Brazilian Grand Prix race report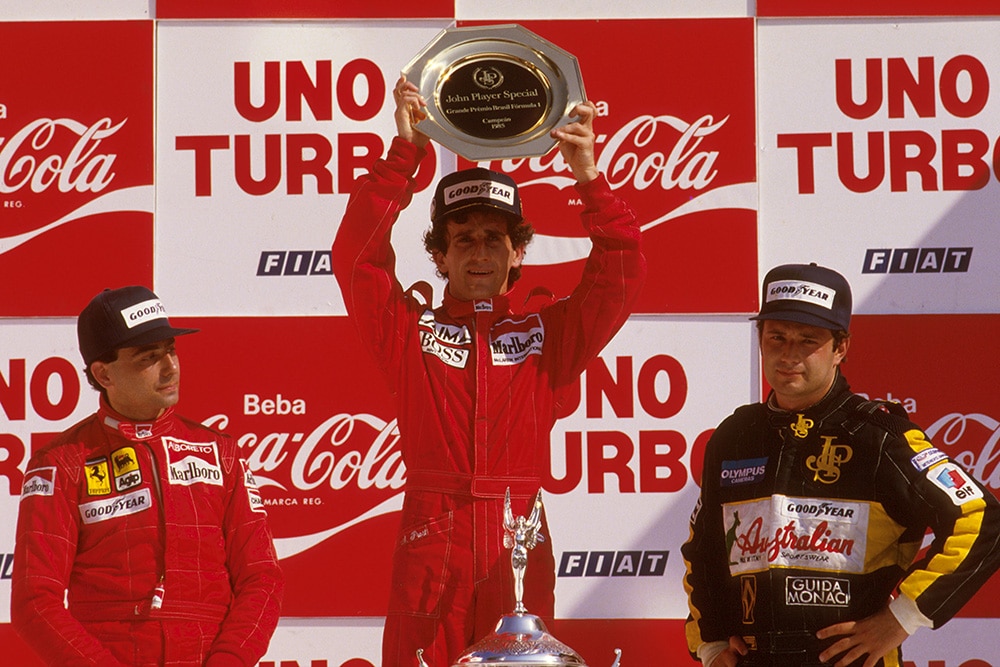 McLaren again
Rio de Janeiro, April 7th
The Grand Prix on the flat Autodromo Riocentro in Brazil opened the 1985 Formula One season and saw Alain Prost take an easy victory in the revised MP4/2B McLaren-Porsche. During practice and qualifying it had been the Lotus team of de Angelis and Senna who set the pace, pipped for pole position at the last moment by Albereto in the new Ferrari. As ever, Rosberg was driving the Honda-powered Williams beyond its limit and though the new FW10 is a vast improvement over last year's car it was not devoid of trouble. In a last minute s*** or bust effort Rosberg got himself on the front row of the grid alongside Alboreto, the Lotus lads being in row two. Prost was in row three and Lauda in row five, which did not look good for the Woking team, but once the race started it was another story altogether.
Alain Prost, 1st position, Michele Alboreto, 2nd position and Elio de Angelis, 3rd position on the podium.
From the green light Rosberg charged off into the lead, while his new team-mate Nigel Mansell charged off into the catch-fencing on the first corner! He continued for a few laps until a turbocharger failed. Almost immediately the pattern was clear, with Rotberg out in front driving his heart out until a turbocharger cried enough, followed by Alboreto at a discreet and safe distance in second place, the Ferrari looking very good, but tucked up under its rear aerofoil was the red and white nose of car No 2. Prost was obviously sitting pretty and waiting his moment to go by. The two Lotus cars were following, but not really keeping up and bearing down on them from his lowly grid Position was Lauda in the second McLaren, soon to go by into fourth place, which became third place when the leading Williams disappeared into the pits with its left-hand turbocharger belching flame and smoke. Although Alboreto was leading he was not getting rid of Prost and one felt that the Frenchman was so confident that he was in no hurry to change anything. With Lauda third the McLaren-Porsche situation looked the familiar one we got to know last year and if the Ferrari failed it was going to be the old "one-two" again. However, it was the Porsche engine which failed, or more precisely the Bosch electronics controlling engine management which failed and forced Lauda into the pits into eventual retirement. Already both Brabham-BMWs were out, Piquet making a rare mistake and going off the track, and Bernie's new boy Hesnault also had a mild accident. The Arrows team of Boutsen and Berger, the only other users of BMW engines, were never in the picture, while the factory Renault team would have done themselves more good by staying away from Brazil.
One has come to expect the Euroracing Alfa Romeos and the Ligiers to be "also-rans" and they lived up to their reputation, even though both teams fielded new cars. Prost took the lead at his own convenience and then simply cruised to victory appearing to use very little effort and taking his time lapping the other competitors, while Alboreto was settled in second place, neither of the Lotus drivers giving him any trouble. With the new rules about rear aerofoil size there were new parameters of "down force" to be calculated and with the heat and it being the first race for six months most teams played safe and made a tyre change around half distance. The McLaren team were as fast and smooth as in the days of refuelling, Prost getting away in little over 10 sec, but the Lotus stops were "amateurish" by comparison. The serene Alain Prost ran through untroubled to the end of the 61 laps, followed by an equally serene Alboreto in second place, neither driver ever being much to watch, even when they are going really fast, unlike Rosberg or Arnoux, for example.
In his first race for Team Lotus, with the new 97T, Ayrton Senna was doing a splendid job, securely in third place ahead of his experienced team leader Elio de Angelis. The rest were "walking wounded". Arnoux had arrived at the pits with his left rear tyre in shreds and Warwick had a miserable day with the new Renault EF15 engine, which misfired and ran badly most of the time. Senna's secure third place suddenly evaporated near the end when the ignition system failed on his Renault engine, and he had to watch his Italian team-mate take third place.
Quite often the first race of the season is a repetition of the last race of the previous season as regards the cars, but this year, apart from Team Tyrrell and the Spirit team, everyone had their 1985 cars ready for the first practice, though not all of them were ready for the first race if the results were anything to go by.
Good Morning AH. By the look of your nose it was pretty hot in Brazil.
AH: Hot! DSJ you should try it one day. If you weren't actually doing anything you would find it unbearable and trying to work under those conditions is very unpleasant. How on earth the mechanics and all those people who have manual jobs to do, cope with it is always a source of wonderment to me. And the drivers earn their money too, for cockpit temperatures were some of the highest ever recorded.
DSJ: You know, the South American races have never appealed to me, which is why I have never been to Argentina or Brazil. Way back in the dark ages, in the days of the "Temporada" as the series of events was called, drivers like Moss, Hawthorn, Collins, Schell and Behra used to return to Europe from those races with tales about the heat, the laws, the driving conditions, the Autodromos and they always left me with no desire at all to accompany them on their next trip. Added to which the air journeys by four-engined propeller-driven Lockheed Constellation aircraft sounded very arduous.
AH: Well yes, but at least the modern Jumbo Jet is reasonably comfortable, but it it's still a long haul to Brazil. Quite honestly I am always pleased when the plane lifts off from Rio de Janeiro on Sunday night after the race. I think to myself, that's it for another year, I've done my penance, now we can start the sane and sensible Grand Prix season. I'm glad the Brazilian race starts the season rather than ends it. Mind you, when the race used to be held at Interlagos things were a bit better, because that was a really exciting circuit on which to watch the heroes doing their stuff. The Autodromo Riocentro is deadly dull by comparison. As flat as the old Aintree circuit and about as exciting as Paul Ricard.
DSJ: Where exacdy is the Rio Autodromo? There seems to be some difference of opinion in the various previews I read. Some say 40 min from Rio de Janeiro city centre, others say 40 kilometres and another said, a few miles; and while we areas it how many laps was the race? Three PR firms said it would be 62 laps, and one said it would be 61 laps, though they did all agree on the circuit length being 5.031 kilometres, but the conversion to miles varied quite a bit.
AH: Well, I suppose to be accurate, it's about 15 miles south-west of the City centre, because the coast-line is running north-east to south-west at that point in Brazil. But that depends on what you describe as the centre of Rio de Janeiro. This huge South American city is a great sprawling metropolis which is surrounded by several famous beaches such as Ipanema, Leblon and Copacobana, so I am never really certain where the centre of the place actually is. One thing that does surprise me, however, is that although the circuit is reached by a quite narrow main road, there was no difficulty at all getting in or out this year. In fact, although it may amaze you, the pass situation, for both cars and personnel, was as straightforward and uncomplicated as one could imagine. I know one tends to associate South America with a casual, almost lethargic approach towards life, but in this respect the Rio circuit organisation was most impressive. I put that down to the guiding hand of B. Ecclestone, of course, who has been involved in the organisation of this race for many years. Incidentally, as a token of appreciation of the work he has done on behalf of the race, Bernie was awarded the "Freedom of Rio" by the Mayor and, what's more, the new medical centre at the circuit has been named after him. Perhaps he's turning into a philanthropist in his old age! The race, by the way, was 61 laps though originally it was going to be 62 laps.
AH: I've never been quite certain why Interlagos slipped off the calendar. It was my favourite circuit of all; a bit like a combination of Brands Hatch, Clermont-Ferrand and the Nurburgring, and fast enough to hold everyone's attention. It is at Sao Paulo, of course, the home of Emerson Fittipaldi and the late Carlos Pace, and to watch an Interlagos crowd go absolutely bananas with delight as Pace's Brabham-Alfa came storming out onto the pit straight leading the first lap of the 1977 Grand Prix was a sight which almost brought tears to my eyes and made the hair stand up on the back of my neck. It made Monza look like a garden party at the Henley regatta. We first went to Rio in 1978, when Reutemann won for Ferrari, then it was back to Interlagos for two more years before coming to Rio for good in 1981. Funny thing is, from the television positions I think the Rio circuit looks quite good: on ground level it seems pretty boring. Not in the same street as Interlagos, but at least the Brazilians have an infectious enthusiasm for the whole business of Formula One and had plenty to cheer about when Piquet and Senna hove into view.
DSJ: I must say the entry of new cars at Rio was impressive. The six month break since Portugal last year gave everyone time to build new cars, as well as doing a lot of testing. Was anyone actually using last year's cars?
All: Only Tyrrell, Osella and Spirit were on old designs, everyone else had brand new cars and I suspect that you will love the new Ferrari with its totally redesigned engine with the inlet ports in the vee and exhaust ports outside the vee; the reverse of all previous Ferrari turbocharged engines. The new layout gets the weight of the twin turbos much lower, with one on each side of the engine rather than both being on top of the engine. This also gives a neat engine cover and improves the air flow to the rear wing. While they were at it they redesigned the transverse 5-speed gearbox, raising the shaft centres a bit to permit a tidier underside to the car and improve air-flow out the back. It is amazing how Ferrari will spend thousands of pounds for a very small gain. it really is a nice looking car, which you can't say of all Ferraris, and it is still red. Dr Harvey Postlethwaite is in complete charge of the racing department and has been since Mauro Forghieri was moved into "advanced projects". You know how we used to watch Forghieri in the pits and say he, was mad, by our standards. Well it seems we weren't far off the mark. He seems to have literally worked himself into an exhausted state and has now given up the racing department.
DSJ: I miss Forghieri, because for me he was Ferrari. However, Dr Harvey does seem to he maintaining the Ferrari standards, for Alboreto was the only runner who looked like worrying Prost in the race, and both cars finished.
AH: You will like the new Brabham as well, a super looking car. Gordon Murray does have a knack for designing really neat and attractive cars.
DSJ: It's not really a knack, it's an inborn talent that some designers have and some have not. John Barnard is another who has this inborn talent. I can just stand and look at the detail work on a McLaren or a Brabham and get a great feeling of satisfaction from looking at the neatness and simplicity of the design thinking. I look at other cars (no names) and just shudder. It's like the welding on the suspension parts, I marvel at the perfection of the welders at Brabham, McLaren or Williams, while on some cars I think to myself, I could make as sloppy a job as that; and on some you think the welding was done with a knife and fork.
AH: Even so, the standard of preparation and finish in Formula One is very high, and I think we can thank Bernie Ecclestone for that, for he instilled the right thinking into all his FOCA teams, making them aware that presentation and finish is as important as basic design work. His own cars always look smart.
DSJ: There wasn't much sign of BMW in Brazil, and as far as I could see the Arrows team might as well have stuck to Cosworths.
AH: Well no, though you can't blame BMW for the retirements of the two Brabhams. Piquet spinning off was most uncharacteristic of him, and he looked very unconvinced and puzzled when he said he had spun on some oil, for he wasn't sure he had seen any oil. After the race the Brabham mechanics found that the gearbox had seized up! New boy Hesnault simply let it get away from him and slid into Cheever. I most admit that even in qualifying Piquet wasn't up with the front runners, but the general feeling is that the Pirelli qualifying tyres are not yet a match for those of Goodyear.
DSJ: Paul Rosche is quoted as saying that he could have 900 bhp from a special qualifying BMW engine.
AH: Could is the operative word. Even if they had 750 or 800 bhp in qualifying, the tyres did not seem in the same class.
DSJ: It is interesting that Ecclestone has committed the Brabham team to BMW for another three years. This must mean that Rosche has a new engine in the offing.
AH: If he has he's keeping very quiet.
DSJ: Brian Hart's four-cylinder wasn't exactly on the pace with the V6 Honda, V6 Renault, V6 Ferrari and V6 Porsche.
AH: You mean the V6 TAG Turbo?
DSJ: Let it pass. How was Jam Tart and his engines?
AH He was really missing the Toleman team and Ayrton Senna. I rather think we saw the peak of Hart-power performance with Senna at Estoril last year, although now we will never know how Johansson would have gone in the Toleman TG185.
DSJ: You know a Hart engine has yet to win a Grand Prix, and indeed, when all things are equal, I've yet to see a Hart engine even look like winning a Grand Prix.
AH: What about Monaco last year?
DSJ: I don't count that, they were freak conditions.
AH: Yes, and Mansell freaked out when he had the race in his pocket.
DSJ: I wish you hadn't mentioned poor old Nigel. He must be his own worst enemy. To crash on the first corner in his first race with Williams! You can only shake your head and say "Oh, no!" and try not to watch.
AH: I couldn't believe my eyes when I saw a blue and yellow car spinning out of the first corner "kerfuffle" for we had already seen Rosberg storming off into the lead.
DSJ: What the devil was he trying to do?
AH: He told me that there was no question that he was just ahead of Alboreto and the Ferrari nudged his rear wheel, but the photograph we used on the front of Motoring News showed that he may have been mistaken. I know that Nigel thinks that the British press are against him, always blaming him for any accident in which he is involved, but that's not the case at all. I personally find him a very nice sort of bloke, madly passionate about his motor racing and not suffused with an over-inflated ego, which makes a change from some people I can think of, but I do believe that he lacks the capacity of self-analysis on occasions. For example, when he spun off at Monaco last year he went to enormous, detailed pains to explain what happened when he was interviewed on television by Murray Walker, when all he should have said was "I goofed", smiled and left it at that. I think people admire drivers who can say "I made a mistake" and that's something that Nigel should think about very carefully indeed. The trouble is, I get the impression that he thinks that everybody who is not with him, 100 per cent, is therefore necessarily 100 per cent against him, which isn't the case at all. In his first race for Frank Williams I think he should have subjugated everything, absolutely everything, to keeping out of trouble and trying to finish. If he'd have snatched second place successfully round the outside of Alboreto, we'd have all been calling him a hero; trouble is he didn't, and, in his position, I don't think he should have been trying to. I'm sure if he tried a little less, he would perform more effectively.
DSJ: I bet Frank Williams was pleased? And what did Patrick Head say?
AH: I didn't speak to them after the race, but I'm sure they will have accepted Mansell's position. At least you could say that he was going for it, but let's hope he doesn't have too many, shall we say unlucky, races like that again this year.
DSJ: I imagine "Happy Jack" Laffite was grinning when he saw the Williams-Honda in the catch-fencing and even more so when he saw Rosberg disappearing in a cloud of smoke and flame from a turbocharger. Reminds me of a sports car race back in the '50s when Fangio shared a 300S with that nice Spanish driver Godia-Sales. Fangio arrived back at the pits with the front all smashed in and Godia said quietly "You don't need to be a World Champion to do that. I could have done that". Nice to see Laffite finishing in the points, even if he was a long way behind.
AH: The new Ligier JS25 doesn't seem to be much improvement, if at all, and all the Renault engines are supposed to be the same, but the Lotus 97T is in a different league.
DSJ: What on earth were the Renault factory up to? I heard they changed the sparking plugs on Warwick's engine half way through the race, to try and cure a misfire. Imagine it, changing plugs during a Formula One race. Those days went out with wire-spoke wheels and front engines.
AH: Yes, they really did change the plugs and it made no difference. What's more they didn't change the tyres at the same time so poor old Derek had to make another pit stop to change tyres. I think the whole Renault project has lost its way through a combination of bureaucracy and inability to allow good people to get on with it. OK, so this new supremo Gerard Toth may be a career high-flyer within the Renault company, but you need specialised knowledge gained over many years to be successful in racing.
If Rio was any barometer of Toth's influence on the team's fortunes then I wouldn't be surprised if we don't see him again. The atmosphere within the team is tense and foreboding: I think they've almost lost the last vestige of self-confidence. It's all very well to say Tambay was fifth, but for heaven's sake, he was two laps behind the winner. And you and I have been at Grand Prix races where the Spirit has only been one lap behind!
DSJ: Yes, and we've also been at races that Prost won driving a Renault! Anyway, what was all that tyre changing about?
AH: A repeat of last year, really, with everybody opting for a "play-safe" policy. I'll bet within a couple of races everybody will be running non-stop; again, like last year.
DSJ: That was Prost's third win in a row. Nurburgring and Estoril in 1984 and now Brazil in 1985 and by the time these words are being read he could well have won Estoril again.
AH: Yes, but even more impressive is the fact that McLaren haven't lost a race since the British Grand Prix last year. That is eight wins in a row.
DSJ: Couldn't be anything to do with Porsche's third generation turbocharged engine they designed and built for TAG. . . or could it?
AH: Hmmm! . . . you are biased.
DSJ: I suppose I am. With three German cars and two German motorcycles, to say nothing of my Braun cigarette lighter, Hella workshop lead lamp, Stahlwille spanners and my taste for Liebfraumilch, you could say I was biased, but even an there is something about Porsche engineering. Anyway, Stefan Johansson drove Stefan Bellof's Tyrrell; what was that all about? Was Ken in trouble again already?
AH: No, Ken Tyrrell wasn't in trouble, but Bellof was. Basically, Uncle Ken has some very firm ideas about his driver contracts and I gather that some problems arose over Bellof requesting (demanding?) a number of changes to his contract. He presented Ken with a letter outlining his requirements shortly before practice began on Friday morning. Ken responded by suspending him for one race and as Johansson was hanging around and happened to have his gear with him, he got the drive. Martin Brundle was in great form on his first Formula One race since his big shunt last year, and he and Johansson formed one of the happiest pairings in the pit lane.
DSJ: Which brings us finally to the absence of Toleman; I thought all along they were bluffing when they said they were going to miss Brazil because they had no tyres.
AH: It's quite true, both Toleman entries were withdrawn, which is why there were only 25 runners, and everyone qualified for the grid. There is more to the whole Toleman affair than meets the eye, and until we know and can say exactly what it is all about it is best left.
DSJ: OK, so we'll leave the Brazilian Grand Prix as well. As the media men say" . . . and Alain Prost leads the 1985 World Championship . . .". Not surprising really, as we've only had one race and he won it.
Results Brazilian Grand Prix — Formula One — 61 laps — Rio de Janeiro —5.531 km per lap —306.891 km — V. Hot
1. Alain Prost (McLaren)
2. Michele Alboreto (Ferrari)
3. Elio de Angelis (Lotus)
4. Rene Arnoux (Ferrari)
5. Patrick Tambay (Renault)
6. Jacques Laffite (Ligier)