1986 Brazilian Grand Prix race report
Rio in retrospect
When a brand new Grand Prix car wins on its maiden outing, it is an event which always raises one's eyebrows: not simply over the quality of the individual victory, but what that victory might portend in the near future. When the Mercedes-Benz W196 won on its first appearance at Reims in 1954 it served as a preview for two seasons near-dominance by the three-pointed star; when the Lotus 49-Cosworth V8 won at Zandvoort in 1967, it marked the start of another era in which Keith Duckworth's V8 racing engine would become established as one of the sport's technical cornerstones for almost two decades.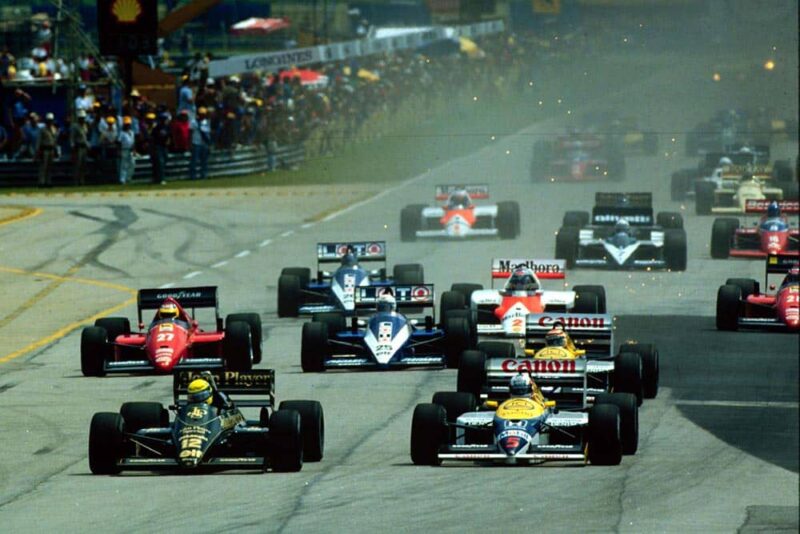 Nelson Piquet's convincing triumph in the opening round of the 1986 World Championship at the wheel of the brand new Williams-Honda FW11 raised several interesting questions as well as answering a few others. It not only underlined the fact that the twice World Champion had made a shrewd move severing his links with the Brabham team, but underlined just what enormous strides had been made by the Williams Honda partnership since its first turbocharged F1 car saw its dawn of competitive action at Kyalami at the end of 1983.
Frank Williams was late on the turbo bandwagon. At the height of the "TOCA/FISA wars", when spurious and esoteric technical arguments were advanced to legitimise DFV-engined cars racing below the permitted minimum weight limit in an effort to sustain some sort of performance parity against their more powerful turbocharged rivals, Frank was one of the most vocal supporters of the normally aspirated cause. But he has always been a professional racer and his underlying shrewdness could be seen in his assessment of which route to follow when it became inevitable that the turbocharged engine route was the only one to follow.
Although the Paris-based Franco-Saudi high technology Techniques d'Avant Garde (TAG) group had been one of the Williams team's major sponsors, Frank was never a recipient of the Porsche-built V6 turbo which has been used to such good effect by McLaren. Nor did he want to be, because that would have meant being second in the queue to Ron Dennis. The same reservations applied to the BMW four-cylinder, which his team examined in some detail. Using the German engine would necessarily have involved standing in the queue behind Brabham boss Bernie Ecclestone. That wasn't for Frank.
Finally, after an enormous amount of complicated negotiation involving endless trips to Japan, the Williams-Honda deal was forged in 1983. The Japanese V6 propelled Keke Rosberg into the championship points with fifth place at Kyalami on its debut, since which time the partnership's progress has followed a steady and progressive path towards success. The unpredictable FW09 was manhandled to a fine victory at Dallas in 1984, the FW10 won at Detroit a year later and then the FW10B rounded off the '85 season with a trio of wins at Brands Hatch and Kyalami (Mansell) and Adelaide (Rosberg).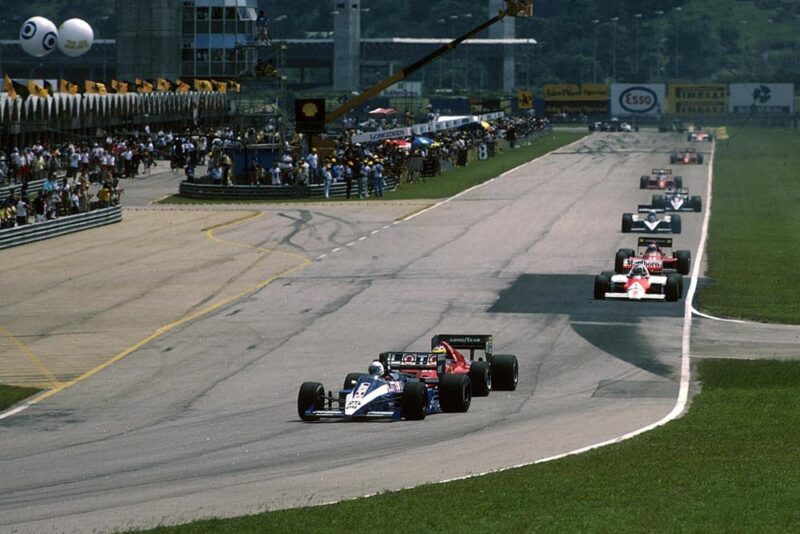 Over the winter, the question which hung over every manufacturer's head surrounded the new fuel regulations. With the maximum permitted fuel load slashed from 220 to 195 litres, it was going to be interesting to see who got on top of this accentuated fuel efficiency challenge. The answer to that seemed crystal clear at Rio where Piquet's new Williams-Honda FW11 not only outran Ayrton Senna's Lotus-Renault quite comfortably, but finished the race with some 12 litres of fuel still left in the tank and managed to shave a second off Alain Proof's two-year-old McLaren-TAG lap record. When one watched the new slimline Brabham-BMW BT55s floundering about the place in a state of disarray, the judgement demonstrated by Piquet in accepting the Williams offer last year slipped into even sharper focus!
Of course, while Piquet ran out an easy winner it's worth remembering that Alain Prost's McLaren steadily climbed through from 10th place on the grid to enjoy a stint in the lead before retiring with engine failure. The World Champion had a succession of minor problems during the two qualifying sessions, but underlined that winning the title had not blunted his appetite for success in the slightest when it came to the race. Although the battle was not seen through to the finish, Prost was planning to make just one stop for fresh Goodyear rubber while Piquet's Williams was definitely on course for two.
On paper that would have left us with the sight of Prost, in the lead, nursing his second set of tyres for the last 20 laps while Piquet came at him hard on his third (and therefore newer) set. That would have been a very close run thing, in which case it would have all come down to how much quicker the two cars could have run had they been hard-pressed. The fact that the Williams still had a healthy residue of fuel in its tanks indicates that Nelson could have gone quicker still than his record-breaking lap, but then the McLaren-TAGs have always been very fuel efficient propositions as well. But that theoretical scenario will just have to be filed in the "might have been" drawer…
Nigel Mansell finished the 1985 season being elbowed off by Senna's Lotus on the opening lap of the Australian GP at Adelaide. so there must have been an uncomfortable feeling of deja vu for the Englishman as he climbed from the cockpit of his rumpled Williams-Honda at Rio following what amounted to a repeat performance in the first race of the '86 season!
The Englishman, whose two victories late last season suggested he had at last conquered his boisterousness, stormed back to the pits in an indignant frame of mind and blamed Senna pretty vocally for pushing him off the track. Inevitably, the question arose. "should Mansell have tried it on at that moment on Senna's home ground?"
The answer, of course, must be "yes". Mansell is a racing driver and a highly competitive individual like his peers. For Senna to be allowed to think that nobody should come near him for fear of being shoved off the track would be wrong — for his rivals! But the basic premise that Mansell was making a perfectly legitimate challenge for the lead should not mask the fact that, in the heat of the moment, the Williams driver made a wrong judgement. He made a wrong judgement in assessing how Senna would react in such a situation and, what was worse, this was the second time he had incorrectly anticipated Senna's reaction. Three weeks later at Jerez, things would be different!
I was talking to triple World Champion Jackie Stewart a few weeks ago and he was telling me that the essence of successful manoeuvring in traffic is to put your immediate opponent in a position from which he is unable to respond to you. He was recalling his first Formula 1 victory in the 1965 International Trophy race at Silverstone when, holding his BRM a second or so ahead of John Surtees's Ferrari, he found himself coming up to lap Lorenzo Bandini in the other Ferrari entry towards the end of the race.
Stewart recalls being consumed with concern that Bandini might try and hold him up, to Surtees's advantage. With that in mind, when he came up behind the Italian going into Becketts, he made a particularly well lodged, positive and aggressive dive down the inside, moving out slightly to put Bandini into a position from which he could not retaliate. Stewart admits that it might never have been in Bandini's mind to react in such a manner, but there wasn't any way the Scot could take that risk.
Two laps after Mansell was ignominiously wiped out against the guard rail, we were treated to a copybook example of the philosophy advanced by Stewart when Piquet overtook Senna for the lead. He took a dummy run at the Lotus down the back straight on lap two, popped out of Senna's slipstream, had a quick look and then fell back into line. On the third lap Piquet began to run up onto the Lotus's tail a hundred yards or so early, pulled out and ducked past cleanly and then not only got ahead of his rival, but pulled partly back across in front of him to block him off completely. The only way in which Ayrton could have retaliated was to have driven into the back of the Williams — a counter-productive move for both drivers!
This foregoing account of what happened to the Williams drivers may all seem a bit straightforward and obvious to the reader, but l recount it just to emphasise how subtle the shades between success and failure can be in the highly competitive F1 environment. There is no doubt in my mind that Mansell has matured considerably as a driver since he ioined the Williams team, yet he allowed his heart to rule his head on this fleeting occasion. And the penalty for that minor deviation was retirement from a race in which, on the face of it, he might have finished second.
However, nothing is as simple and straightforward as it seems on television. What many viewers couldn't know was that Nigel was in a pretty wound-up state of mind. During the race morning warm-up session the fuel read-out in the cockpit of his Williams had indicated that he might be facing a consumption problem in the race and consideration was even given to his running the spare FW11. Then, at the last moment, his race car showed signs of a clutch fluid leak, so by the time he came to the line he was clearly feeling a little edgy about his prospects. Bearing that in mind, his overzealous approach to the opening lap seems far more understandable.
Piquet, of course. is no newcomer to debut wins in a new car. In 1983 he won the same Rio race in the brand new Brabham BT52-BMW, a success which must have been reflected on by the somewhat dejected Brabham team which worked extremely hard throughout the weekend to achieve little In the way of success. The striking new Brabham BT55, a tiny and remarkably low creation from Gordon Murray's drawing board, had already been extensively revamped prior to the Brazilian Grand Prix with revised intercoolers for the BMW turbocharged engine and new components in the transverse Weissman seven-speed gearbox, these changes being made in the light of various testing traumas. But the biggest disappointment came when the BT55's proved slow in a straight line, the very performance aspect in which their small frontal area originally was hoped to guarantee their excellence. Elio de Angelis and Riccardo Patrese are worthy enough drivers, but it is difficult to pretend they are in the Piquet class and Gordon Murray's great partnership with the Brazilian driver is now consigned to the history books. Whether Murray can forge a similar, almost telepathic, level of communication with any other driver remains to be seen, but frankly, the Brabhams looked like "just another team" at Rio this year. It seemed sad.
Having said that, if the BT55 is massaged into competitive shape, then Pirelli clearly has the rubber available to do a decent job. Last year the Brabham team was almost driven round the bend in frustration over the erratic quality of the Italian tyres, but the performance of Ligier twins Jacques Laffite and Rene Arnoux at Rio demonstrated very clearly that things are different this year. The two drivers finished third and fourth in what was also a fine advertisement for the new Ligier JS27 chassis, in addition to proving that 42-year-old Laffite still has the fire in his belly every bit as much as Arnoux, the former Ferrariste returning to the scene after a year away from the cockpit. Last year at Rio he finished fourth for Maranello before being dropped by the team and, after a year's layoff, he managed the same for Ligier. Keep an eye on him!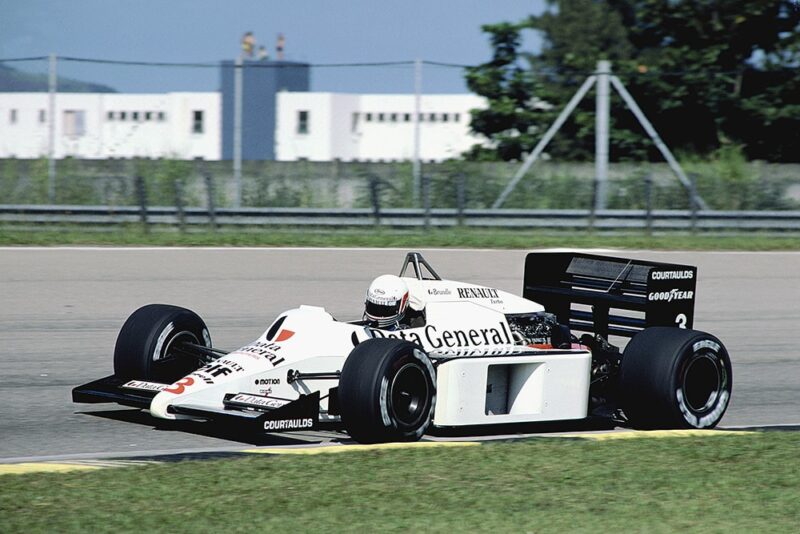 Of course, if you like irony, you would have loved the Renault performance at Rio. Last year its works F1 team didn't look as though it could run the bath water and was hauled out of the F1 firmament for good at the end of the season. But at Rio we were treated to the sight of six Renault customers starting the race and all six finishing — four of them in the top six!
Senna's Lotus 98T used the latest specification race engine which uses bottled compressed air to close its valves in place of valve springs, and scored a strong second place. The Ligiers were third and fourth with the regular EF15 unit which also propelled Martin Brundle, Philippe Streiff and Johnny Dumfries to the finish in fifth, seventh and ninth places respectively. Hardly surprising that Renault competitions "overseer" Jean Sage's face was wearing a broad grin to replace the tense, careworn expression it carried throughout much of 1985!
The latest Renault engine not only revs more freely but also has usable power from around 9,000 rpm to 11,500 rpm which should make it much more driveable and flexible on light circuits such as Monaco and Detroit. BMW, Porsche and Honda all decided that it made sense to supply engines to small specialist chassis manufacturers and, after eight years struggling with its own team, Renault seems to have decided, rightly, that this is the best policy to pursue.
In view of Dumfries' performance in the second Lotus 98T, I was naturally tempted to speculate to myself how Derek Warwick might have gone in the car. had Ayrton Senna allowed him into his team. I don't think there's much doubt that Derek would have been quicker in both qualifying and the race, but, that said, the Scottish Earl did a magnificent job in his first Grand Prix outing, I never saw him put a wheel wrong all weekend. He looked cool, calm and unflustered. It was a shame that Lotus unreliability prevented him from finishing in the points on his debut, but he is a man lo be watched from now on. It was very impressive.
Returning to the Williams success for a final observation, it was a great shame that the team's patron was not in Brazil to witness his new driver/ new car success at first hand. As these words are written, Frank still languishes in the London Hospital struggling to surmount the paralysis resulting from back injuries sustained in a road accident near Paul Ricard a fortnight prior to the Brazilian race. An accurate prognosis for his recovery rate will take some months to establish, but he can gain some comfort from the fact that he has set up such a well-oiled, highly disciplined and efficiently financed team of lieutenants around him, that the Williams-Hondas will be able to sustain their competitiveness despite his temporary absence from the scene.
Moreover, he should not only be proud of his team's achievement at Rio, but also comforted by the sense of protective affection they all clearly feel for him. — A.H.