1990 Brazilian Grand Prix: The Scarlet Pimpernel
I came here in 1979 and 1980 and each time it was a French victory. "Jean-Marie Balestre was in the mood to crow at his Saturday morning press conference in Sao Paulo, when he recalled the successes of Jacques Laffite and Rene Arnoux. He'd dragged himself to Brazil "despite precarious health state" and said he'd enjoyed the reception he got from "a raving crowd" of angry Paulistas still steaming after his treatment of their beloved Ayrton Senna over the winter. "This is my third visit," he went on, "but I am not trying to manipulate the World Championship!"
As the President made that jocular remark the chances of a French success seemed, shall we say, unlikely. The Ferraris couldn't make their qualifiers work and it was Senna, the local hero, all the way in his own backyard, on one of the circuits (or a derivation thereof) on which he'd cut his racing teeth. Things were going just the way his delirious fans had hoped. The end result, however, was different.
It was the Sunday morning warm-up that gave the first indication that this might not, after all, be Senna's day, that he might not achieve every driver's dream of winning at home. Prost was fastest by half a second, with Mansell pushing Senna hard from third place.
Ferrari had already been stung, though, by Ron Dennis' extraordinary allegation to the Italian press that morning that Ferrari was being unfair in paying engineer Steve Nichols over the odds and was doing so in what he deemed an underhand manner. There were suggestions in the pit road that Prost in particular hadn't been running on full tanks and that Cesare Fiorio was simply playing to the gallery to make a point.
The race seemed to bear out that suggestion. At least, for the first 40 laps it did. The start belonged to Senna, out on the right-hand side of the grid on the racing line, where the grip was better. On the inside Gerhard Berger struggled, just made it into the first turn (a pleasant echo of Laguna Seca's Corkscrew) in second place ahead of a hungry Boutsen.
Further back Alesi had been pincered between de Cesaris and Patrese, and the three made contact. Exit Andrea, stage right. Meanwhile Nannini's race was again blighted by the need for an early stop to replace a damaged nose. Alesi and Patrese carried on regardless.
It was Senna all the way round the opening lap, to the chants of his people. This was what thousands of them had packed into Interlagos to see, many of them parting with up to a month's wages for the privilege. With inflation rampant and new President CoIler de Mello freezing assets and bank accounts left, right and centre, it was an indication of their nationalistic fervour. Berger was close with Boutsen leading the Ferraris and the challenge, it seemed, would come not from Ferrari but from Williams. Patrese was a delayed sixth from Alesi, Martini, Modena, Bernard, Alliot, Donnelly,Piquet, Suzuki, Barilla, Grouillard, Nakajima, Alboreto, Warwick, Caffi, Foitek, Dalmas, Larini, Nannini and Morbidelli, who'd well and truly lost out when his car remained stuck in first all round the lap. A long stop would ruin his chances in his first GP.
For five laps Gerhard looked a threat. Then from 0.8s on lap five the gap stretched suddenly to 1.3s next time round. Already the Austrian was beginning to find he still isn't comfortable in the MP4/5B's cockpit and Senna was away as his team-mate overtaxed his tyres and began to encounter understeer. Boutsen, meanwhile, looked flowingly aggressive, pushing harder and harder until, to applause, he slipstreamed past the McLaren going into turn one on lap eight.
Was Senna clear enough or could Thierry pose an unexpected threat to capitalise on his smooth qualifying performance?
The answer was predictable. Ayrton was without peer as he gently stretched his lead, working the car neatly with metronome precision. Nonetheless, if anything happened to that McLaren, the Williams was nicely placed. It remained so until lap 30. Then, as Thierry made his tyre stop, he came to appreciate that awful feeling Mansell had experienced in Estoril last year.
There is a little crest in the pit lane. Not much, but in a stiffly sprung Fl car, it is enough. With a wheel in the air over it, Boutsen locked up as he stormed in, struck one of the wheels awaiting his car and, worse, hit mechanic Richard Ford. To shrieks from observers, the FW13B was pulled back — no reversing here! and the scheduled change went ahead. Fortunately Ford was unhurt, but the Williams needed a new nose and with the damaged one went any chance of victory.
"I had a problem with the brake pedal from the start and was having to pump the brakes," said Boutsen. "I misjudged its importance when I came in. I went to pump the pedal but was too late. I was really angry with myself. . . ."
His loss was Prost's gain, the Frenchman driving as smoothly as ever and suddenly looking a potential threat. He'd deprived Gerhard of third place on lap 17, and pulled easily away. Now, as Senna made his stop for tyres on lap 34, he took up the chase, his own stop well out of the way three laps earlier with the loss of only one place.
The way Senna was going, however, Prost wasn't going to catch him. The gap was 12.5s and staying constant as they went into lap 40, and that was when it all went wrong for the locals and their hero.
"The car was working well on its second set when I came up behind Nakajima," said Ayrton afterwards, his disappointment well masked. "I followed him through three corners and then he seemed to open the door as if to let me through. As I went inside him, he came across me and my nose was lost against the rear wheel."
It was the turning point of the race.
The mortified Naka would soldier on for eighth and say of the incident: "When I saw the blue flag I moved over but as I moved off line I got onto the dusty part of the track. I started to slide and as a result the car turned in just as Ayrton was passing me. Tell him I'm sorry; it wasn't intentional."
Of course it wasn't, but the race was lost. The main question was why had Ayrton not waited until the next straight, where he could have used his power advantage to pass without risk? He made a lightning stop for a new nose, having radioed his plight, but when he resumed he was third and Prost and Berger were now out of reach.
"After a bit I realised I couldn't catch them, so third was better than nothing," he said evenly, "even if it was everything to have won here. It is my dream, but after the incident I dreamed only to finish. For the championship, those points are vital."
If one McLaren was out of the immediate fight, Berger's wasn't too fit either. As the race progressed he ran into lots of small problems. Its understeer worsened as the race progressed so he elected to take it easy until his tyre stop. But as he pushed harder after it his right foot became more and more painful as he braked, and then the clutch began making the sort of noises it had in Phoenix. He'd already had a problem with it on Saturday and, mindful of how Senna had nursed his car home in America, Gerhard followed suit. Prost had it made.
"We've made detail changes to our transmission since 1989 and that could account for the new problems," said a McLaren insider. "We're 500 rpm up, the airflow is different, things like that. We have to look at it again."
Behind the McLarens, Mansell endured a troubled time. The on-board adjustment for torsion bars on top of the front dampers, which controls the front anti-roll bar, had worked to its maximum adjustment on one side, making the car handle unpredictably. Mansell tore in, taking the steering wheel off to enable the crew to get to the problem. By then, however, he had already been informed over the radio that — due to the cramped nature of the cockpit — the fault couldn't be quickly rectified. With the wheel quickly replaced, Nigel fairly stormed out of the pits and thereafter raced hard to secure fourth, but it might have been third but for that delay.
For Boutsen, the day brought only fifth place and frustration, while Piquet gathered himself together to snatch sixth from Alesi two laps from home.
The Brazilian had been charging early on, but his second set of Goodyears simply didn't work as well. "The car had real bad understeer, massive," said Nelson, who elected to make a second stop for another set. "They transformed the car again and I was able to go racing again," he grinned.
Alesi, unwell in any case after contracting a stomach bug the previous night, was struggling by the end of the race. He opted for the spare 018 and had run through non-stop on his Pirellis, but by the end he just couldn't keep Piquet at bay.
"I tried, believe me. I tried everything I could think of! But the car was just oversteering more and more."
Indeed, such was his plight that Nakajima was lapping faster towards the end.
Neither of them should have finished ahead of Patrese, but Fate had a surprise in store for Riccardo as fifth place seemed in the bag with six laps left.
Earlier, just after Senna's pit stop, Riccardo had survived a spin after an opportunist bit of overtaking saw him turn in too sharply ahead of the McLaren and thereafter he had slipped back into a comfortable rhythm, rid of initial understeer but still having a little gearshift difficulty. Then the hard charging Mansell had squeezed ahead on lap 66.
"The engine was working well and I thought I could keep Nigel behind me," he explained. "But then I saw smoke in my mirrors, and even though the gauges and everything said it was all okay, the engine suddenly expired at the end of the 65th lap." A ruptured oil cooler was later deemed the culprit.
The remaining finishers were walking wounded. Like Alesi, Martini had gone through non-stop, and was minding his business happily enough in a comfortable eighth when the brakes began playing up and obliged him to slacken his pace. That let Nakajima past and Nannini too, the Benetton driver's ploy of opting for harder Goodyear Bs being thwarted by his first lap problem. Just to make matters worse, he picked up a puncture right at the end, after moving into ninth. He came in for a replacement but it was so near the end of the race that he didn't go out again and was classified 10th.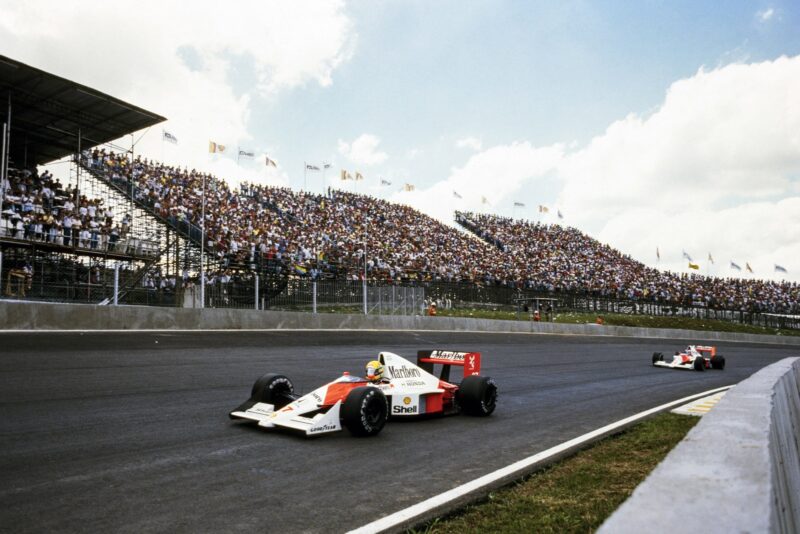 For Ligier, 11th and 12th places were a disappointment after Alliot's qualifying form, and neither the Frenchman nor Nicola Larini had an easy time. Alliot lost his brakes very early on and began a steady decline from 10th place as he was obliged to keep pumping the middle pedal, and later the problem prompted a quick spin during his non-stop run.
Larini, meanwhile, had had a clutch problem in his race car in the morning, had taken the spare for the warm-up, and was then disappointed to find a different clutch problem developing in his repaired race car as the event progressed. By the end he was exhausted after a gritty struggle.
If de Cesaris' first lap nonsense ruined Scuderia Italia's day — he was pretty much a victim of circumstance — at least Morbidelli brought his BMS 190 home, albeit seven laps adrift. Given that first lap delay, it was an encouraging performance.
Neither of the Arrows made it. Caffi returned to the cockpit after his recent collarbone injury, but succumbed to fatigue as the heat and pace took its toll. Alboreto had at least climbed to 14th from his lowly grid position, picking up five places after an excellent start. He was progressing well, too, until the handling suddenly deteriorated alarmingly. Fresh tyres didn't effect a cure, and afterwards a faulty damper was discovered, probably as a result of a brush with Grouillard.
The Frenchman was out after climbing over Alboreto's right rear wheel going into turn one early on; grit from the outside of the corner had contaminated the Osella's steering rack.
Modena spun and stalled his Brabham when running a good eighth on lap 40, joining Foitek in retirement. The Swiss had missed a gearshift and then found his BT58 without drive 25 laps earlier.
BariIla dropped a valve and the rivalry between the two Lamborghini-powered teams — Lola and Lotus — ended in a dead heat with all four cars out. Eric Bernard ran well in the early going, passing Alliot, Modena and Martini, but then he began to experience difficulty selecting sixth and fifth and was out by lap 14. Suzuki, too, was an early retirement. He and Dalmas had collided in the warm-up, and both would drop out with suspension problems thought to be linked to that incident.
"The car became very difficult to steer after only a few laps, and when I pitted we found that the front suspension was broken."
Dalmas lasted longer, but when he was running 16th on lap 29 "the front suspension just broke. Whap! Luckily for me it was in a slow corner. . ."
The Lotuses at least went better in the warm-up and Donnelly looked good in 11th place at one stage, but he was moving around too much in the cockpit and eventually his numbed right leg refused to respond at the right time and he spun into retirement. Warwick, aggressive in the early going, stopped to have Gurney tabs attached to his front wings and was exploiting reduced understeer when electrical failure sidelined him on lap 26.
As thousands of unhappy Brazilians went quietly home, another problem heaped on their already economy depressed state, Prost left Brazil a happy man, barely able to conceal his delight. "It is fantastic to win here. It is my 40th win, and my sixth in Brazil, both records. We had lots of problems in Phoenix and working at Ferrari is not always easy because you have to explain problems to people who don't always understand them. But after all the trouble in America it is great to win here. We need to improve our qualifying performance, but this has come at just the right time."
Prost and Senna studiously avoided acknowledging the presence of one another on the podium afterwards, Ayrton having earlier rejected Alain's attempts to bury the past. Prost was unable to resist adding: "I'd like to remind Ayrton that I've won six times in Brazil, and the first time he wasn't even in F1." It wasn't lost on him, either, that his record 40th victory virtually doubles Ayrton's score of 21. . . DJT