"To start with at McLaren my job was looking after the spare car, but in 1978 I was running James' car with Teddy. Teddy called the shots, but he was out of control most of the time, he didn't have the technical leadership.
I had to settle things down and see that the mechanics got things done. Alastair ran the second car, with Jochen and then with Patrick Tambay – another lovely guy. Alastair was hard work. He was a bit of a bully, and very confrontational. I was big and ugly enough to stand up to him, but it never did me much good. Then he went off to Brabham, and I was there in '79 with Tambay and John Watson.
"In 1980 I went to Ensign, which really was like a small family. It was Mo Nunn's team: he wasn't a forceful character, but he pulled it all together. Nigel Bennett and Ralph Bellamy were the designers, and Clay Regazzoni was the driver. There were lots of problems, things falling off that weren't stressed properly, and then at Long Beach, as Clay hit the brakes at the end of the long straight, the pedal snapped off. He hit the concrete barrier and the chassis folded up, forcing his knees up to his shoulders." Regazzoni was in a wheelchair for the rest of his life, although later on, miraculously, he raced and rallied in cars with hand controls.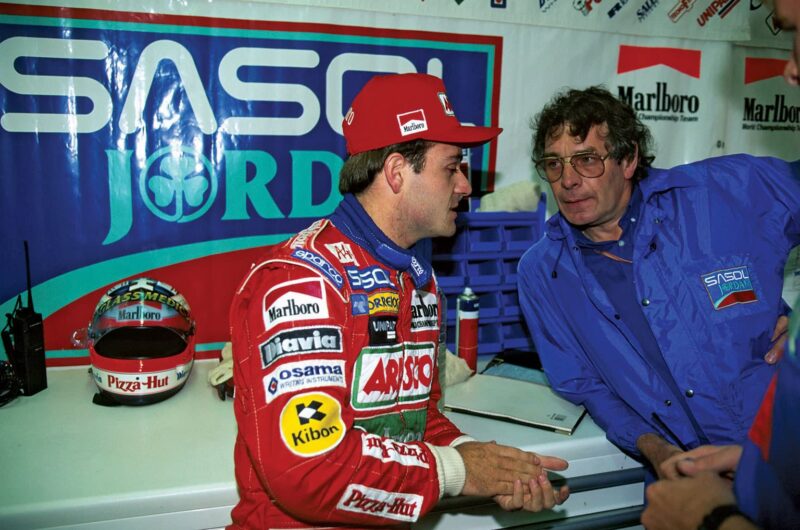 "The heart rather went out of Ensign after that, and Bob and I decided we'd have another go at making Anson work. We set out to make parts for F1 teams, like skirt mechanisms and radiators, but we soon realised we'd rather build cars. Racing is racing, and the other stuff is just making things in a factory.
"It went quite well. We made more than 50 cars, and one took the German F3 championship. I think Franz Konrad still holds the F3 lap record for the old Nürburgring. We had a lot of success with our SuperVee car in America, and we built 18 Formula Fords. We even made a G2 sports car for James Weaver.
"But you had to build the cars before the money came in, and it was a cut-throat business. Our cars were good, but Ron Tauranac could always offer a deal on a Ralt that we couldn't match.
"Then a couple of brothers came along and said they wanted to finance us: 'We'll put the money up, and you design and build the cars.' Just what we wanted – until we discovered they had even less money than we did. While I was away in America with the SuperVees they borrowed money on the second mortgage I'd set up to fund Anson. I ended up owing £36,000. Finally I settled with the bank for half: it was one of those lessons you learn in life.
"While I was in the USA Rick Galles asked if I'd engineer the CART Marches he was running for Pancho Carter, Geoff Brabham and Roberto Moreno. That was a great experience. The ovals are a whole different game: especially the little ones, like Sanair, up in Québec. Seven-eighths of a mile, 19 seconds a lap, working out exactly, to within a metre, where in the pack each of your cars is, every second. It was mind-blowing.
"Pancho was good. His crash at Phoenix nine years earlier had left him with permanent leg injuries which made the pedals difficult for him, but he was a racer. And Moreno was like a breath of fresh air – although he could be a pain in the arse because he would never, ever give up. He had speed, he had intelligence. In F1, in a decent team, he would have gone all the way, but he was never in the right place at the right time.
***
"Our daughter was now school age, and Jenny wanted to come home. We moved to a village in Staffordshire, Kings Bromley, and in the local pub I met a wealthy builder called Ron Salt. One day he said, 'Let's start a racing team.' He called it Bromley Motorsport. We converted an old bread van, hired a couple of mechanics and a truckie, got a Ralt chassis and did F3000. In the first year, 1987, we had various drivers like Cor Euser and Eliseo Salazar, but for 1988 I said to Ron, 'We need Moreno.'
"We did a deal with Adrian Reynard on a chassis, which we developed quite a lot. Roberto won four rounds, and we took the championship by a healthy margin. Then Adrian offered me the job of designing the next F3000 Reynard, and I decided to find out if I could hold my head up in a proper design office.  I did that for a couple of years, but there's no drama in the drawing office. It's at the circuit where you see the end result.
"Eddie Jordan was also in F3000, running with Johnny Herbert. At the '87 Birmingham Superprix he took me to one side and said, 'I'm going to put together a Formula 1 team, and I want you to join me.' I just laughed and said, 'Well, give me a shout when you're ready,' and forgot about it. Two and a half years later I got that shout. 'I'm going to do it, and I want you to come and design the car.' I said, 'You're mad. I haven't got the experience.' I kept saying No until finally, with EJ harassing me on one side and Jenny harassing me on the other, I thought, 'Well. I'll probably get fed up with it after a couple of months, but why not?'
"EJ said, 'It'll all be ready for you, a drawing office and everything.' But when I got there in February 1990 there was nothing. No staff. Zero. All EJ had was a little unit at Silverstone where he based his F3000 cars. So my first job was to build a mezzanine floor into that unit, with a partition and a drawing board. That was Jordan Grand Prix's first home. Then I started to draw the car – just lines on paper. I thought about it as I went along, but that first drawing wasn't far from how the car ended up.
"I'd spoken in confidence to a couple of lads at Reynard, Andrew Green [now, 25 years later, technical director at Force India] and Mark Smith [now technical director at Sauber]. They joined in March. I did the chassis and the aerodynamics, Andrew did the suspension, Mark did the gearbox. The months went by, and we lived from day to day. To be honest I never really thought there would be an F1 team at the end of it.
"Then one day EJ walked in and said: 'We're on.' He'd just done a sponsorship deal with 7Up. Two drivers were bringing money, Andrea de Cesaris and Bertrand Gachot, and he'd decided the sums added up. We had the first car running in November."
That first season, 1991, Jordan was fifth in the championship for constructors, which was a remarkable achievement. "By then our total staff was 28, still tiny compared to the other teams. Everyone came to the races except Mark, who stayed behind to switch the lights off. Marie Jordan and my wife Jenny made the sandwiches. It was Montréal before we got our first points: that day we were fourth and fifth. It was a good start, but not good enough: we had a better car than Benetton, and they were fourth in the constructors. What hurt us was that I was already working on the 1992 car, and we were too small to give enough attention to both."
Having lived through the growing pains of Jordan Grand Prix Gary must, I suggest, know Eddie Jordan as well as anyone. "I don't think anybody really knows EJ. Behind all his fun and bonhomie he's very good at keeping himself hidden. He lets enough out to motivate everyone, but you don't know where he really is. During those first seasons everything was financially very hard, but he never loaded the problems onto anyone else's shoulders.