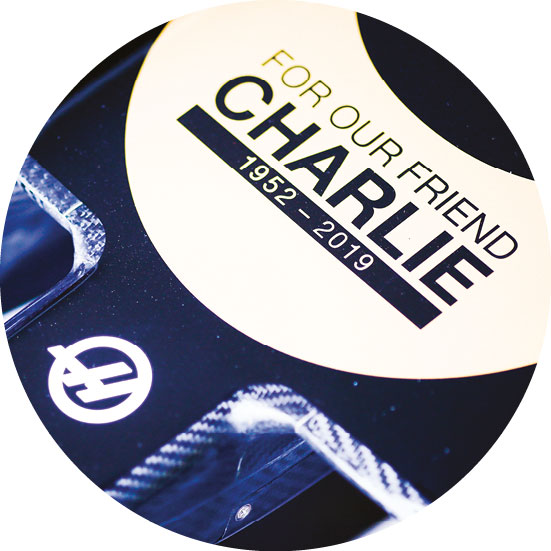 • FIA technical chief and race director CHARLIE WHITING passed away in Melbourne, in the early hours of Thursday morning preceding the season's opening race. He'd been at Albert Park on Wednesday and had completed his customary checks. The 66-year-old suffered a pulmonary embolism while sleeping in his hotel room. Teams raced with messages of remembrance on their cars during the race (pictured left).
CHRISTIAN HORNER led the tributes: "I am deeply saddened to hear the terrible news that Charlie Whiting passed away last night. Charlie has played a key role in this sport and has been the referee and voice of reason for many years. He was a man with great integrity who performed a difficult role in a balanced way. At heart, he was a racer with his origins stretching back to his time at Hesketh and the early days of Brabham. On behalf of everyone at Aston Martin Red Bull Racing we pass on our sincere condolences to his family and friends. Charlie was a great man who will be sadly missed by the entire Formula 1 paddock and the wider motor sport community."
FIA president JEAN TODT added: "It is with immense sadness that I learned of Charlie's sudden passing. I have known him for many years and he has been a great race director, a central and inimitable figure in F1 who embodied the ethics and spirit of this fantastic sport. F1 has lost a faithful friend and a charismatic ambassador in Charlie. All my thoughts, those of the FIA and entire motor sport community go out to his family, friends, and all F1 lovers."
F1's managing director ROSS BRAWN said: "I have known Charlie for all my racing life. We worked as mechanics together, became friends and spent so much time together at tracks across the world. I'm devastated. It is a great loss for the entire F1 family, the FIA and motor sport as a whole. All our thoughts go out to his family."
• While discussion continues about the merit of an extra championship point for fastest lap, ROBERT KUBICA raised a smile during Melbourne's official Thursday press conference when he said: "I don't think it will affect us much."
• Asked what he thought of DANIEL RICCIARDO'S chances of a home victory in Melbourne, now he'd switched from RED BULL to RENAULT, SEBASTIAN VETTEL replied: "What's that about bringing a knife to a gun fight?"
• At the time of writing, the beleaguered WILLIAMS team was believed to be on the verge of re-signing its former chief designer ED WOOD, who left the team last May. There is as yet no replacement for chief technical officer PADDY LOWE, who took leave from the company on the eve of the season in the wake of the disappointing performance and late completion of the new FW42.
• JAMES KEY starts his role as McLAREN technical director from the Bahrain Grand Prix. New team MD ANDREAS SEIDL is set to join from the Spanish GP.