Lamborghini Aventador SVJ
Absolutely the best moment of my days with the Lamborghini Aventador SVJ was the minute I returned it with its yellow carbon-fibre bodywork unmarked, save for the splats and streaks of mud all cars accumulate at this time of year.
My fear of damaging this car was a constant companion and, oddly enough, it had little to do with its £360,000 price tag. Had I damaged it in some small and conventional way, there'd have been no consequences save an embarrassing phone call. If you ding a wheel Lamborghini won't send you the bill. But I cannot recall another car that felt easier to damage than this.
I mention all this now, rather than searing engine sounds, cheek-rippling grip and pulverising performance because, more than anything, it is the sheer difficulty of driving this car that sets it apart.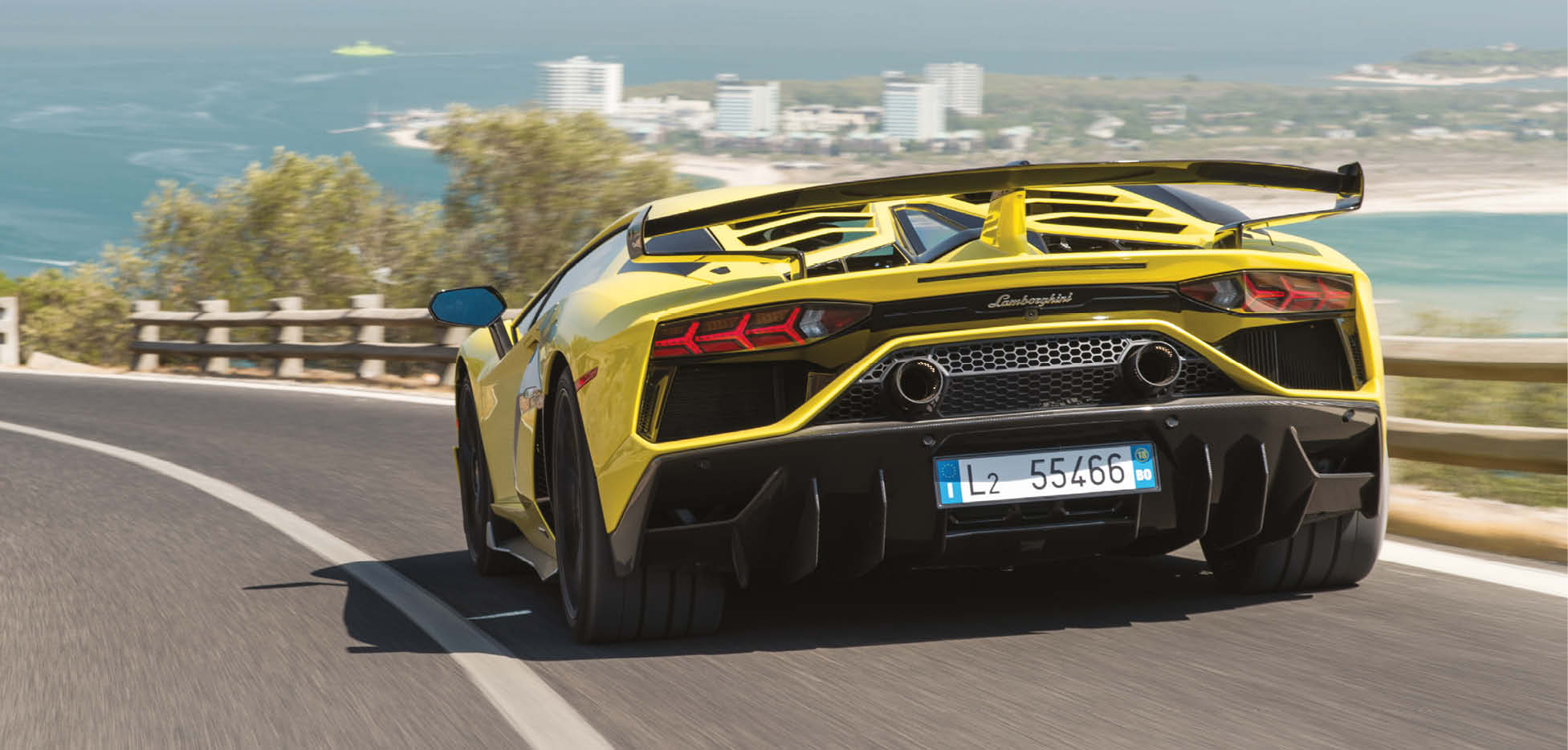 If you're a middle-aged man (as, I suspect, will be the majority of owners of the 900 SVJs that will be sold), it's a long way down into that cabin: you don't sit so much as fall onto the challengingly hard bucket seat.
First thoughts: the headroom is limited, the main instrument display is amazing to look at but hard to read and the centre console switchgear and nav screen is worrying reminiscent of a 10 year-old Audi. Next thoughts: I can't see out. There's a letter-box windscreen, little to be seen over the shoulder and thanks to the preposterous spoiler arrangement, effectively nothing to be seen behind. Suddenly the car seems impossibly, overwhelmingly wide. I don't know how I'll even get into my narrow driveway, let alone through the infernally narrow lanes to the decent roads beyond.
You have to lift a red flap to access the engine start button – a little bit of harmless theatre or an annoying gimmick? Because I have no interest in pretending to be a fighter pilot. I incline to the former view – a quick whirr of starter motor and the 6.5-litre V12 ka-booms into life. It has 759bhp without some much as a turbine blade's worth of outside assistance. It also revs to 8700rpm, a ridiculous speed for so massive a motor.
"This is not an easy car to drive. It's a car that not only makes you work, it makes you get up early"
It's been a few years since I last drove an Aventador and I'd forgotten about the gearbox. There's a reason it's the last single-clutch robotised manual transmission still in production and that's because it's awful. The only way to manage the gearbox is put it in manual mode and do it yourself. A two-pedal car without a gear lever that still forces you to learn how to change gear smoothly? That'll be the Aventador.
How can this be worth it? Even on a conventional A-road, you feel the need to breathe in when a truck comes the other way. It's got thicker roll bars and stiffer dampers than the old Aventador SV and is also 50kg lighter, chiefly through the use of more carbon in the body and titanium in the exhausts. Which means its ride is pretty firm too, even in its gentlest 'Strada' setting. The steering feels accurate and the engine sounds exciting, but I'm too scared to even attempt to let loose something this wide that I can barely see out of on these roads.
Another strategy is needed; one involving an early alarm on a Sunday. A special journey too, over to the mountains in time for sunrise. And then, oh my goodness.
The majesty of this motor, unfettered by hybrid drives or forced induction, reminds you why you fell in love with cars as a kid, listening to competition V12s at race tracks. With four-wheel drive and on winter tyres, the acceleration on wet roads is befuddling. In maximum-attack 'Corsa' mode, the gearshifts are so violent the car commits common assault on you every time you ask for another ratio. It's an interesting experience, but the middle 'Sport' mode hurts less and doesn't de-stabilise the car if you need to grab another gear mid-corner.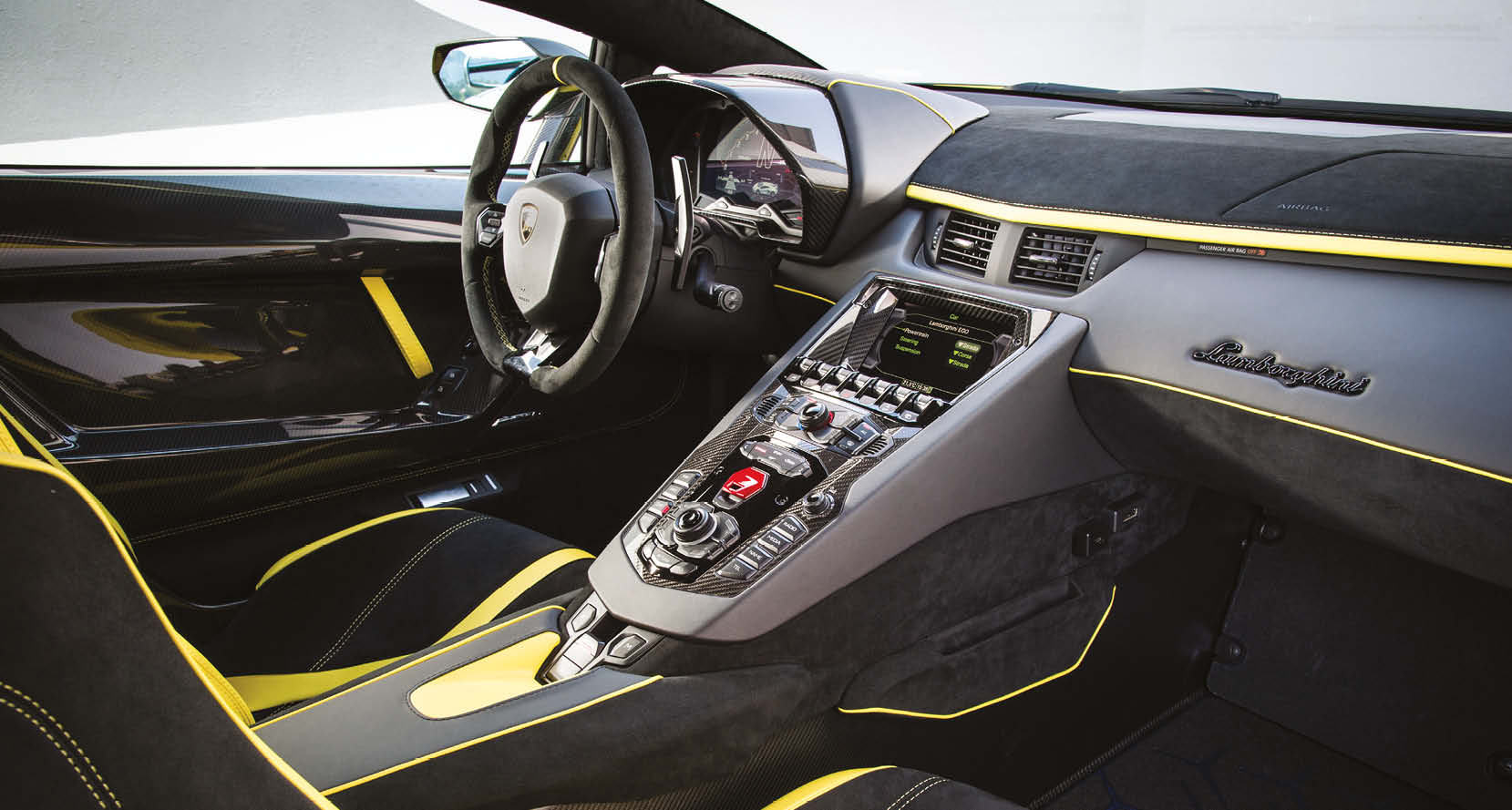 It handles pretty well, too. And most importantly given its size, it responds precisely to your every input, making the car easier to place than you'd think. My only concern was a sense of incipient oversteer on turn in to quick corners. It might have been no more than the car moving around under load on its winter tyres' squidgy tread blocks, but I felt disincline to investigate further on public roads.
And the more I drove it, the more I was glad this car exists. I know that most Aventadors are rarely, if ever, driven hard, but when you do, it provides something even a technically far more accomplished car cannot manage. To reach the end of a long, fast run comes with more than a mere sense of occasion; there's a palpable sense of achievement too. For this is not an easy car to drive. It's a car that not only makes you work, it even makes you get up early. You even have to let it choose both the destination and route, because if there are not some pretty amazing and improbably empty roads on the way, unless your desire is simply to show off, you might as well leave it in the shed. Even then it makes you endure some quite lengthy spells of mild but constant apprehension not to mention low-level discomfort, all on the promise that when you do get somewhere it can be at least partially unleashed, it will all be worth it.
The Aventador SVJ is the last of the dinosaur supercars. When they first emerged, cars such as the Countach were awkward and impractical because back then Lamborghini knew no other way of doing it. But today there is something gloriously wilful and iconoclastic about the Aventador. It's difficult, impractical, and at times quite scary, but because that's how Lamborghini chooses it to be. And I like that. I hope that Lamborghini goes on making it for years.
---
Lamborghini Aventador SVJ
Price £360,000
Engine 6.5 litres, 12 cylinders
Power [email protected]
Weight 1525kg
Power to weight 498bhp per tonne
Transmission Seven-speed robotised manual, four-wheel drive
0-60mph 2.8sec
Top speed 217mph
Economy 14.4mpg
CO2 452g/km
Verdict Terrifyingly good fun