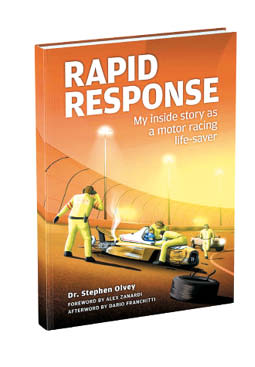 Rapid Response: My inside story as a motor racing life-saver
Dr Stephen Olvey. Published by Evro Publishing, £25. ISBN: 978-1-910505-39-7
We know racing depends on squads of trained people, that there must be marshals, rescue crews, and officials, and we know there must be medical help on hand. We see the ambulances, the doctors' cars, the helicopters standing by and we hope, in the nicest way, that their journey here will be wasted. We don't see inside the medical facility, the blood stocks, the resuscitators, the oxygen, and we know nothing about the wider planning – local trauma centres alerted, flight plans plotted, translators located. For a major meeting these things are way beyond a circuit's own facilities; all this has to be arranged and delivered in advance of first practice. This is the reality that Dr Stephen Olvey sets out to explain in Rapid Response.
Olvey was a racing addict from childhood, and a racing doctor for most of his adulthood, joining the Indianapolis medical team while still a medical student before eventually taking charge of the whole trauma response for CART racing. It was Olvey who was responsible for medical care during the CART race at the Lausitzring on a terrible day in 2001 when Alex Tagliani speared into the side of Alex Zanardi's car. We know the consequences of that vicious impact, and how the Italian has turned his resultant disability into a triumph of spirit, becoming a champion Paralympian. That's the good element, but Olvey inevitably gives us the other side – what happened in the critical minutes after impact.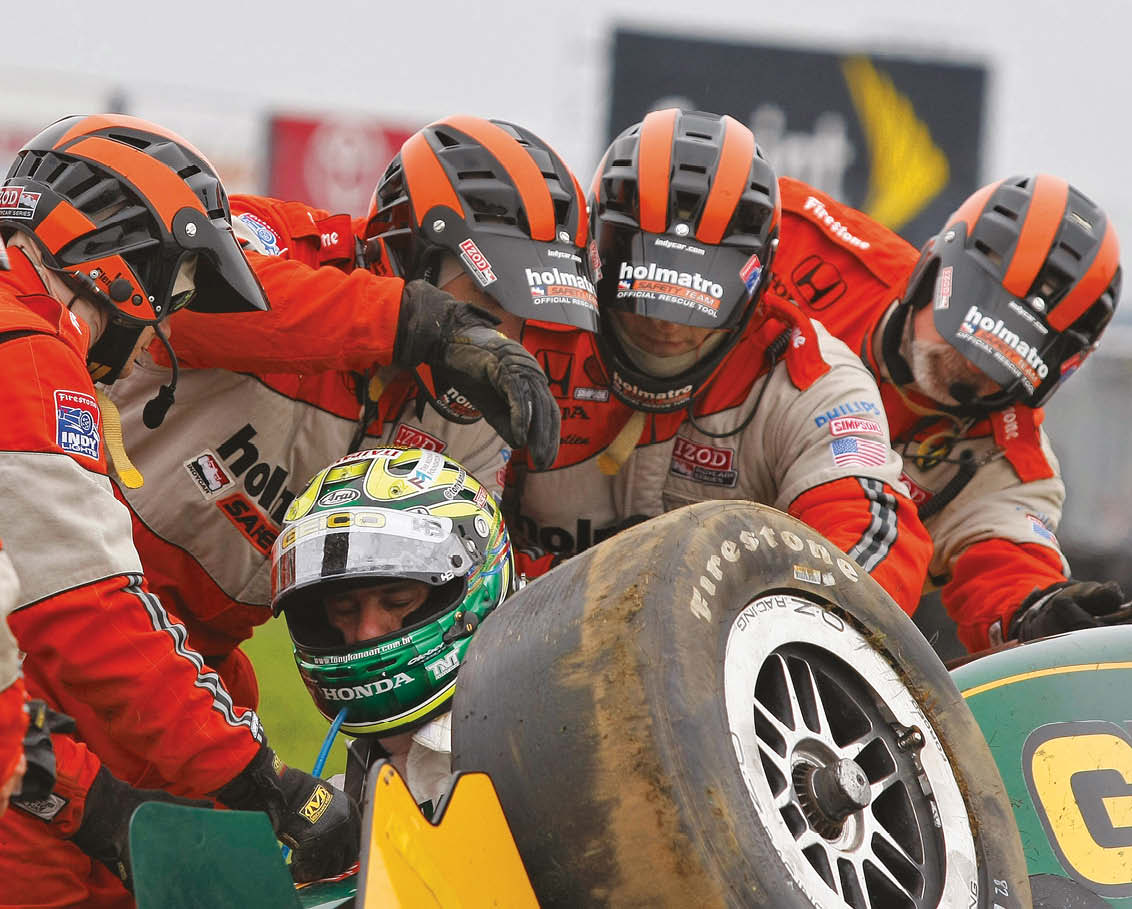 He tells us that anywhere in the wider world, Zanardi's accident would be 100 per cent fatal, that blood loss would have ended his life in minutes. It was only all those preparations, on top of the critical care protocol assembled over years of experience plus an emergency team poised for instant arrival, that stabilised his condition and stopped the last pint of blood draining onto the asphalt. Even then Olvey and on-track doctor Terry Trammell had to short-cut the intended procedure, and decide whether to send Zanardi on a fast local helicopter flip or a longer flight to a major trauma facility. He chose the latter; Zanardi survived. But imagine his anguish had it gone the other way. This is his preface, and it's not easy to read.
Significantly, the foreword is by a friend of the author – Alex Zanardi himself, who compares the passion of race medics to the passion of drivers, lamenting that they're only recognised in tragic circumstances. A famously positive individual, he writes: "I would like to think that [Olvey] understands that what I still have in life, thanks to him, is much more than what I have lost."
It's a contrast after that tough first chapter to travel back to 1960s America and the staggering lack of even first aid at many tracks. Drivers at Indy were luckier – the Speedway had medical director Dr Hanna, who would lead a general improvement in circuit response and whose ethos Olvey would adopt. Ironically the first injuries Olvey experienced there were to himself. Sliding around in the ambulance on the way to where Graham Hill had had a practice spin in 1966, he'd cut his arms and didn't realise he was bleeding. Hill looked at him upon arrival and said: "I'm fine, but you look bloody awful!"
I said 'ambulance'; in fact it was a hearse. Many circuits hired one from the local funeral home as their first aid vehicle, and there was frequently no medical equipment around. Even more shocking is how often the local emergency room was unmanned. It was the weekend, after all. As she threw doctor and injured driver out, one annoyed nurse said: "The surgeon's on the golf course and I'm not about to call him for any stupid race car driver".
Finally in 1975 USAC decided to create a dedicated medical team, asking Olvey "…if I knew any doctors willing to go to the races, not get paid, risk their lives, ruin their marriages and perhaps lose their jobs.' I hastily replied 'I would!".
This was the core of what is now the Indycar system, which travels to all meets. Olvey claims it was a world first, though in Europe the International Grand Prix Medical Service began in '67, and I doubt if his assertion that things were as bad over here as in the US holds up – even the smallest British town would have had A&E in the '60s. However, Sid Watkins' afterword fills in that history.
Over the years Olvey became friends with most of the CART and Indy circus and tells tales of parties, blazing pianos and post-race binges – plus bad behaviour. I like AJ Foyt less now. There are grim descriptions: Foyt almost severing an arm, Chip Ganassi apparently lifeless in a wreck, struggling to save Rick Mears' feet, and Olvey relays them in prose that's simple and graphic without being sensational. Photos of Derek Daly's and Danny Ongais' crashes are shocking, but maybe they're the only way to convey the violence of these impacts. The photo of Zanardi mid-accident is sickening, though.
"Graham Hill looked at the doctor upon arrival and said 'I'm fine but you look bloody awful'"
But this book is also about the huge safety improvements we've seen in car, track and equipment. As well as attending race injuries, Olvey has deeply researched trauma and rapid response in his day post as a neurosurgeon, especially concussion: he wonders how many accidents were caused by concussed drivers getting back in the car. He pushed for HANS systems early on, but good ol' US stubbornness often resisted such namby-pamby attitudes until mandated. And the law was always looming: Indy kept two attorneys in the medical centre and Olvey describes pointless pretence of resus on a dead driver so as not to declare him deceased on track. This book illustrates a lot more than just medicine.
Dr Olvey, who continues his racing connections as a member of the FIA Medical Commission and many consultancies, has undoubtedly saved many a life both directly and indirectly. It's a revealing read, and if it conveys the very worst things in racing, it also depicts some of the best.