Racing Lives: Andy & Sebastian Priaulx
The Priaulx name is one of motor sport's fighters. Andy's story of his rags to riches career, going from living in a caravan at Silverstone to winning three World Touring Car Championship titles with BMW proves as much. Andy is still part of top-flight tin-top racing in WTCR and also part of Ford's factory World Endurance GT programme. He's also passing his experience on to his son Sebastian who, after starting out on the single-seater ladder in Formula 4, will now switch to GT4 racing with a Mustang in British GT.
Andy: "I'm a determined so-and-so. I left Guernsey to chase my dream, and once the caravan was packed and I'd managed to secure a free crossing on the ferry, there was no turning back. When you are that far committed, financially and emotionally, you don't want to go back as a failure.
In hindsight, knowing how tough motor sport is, you could say I was a little naive; it was a massively high-risk move.
But I had the determination and a belief that something good would lie on the other side of the pain. And by God did we go through pain. Jo, my wife, was earning £4 an hour at the Silverstone ticket office to pay for our beans on toast, and other than our caravan we had almost nothing and were living day by day. Happily, friends put their faith behind me. People like Tim Thomson, who helped fund me in the Renault Sport Spider Championship. But I had to reward their faith by winning.
Meditation was my big breakthrough. I told myself if I was going to make it as a pro I had to win every race. So off I went for the winter, to find a good vibe and visualise success, using something called the Silva Method. I won every race of the 1999 season from pole, and set every fastest race lap.
Two years later, things were still tough. Seb was born prematurely and had to spend the first month of his life in an incubator, while Jo was recovering from an emergency Caesarean. And while dealing with this I was still trying to pull in hundreds of thousands in sponsorship money to keep me on track in F3.
Seb is a quiet character. He was always slightly on the back foot at school, but he is very determined. From a young age, I could tell he had good balance and coordination. He'd ride his little toy car down the hallway at home, and spin it through 360 degrees without touching the walls.
It was only when Jo and Seb snuck off together so Seb could try a kart for the first time, that we really got an inkling that he was talented. I was driving at Magny-Cours, and they went to the kart track without me knowing, and the chap running it told Jo that Seb was something special.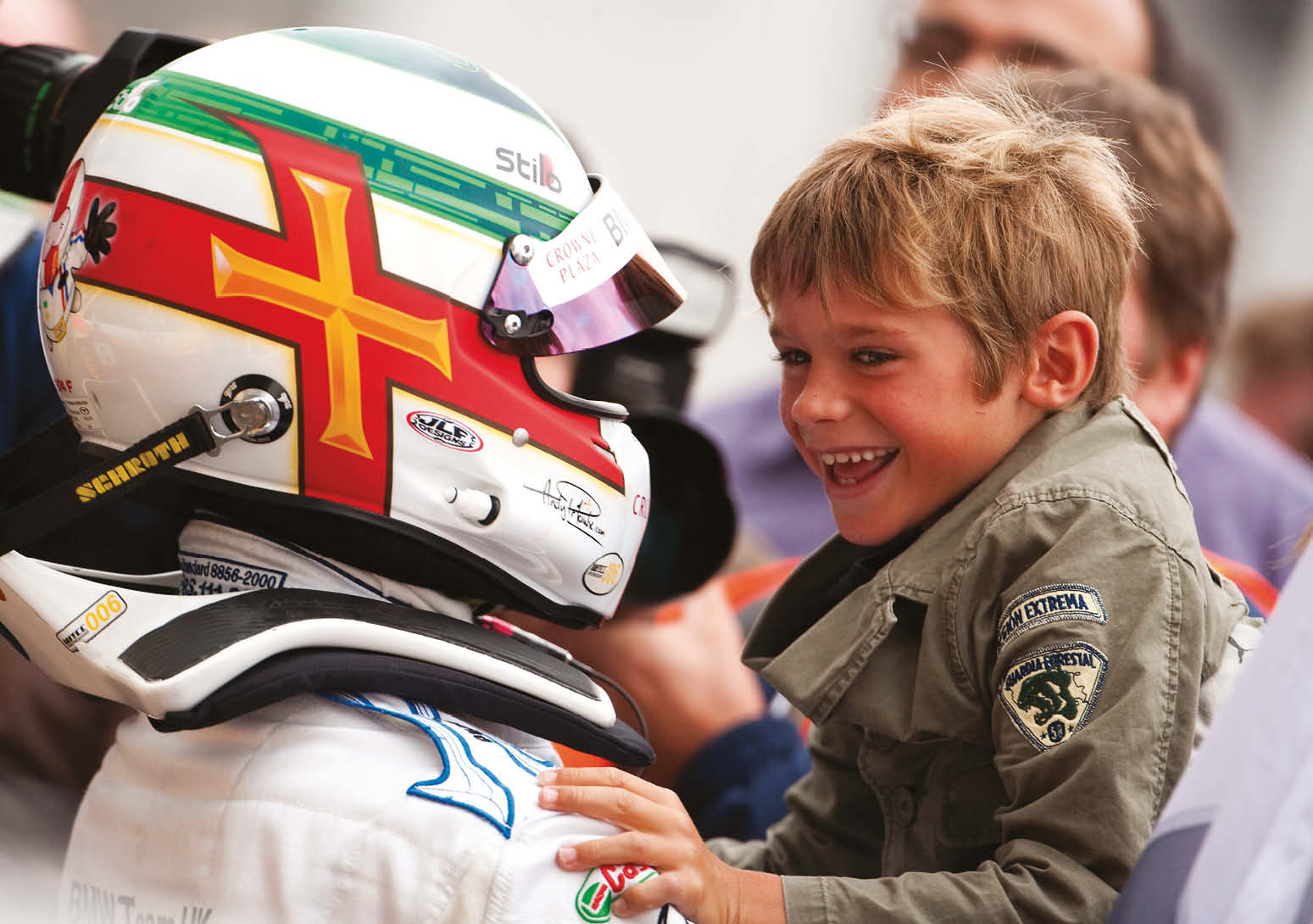 We would travel in a 32ft Winnebago. I invested all my salary in buying it. But to be honest, it kept the family together and gave me a good stable 'home' during race weekends and could concentrate on racing.
Over time, I tried everything to dissuade Seb from being a racing driver. But when a kid's that good, they back you into a corner, because ultimately the stopwatch doesn't lie. But that's a difficult decision for a father to make when you know how tough the sport is and how corrupt it can be.
I suppose the biggest difference between our paths into the sport is that I had to be commercially driven, because it was the only way for me to get on track. Seb has a little more leeway, and focuses on the sporting side, making decisions around what he thinks is best for his career.
That said, unfortunately for Seb, I may have been a successful racing driver but I'm not a multimillionaire. And he could easily clean us out within a season.
Happily, people like him. He's dignified in defeat and humble, even when he doesn't have the right tools to do the job. That's what impressed Multimatic Motorsport and Ford [ahead of his campaign in this year's British GT Championship]; he pulled something out of the hat no matter how tough things were in Ginetta Juniors or Formula Ford.
Being around the sport all his life, Seb has got off to a good start. He understands the intricacies of it. But I am always hard on him about separating your personal performance from the car's performance.
Is there a Plan B for Seb, if things don't pan out? Yes, but it's not very glamorous. He has been valeting cars for the past year, during his Formula 4 season. He told me, "Dad, I don't want to do this for the rest of my life," so that helped keep him focused.
I believe he could have an amazing career in the sport, whether that's racing sports cars, or switching to working within a team or working with me on driver training.
For now, though, he's got an exciting season of British GT ahead of him. At his initial test, I kept away as I didn't want to be one of those annoying hockey dads.
After Seb's drive, I got a lovely text from Larry Holt, the boss of Multimatic Motorsports, who said, 'Your kid is the real deal.' It just reaffirmed our belief in him. Could we drive together, one day? You never know. I'd love to, but it's up to the team."
"I learned a lot about how far determination can get you from dad"
Sebastian: "I was born on Guernsey and spent most of my life there. It's a lovely but tiny place, and very different to the rest of the world. You can leave your car unlocked, your front door open, and not have to worry.
Like dad, I enjoy being outdoors and Guernsey in the summer is the place to be. I mess about on boats, jet skis, cycle, run and swim. The island plays another important part in my life. When racing or life is tough, Dad says that I should always think of Guernsey as a rock in the sea being smashed by big waves; it's still standing no matter what hits it.
I started racing in karts when I was eight, in 2010, in a local Cadet kart championship on Guernsey. School was good to me; they'd excuse me to travel to races and at home I had a tutor to make up for curriculum I was missing.
In the end, I left school when I was 17. Some people question whether it's risky to put all your eggs in one basket and not have a Plan B, but if you believe in yourself, have the determination and have the right support behind you, it's a risk that can pay off.
Progressing from karts to the Ginetta Junior Championship was a really steep learning curve. It's an ultra-competitive series, and a great place for any aspiring racing driver to start, especially if you want to go on and race road-based cars.
Dad's basically my manager, helping me deal with a lot of the unseen, less glamorous stuff. But it's hard for him to fit everything in, given he's still a full-time, professional driver, so he can't always be at events with me, but is always on the end of the phone.
One area he has made a big difference is preparing myself mentally. He introduced me to a great friend and mentor of his, John Pratt. John has helped train dad, and countless others, refining and improving every aspect of a driver's mind, body and diet – and even how you present yourself to sponsors and media. I also use an app called Headspace.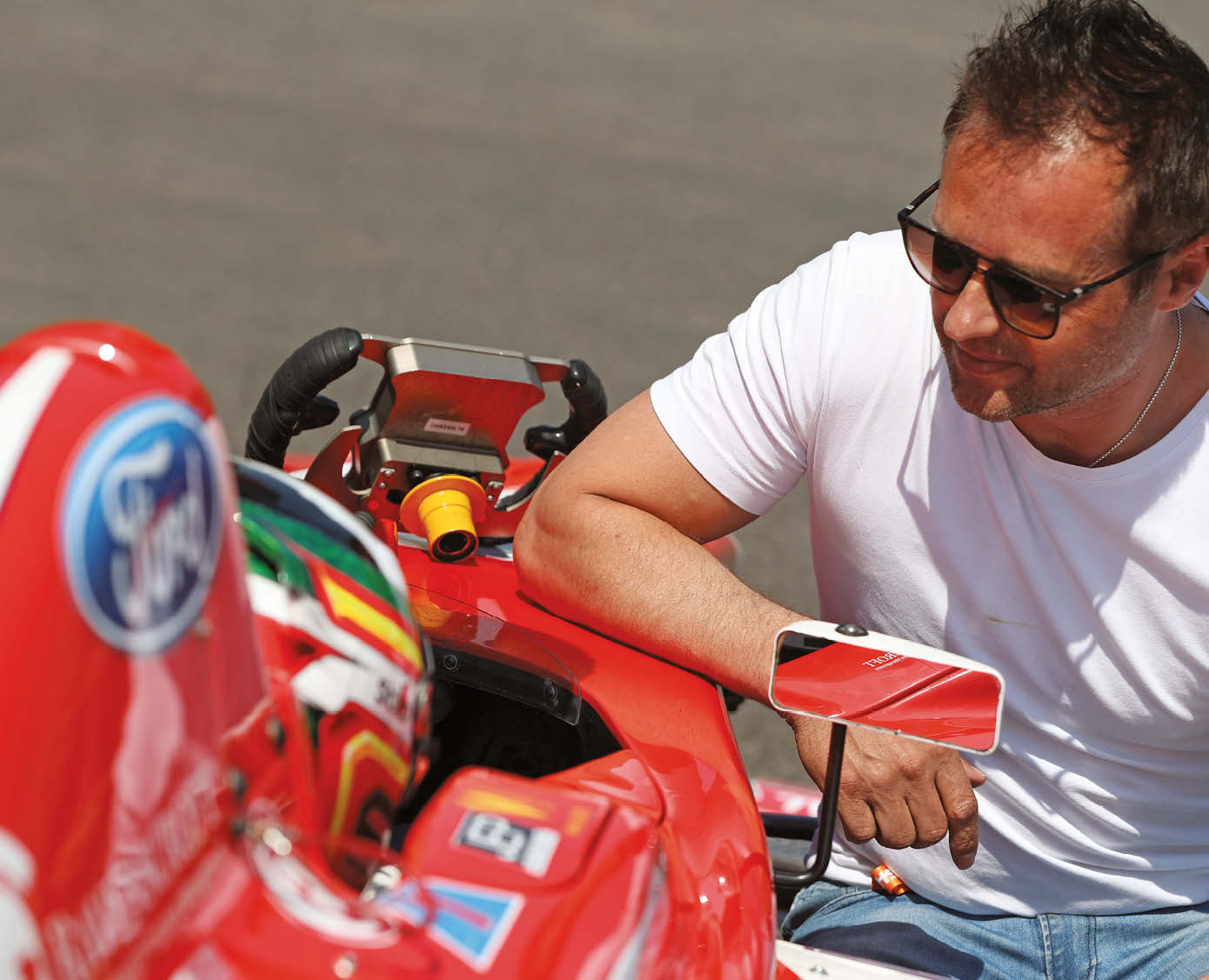 As for the physical side, I like to keep dad in his place! We have a sweat room in the house where we do a lot of gym work and have a bike on a turbo trainer, and we use a cycling app called Zwyft to push ourselves during training. He curses me a lot as I'm pretty good on the bike, but he's still got the muscle advantage in the gym.
Mum is amazing. She has a lot of emotion under the surface but keeps everything together, and with my sister, Daniella, there is so much support for me at races. Mums like mine are your rock, and no matter how good any driver is, you need that support.
I get on well with Dad. We don't argue, and have a similar sense of humour. I also respect his opinion greatly. From their time, living in a caravan, I feel I have learned a lot about how far determination and drive can get you from my parents.
I remember the time I watched Dad testing the Williams-BMW. I'd only have been four years old, but that V10 engine was mind-blowing and the sound has stayed with me. Even as a young child I was so proud of him. If he'd been a bit younger at the time, I believe he could have had a career in F1.
F4 has been my steepest learning curve to date. As a new driver, I had to work hard to set the car up how I wanted it and how I felt it would be best on the circuit. Tracks and conditions change each time, so it's not enough to think that a set-up that worked well the year before would be right.
After F4, there were two offers on the table to enter the British GT Championship. The first was with McLaren, driving a 570S GT4, and the other was with Ford, in a Mustang GT4. The Mustang was a lot of fun, yet you could feel its potential and the calibre of the squad [Multimatic Motorsports, which runs the Chip Ganassi Racing Ford GTEs in WEC] speaks for itself. When I got those offers, dad was pretty chuffed!
Some might think that having a successful driver as a parent would bring more pressure, but that's not so. Dad always says, 'Be the best you can be' and as long as you know you've done that, you can walk with your head held high." James Mills
---
Follow James on Twitter @squarejames