Andrew Frankel
"I was stunned by how modern the 1938 BMW 327/28 drophead coupé felt"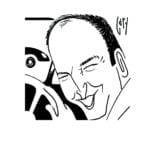 Once a year, me and a few friends from within the business go on a driving weekend. I'd love to tell you a convoy of Italian hypercars subsequently howls to the South of France and back in record time, but that's not what happens.
Instead, we turn up at one of our houses in whatever bit of old wreckage we have lying around in our sheds and then spend our time following a route devised by the host, rarely driving our own cars and instead trying to figure out what on earth inspired the others in the group to buy their cars.
Sadly, this year one of our number cheated and required a stern talking to. He brought an utterly gorgeous, vanishingly rare 1938 BMW 327/28 drophead coupé, which is a 327 enlivened by the engine from the famed 328. I'd not driven one before and was somewhat stunned by how modern it felt for a car some distance past its 80th birthday. But then it has independent front suspension, rack and pinion steering, hydraulic brakes and a sophisticated, aluminium not-quite twin-cam straight-six engine that would have post-war service as a Bristol motor in everything from road to Formula 1 cars. I reckon it would give a contemporary Derby Bentley the fright of its life, despite an engine less than half the size, and provide twice the fun.