Extreme E: Fully charged
After a lot of hype and big name signings Extreme E is about to arrive at an inhospitable location for some environmentally sussed racing. Simon Arron plugs in to the new series
Hamilton. Sainz. Andretti. Loeb. Rosberg. Ganassi. Button. Even before a wheel had turned in anger, Extreme E was already infused with
a sumptuous motor sport pedigree. And while the notion of an electric SUV racing in remote locations might be anathema to anyone who thinks a racing
car can look only like a Maserati 250F or a Brabham BT44, please bear with us.
Long before it had a name, this concept first fermented in the mind of Gil de Ferran, Indianapolis 500 winner, twice a champion in the now-defunct US-based CART/PPG series and a diehard petrolhead.
"I was just sitting at home," he says, "wondering what motor sport could do for society, how it could combine an important message with a bit of entertainment and the whole thing started to crystallise in my mind, probably a few years ago now. I like to think of myself as creative, but as you go through the journey of life you come up with all sorts of ideas that are never going to work. I have a bucketful of those, so it's nice that people grasped what Extreme E was all about and embraced it."
For several years, the French-born Brazilian has maintained a close friendship with Formula E's founding father Alejandro Agag. "I remember the cynicism when that started," he says, "and I felt it was a short-sighted way to look at things. People were asking whether it was going to threaten Formula 1 and I sat there thinking, 'That's not the question!' What I saw at the time was an opportunity to develop a fresh branch of the sport. Yes, it was different and didn't make much noise, but who cares? It was something new for anybody who loved motor sport and could potentially touch a different fanbase. Alejandro created something really good from absolutely nothing – and not many people have the skills to do that.
"We usually meet up to eat whenever I'm in London. One day we were having a loose, brainstorm-type conversation over breakfast and I told him about this idea in my head,
to visit remote parts of the planet facing environmental challenges that need highlighting and supporting, and to convey the message in an exciting way – something that combined adventure and competition with a sense of purpose. Alejandro loved
the concept, ran with it and has done a tremendous job developing it way beyond anywhere I could possibly have imagined."
The upshot is a five-event inaugural series of X Prix, off-road races that will take place in Saudi Arabia (April 3-4), Senegal (May 29-30), Greenland (August 28-29), Brazil (October 23-24) and Argentina (December 11-12). There are 10 confirmed entrants and each will use an Odyssey 21 electric SUV produced by original Formula E chassis manufacturer Spark.
Lewis Hamilton and Nico Rosberg have created teams for the series, as have Carlos Sainz Mk1 and Jenson Button (both of whom will also drive), while top-line American operations Ganassi and Andretti are likewise engaged, the latter in partnership with Wakefield-based United Autosports. Nine-times World Rally champion Sébastien Loeb has signed to race for Hamilton's X44 team, alongside Dakar stage winner Cristina Gutiérrez. Teams must have two drivers – one male, one female, sharing the same car – and Agag has pledged not just to highlight environmental problems, but to try to do something about them (for instance, planting a million mangrove trees in Senegal to help filter water pollutants and combat coastal erosion).
All equipment will be freighted to racing events by sea on board the St Helena, a recommissioned former Royal Mail ship converted to run on low-sulphur marine diesel – known as 'champagne' in sea-going circles. Effectively Extreme E's floating paddock, it once served as the only link between the remote volcanic South Atlantic island with which it shares its name and the outside world, a situation that changed only in 2016, when Saint Helena got its first airport. During the vessel's refit, a laboratory was installed to allow a team of on-board scientists to pursue environmental research projects at and between locations.
Other high-profile names to commit to the series include Red Bull Racing's chief technical officer Adrian Newey and double Formula E champion Jean-Éric Vergne, two of six founding partners behind the Veloce Racing team.
"Having been involved with Formula E from the early days, I decided I'd like to get on board with this before it started," Vergne says. "If we want to make a difference to the environment, we have to look beyond cars because they are responsible for a very small percentage of the harm that has been done. Many governments point a finger at cars, but through Extreme E we will have a chance to demonstrate some of the other things that really damage the climate.
"The ice sheet in Kangerlussuaq, Greenland, has melted significantly in recent years and by racing there we will be able to explain what has happened through our digital media channels, which already have a big reach. It's important to explain what caused what and how we can change things together.
"I think the automotive industry has taken a step in the right direction to improve sustainability, with electric cars and other technologies, but we haven't yet found a perfect solution. Motor sport has always been an incubator for new ideas. Formula E has done a lot for electric motors and with Extreme E I think we can do even more, because it's not just about the racing. The locations will allow us to educate people."
Although he won't be racing in Extreme E, Vergne has driven the Odyssey 21 – during a general test late last year, at Château de Lastours in southern France.
"Actually," he says, "my original intention was to compete, but we're doing this to win and I felt I wasn't the right guy for that due to my lack of experience with this type of thing. I would need to have done a lot of testing and with my Formula E commitments it would have been something of a compromise."
In his stead, Veloce has hired Frenchall-rounder Stéphane Sarrazin to partner inaugural W Series – and former British GT4 – champion Jamie Chadwick.
"The first time I drove," Vergne adds, "I probably hit every single bank around the track. I grew up being taught that you lose time by sliding a car, even in the wet. The best laps I've done in the rain have been when the car was hardly sliding at all. This is the complete opposite.
"I was lost at first, but in my second session I was taught how to flick the car to turn – and all of a sudden I was able to complete a full lap without hitting anything and my times improved. You learn to dance with the car – a new feeling to me, but one I loved. The team knows I want to drive some more whenever we test…"
Gallery
Extreme E: the new electric series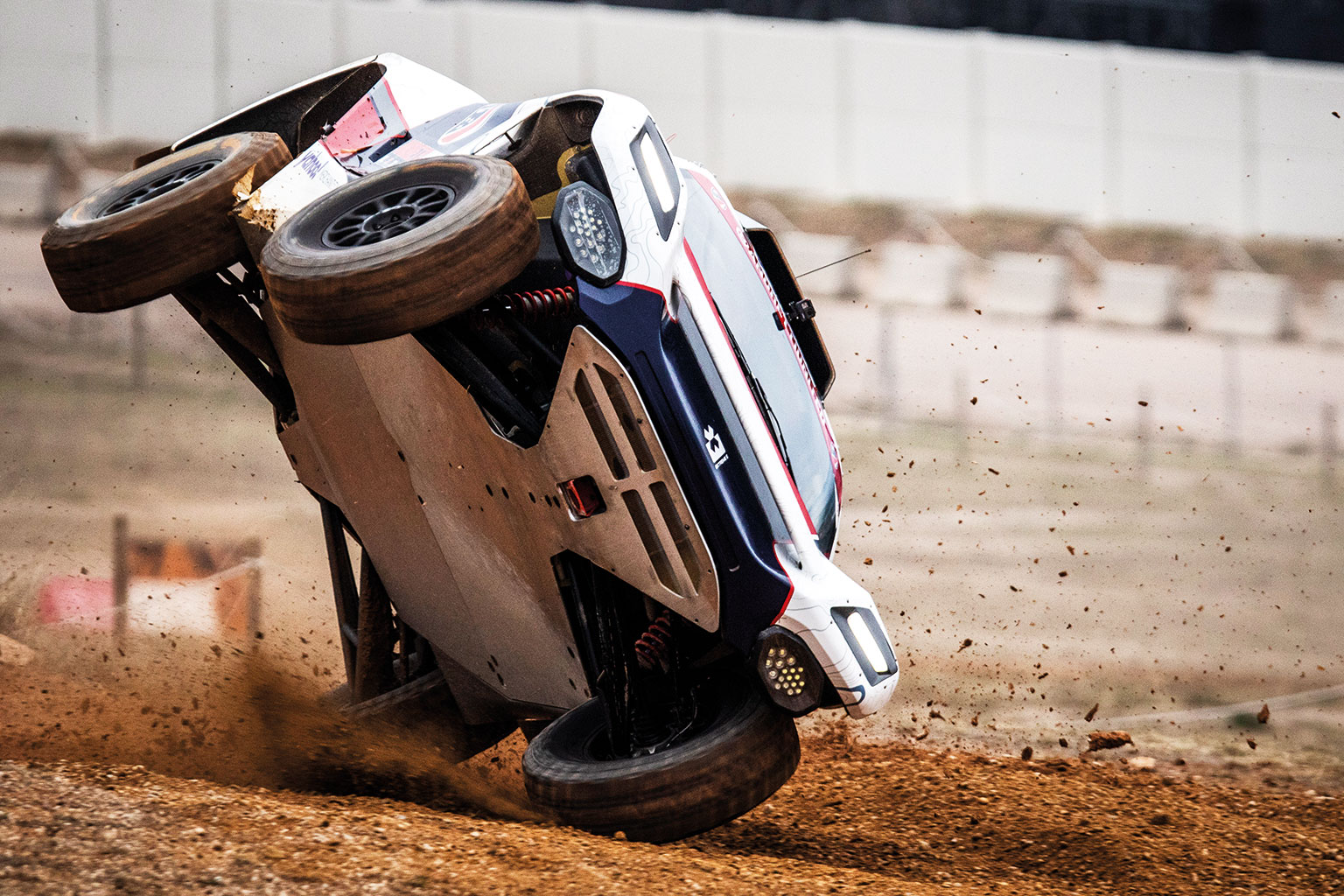 Veloce will be managed by Ian Davies, who has much experience in the World Rally Championship and rallycross but admits that he faces a steep learning curve. "One of the biggest challenges is that everything is new," he says. "I'm 50 and have been in this business for 34 years, but have never seen anything like this.
"Everything is different – the rules, the regulations, the cars, the concept. If you've worked previously in single-seaters, rallycross or even on the Dakar, there is a set of existing rules that has been modified over generations. This has been built from the ground up with a blank sheet of paper. I suppose we are running what is effectively a four-wheel-drive Dakar buggy, but with electric power and a massive amount of technology behind it.
"I've burnt a lot of fossil fuel and rubber in the past 30-odd years and I think people see a need for change and want to put something back. I was looking to move away from rallycross after its shift to electrification seemed to have stalled, so I actively sought a role within Extreme E because I felt it was the future. Also, Extreme E isn't simply offsetting carbon. It is actually doing something – and I think the time is right for a gesture like that.
"When I went to the test in France last year, I was looking at the dust trails and listening to the tyres on the gravel. It never entered my head that the cars were a bit quiet. If there's good racing on television and you turn down the sound, it doesn't stop it being good racing."
Other than those already mentioned, drivers committed to the cause include World Rallycross and DTM champion Matthias Ekström, motorcycle trials world champion Laia Sanz (confusingly partnered with Sainz), 2019 WRX winner Timmy Hansen, rising British rally star Catie Munnings and 2016 Australian rally champion Molly Taylor.
And Gil de Ferran? He has pledged to offer support, but won't play an active role and will be watching with interest from his Florida home. "It's partly an adventure, partly an environmental campaign and partly competitive," he says. "The idea was to push a few different buttons, to see how we might be able to use the sport we love for a different purpose. I am hugely impressed by what has been done to make the concept a reality."