Building the 1,000bhp+ Penske PC23: Lateral thinking
In 1994 the Penske Indycar team was unstoppable with its PC23, but to win that year's Indy 500 it devised a secret engine that took the competition by surprise. Doug Nye recalls the dominance of the Dorset-built destroyer
To innovate you must first imaginate" was an unusually constructed but typically to-the-point Colin Chapman saying. One of his great rivals over many years was the American racing driver, entrepreneur, team principal and similarly self-motivating Roger Penske.
As a well-wired driver of his own cars, Penske had imagined an innovative, lightweight and effective car which would comply with contemporary 1962 regulations in US West Coast professional racing, but which would pack a winning performance advantage.
The result was his centre-seated Cooper-Climax Zerex Special – based upon a Formula 1 Cooper T53 and so named after the antifreeze being marketed by the chemical company DuPont de Nemours that the Clevelander had skilfully massaged into sponsoring his racing. Penske had already shown he could run with the best even before he appeared in the sleek little Zerex to spreadeagle all opposition in the big-time sports car classic at Riverside '62 – leaving Jim Hall's Chaparral, the UDT Lotus 19s of Masten Gregory and Innes Ireland, and Bruce McLaren's Cooper Monaco in his dust. He repeated that win in the following Fall-series race at Laguna Seca.
His rivals nicknamed Roger's Zerex the 'FUBAR' – politely explained as meaning 'Fouled-Up Beyond All Recognition'. For 1963 rules were tightened and the Zerex reappeared as a conventionally-seated sports-racer, entered by the Mecom team, and Roger won some more, most notably in the Guards Trophy at Brands Hatch – although narrowly defeated in the Fall races by the new King Cobra-Ford V8s. He also made a brief Formula 1 appearance with a Lotus 24 in the US GP at Watkins Glen, finishing ninth. As a driver, Roger retired in 1965 to concentrate on his Chevrolet dealership in Philadelphia. But in 1966 Penske Racing made its debut, running a Corvette Stingray in the Daytona 24 Hours. Mark Donohue became Penske's No 1 driver-cum-engineer. They dominated the Trans-Am Championship, taking the title for Chevrolet in 1968-69 and for AMC with the Javelin in 1971. Penske Racing also ran Donohue in CanAm, and made its 500 debut in 1969 – Mark winning the race in the Penske-McLaren in 1972 – and adding on a NASCAR campaign, scoring a first win there in 1973. By that time another piece of Penske imagination-cum-innovation had put McLaren to the sword in Can-Am – George Follmer taking the 1972 title in Roger's new Porsche 917/10 Turbo.
That programme had been assembled in secret with Porsche and after initial testing behind the scenes at Weissach a revelatory US launch was imminent. But Penske's plans were ruined by a bloke named Nye, one of a press group invited to Weissach by Porsche Cars GB. We saw an exceedingly tatty hack Spyder being driven there by – wow – Mark Donohue. Porsche showed us the new turbo 917 engine on the test bed, revved it, and engineer Hans Mezger announced gravely, "Ein souzand horzpahr!"
I wrote the story for Autoweek magazine in the US. When it hit the streets the Penske plan was outed. I heard Roger absolutely detonated. But nobody had told us we shouldn't report what we had been shown. Not my fault, guv'nor… Penske still progressed from strength to strength. Roger's Formula 1 programme was riven by Mark Donohue's fatal crash at the Österreichring in 1975, then briefly buoyed by John Watson's win there in '76.
All Penske cars were immaculately prepared and exquisitely well built. The Penske Ferrari 512M of 1971 was rated by Maranello's own Mauro Forghieri as the best Ferrari he'd ever seen… After Penske withdrew from Formula 1 in 1977 the team's British wing at Poole continued, building Indycars instead. An Indy win followed, with Rick Mears driving the Penske PC6 in 1979, using a new Ilmor-Chevrolet turbocharged engine. Penske then won the 500 with March chassis before their own cars triumphed again in 1988-89, 1991 and 1993. Meanwhile Ilmor-Chevrolet powered every 500 winner 1988-93 – six straight years; a double hat-trick.
Then it was for 1994 that the old Chapman-style Penske 'innovate, imaginate' lateral thinking re-emerged. Triggering the notion were the Ilmor Engineering partners, Mario Illien and Paul Morgan, suppliers of the Chevvy turbo speedway engine. In American Champ Car racing, two sanctioning bodies presided in uncomfortable parallel. The series' crown-jewel Indy 500 was still run by the United States Auto Club (USAC). Every other Championship-qualifying race was ruled by Championship Auto Racing Teams (CART). Their technical regulations differed slightly, and USAC had sought to widen potential entry to its race by permitting 'stock-block' production-based two-valve-per-cylinder pushrod engines to run against the purebred turbocharged racing engines from Cosworth and Ilmor-Chevrolet. Several owners had opted for Buick V6s with production-based parts.
From 1991, USAC allowed purpose-built pushrod engines on an equivalency formula, with both production-based and tailor-made pushrod engines allowed 209.3 (3429cc) cubic inch capacity, versus the purebred limit of 161.7CID (2649cc), and higher turbo boost, of 55in mercury, against the purebred limit of 45in. Here was an opportunity which most constructors and engine manufacturers either missed, could not afford, or foolishly ignored. It wasn't a loophole in the regs but a gaping door which had 'Please Enter' written across it. Illien and Morgan ran the notion past Roger Penske, and the later months of 1993 brought a bespoke 209CID pushrod engine developed by Ilmor in Brixworth, Northamptonshire.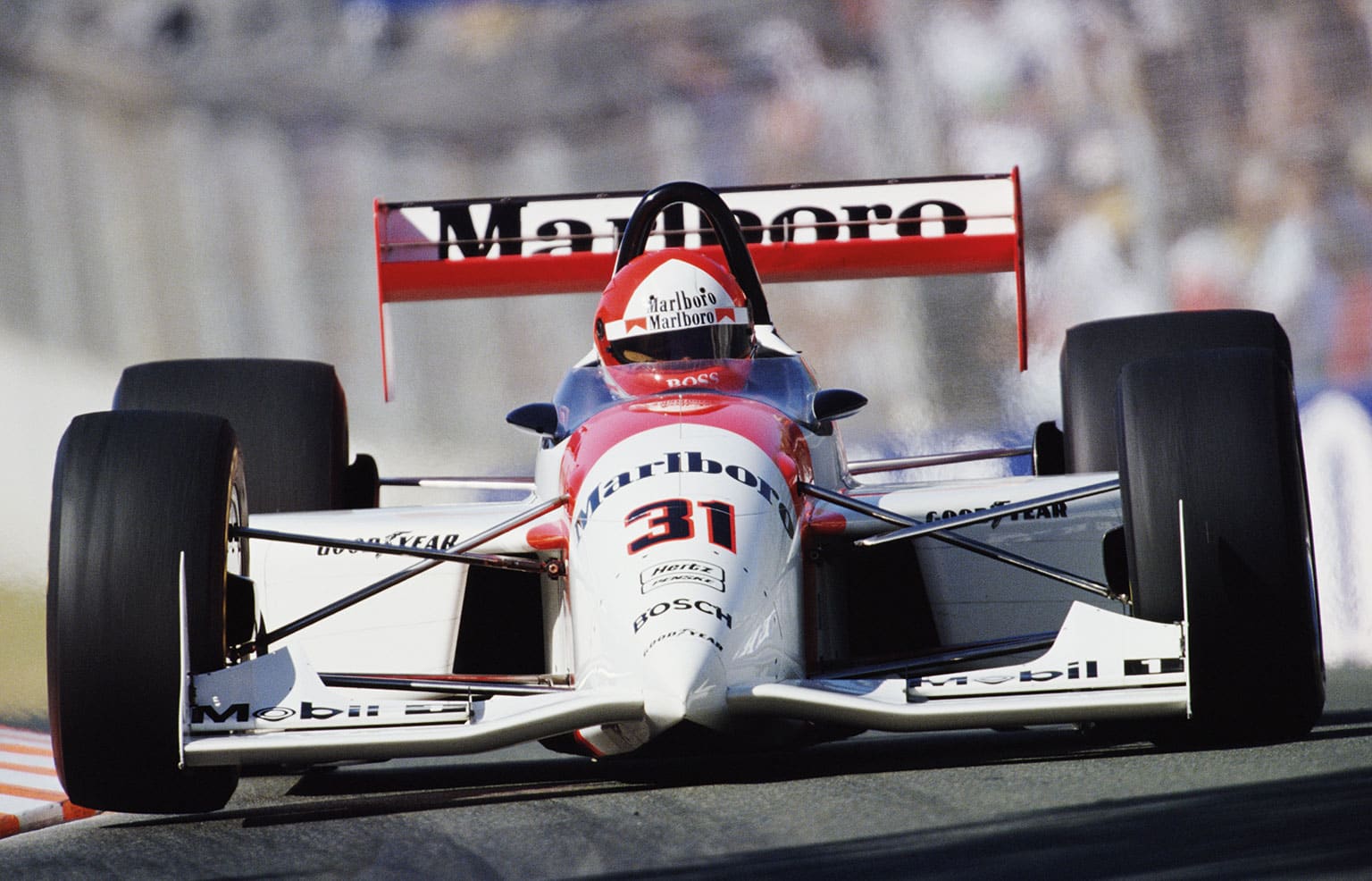 Penske Cars in Poole was headed by former MRD Brabham F1 mechanic Nick Goozée. He recalls: "It was surreal. We always started the design for the following season just after Indy, around June, and I'd sit with our designer Nigel Bennett, who'd usually have some clever ideas. The design and build programme would usually deliver two weeks before Christmas. "On June 18, 1993, at the Toronto race, Roger called me into his motorhome for a meeting with Mario Illien and Paul Morgan of Ilmor. He introduced me to the proposed project to run a pushrod engine at Indy the following year. I was asked if we could achieve it. With Roger the answer had to be 'yes' and worry about the consequences afterwards! Back home the only person I discussed it with was our designer Nigel Bennett.
"We had to build three standard cars plus enough parts to convert all three to the pushrod spec, plus two sets of spares for both options. Once the design was underway the factory was locked down and for four months it was compulsory for Penske Cars staff to work from 7am to 9pm, six days a week. We progressed the design of the standard PC23, and once complete I gathered all the Poole staff together and told them of the pushrod plan for Indy. The design office was out of bounds. We had to build three standard cars for '94 plus two pushrod cars, plus bits to assemble a third.
"I believe it took Ilmor's specific design team only 20 weeks from clean sheet of paper to first dyno run, Paul Tracy did the initial testing in secrecy at Nazareth Speedway, which Roger owned. There were reliability issues. The engine didn't complete 500 miles trouble-free until May 8, at Michigan. Near the end of its development Mercedes-Benz had stepped in with funding to have the engine badged with its name. Every Penske, Ilmor and Mercedes employee involved was sworn to secrecy. The fear was news leaking out and the boost bonus being lost in a last-minute rule change…
"At Penske in Reading, Pa, a separate race shop was created with four staff to strip and rebuild the engines and run them on Penske's own dyno overnight. At Poole we finished a car every three weeks. Our staff did a superb job."
The team launched the pushrod car to the public on the opening day of practice for the 500.
Nick: "Two cars were at Indianapolis while the third was at Michigan being tested by Al Unser. For the first time since it was designed, on May 8 the engine ran for more than 500 miles and the decision was made to race it". Nigel Bennett's Penske PC23 design was an evolution of its 500-winning predecessor, the 1993 PC22. While the Ilmor-Chevrolet CART variant had a low-level engine cover, the Indy Ilmor-Mercedes push-rod unit required a taller panel.
Transmission changes accommodated the lower rpm-band, greater power and torque of the pushrod unit. The new 'Mercedes-Benz' 500I engine was slightly lighter than the 'normal' Ilmor Indy V8. The month of May at Indy developed with the PC23s proving very fast, despite some engine unreliability and handling problems. Penske ran a three-car team for Al Unser Jr, Emerson Fittipaldi and Paul Tracy.
Qualifying ended with Al on pole, Emerson third with Raul Boesel's Lola-Ford between them. Al's average speed was 228.011mph; Tracy qualified 28th. Nick: "During practice Emerson hit 252mph down the back straight where there were no speed cameras, but throttled back down the main straight in order not to reveal its true potential. Roger was afraid USAC could still ban it." On raceday, despite stalling leaving the pits, Al Unser would win after he and Fittipaldi had led 98 of the first 100 laps, 23 to Al, 75 to the Brazilian.
Paul Tracy was out of luck, his car's turbocharger failing after 92 laps. Emerson was able to pull away into a commanding lead, lapping at 220.68mph 121st time round, only to lose out when a discarded plastic bag blew into a radiator intake, requiring removal. Unser led but Fittipaldi hunted him down and by lap 157 these Penske-Mercedes twins were the
only two on the lead lap. With 20 laps to run Emerson – who needed a splash-and-dash fuel stop to reach the finish – lapped team-mate Unser, who looked set to finish non-stop. But on lap 183 Al unlapped himself. On lap 185 he led Emerson narrowly into Turn 4. The Brazilian was in dirty air, he said he tagged the inside kerb, but replays showed him drift wide onto the marbles and into the wall. His race was over.
Al Unser Jr tore on, completing the final laps under a yellow flag to win his second Indy 500 and Penske Racing's 10th. Only one other driver completed the full 200-lap distance – rookie Jacques Villeneuve in the Forsythe/Green team's Reynard-Cosworth XB. The Ilmor-Chevrolet engined Penske PC23s went on to win 11 more of the CART-PPG Championship series races that year, and drivers Unser, Fittipaldi and Tracy finished 1-2-3 at the top of the championship table. Roger Penske is, at 84, arguably the most successful man from world-class motor sport – Mr E included. Penske Cars at Poole operated for 33 years, won 115 races, 11 championships and 13 Indy 500s.
Today's Penske business empire spans a tremendous enterprise range, with more than 60,000 employees worldwide. Yet an enduring jewel in the Penske crown is the one-race Mercedes-Benz (by Ilmor)-engined PC23. But there is a sting in the tail. The power of that engine masked set-up shortcomings at Indy which tripped the team on its return in 1995 with the PC24. And it failed to qualify; hero to zero in 12 fleeting months. Another of frontline motor racing's cautionary tales.