F1 poster boys in the frame  
Whether hunting for gifts or buying something for yourself, visit the Motor Sport shop at motorsportmagazine.com/shopwhere you'll find a miscellany of track-friendly ideas
Vintage Racing Posters
If you're not overly fussed by the modern age of mass-produced posters, then we have a solution for you. In a world of ten-a-penny designs, having something that is truly limited edition is a must, and there's no better option than vintage posters. Yes, they were produced in their numbers back in the day, but so few now survive that they can be practically considered a protected species, perhaps even one-of-a-kind. If that's of interest, take a look at some of the rare vintage offerings we currently have up for grabs. How about an art deco-inspired colourised offering for Goodwood from 1961, Graham Hill in action ahead of the 1963 International Trophy at Silverstone, or even the wonderful randomness of Gilles Villeneuve and his Ferrari-touting Lambrusco? Each makes for a talking point in itself.
Goodwood 1961, £895; Silverstone 1963, £300; Villeneuve advert, £110
---
Cooper at Goodwood print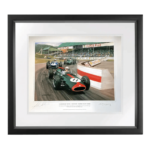 Fitting with the theme of this issue, why not dedicate a section of your wall to celebrating the Goodwood circuit with this print from artist Michael Turner? It depicts John Surtees barrelling into the famous final chicane aboard his Yeomans Credit Racing Cooper T53 on the way to his breakthrough Formula 1 win in the 1961 Richmond Trophy with Stirling Moss, Graham Hill and Roy Salvadori in his wake.
For added value, it's hand-signed by both Surtees, and Turner. Limited to 50 prints.
£149.95
---
BMW Speedo wall clock
We're big fans of things like this, which are guaranteed to pep up any racing fan's den. Styled on the speedometer from a classic BMW – which to our untrained eye looks like those fitted to the vintage R-series motorbikes of the 1950s – it's 31in round, contains a quartz movement and is battery powered.
£45
---
Giuseppe Farina signed programme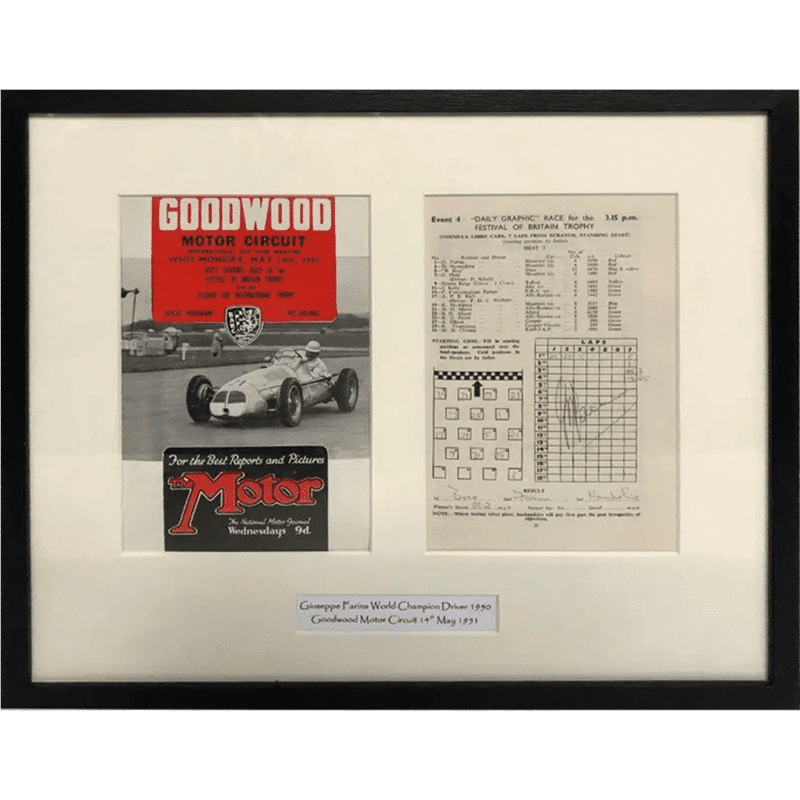 This unique presentation piece is an original programme from Goodwood's Whit Monday meeting in 1951, signed by 1950 F1 world champion Giuseppe Farina. The Italian was taking part in the Festival of Britain Trophy race, in which he would pilot his 1.5-litre Maserati to second place.
£1095
---
F1 calendar mug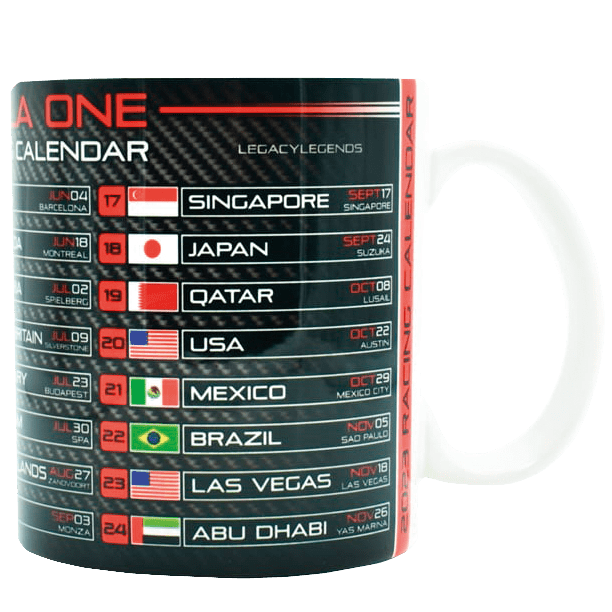 Worried about missing any grands prix this year? Relax and have a calming brew. Literally, as this snazzy mug denotes the dates and venues of the entire 2023 schedule. Don't worry about China still featuring on there, that's just what it's made out of. Oh, the delightful irony…
£12
Buy now
---
About the Motor Sport shop
With hundreds of special and unique racing-themed products, and many new items regularly added, the Motor Sport shop is aimed at both serious and casual collectors with a wide range of prices to suit your budget. Visit motorsportmagazine.com/shop
---
The expert view
Model behaviour
Models often form the centrepiece of most people's collections and are great to display and gaze at. But model kits are also brilliant to build then display, so let's sidestep the usual ready-made scaled offerings and look instead at model kits, which to me are one of the great joys of the collectibles market.
In my mind, the bigger the better for things like this, and there are some stunning 1:8 and 1:12 scale kits out there. I'm an amateur model-maker and have recently just completed a 1:4 diecast of a Valentino Rossi Yamaha, which weighed in at 10kg when finished. It helped that I sold it on for a profit, but it's hardly a 'business model' I'd pursue, as it would be difficult to justify the 40 hours it took me to build! But it's not about that. There's a personal satisfaction attached to these things rather than a market value.
There are some brands offering 'partwork' models – a monthly subscription where you get a bag of bits and over the course of a year or two build up the model. Some are outstanding. There's obvious names like DeAgostini, but others like Hachette, Pocher and Agora make some stunning stuff, and many go beyond your usual static display models by featuring electrical assemblies for working lights and sounds.
Models have come a long way since those days of ill-fitting Airfix kits that we all remember glueing on the kitchen table. Now they are CAD-modelled and precision engineered, and there are even companies that sell upgrades for the popular kits.
It's a whole world of enjoyment. As a monetary investment, unless very rare and vintage, I doubt anybody would buy a boxed model kit these days without the intention to actually make it, so don't bother sitting on stuff hoping for it to rocket in value. You're better off cracking it open and investing your time instead.
Andrew Francis is director at The Signature Store, thesignaturestore.co.uk