Chip Ganassi: The Motor Sport Interview
The owner of teams in a variety of disciplines: Chip Ganassi talks about his reasons for quitting racing in the '80s, his long-term rivalry with Roger Penske and why his burning ambition is just to win the next race
Floyd Ganassi Jr, better known as 'Chip', is quite simply one of the most successful team owners in the sport. He came to motor racing as a driver and raced at Indianapolis before deciding he'd be more successful out of the car.
His team, Chip Ganassi Racing, has won all there is to win including 14 open wheel titles (10 IndyCar and four Champ Car). It's accumulated a total of 242 race wins including the Indy 500 five times, Grand-Am five times, Daytona, Sebring and Le Mans. And they are still going with teams in IndyCar, IMSA, WEC and Extreme E. Today, Ganassi has his own chapter in American racing history. But, as he tells us from his base in Indianapolis as heads into a new IndyCar season with four cars for Scott Dixon, Alex Palou, Marcus Ericsson, and rookie Marcus Armstrong, he's not done yet.
Motor Sport: How far has IndyCar come in recent years? Is the sport in better shape since Roger Penske took control?
Chip Ganassi: I guess it's all about your perspective. Somebody coming in during the last year or two might not think much of it but for me, after 35 years in the sport, it's been a great thing. We are stewards of the sport, of the Indianapolis Motor Speedway, these are national assets, so when you look at the Speedway, for example, this is a regional if not a national treasure and the same could be said of IndyCar itself.
Who owns a sport? Who owns a league? I mean, you can say Liberty Media owns Formula 1, or the team owners own the NFL, but in actual fact it's the fans who own these sports, or the country itself, that's the long-term perspective. Roger Penske's timing, in one sense, could not have been better, but in another sense it could not have been worse because of dealing with the Covid pandemic when he took control.
There's been a coming together, a convergence, of the three pillars of motor sport in America: Roger taking over Indianapolis, the France family taking NASCAR private again, and then the new sports car rules in IMSA and WEC, so that's all been very timely and very good for the sport as a whole in the US.
The battle for supremacy between Ganassi and Penske is always intriguing. Do you and Roger maintain a good relationship despite the competition?
CG: We have a great relationship. Our interests in the sport align perfectly. Roger has a multi-billion dollar business Monday through Friday whereas racing is my only business and yet everybody's equal on Saturday and Sunday. We'd like to rip each other's eyeballs out on the race track, but then, come Monday, our interests are more aligned. It's a great rivalry. Sports need rivalries, it's healthy, we keep each other honest. You know, if you beat Roger Penske, then you really know you've done something.
There's a changing of the guard, a new generation coming through. How good are these young drivers?
CG: It's like all changes of the guard – when you've been around as long as I have you've seen this four or five times. Each new generation brings along some good things and some bad things that you'd raise an eyebrow at, and others you think are just great. It's like soccer. It's important to keep the left and right boundaries as they are, and keep the goal in mind, then if these are solid you're OK through the changes.
"If you beat Roger Penske, you know you've done something"
How did you feel when Alex Palou tried to break his contract with you and jump ship to McLaren last year?
CG: It wasn't the first time I'd seen something like that. These young guys, they come into the sport and people start spitting in their ear about how they'd be better off here or there. He's just a young person who maybe got given some bad advice, and it's unfortunate, but time will tell if he can put that behind him. So far it's OK and we get along fine now.
How far is Formula 1 a temptation for these young guys now that the sport has become so incredibly popular in America?
CG: It's interesting… the F1 teams used to look at the best driver and take him  to Formula 1, but that doesn't seem to be the case any more. Now it seems to have become a popularity contest or a money situation. From my perspective, looking at motor sport as a whole, a rising tide raises all boats. When one category is up it drags the rest of us up, when that one is down, we'll drag them  up. I've seen that pendulum swing both ways over the years, enough to know that nothing lasts for ever. So, you know, it's not a big concern for me.
You started out as a driver at a time when motor racing was a very different and dangerous world. Why did you decide to take on the pressures of team ownership?
"From 1982 to 1984 a third of the Indy 500 grid had leg or ankle injuries"
CG: Racing in large formula cars was a different sport back in the 1980s, and the mortality rate was a little different. Your feet were out forward of the front axle, a third of the drivers had ankle or leg injuries. From 1982 to 1984 a third of the grid at the Indy 500 had either leg or ankle injuries, so…  I just decided to stop. We had bigger fields back then too. In '82 we had 61 car and driver combinations fighting for 33 spots on the grid at the Indy 500. Today it's 33 so there's very little bumping in the qualifying. I take nothing away from today's drivers, it was just different days when I was racing.
In 1994 you ran Michael Andretti in the new Reynard, winning first time out. Did you ever see him as a future team owner?
CG: Michael had a lot of momentum, coming back from Formula 1, and we had a good car in the Reynard. He was highly motivated, wanting to beat Nigel Mansell who was with Newman/Haas, so all those factors made for a nice year. I didn't see him as a future team owner back then but hey, good for him, he's a great competitor and a great team owner now. It's not for me to talk about his plans for Formula 1 with Cadillac, not in a public forum, so I'd rather keep any thoughts I may have about that to myself right now.
OK, let's look at the Ganassi opportunity with Cadillac in endurance racing this season. Is the goal to win Le Mans?
CG: Certainly. Cadillac is expanding its footprint worldwide and that's why Le Mans and their possible Formula 1 entry with Andretti both fit nicely with their long-term plans as a manufacturer. We won in 2016 [LMGTE Pro] and this is a good chance to go back and win overall with Cadillac. There's some work to do between now and then but, sure, it's possible.
Endurance racing is such a different discipline from IndyCar. What is it you like about the challenge?
CG: In a long-distance race you have everything that happens in a season happen in a 24-hour period, which is exciting and it really tests a team. It's about measuring up your team, and yourself, against all the others and that's the attraction for me. Going up against the best in the business, that's what makes great racing, whether it's Indycars, sports cars or whatever. It's a thinking man's game. You know, motor racing really shouldn't be that difficult, the races are not difficult, the cars are not difficult, the engineering is not difficult, the formats are not difficult, and the travelling, well, that's not too difficult either. When you put it all together… for some reason it is  difficult. I guess if it was easy everybody would be doing it.
Dario Franchitti tells me you are a perfectionist and that you demand excellence in every detail. Is that what keeps you ahead of the game?
CG: I get a real charge out of being around competitive people who are working in a team environment, who desire excellence and who want to be a part of that drive for perfection and success.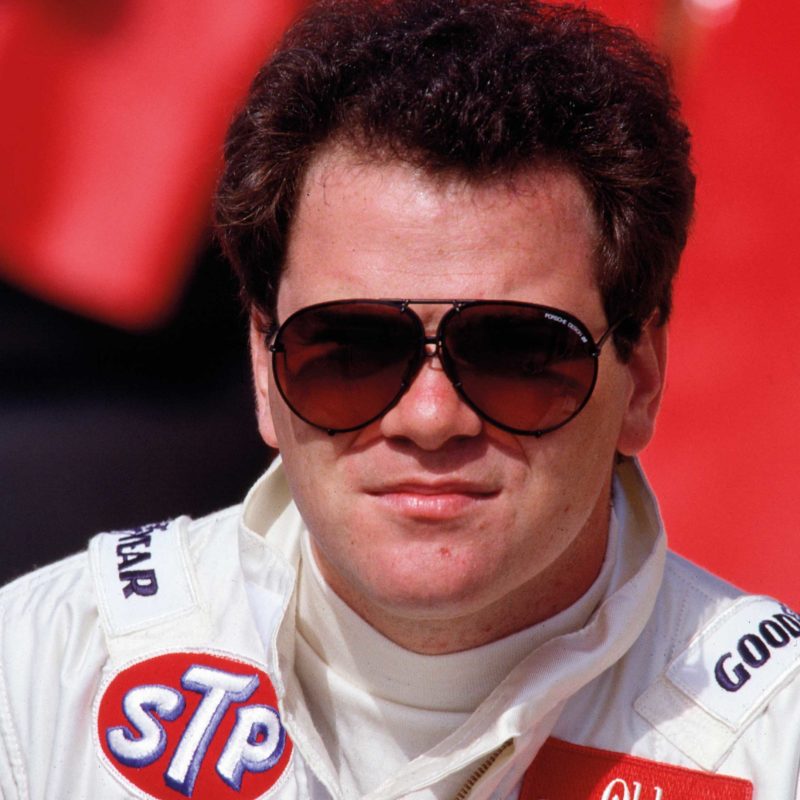 You've had some great drivers over the years. Scott Dixon has won so much and been so loyal to the team. Is he simply the best?
CG: Good question… I think it's a combination of his skill and his home life – his wife is a big part of his motivation and success. He knows what it takes to be a champion. He doesn't carry any baggage – there's no sideshow with Scott, which is good. He's the perfect package if you like. We just need to put a good car underneath him and he's fine.
I was at the races one time with a guy called Leonard Wood, an old cagey NASCAR racer and team owner, one of the founders of the famous Wood Brothers Racing. He said to me, "That boy Scott Dixon, he reminds me of David Pearson." "Why is that Leonard?" I asked. "Well, if you didn't win with Pearson driving your car, you knew you had to work on your car a little more." That's exactly how it is with us. If we're not winning with Scott Dixon, we need to work on our car a little more.
Then there were the 'golden years'  with Alex Zanardi and Jimmy Vasser. Was that a formative and important time for the team?
CG: Yeah, along with Michael [Andretti]. They were the people who laid the foundations for what the team is today. A lot of the ideology, what are now traditions, were born out of the Zanardi and Vasser days. The pillars of excellence we have today, our best practices, were just ideas back then.
Our four core values, performance, partnership, innovation and integrity, those were ideas that have since become the pillars of the way the team works today.
And Juan Pablo Montoya? He came to you in 1999 and won the Champ Car title in his first year in America.
CG: With Juan it was just a matter of putting a car underneath him, and he'd get it to the front so easily. In his day there was just nobody faster.
And Ganassi's four-time champion Dario Franchitti still works for the team. People say you nurtured his talent when he came to you.
CG: Well, it works both ways. Dario made us a better team. We were a good team already, but he worked with us to make us an even better team. He brought us a lot. That's why he still works for the team. He's very unselfish, in that he was teaching his team-mates what he was doing and he's a real student of the sport, almost a 'professor' when it came to race weekends. I mean, he's very much a thinking driver, always thinking about how to get the best out of the equipment, how to make the car do the work. Now he's working with our young drivers, going testing, sharing his ideology, his experience, his skills.
We've talked about Scott Dixon and now you have a new young New Zealander, Marcus Armstrong from Formula 2. Are you excited at the prospect of him doing the road races this year?
CG: We did two tests with him, at Palm Springs and Sebring, and he was already quickest in one of the sessions at Palm Springs. We're not even throwing everything at it yet and he's still on a red hot pace so, yeah, the early signs are very encouraging, and he's certainly exceeding our expectations. Let's see what happens when we get to a race situation. There's a lot more to it than just driving a car around out there, the pitstops, the yellow flags –there's a whole lot to learn. We're in the first few minutes of a long season but he seems to be working hard at it thus far so we'll see how he goes.
How optimistic are you about the future of motor racing with the world changing so fast? Does the sport have a future?
CG: Absolutely, absolutely. I'm bullish on the future of motor racing. There are  parts of it that will have a challenge going forward but at the top level you're going to see racing in one form or another for decades to come. It may not be the way we have known it for many years but who would  have thought, in the 1940s and '50s when tyres were skinny and drivers were fat, that it's now the opposite. So, who knows  what the future will bring? Any time there are two car companies or more, someone is going to want to prove their car is better than the others.
"As long as there arecars on the road there will be racing"
All of us who have driven cars, whatever they were, have some connection to a racing car driver. My mother gave me my interest in racing. She was a lead foot driver back in her day, so as long as there are cars on the roads there will be racing. Let's face it,  the car manufacturers are the ultimate 'fuel' for the sport and we're all wondering what is the best propulsion system going forward. IndyCar will have hybrid engines, but there's, you know, 27 different ideas of hybrid, so is it battery? Or not? What sort of re-gen does it have? We're all trying to settle on what is the most efficient or most popular, formula and I'm not so sure there is one.
Some systems do some things better than others, there will be a test bed for each and every one of these ideas, and some will come to race cars, so I still think the future is very bright. Right now I'm coming to work in  a gasoline hybrid.
You have won so many championships, so many races. How much longer can you keep the revs up and what is left for  you and the team?
CG: Mmm, now there's a question… I reckon I have a good 10 or 15 years left in me yet. How old is Roger? He seems to have set the bar? He's 86, right? So let's say 15 years. What else would I rather be doing? Where else would I find the competitive edge, the wonderful community I'm working in? Is there one big ambition left? Yeah, it's to win the next race.
Would you ever consider taking Ganassi to Formula 1?
CG: I would never say never but I don't look at Formula 1 as the best racing I've ever seen. I want to be where the most competitive teams are, where the most competitive racers are, so wherever that is I want to be there. I'm sorry but right now I don't see that in Formula 1. For me the racing is more exciting where we are."