1972 Canadian Grand Prix race report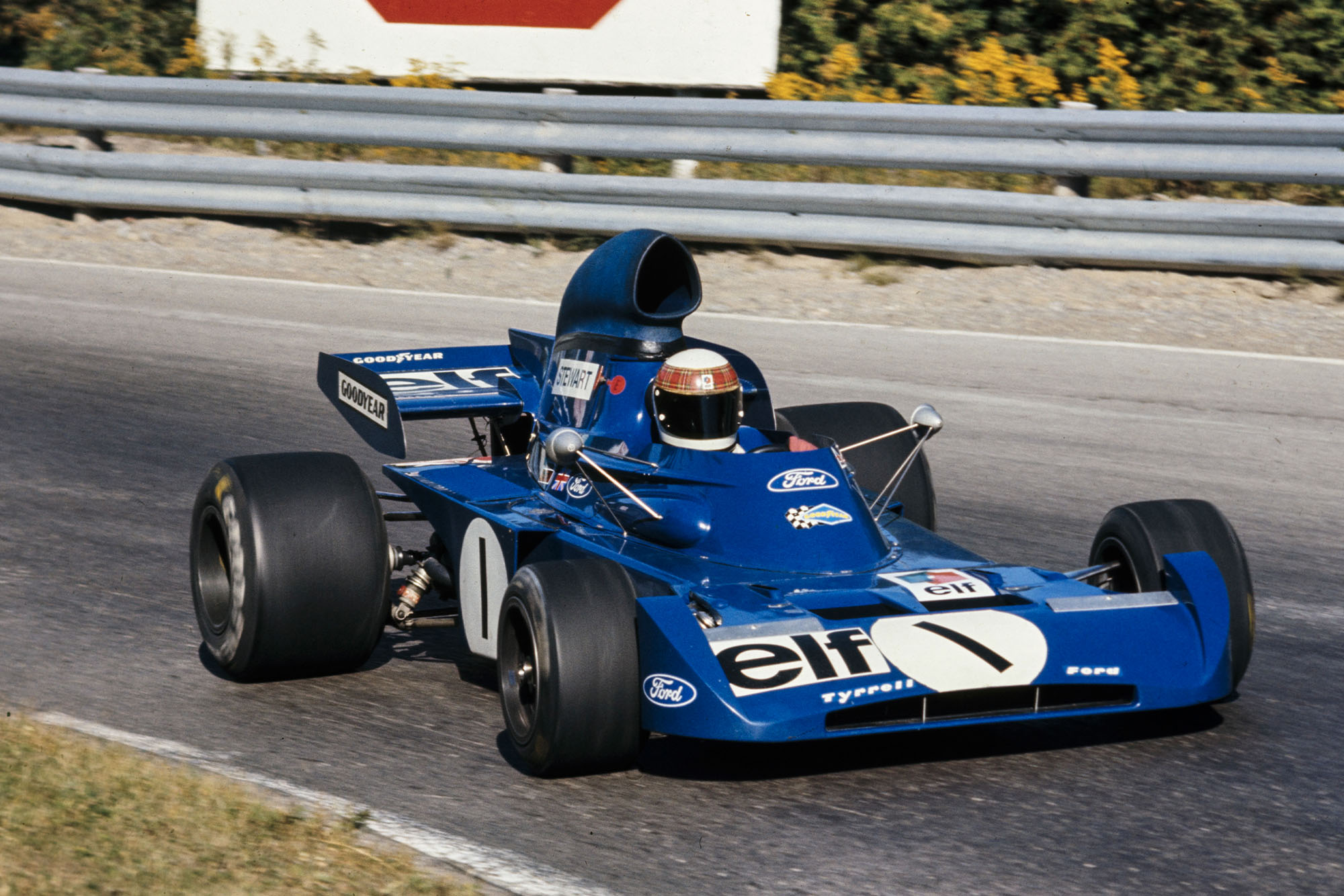 Stewart back on top
Mosport, Canada, September 24th.
Jackie Stewart and Elf-Team Tyrrell will remember 1972 as a year of mixed fortunes. Stewart's season started off well enough with a win in Argentina but after that things started to go wrong. There was the ulcer that put him out of the Belgian Grand Prix and, prior to that, he had unaccountably spun at the Spanish GP which he now says was because his illness was affecting his concentration. He scored a win in the French GP after his lay off but then came another lean period. The publication of his new book "Faster" and various other magazine articles turned many of his fans against him while, on the track, the new Tyrrell 005 had problems. His final race of the European section of the season finished on a singularly unhappy note for he retired within the first 100 metres.
At one stage many thought this would be Stewart's last year of racing but he scotched those rumours. Meanwhile racing had found a new hero and World Champion—a 25 year old Brazilian, Emerson Fittipaldi. But, whatever else is said against Stewart, no one will deny his talent at the wheel of a racing car. On Sunday September 24th he reminded everyone in the strongest possible terms that none of that talent, dedication and skill is missing. In common terms Jackie Stewart and the Tyrrell 005 walked the Canadian Grand Prix. That hard tryer Ronnie Peterson led that race for the first four laps, but after that, it was no contest. At the finish Stewart had opened out over half a lap lead over second man Peter Revson in, what was a Grand Prix that almost did not take place. Fog had delayed the start but mercifully lifted in time for the race still to be staged.
There were 25 entries for the first of the two North American races which bring the World Championship to a close. This year it was scheduled to be the turn of the beautifully situated and very different St. Jovite circuit to host the Canadian GP. However, before the start of the season, the lady owner had fallen out with Canada's motor sporting authorities and, tragically, the track was shut down. Meanwhile, with financial assistance from a big brewery by the name of Labatts, the management of the Mosport Park track in Ontario agreed to hold the race, for a second year running. This track, which is within an hour's drive of Toronto, is also most pleasantly situated in hilly woodland. Due to the vagaries of the harsh Canadian winters the track surface is extremely bumpy and the drivers hoped it would be resurfaced before the race. This was not done but additional armco and curbing had been installed.
Qualifying
The circuit was available for testing early in the week but official practice was on Friday and Saturday with two sessions on each day. However, as is the custom at Mosport, the first Friday morning session is untimed but it does give teams a chance to set up everything for the Grand Prix and, for those unfamiliar with the circuit, to learn its dips, dives and tricky corners.
The Formula One lap record was a rather dusty one as it rained heavily last year and the year before that the GP had been at St. Jovite. Thus it stood to Jacky Ickx who, in 1969, lapped his Brabham BT26 in 1 min. 18.1 sec. More relevent was Stewart's pole position time of last year at 1 min. 15.3 sec. while the pole position for this year's Can-Am race was set by Mark Donohue's Porsche at 1 min. 14.2 sec. and, in the race, Revson recorded the fastest lap at a second slower than that. In the untimed morning session the various teams' timing had no one approaching 1 min. 15 sec. but Hulme looked the fastest while Fittipaldi and Stewart were close behind. Everyone intended to take part in this session but both Hill and Pace missed it due to engine problems. Ganley used the session to determine whether to use the P180 or the older P160C. Tony Southgate, the designer of both models, had already left the team to start work on the new Shadow Formula One project so there was no one to guide Ganley. He decided on the older car which left the latest machine for local Canadian Bill Brack, although that deal wasn't finally sorted out until the afternoon.
With the knowledge that the official clocks were now clicking, practice hotted up in the afternoon. The Goodyear people had produced a very sticky compound tyre which was good for less than ten laps but during that time it gave fantastic grip before starting to fall to pieces. Hulme was one of the first to get his hands on this qualifying rubber and set the pace. Practice was halted for a while as Ickx had flown off the road and damaged the Ferrari's suspension slightly but once the car was back in the pits he took out the spare. After that it was Stewart who was the man to catch and near the end of the session he recorded a 1 min. 14.5 sec., which was the fastest of the day. Hulme was a fifth of a second slower while his team mate, Revson, Emerson Fittipaldi and Ronnie Peterson all recorded 1 min. 15.0 sec.
Despite Ickx's bump, Ferrari were in fairly good shape with Regazzoni on 1 min. 15.3 sec. and Ickx on 1 min. 15.4 sec. with the spare. More twelve cylinder engines completed the fastest ten— the BRMs of Gethin and Ganley on 1 min. 15.7 sec. and 1 min. 16.1 sec. respectively and then Chris Amon. Beltoise's P180 had broken a rear radius rod uniball joint on a fast section of the course and somehow spun to a halt without hitting anything. Pace and Hill were still in trouble, the Brazilian still having his engine changed while the Londoner's Brabham now had a fuel tank leak.
The morning session on Saturday very definitely belonged to the McLaren team. Because of their Can-Am experience both Revson and Hulme know Mosport extremely well and perhaps this added to having their cars on top form and the best qualifying tyres gave them an advantage that sent some of the other teams into a state of depression. There is nothing more demoralising than to see a team with both their drivers at the top of a list, and by quite a margin. That team had obviously got something you, and all the others, haven't. Although the times hung out to both Revson and Hulme were practically identical at around 1 min. 13.8 sec., officially it was Revson fastest at 1 min. 13.6 sec. and Hulme second at 1 min. 13.9 sec. If there was one driver and car that could have challenged the McLarens it was Stewart's Tyrrell 005 but that was out of contention. As 005 was readied for the session the big toothed drive belt on the front of the engine broke. It is quite a difficult job to replace and it took the Tyrrell mechanics all the session and part of the next. Meanwhile Stewart drove the older 004 but was three seconds slower than Revson.
Thus only Fittipaldi could get within a second of the McLarens, his black and gold John Player Lotus 72 recording 1 min. 14.5 sec. Tyrrell honour was upheld to a degree by Cevert in the new 006, for the few fuel system problems which had caused trouble the previous day had been solved. Cevert was extremely happy with the new car and his best was 1 min. 14.9 sec. lckx's race car was obviously none the worse for the bump and lapped in 1 min. 14.7 sec.
Bell had been struggling with the Tecno which every so often looks as if it is starting to become competitive but then slips back again. A broken rear cross member and rear roll bar curtailed his practice while Graham Hill still had only a handful of laps to his credit as an engine blew up on him. So, with a final session remaining, the Yardley McLarens were first and second on the grid with Stewart third. Obviously, judging by the times, the McLarens looked safe on the front—and they were. However, the team did suffer a minor set-back when a wheel came loose and then fell off Revson's car sending him into the Armco barrier at turn two. Practice was stopped and the car dragged back in where it was seen to have the side of the monocoque section near the rear crimped in, the external water pipe flattened and some broken suspension. However this was repaired in time for the race. But the sensation of practice was Peterson who, although he is leaving the team, seemed well pleased with his little March and was flinging it round in a spectacular manner. At Mosport the final corner is just before the pits and everyone in the pits can observe just how hard each driver is trying. Peterson took all the prizes and, when his car was fitted with the qualifying tyre, he set the fastest time of the session at 1 min. 14.0 sec. which knocked Stewart off the front row.
Both Stewart and Fittipaldi improved by a tenth of a second to 1 min. 14.4 sec. which ensured them of the second row of the grid. Cevert also lowered his time to 1 min. 14.5 sec. and thus shared row three with Regazzoni, (who did a similar time) and Ickx, whose morning time of 1 min. 14.7 sec. was also good enough for that row. One can not help noting the consistency at which the Argentinian newcomer Carlos Reutemann qualifies well up Grand Prix grids in his first year of Formula One. His best of 1 min. 14.9 sec. with the Brabham put him up to row four along with Amon's Matra. Wilson Fittipaldi, Gethin, Schenken, Ganley and de Adamich all lapped within the 1 min. 15.7 sec.—1 min. 15.9 sec. bracket to fill the next two rows. The grid shows the rest of the picture with both Williams cars lacking for the latest tyres or decent engines, Wisell being rather disappointing in his comeback for Lotus and Bell bringing up the rear with the enterprising but slow Tecno.
Race
Last year, it will be remembered, the Canadian Grand Prix was brought to a premature end because a heavy mist fell on the circuit. This year it happened the other way round because, after two bright practice days, Sunday morning in the Mosport area was extremely foggy. An untimed shakedown practice was scheduled for half an hour starting at 10 a.m. That came and went and two hours later everyone was still wandering around and peering into the murk, which had shown no sign of lifting. Meanwhile a very large crowd had gathered many having camped overnight, and the official figures, issued later, would suggest that it was the largest ever for a Canadian GP.
Soon after it was announced that, if the fog lifted, the GP would be started and the various supporting races for saloons and Formula Ford would be cancelled and run a week later. At the official starting time of 2.30 p.m. the fog had lifted slightly but, by then, the organisers had asked the teams to bring the cars to the pits and then send them out individually for a couple of laps each, largely in an effort to keep the patient crowd happy. Stewart was the first out and reported that conditions were impossible. But as Fittipaldi started his laps the fog miraculously started to lift. Perhaps the great gods of weather were paying a tribute to a new World Champion! Anyway, after his laps, Fittipaldi said he thought it would soon be safe to race.
A quarter of an hour warm-up period started during which the damp track dried out and Derek Bell flew off the road and bent the front suspension of the Tecno too badly for it to race. All the organised formalities were discarded and just over an hour late, the grid, now reduced to 24 cars with Bell's demise, formed up and then rolled forward. On the front row Hulme was flanked by Revson on pole position in a GP for the first time and Peterson who had never been on the front row in a World Championship event before!
When the flag dropped the start was a little confused as Hulme almost jumped the start and then muffed it, Revson did not make a very good getaway either and Peterson rocketed into the lead. As the field lifted off for the first corner a number of drivers found that all the dirt and dust that had been flying around had blocked their throttle slides. Both McLarens were affected, particularly Hulme whose throttle was stuck wide open, and he had to resort to driving on the ignition for a couple of laps until it freed. Both Lauda and Barber actually ground to a halt with the problem and both lost many laps before limping back to the pits. In fact Barber turned up at the pits when the race was half over, having earlier broken the throttle cable, while Lauda lost 15 laps. De Adamich had missed all this because he was left on the start line due to a gearbox problem. He finally got going but retired after three laps with the internals all chewed up.
The end of the first lap was a sight worth remembering, Peterson took the final corner in front of the pits in a huge opposite-lock slide, and with about three seconds in hand over Stewart. Then came Revson followed by Ickx, Fittipaldi, Regazzoni, Amon, Reutemann, Schenken, the three BRMs of Gethin, Ganley and Beltoise, then Hulme, HilI, Pace, Wisell, Pescarolo, de Adamich and finally Cevert, who had recovered from a big moment and, bringing up the rear, Brack's BRM. Limping into the pits with his throttle slides bunged up was Wilson Fittipaldi while Beuttler also arrived at the pits after flying off the road and into a catch fence. He had managed to get the car back on the road and limp it back to the pits, where a rear drive shaft and some suspension components were changed.
For all Peterson's first lap exuberance he soon had Stewart closing up that first lap gap and, by lap three, the red STP March had the blue Tyrrell right on his tail. The following lap Peterson ran very wide at the difficult two part turn 5 (known as Moss Corner) and Stewart nipped through into a lead which was never challenged. Stewart immediately started to open the gap and, by the tenth lap (with 70 more to go), Peterson had already dropped six seconds behind. However the Swede had opened out a similar gap over the rest of the field with an exciting six-car nose to tail battle contesting third place. The group was led by Ickx followed by Revson, Fittipadi, Regazzoni, Amon and Reutemann. Then there was quite a gap back to HuIme, who had cleared his throttles and was making up ground at a tremendous pace. He had passed Schenken for ninth place and the Australian was left to lead another group with Ganley, Beltoise, Hill, WiseII and Pace in his wake. Cevert, after his early scare, was moving up quickly too and had joined the back of this group. Gethin had already made a pit stop on lap five and then made a total of five more to have his badly misfiring engine brought back on song. During these stops the coil, spark plugs, and rev limiter were all changed and he finally got going again, many laps down. Much later he retired when the rear suspension collapsed.
By lap 20 there was little change although Stewart had now opened out a margin of 15 seconds over Peterson, while the third place battle was more hectic than ever. Revson still led the group but Fittipaldi found a way round lckx leaving him to run in company with team mate Regazzoni and create a problem for both Amon and Reutemann who were trying to get by. Hulme had closed up on this group but found Reutemann's Brabham very wide and started waving his fist at the Argentinian, who was right up Amon's exhaust. It was more a chain reaction caused by the Ferraris and similar to those frustrating queues that form in the fast lane of British motorways. HuIme did move up one place soon after, he passed Amon who was dropping back. The Matra had lost a piece of a primary pipe from the exhaust system which made the car sound off-song as well as affect the performance, but Amon plugged on. Meanwhile, Cevert was driving on top form and was closing on this group despite having difficulties with the rear brakes which were losing hydraulic fluid.
Once Stewart had opened the lead out to about 18 secs. he held it there and, by half distance (40 laps) the race had developed into something of a stalemate. Revson was still third and, though Fittipaldi was challenging hard, he seemed unable to find a way round the McLaren. At half distance Ickx pulled into the pits for a front wheel to be changed, because of a puncture, and also had the electrics attended to and this effectively put him out of the running. So the half distance order was Stewart, leading by 18 secs., from Peterson who had a similar margin over Revson. Fittipaldi was close behind and then there was a gap to Regazzoni, Reutemann, Hulme and Amon. Hulme was, by this time, furious at Reutemann's antics and on several occasions had dropped back and taken a run at the Argentinian, all to no avail. In eighth place was Tim Schenken, despite some very nasty handling caused by the top left suspension rocker arm of his Surtees which had contrived to bend at the start. By this stage Schenken had been lapped and he had a little group with Wisell, Hill, Pace and Ganley in his mirrors.
Cevert's brakes had deteriorated badly and he made a couple of stops to have them attended to, more fluid was added and a loose union tightened. He resumed but then a broken gearbox put him out for good. Brack was also missing off the lap charts having flown off the road into a catch fence damaging only the nose of the car. However he was unable to continue. Peterson's progress was halted soon after half distance when he came up to lap the group led by Schenken. He found that Graham Hill had no intention of letting him pass easily and the Swede spent four frustrating laps trying to get by and, meanwhile, Stewart opened the gap up to almost half a minute. In desparation Peterson tried to dive through on the inside at turn ten only to have Hill cut across his bows and the pair collided. Peterson stopped at the far end of the pits with his steering bent while Hill continued unabashed. The March was pushed back up the pit road where some hasty repairs were made and Peterson rejoined. Soon afterwards he was black flagged for the push up the pits in the reverse direction but not until he had given Hill some of his own treatment.
With the demise of Peterson, Peter Revson moved into second place but had dropped his constant shadow Emerson Fittipaldi, who was obviously in problems. On lap 57 Regazzoni moved into third place ahead of the Brazilian who then came into the pits. He had lost a front nose fin and there seemed to be some confusion in the Lotus pit whether to replace the complete nose section or just the fin. He finally got away in twelfth place. However, while he was still there, team-mate Wisell also stopped due to a sticking throttle. He returned in the race only to have a high pressure fuel line split so he retired. Beltoise was another retirement, his engine having broken a valve spring or two.
By three quarters distance Stewart was romping home to victory with Revson and Regazzoni in the next two places and the main interest in whether Hulme could force a way by Reutemann, although he now seemed resigned to following him. But, with just seven laps to go, Reutemann suddenly appeared in third place still with Hulme on his tail but now with Regazzoni following them at quite a distance. The unfortunate Regazzoni had executed a huge spin when he suddenly found Skip Barber in the way, the American March returning to the race almost 60 laps late. Stewart drove on to victory and a £25,000 first prize to give the Tyrrell 005 its first victory and the Cosworth DFV engine its fiftieth. Some 48 secs. later Revson took the flag for his highest ever grand prix finish and then, in third place, Hulme suddenly appeared. On the very last lap he had passed Reutemann but only because the Argentinian had started to run out of fuel and he still managed fourth place ahead of Regazzoni. Amon's sick sounding Matra was sixth, having been lapped, then came Schenken, Hill, Pace (who actually stopped on the last lap—out of fuel), Ganley, pit stoppers Fittipaldi and lckx and finally Pescarolo who had also stopped with handling trouble caused by a loose joint in the rear suspension. Lauda would have been 15th but he was disqualified for receiving outside assistance on the course.
It was a good day for Stewart and Team Tyrrell. In addition to the win there was also a new Formula One lap record to the credit of 005.
A. R. M.