1984 Portuguese Grand Prix race report
Another McLaren double
Estoril Autodrome, October 210 TO round off the 1984 Formula One season, the Grand Prix of Portugal was revived and held on the little "mickey-mouse" Autodrome in the hills behind Estoril, near Lisbon. Having only been used for minor events since its construction in the nineteen seventies, the 4.26 kilometre winding and undulating track needed quite a lot of "facelifting" to make it acceptable to the Formula One circus, but the Portuguese club, aided by Mr. Ecclestone, put their backs into the project and everything was more or less ready for an unofficial test-session on Thursday afternoon, before the serious business of practice and qualifying was due to begin on Friday. The general consensus of opinion was that the refurbished little Autodrome was not too bad, and was really quite fun to drive round, though not in the manner of Francorchamps, Osterrekhring, or Silverstone. Formula One rather than Grand Prix. All the teams were ready to go on Friday morning, with one or two minor alterations and additions and one or two drivers making their last racing appearance with their 1984 teams.
Gerhard Berger took over number 14 in the ATS team, a number that used to belong to Manfred Winkelhock, and Renault had a fourth RE50 car with them to allow Philippe Streiff to make his debut in Formula One, he having done aloe of test-driving for the Renault team, Jacques Lafitte was making his last Williams appearance before returning to Ligier, Ayrton Senna was having his last Toleman drive before moving to Lotus and one or two others were wondering where they would be going when this race was over. With a five month break from this last race to the first race of 1985 the mechanical scene was litdc changed from the last race, Brabham brought back their highly successful "qualifying special" BT53/4, Ferrari restricted themselves to three cars again, Lotus and McLaren had their usual trio of highly successful cars and Berger had the luxury of both ATS-D7 cars at his disposal.
Qualifying
During the Thursday afternoon try-out the skies were ominously grey and a cool wind was blowing off the sea, but it stayed dry, which was just as well bearing in mind the primitive and unfinished surroundings of the Autodrome, by Friday morning disaster had struck.
The rain poured down for hour after hour and by the time testing was due to start you would have thought the Atlantic had overflowed into Portugal, and the whole place looked like a Bodey Heath used car lot! There were floods everywhere, the car parks and public areas were quagmires, the pits were nearly awash with water and mud, the lower parts of the circuit were flooded and rivers of water were flowing across the track in many places as drainage systems were unable to cope. It all seemed grossly unfair on the Portuguese organisers who had tried so hard, but the weather gods are one thing that were home sapiens has no control over, he can only lie low and hope it doesn't hurt too muck. By the time some sort of order was established out of the chaos it was midday and the morning test-session was rescheduled to nin for one hour, instead of the regulation on, altd a half, and qualifying was put back from 1 pm to to 2.30 pm. But disaster time wg sn't over by a long chalk. Although the rain had stopped and it was drying a bit, it vvas still "wet tyre" conditions so that times were not very conclusive. Only one Brabham was out as Teo Fabi had boon compelled to return to his family in Italy as his father had died suddenly and the Brabham team were busy trying to get Mantled Winkelhock from Germany to Portugal' but weather and air lines were not helping much.
Dr Jonathan Palmer managed to run over an ATS mechanic in the pit lane and the lap tirnes being recorded by everyone were not significant as conditions were never stable, and by the end of the hour some drivers were trying with "slick tyres", though such were the conditions that the last car out on ditto was clearly going to record the fastest time. There was a mad rush to be first out of the Pit lane for more bad weather was heading mland off the sea and it was open to question whether "wet" or "dry" tyres would be advantageous. Prost and Laluda were on "wets" as were Piquet, Alboreto, Lafitte, Surer and Mansell, the rest were on "dry" tyres. it only needed one lap to show that "dry" tyres were the wear, for the sun had actually appeared weakly, but less than five minutes into the session the red flag was shown at the start line and everyone stopped, Gerhard Berger had gone off the track in one of the ATS cars, written-off front and rear suspension on the right-hand side of the car and demolished the guard rails.
There was a long pause while repairs to the barriers were carried out, the ATS being beyond repair, and everyone lined up in the pit lane again ready for the restart, with Johansson in the second Toleman having netted pole position in those first few minutes of qualifying. Eventually qualifying restarted with therein turned off and a strong wind drying the track well, but not in all parts, so conditions were continually changing and some "intermediate" tyres appeared in some teams and hand-grooved "slicks" in others. lathe last ten or fifteen minutes some semblance of order began to appear and Prost and Linda moved up to to the top of the lists with Piquet, while Johansson, Ghinrani, and Gartner who were well up by re-ason of a slice of luck in the opening stages were elbowed back by the regular front-runners. A vast and impressive cloud of smoke went by the pits, in its midst being Rosberg's Williams with blown-up turbos on the Honda engine! There were lots of last minute panics as conditions improved and as fast as the engineers and mechanics gave drivers the wherewithal toga faster in the form of tyres, aerodynamics and suspension tweaks, some went faster and others blew up or crashed. Rosberg had the turbos blow up in the Williams T-car, Streiff crashed the third Renault into the barriers and richochetted back into the middle of the track, Laffite crashed heavily while dodging the Renault and Piquet avoided it all only to have his engine blow up. Although the final times showed sorne semblance of reality there were still many odd placings caused by the weather, but Pease (McLaren) came out on top, followed by de Angelis (Lotus), Lauda (McLaren), Johansson (Toleman), Tambay (Renault) and Senna (Toleman).
As Winkelhock had still not arrived from Germany there had only been 26 drivers out on the track, so all had qualified in this first session out on the track, so all had qualified in this first session, though Arnoux, Warwick, Patrese, and Rosberg were capable of better results. Whoever had upset the weather gods had made amends by Saturday morning for it was warm and sunny with blue skies among the sparse clouds so that everything was able to run to schedule and there were no hold-ups or complaints. Manfred Winkelhock was having his baptism in the Brabham team, looking very unfamiliar in a silver driving suit with PARMALAT insignia, the Williams team were in good order again with Laffite's car repaired and new turbo-charger installations on Rosberg's two cars, retaining the same engines, Streiff s Renault was repaired, but Berger was in the second ATS car, the bent one being put away. The morning testing had not been going long before Streiff arrived at the pits with the left rear tyre flat on his Renault, and he was followed by de Angelis in his Lotus running on three wheels. The right-front one one Was pointing upwards with bent suspension members until he paused at the Renault pit to hurl abuse at Streiff and then drove on down to the Lotus pit, steering on one front wheel. Every picture tells a story. As the morning went on and drivers became more familiar with the track, the lap times began to come down dramatically, and whereas 1 min 26 secs had seemed good it was now pretty hopeless and the front runner was down to 1 min 23 secs.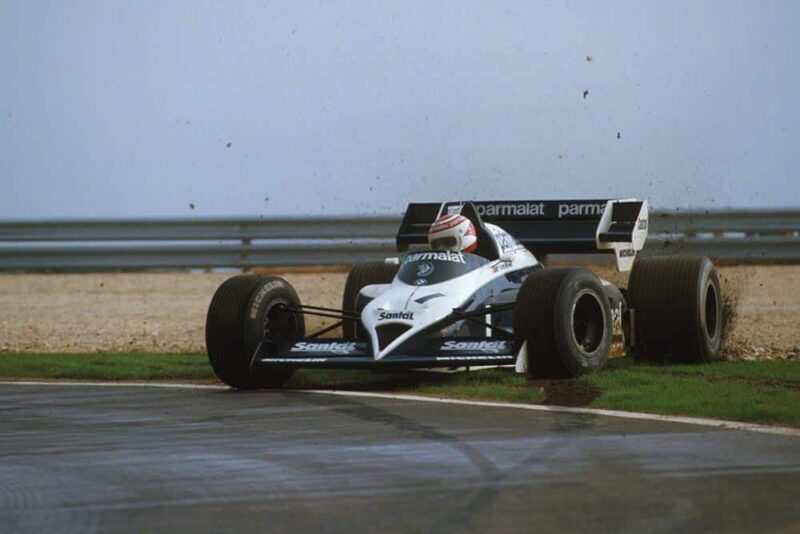 While Prose was out there setting the pace with Piquet, Lauda was in continual trouble with niggling faults, the worst being when all the electrics went dead when he was about to start his Porsche engine. 'This vvas eventually traced to a faulty ignition switch! While the dales were dropping below 1 min 25 secs it was becoming very noticeabled that Ayrton Senna was continually in the forefront with the Toleman, and as the session ended he snatched the best time of the morning in 1 min 21.9 secs. While it did not count for the starting grid position it was a sharp pointer for the afternoon for the afternoon qualifying session.
Apart from the weather warming up, the pace certainly did when the qualifying hour began at 1 pm, for Piquet was almost the first away and he doesn't waste time "swanning around". Fastest lap in the old familiar Tcar (BT53/4) was the order of the day while some of the others were still preparing to go out. Returning from his lap in 1 min 21.790 secs there was a blue haze from the giant KKK turbo-charger and while Piquet and Gordon Murray kept an eye on the opposition some heroic work was done by the BMW and Brabham mechanics amidstases of asbestos gloves, floods of cold water and cooling fans as the turbo-charger unit was changed. Any laps in the 1 min 22 secs bracket were of little use during "hero hour", though a lot of she normal front runners were in this bracket; sub-1 min 22secs were needed to impress, and Senna impressed with 1 min 21.998 secs but that was all. Tambay and de Angelis were using their team 's spare cars, the the Frenchman because of the new electronic ignition system on his race car was not "au point" and the Italian because his Lotus that he bent in the morning was not instantly repairable. After a slight lull it was the moment for the "hot-shoes" to make their runs on their second set of qualifying tyres, as as Press went out in the leading McLaren, the Toleman team sent Senna off, remarking that "Murray doesn't miss much!" as Piquet followed them out onto a nearly empty track.
If the cars out there are as fast as you are when you are really going for a fast lap you won't get held up. It's slower cars you don't want on the track. Also out there were Warwick and Arnow( and with a clear road ahead Pratt went round in 1 min 21.744 secs, a new pole positon time, while Senna held on third place with 1 min 21.936 secs on his second run. As the McLaren returned down the pit lane Piquet completed his "flyer" with a speed of 191 mph through the finish-line speed trap, and a lap tie of 1 min 21.703 secs, back on pole and their cars refuelled with a couple of gallons of petrol and the best pair of tyres from their first set fitted to the left side, and sat back for a bit. Meanwhile the rest of the field were doing their hopeless best. "Hopeless" being a relative term and anything in the lmin 22 secs bracket. In this group were de Angelis, Mansell, Tambay, Alboreto, Warwick and Johansson, not exactly a bunch of "nohopers" by normal standards, but they were by the Piquet/Prost standards. Lauda had a new engine in his McLaren, as did Pratt, but while the Frenchman's was really 'singing" the Austrian's was very much "off song" and he could not even join the "hopeless" class. Quite late in the hour Rosberg went out in his Williams-Honda, to make his first run, but before he could gets quick lap completed it jumped out of sixth gear at maximum speed, which did the engine no good at all, and two corners later it expired in a cloud of smoke. At this point Rosberg was twentyseventh and last, so was not even on the starting grid, but showing remarkable self control he walked back to the pits, rather than run, and arrived cool and calm to step into the T-car which was all ready and waiting for him with just enough time left for one flying lap. And that was some lap, for a WilliamsHonda —1 min 22.049 sec — fourth overall and at the head of the "hopeless" group. See what I mean about "hopeless" being a relative term. "A triumph of driver brilliance over ROSBERG'S Williams-Honda and Proses victorious McLaren run for the first coiner. chassis deficiency" said Rosberg with an impish grin on his face as he took a long puff at a cigarette.
Race
Race day was superb, just like the travel brochures told everyone that Portugal would be in October, and the morning warm-up went off well, with only a few minor hitches, like Senna's engine giving signs of concern and needing changing, Streiffs Renault stopping out on the circuit, one of the Arrows needing a turbo-charger change, Cheever's Alfa Romeo giving trouble and Lauda's engine showing signs of water leaking somewhere. All was now ready for the 70 lap race over the Estoril Autodrome, with Piquet and Prose ready to streak off into the distance, Senna all been to stay with them, Rosberg ready to race with anyone and Lauda down in row six with a lot of fast cars between him and Prose and the necessity of being close to him at the finish if he was going to claim to be 1984 World Champion. After an impressive parade of old cars, most of which had been imported into Portugal when they were new, and looked after and preserved ever since, the Grand Prix cars were made ready to leave the pit lane and assemble on the dummy grid. The start proceedure went smoothly and as the pack accelerated towards the first corner Senna tucked in behind Prose, who in .1ne crossed in from of Piquet, but Rosberg outdid them all with a real screamer of a start and took the lead into the first corner.
It really was "hero time" for the Finn as held Prose for the first seven laps, but then the McLaren driver powered past and it was all over as far as winning the Portuguese Grand Prix was concerned. Prose simply ran away from everyone, leaving a trail of woe and frustrations behind him. On the opening laP Piquet had spun off onto a run-off area rejoined the race in twenty-seventh Place, thereafter working his way back up through the field, Lauda got boxed in from his eleventh place on the grid, but wisely chose his moments to move up. Mansell was in a good third place, ahead of Senna, de Angelis and Alboreto, while Lauda was looking for a way by Johansson and Warwick.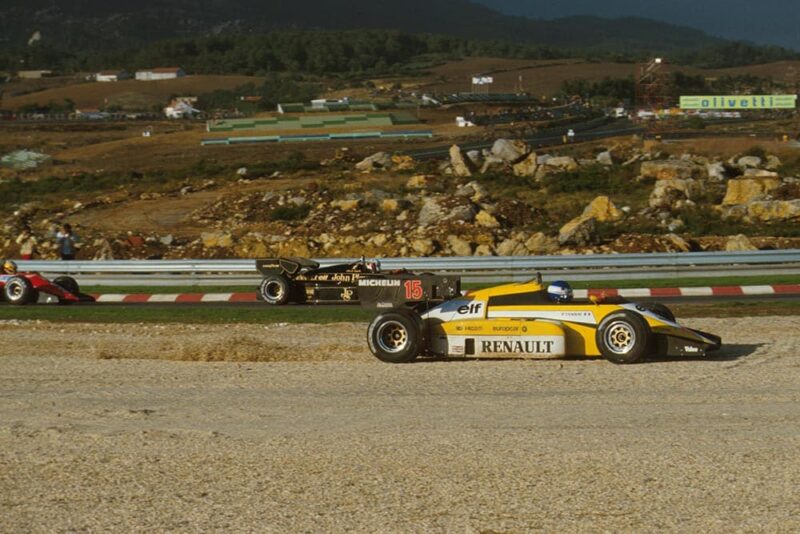 At ten laps Prost had simply disappeared from the rest while Mansell moved ahead of Rosberg, and one lap later Prost was lapping the tail enders, and Lauda seemed to be bogged down in eighth place. It was outgoing to get very exciting as far as the race winner was concerned, for Prost does not make many mistakes, the Porsche engines don't often blow up and the McLaren cars don't have bits fall off or break very often, so it was a case of sitting back in the sunshine and watching Frost the perfectionist reel off the laps to win his seventh race this year. Behind him there were all manner of minor dramas, including the various places down the field and to Niki Lauda the outcome of the World Championship. With Frost in fuss place Lauda had to finish second in order to claim to be World Champion by amassing points rather than race victories, and with Johansson, de Angelis, Alboreto, Senna, Rosberg and Mansell to pass the situation did
not look good. However there was a long way to go and one by one those ahead either ran into trouble or he picked them off. As he outbraked Johansson down the slope in the midclle of the circuit he clipped the Toleman's front aerofoil and the Swede had to stop for a replacement. De Angelis dropped back, Lauda passed Alboreto, Rosberg's Honda broke, Lauda dealt with Senna and Mansell had brake trouble, so by reason of hard driving and a quantity of luck the wily old Austrian worked his way up to second place. All Frost could do was win the race, Lauda was set to win the Championship and the two red and white Marlboro and TAG sponsored ears chalked up another impressive one-two, and the team's twelfth victory out of sixteen races. Warwick had a spin early on put "flats" on his tyres which necessitated a pit stop for a new set of Michelins, and Alboreto had a spin under braking while trying to outdo Senna, the Toleman driver being unperturbed by the closeness of the red Ferrari. Piquet had an unsatisfying drive from last up to sixth place and only the first three finishes could be really proud of their day's work.
From what had looked like a disaster on Friday the Portuguese club salvaged quite a nice little event from the chaos and in good weather conditions the rebuilt Estoril Autodrome can provide quite a nice little Formula One race in a pleasant and friendly country full of very enthusiastic people. This was only their fourth Grand Prix, the other having been held on a street circuit in Oporto in 1958 and 1960 and near Lisbon in 1959. DSJ