Lunch with... Kenny Bräck
He reached Formula 3, stepped back to Renault Clios and then went on to conquer Indianapolis... via an argument or two with Tom Walkinshaw
Every sportsman tends to be remembered, above all, for one particular achievement: one win, one record, one defining moment in his career. Kenny Bräck feels that most people primarily recall his victory in the Indianapolis 500 in 1999. Yet by then he was already IRL champion, having earned the title in only his second season in the USA. And before that he'd had a decade of successful racing in Europe, only losing the FIA F3000 Championship after a penalty in the final race.
But Kenny would no doubt prefer not to be remembered, as he is by many, for setting a most undesirable record at the Texas Motor Speedway on October 12, 2003. In a devastating accident his car's high-flying impacts against fences, barriers and track were measured by the on-board meter, later retrieved from the wreckage, at an unbelievable 214g.
To give you an even more incomprehensible statistic, at that moment Kenny's body, normally a slender 10 stone 12 pounds, would have weighed 14½ tons.
Nobody had ever survived an impact that severe. It almost killed him, and he was unconscious for days. The lurid list of his injuries included a severely broken back – his crushed vertebrae caused his spinal cord to separate from his dural sac – plus broken legs, shattered ankles, broken sternum and ribs, bleeding on the brain and eye damage. During the months of intensive care that followed in three hospitals, he almost died twice more. When we meet he doesn't tell me all of this, merely describing the accident and its aftermath briefly and dispassionately. I had to establish the extent of his injuries from other sources.
But he does describe his indomitable efforts when he finally left hospital to get himself fit, spending six hours of every day in a rehab centre. To get there he would lever himself out of his wheelchair into his car and then drive to the centre, using one crutch to operate the accelerator and the other to operate the brake. He did this for six months: weights, water therapy, balancing, mobility exercises.
He wasn't thinking about making a racing comeback, just getting back to normal health as far as he could.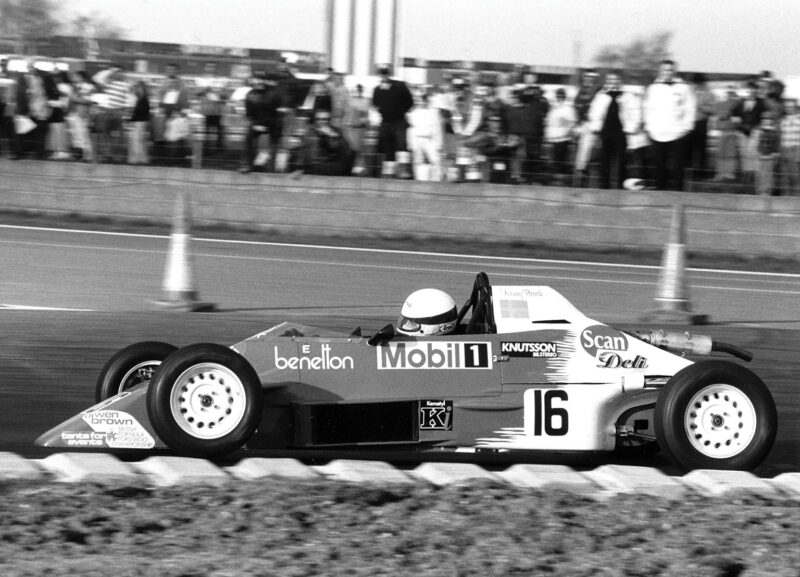 But perhaps more astonishing than all of this was that, less than two years after the accident, he did make a comeback, at the highest level, substituting for an injured driver in the 2005 Indy 500. And he caused a sensation by qualifying fastest of the entire field, at an average speed over the four laps of 227.598mph. Because he'd only been brought in at the last minute he'd missed the first qualifying weekend, so Indy rules stipulated that he had to start 23rd on the 33-car grid. "We chipped our way up from there, and before half-distance I was up to ninth or 10th. Then something broke in the steering and I had to retire. But if ever there was a race I could say I'd won before I started it, Indy 2005 was it for me." Within 24 hours, that astonishing performance had brought an offer from a top Indycar team; but, having proved to himself that he could still do it, Kenny decided to walk away. He never raced a single-seater again.
So this is a brave man with a story to tell. He and his family live most of the time now in Berkshire, so we meet at his local pub, Bel & The Dragon at Cookham, which has been a hostelry since Tudor times. Kenny arrives exactly on time, crisp and alert and looking fit and well. Recall of all his racing is sharp, detailed and good-humoured, and three hours later we are still talking.
He was born in Sweden in 1966, the son of an electrician, in the tiny village of Glava, not far from the Norwegian border. "The population was 40 people, and there's only lakes and woods there. I first drove aged six, on my father's lap in his old Volvo. We drove across the frozen lakes and then walked miles in the snow to see the Swedish Rally come through on one of the night-time special stages. People built bonfires, grilled hot dogs, drank, cheered the cars. You could hear them coming from miles away: I remember Björn Waldegård in the Lancia Stratos, spitting flames as he changed gear. Then, when I was 10 years old, my cousin and I somehow got hold of an old two-stroke Saab. We siphoned fuel out of my dad's Volvo and carried it in a bucket to where we'd hidden it, and as it was a two-stroke we knew to add some oil. Then we'd drive like crazy on the rough gravel tracks through the forest used by the timber lorries. In the end my parents found out about it, and confiscated it.
"A few years later I did some garden work for a guy who was keen on racing. Instead of paying me he bought me an old Saab V4 that I drove on the ice, and he taught me some racing lines. Then he bought me a kart, but I didn't do many races. There were rich kids in Sweden who were doing 30 races a year, and I only did eight or 10, so I didn't get far.
"Then he helped me to buy my first Formula Ford car. Three days after I passed my driving test I took my dad's car, borrowed a trailer, and with a friend I drove to Gothenburg. The ferry took 24 hours to get us to Harwich, and eventually we found Snetterton. There I bought an old Van Diemen that had belonged to David Hunt, James' brother, and then it was 24 hours on the ferry back to Sweden.
"I had no money. I had to prepare the car myself, and I probably spent 85 per cent of my time trying to find sponsors and only 15 per cent on learning how to race. I would sit down with the phone directory and make call after call to firms. One in every 100 might say, 'OK, let's take a look at this kid'. But then, having taken a look, they still said no. But I never gave up. Finally a potato crisp manufacturer said he'd help. I was only asking for £1500, but he didn't have any budget. Instead he gave me two trailer-loads of crisps, and I piled them in my tiny flat, floor to ceiling, boxes and boxes. Then I went around visiting every fuel station and small shop, sold every box and got my £1500.
"It took me three years to become Swedish FF champion. Because I had no money, I took longer to develop as a driver. But all that struggle taught me business sense, it toughened me up. The year I won the Swedish title I was also racing in England, so we were forever on that 24-hour ferry. For 1987 I went seriously for British Formula Ford. Van Diemen lent me a car and I bought an old bread van to keep the car in. A Swedish friend came along to help me, and we slept in the van. We kind of ambushed Mick Roe, who had an F3 team at the time: we need to park here, we need to borrow your tools, we need to plug into your electricity. We were so poor, and he was very kind to us.
"It took us a while, but in the end we got pretty competitive. For 1988 Ralph Firman offered me the works FF2000 Van Diemen, but I had already agreed to do F3 in Sweden with a local team. Our English-built Toyota engine was always down on power. We didn't realise that in Sweden we were using 102 octane fuel, and in England they use 98, so the engine wasn't properly set up for the Swedish fuel. Mid-season we got that sorted and after that I started qualifying on pole, and I had a win and some podiums. For 1989 I decided to do Swedish and British F3, and I won all three races I did in Sweden, but in the UK it was a disaster because I didn't have a proper budget. So I switched to Formula Opel-Lotus for 1990. It was a great formula then, with drivers like Rubens Barrichello and David Coulthard.
"I did that for two seasons, and it was good experience and good fun. But I wasn't winning, and that's what I always wanted to do. I was addicted to winning. So I took a big decision: I decided to step down to a class of racing where I could get a proper budget together and show what I could do. I suppose it was one of those defining moments that we all have in our careers. I'd now been racing for eight years, always hunting for money. A new series was about to start in Scandinavia supported by Renault: the Clio Cup. I said, this is the only thing I can truly afford. To hell with it, let's do it. The racing establishment in Sweden thought I was a complete idiot, but everything turned round for me. There were 10 rounds in the series. I won nine of them and finished second in the other. And winning that championship put £10,000 prize money in the bank.
"It also gave me an opportunity to go down to Monaco and do the Renault Clio race there. So we take the old bread van and we drive all the way from Sweden to Monaco. By now the van's on its last legs, belching out black smoke. We arrive in Monte Carlo and find the paddock for our race by the entrance to the tunnel. We drive in among all the smart transporters and motorhomes, and the marshals say, 'You can't bring that thing in here'. Finally they give us a place at the very back of the garage, and we have to push the van in because they don't like the smoke. And I qualify on pole, by miles.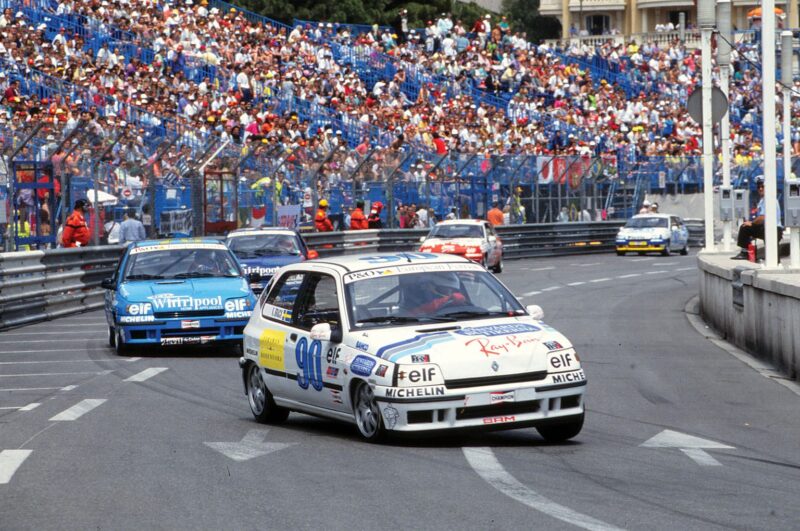 "The scrutineers reckoned I must be cheating, they pulled my engine out and tore it to pieces, but they didn't find anything. Renault gave me a spare engine to run in the race. From the start I drove like a maniac. I led and then it rained, I went up the escape road, rejoined 10th, got back into the lead, went up the escape road again, and I think I finished third in the end.
"At the end of that season I still had the same problem, what to do next, but the difference was that now at least I knew I could drive, and win races. Then I saw an ad for Skip Barber's Barber-Saab single-seater series in America. You just turned up and paid $7500, and that got you one race. But there was also $10,000 prize money for each race. So I went over to Miami for the first round, paid my $7500 out of my Clio winnings, qualified second, and won the race. That gave me back $10,000, which paid for the race and my travel expenses. I thought, this is good, I'll do the next one. And so it went on. I flew back and forth from Sweden, paying the fee for each race out of the prize money from the one before. I won six races, that was $60,000, and I won the championship. The prize for that was $100,000. I'd never earned anything out of racing, and suddenly I was rich. Then I discovered a slight catch: the deal was the $100,000 had to be spent on Indy Lights. And at that time an Indy Lights season cost $1 million.
"While I was doing Barber-Saab, suddenly Renault wanted me to be their rising star, so the same year I fitted in four European Clio rounds, and won two of them. Renault seemed pretty happy with that, and suddenly I'm told to get myself to Paul Ricard for a Williams F1 test. From Renault Clios to F1 in one move. I found myself at Ricard climbing into an FW15C, and rain was pouring down. But it went really well. The car felt incredibly quick, of course, but also it went just where you wanted it to go. It was the most advanced F1 car ever built at that point. I only ran for half a day, but I loved it, and I got on really well with Patrick Head.
"Now Renault Sweden saw the value of promoting a young Swedish guy, so I said to them, 'Why don't we do Formula 3000?'" F3000 used Judd and Cosworth engines, but Kenny's salesmanship talked Renault round that difficulty. "But I still had to find a lot more money. I went back to Skip Barber and said, 'I can't spend your $100,000 on Indy Lights, because I haven't got a million dollars. Why don't you pay it into my F3000 programme instead?' He agreed, and in the end, after a lot of juggling, we got it all together.
"I joined Madgwick Motorsport for 1994. I went to the first round all optimistic, and got absolutely crushed. We didn't have a good season, although I was third at Spa in the rain. For the second year we wised up a bit, got some good engineers, had three poles and one victory, and ended up third in the championship.
"For 1996 I was approached by David Sears who ran Super Nova, and he gave me a test at Snetterton. The car was fantastic, and I got under the lap record. So I signed with him. He didn't pay me anything, and an F3000 season was probably £750,000 then, but I was better known now, and I had good contacts in Sweden and elsewhere. I was still having to hustle, but instead of 85/15 it was probably 50/50 now."
Kenny had a consistently strong season with Super Nova, with three victories and four podiums in nine rounds. He and local hero Jörg Müller went to Hockenheim for the final round neck and neck. "Around lap 10 he was leading, I was trying to overtake, he was blocking me. I found a way around on the outside, but I had to squeeze him to avoid being squeezed myself. Back then it wasn't like it is today when you can't do anything without being disqualified. In those days that's how you raced, and we were fighting for the title. As we braked, with me a little bit ahead, maybe there was a bump or maybe he turned into me. Anyway, we touched. My actions didn't make us come together, it was a racing incident. We both went off: I was lucky enough to get going again, he couldn't.
"I was still in the lead, and the officials knew that if they just gave me a stop-go penalty I still would have won the race, because I was so far ahead. So they black-flagged me. I thought, 'Screw them. I'm not going to stop for anything except the chequered flag, because I should win this race, and the championship'. Immediately I was disqualified and got a $50,000 fine. It went to an FIA tribunal and I think we got it down to $30,000 in the end, and David and I split it between us. But Jörg was champion."
During this hectic season the politics of Formula 1 were looming large on Kenny's radar. "I had an approach from McLaren to be a test driver, but they had Häkkinen and Coulthard in place and I knew that would never turn into a race seat, which was what I wanted. I had discussions with Flavio Briatore about joining Benetton: Flavio was a flamboyant guy, and I never quite felt I could trust him. Then Tom Walkinshaw wanted me to be a test driver for Ligier, which he was trying to buy at the time. In my life I have made many strange decisions, and I decided to go with Walkinshaw. Maybe he was a better liar than Flavio. Ligier had finished sixth that year in the constructors' championship, and Panis had won the Monaco GP. Also Tom had a factory in Sweden with Volvo, building their cabriolets, which I thought would strengthen my Volvo relationship. So I signed to test for Ligier during the rest of 1996, with the promise that I could race in 1997.
"But one month after I signed Tom fell out with Ligier, and then he went and bought Arrows – which was bottom in that year's constructors' championship, and was basically the worst team on the grid. I did a few test days for them, and I was as quick as the team's number one, Jos Verstappen. But there was no money: we can only do six laps on this engine, we can switch to that one but it's due a rebuild.
"I decided I couldn't do this, be a top driver in F3000 and then show people I couldn't deliver in F1. So I sent Tom a fax: 'I'm cancelling our agreement because you cannot fulfil our terms'. Then all hell broke loose, and Tom got really angry. He sent me an invoice: 'To testing an F1 car, $500,000'. At once I sent him back an invoice: 'To F1 testing services, $500,000'. He flew to Sweden, got all the Volvo people there, and said, 'You can't just cancel the contract like this'. I said, 'I can. I'm not going to get in that car again'. The Volvo people didn't know what to think, but that was the end of it.
"The problem was, what was I going to do now? I'd never had a manager, I'd always done all my deals myself. When I was in F3000 Keke Rosberg talked about managing me, but when I signed for Walkinshaw Keke reckoned that would be trouble and he wasn't interested any more. He was right!
"So I went to America. I knocked on every door, went to all the tests just to be there, put my face around. But nobody had anything. I hung around like that from November to January, and then I was in Orlando and Rick Galles' team engineer said to me, 'Our driver Davy Jones had a bad accident yesterday and his condition is critical. Maybe you should talk to Rick'. So I saw Rick and he said, 'You've been very persistent. We need to do a test at Phoenix, so it's a chance for you to try an IRL car. But don't expect anything more, because we want an experienced driver to replace Davy, and that's not you'. So we go to Phoenix, and I break the lap record on the second day.
"I'd never done ovals, apart from one in Barber-Saab, and I found the technique very different. But the car was good and I found it suited me. Opportunities don't come along every day, and when one does come along you have to seize it, you have to perform then and there. Not tomorrow, not next month. It might not come round again – things move so fast in racing that it's easy to get left behind.
"I fly back to Sweden, and then Rick Galles comes on the phone from his team base in Albuquerque. He says, 'We've been thinking about this, and maybe you could drive for us this season. We'll pay $250,000, 30 per cent of the prize money and all travel costs'. I couldn't believe it: from having to find £750,000, I was going to be paid to go racing. But I stayed cool on the phone, and I said, 'I need $300,000'. The line went quiet, and I thought, 'Shit, maybe I've blown it'. Then he says, 'OK'. I say to my girlfriend, 'We're moving to New Mexico'.
"I led my first IRL race, at Phoenix again, and with 30 laps to go I smacked the wall. I led some other races that year, but my best finishes were a couple of fourths. My race engineer had road circuit experience but no oval experience, and I was the same, so it was the blind leading the blind, and we never got the set-up right.
"Then AJ Foyt calls and says, 'How'd you like to drive for me?' I'd seen AJ around the tracks but I'd never spoken to him. He'd always seemed a bit scary to me. He said, 'I'm in Las Vegas right now. Come out and discuss it'. At the time I was in Florida. So I said, 'Tell you what, I'll come to Vegas, but only if you agree now to sign me. If you can't promise that I'm not coming'. He didn't like me talking to him like that, but then he growled, 'Give me a coupla hours to talk to my sponsors'. Two hours later he called and said, 'OK, get your ass to Vegas'. I got on a red-eye, flew to Vegas, and when I got there I realised I hadn't asked AJ which hotel he was in. I called hotel after hotel, asking, 'Have you got Mr AJ Foyt staying?' They all said, 'No, we wish we did'. Finally I ran him to earth at Harrah's.
"We had a breakfast meeting, he had steak and pancakes and I had yoghurt. He looked across and grunted, 'You eat that stuff? I tried it once. Didn't like it'. Not a good start. I was a bit intimidated by AJ so I didn't put up much of a fight. The terms were $100,000 plus 40 per cent of the prize money, quite a drop from Galles. But there was so much experience in that team, from AJ down, that I knew it was the right move for me.
"But the year didn't start too well. When we got to Texas Billy Boat, in the other Foyt car, won the race and I finished third. So AJ was happy, but I reckoned I should have won. There just wasn't the speed in the car, and I was really furious. I said to him, 'This car is not a winning car'. AJ said, 'You think I don't have winning cars? You can take your f***ing helmet and f*** off'. I said, 'I'll be f***ing happy to do so, because this f***ing piece of shit don't drive'.
"Next morning AJ comes on the phone from his team base in Houston. He says, 'Get down here, now'. I think, 'He's going to fire me'. When I get there he says, 'I checked the car personally, and the throttle isn't opening fully. So you are correct'.
"That changed everything between us, and from then on we had the greatest relationship. I won three races on the trot, and at another we were leading when we ran out of fuel. AJ threw the fuel computer on the ground and smashed it. We were IRL champions, by 40 points.
"We nearly won the championship in 1999, too, but we were leading the final round in Texas with 25 laps to go and a wheel bearing failed, so that dropped us to second. But we did win the Indy 500. I knew everything had to be right for Indy, so I started preparing in November. I flew up there, walked the track, examined the grass run-offs, memorised every bump, until it was more familiar to me than my mother's kitchen. I watched videos, thought everything through, tyre choices, pitstop strategies, even learning to read other drivers' pit signals. By the time of the race I knew every detail, which was great for my self-confidence.
"And it all went to plan. The thing about Indy is you're not fighting the other cars, you're fighting the track. The cars are so quick, and the elements, the wind, can change so suddenly. You have to keep on top of it all the time, for 500 miles. Apart from that it was just another race. Because I was concentrating on my job, I didn't notice the atmosphere. Now, when I go back to watch, I'm aware of the 300,000 crowd, the patriotism, the parades, the Stealth bombers going over, the history. It's fantastic."
For 2000 Kenny had an offer from Bobby Rahal's team to switch to CART, which included road courses as well as ovals, and he felt this would be a new challenge. "But first I had to speak to AJ. I flew to see him and I thought he would be really pissed off with me. But he said, 'I understand. You've got to do it'. It was really emotional, we were both nearly crying. He had been my best teacher in American racing, much more than just the team owner. We're still friends: I saw him a few weeks ago and he's still in good shape, and still fiery.
"So I went to Bobby Rahal. It was a challenging series: road courses, long ovals, short ovals, street courses, and no one team had a full handle on all four, but I was CART Rookie of the Year. In 2001 I had the most wins and led the most laps, but on the road courses my Lola was not as good as Gil de Ferran's Reynard, and he beat me to the title. For 2002 I went to Chip Ganassi's team, and I lost a couple of races when I was overtaken by my own rear wheel after a pitstop. One of those was at Rockingham in the UK. I loved that track. It was very fast, I wish we'd used it more. I took pole there both years, and with Ganassi in 2002 I did one lap with the throttle completely wide open the whole way round. That was difficult because Turn 4 wasn't easy.
"Also in 1999 and 2001 I did IROC, a series that put drivers from various disciplines into NASCAR cars for races on ovals. I usually finished behind the NASCAR drivers, who had the experience of those big, crude cars on ovals, and ahead of everybody else. I had an offer for 2003 to do NASCAR for Dale Earnhardt's team, the rounds I could fit in with IRL, but Honda wasn't keen on me doing that.
"Many of the top CART teams were now switching to IRL, including Rahal, so for 2003 I was back with Bobby. We had some strong finishes but also some bad luck. Then in the final round at the Texas Motor Speedway at Fort Worth I had the accident. I don't remember anything about that weekend, but I've looked at the videos and thought it through.
"I was chasing Tomas Scheckter with 12 laps to go, and I was going high above him so I could then come down into his slipstream and pass him. There are some bumps on the back straight there. Maybe I turned a little bit to the left, maybe he turned a little bit to the right. Anyway we touched, I got thrown up into the catch fencing, and the air got under the car, so the accident went on for a while.
"The hospital they helicoptered me to after the accident was the Parkland in Dallas, where they took President Kennedy after he was shot. I was there for two or three weeks and they took care of all the life-threatening things, and their trauma team was marvellous. With injuries like mine it's not just how to fix them, it's knowing how the patient will react, and how to prevent on-going complications.
"Then Don Johnson lent his private jet to transfer me to the Indianapolis Methodist Hospital. I had more problems there with a collapsed lung and a pulmonary embolism, which had me back in intensive care. Finally I got to hospital in Columbus, where we lived then, and the day before I finally got out of hospital my wife came into the same hospital to give birth to our first child, three floors below. I still have a lot of titanium in my back and my thighs, and wires in my ankles.
"I first got back in an Indycar in June 2004, eight months after the accident, a test just to see what it was like. We went to the short oval at Richmond, which was always physically demanding. I was still on crutches and they had to get me in and out of the car. My speed was fine, and I got within a couple of tenths of the lap record. But I had no stamina at all. After a few laps at full speed I was completely finished. So I got on with the rehab. In September I did a Porsche celebrity race in Sweden, just for fun. I got pole, but I only finished fourth, because I was tired. Then I carried on with the rehab.
"The following May, during testing at Indy just before the 500, Buddy Rice, who'd replaced me at Rahal, had a big accident. So Bobby called and said, 'Do you want to do Indy for us?' I knew the team so well, I decided to go for it. My wife wasn't too impressed, but she knew better than to argue. So I took my helmet, went to Indy, and started running. The car was fantastic, the best I'd ever had on an oval, and setting that fastest time did a lot for me.
"At the post-race banquet on Sunday evening Mario Andretti spoke to me and was very complimentary. He said, 'Do you want to race full-time again?' I said I didn't know yet. Monday morning I get a call from Carl Haas: he and Paul Newman wanted me to drive for them. But when I woke up that Monday all I knew was how tired I was. I was finished. You work so hard towards a goal, and after you reach it there is the let-down, and I could hardly get out of bed.
"I thought about it for three months, and finally decided I didn't have it in me to find the extra sharpness I had before. I wouldn't do it just to be part of it, only if I could still win. I'd had a good run. So it was, 'Let's just put the For Sale board up on the lawn, and move on'.
"I've never stopped being busy. I'm a director of an investment company, and I have other business interests, because I need to be involved in something every day. I still have a house in Indianapolis, because I love the USA. I have worked with some young Scandinavian racers to educate them and get them on their way. I put together a financial package for Marcus Ericsson and helped him from karts through F3 and GP2: now he's in Formula 1."
And Kenny still does some driving. Returning to what had fascinated him as a six-year-old in the snowy forests near his home, he went rallying in a historic Escort-BDG. "After an event in Wales which didn't go badly I did the Dukeries Rally and the Rally of the Midnight Sun with Emil Axelsson as my co-driver, and we won both of them. In racing you test and test, and get your set-up optimised, and if you are a bit off the pace you can never make it up. What I love about rallying is that if you're 10bhp down you can still win by doing a better job on a special stage. The result is in the hands of the driver, and the co-driver, much more. I have the highest respect for the top rally drivers. Maybe if I were 20 years younger I'd want to be in there too."
Then there's historic racing, like his great drive to victory with Adrian Newey in Adrian's GT40 at Goodwood last year. "Adrian is a very brave driver, and the braver you are, the more predictability you need in the car. It was fun working with him in testing to get the potential out of the car, him coming from the designer side, me coming from the driving side." If you want to see what that means, look at the breathtaking YouTube in-car footage of Kenny qualifying the GT40 in the wet. "I've done the Oldtimer Grand Prix on the old Nürburgring in Olivier Ellerbrock's Daytona Cobra, and Tom Kristensen and I won the Goodwood TT. It's fun driving with Tom, because in F3000 we were real rivals, but we're both more mellow now. And 160mph in those old cars feels fast.
"Looking back, I have no regrets. I put everything into every race and I didn't win all of them, far from it. But it wasn't for lack of trying. I did the job as well as I could do it.
"You win a race on Sunday, you might allow yourself to feel a little bit happy at dinner that night, but after dinner, if your mind doesn't start working on the next race, you're never going to be a champion. On Monday morning there's a new goal."