Back in the tent Jarno is prepping the kart for the first race of the day, warming the engine, checking tyre pressures and making last-minute adjustments. His father prepares penne al pomodoro, a slab of Parmigiano Reggiano the size of a brick on the workbench, a whiff of garlic mixing with the familiar aroma of hot engines.
"We never dreamed of Formula 1," Trulli says. "It was too far away. The only thing that mattered was racing, not the ambition. To be the number one in karting was enough. F1 was just a dream, but you never know what life can give you. It's not simple. You have to step on the right train at the right time. Karting and F3 were just so competitive in those days, I had little time to learn the cars. In January '96 I won my last kart race in Australia, then I won the German F3 title and in March '97 I was in the Minardi at Melbourne for the Grand Prix. It happened so quickly."
At this point Flavio Briatore had appeared on the stage. He wanted to take Jarno to Japan for an F3000 campaign, but at the last moment a door opened in Faenza. "I was a bit scared," Trulli says. "It wasn't because of the cars, but because I didn't have enough experience. But Flavio said 'Don't worry, you'll be fine.' It really helped that I'd done 12 years in karting, some of it at a very high level, so I knew how to race, how to win. I had nothing to lose. All I had to do was learn the car and go as fast as I could. You have to understand that F1 was something apart, nothing else came close to the performance, especially at that time. My first test was at Estoril and it made a big impression. I could not go flat. It was too much, a huge step from karting and F3. Of course I adapted, it was the only option I had, but the Hart V8 didn't give me a chance to race against the V10s. But in Brazil I set the fastest mid-sector time in that Minardi during Friday practice, and in Canada I was lying sixth when the engine blew up."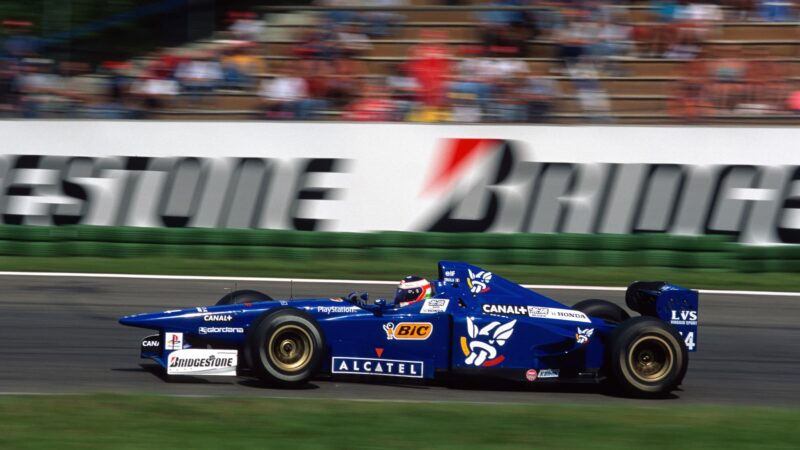 After Enzo has qualified for his race – solid midfield, no fireworks, no mistakes – Jarno talks about his time with Prost, whom first he joined partway through the 1997 season as substitute for the injured Olivier Panis. He would stay until the end of 1999.
"Alain Prost was one of my heroes when I was young," he says. "He asked me to test, at Magny-Cours, and that was a big call. I was tired, not very prepared, but it went well, I was faster than Emmanuel Collard who knew the car. In racing you can have a bad day, but that was a good day – and small things can change your career in a moment. You could only learn from Alain, from his experience, his way of thinking, the way he raced, so it was unbelievable. He is one of the greats and he gave me a chance. There were some good races, too – leading in Austria and running second until the engine blew up, and my first ever podium at the Nürburgring, but after two full seasons it was time to move."
To Jordan, then, for two years. The team was no longer the force it had threatened to be. Although Trulli often qualified spectacularly well, not a single podium came his way.
"I liked Eddie," he says. "He was always good to me, a good person, a big character and very fair with me. I know a lot of people say they have trouble with Eddie, but never with me. I would drive for him again if he asked.
I thought we would have good results but we had Mugen-Hondas, not the full works engine. There were some very good races, like Monaco in 2000, but the engine let go again. It was a difficult time for the team, but I never had problems with Eddie."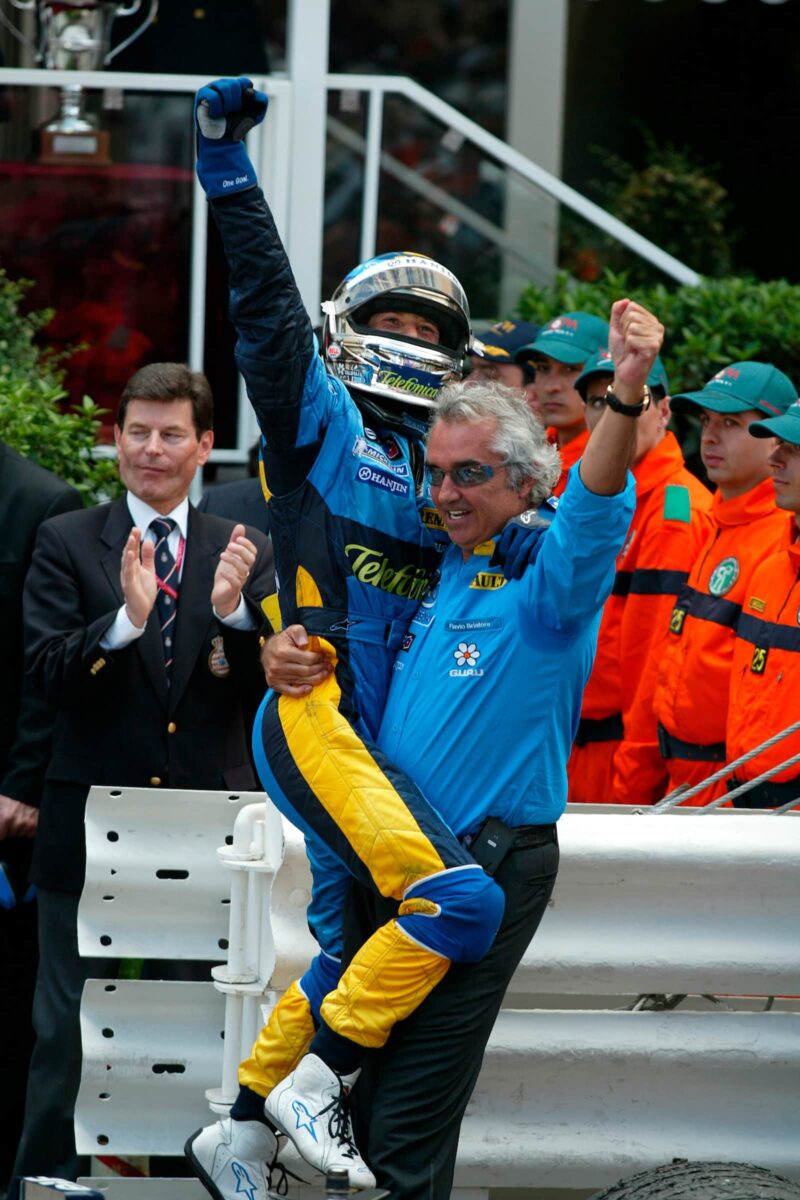 His manager Briatore was by now in charge at Renault and drafted Jarno into the squad alongside Jenson Button and, latterly, Fernando Alonso. In 2004 the Italian won the Monaco Grand Prix from pole. This was a masterclass and a hugely popular victory that earned him a rare standing ovation inside the press room. Inside the team, however, things became less cordial after he lost third place to Rubens Barrichello at the final corner of the French Grand Prix.
"I have always been very direct, very honest with people. I've never changed, winning or not, because all I loved was the racing, to win, not to be some kind of star. I think people knew I deserved that Monaco victory when they cheered me in the press room. Maybe I deserved more wins, but it didn't happen, so it was good when they gave me that reception. Finally, after so many sacrifices, I was back on top of the sport I loved. The first half of that season was fine for me, with some strong results, but in the end it was not so good in the team. Flavio is a very different person from me. The way we live, the way we see life, is very deeply different. At Renault it became difficult in 2004 and in the end I don't think I was being given the best…"
Jacques Villeneuve replaced him with three races remaining and Trulli decamped to Toyota, making his debut with the team in the 2004 Japanese Grand Prix.