Not many people have good things to say about taxes, but we do have Italy's punitive post-war levies on larger capacity engines to thank for the many pocket rocket racing machines that were created by the country's tuning houses.
The most famous of these was undoubtedly Abarth, which was especially renowned for working its magic on such improbable cars as Fiat's 500 and 600 in order to turn them from low-performance shopping cars into high-performance fire-breathers.
The firm was founded in 1949 by Carlo Abarth following the demise of Cisitalia, of which he had been the sporting director. The first Abarth-badged cars were based on a clutch of Cisitalia 204s which were acquired as part of the company's assets, after which the firm built and raced its own creations before establishing close ties with Fiat in 1952.
Drivers including Tazio Nuvolari, Franco Cortese and Piero Taruffi were all associated with the Squadra Abarth team, and the giant-killing ability of the firm's cars soon came to be known worldwide – as part of Alfred Cosentino's team FAZA, for example, Abarths won 51 Sports Car Club of America races out of the 53 entered.
That history and reputation, combined with the general fun factor associated with the Fiat-based models, has inevitably led to Abarths being much imitated  by professionals and amateurs looking to build recreations and evocations – but this excellent example of a 1963 Fiat-Abarth 850 TC on offer at the Classic Motor Hub is the genuine article.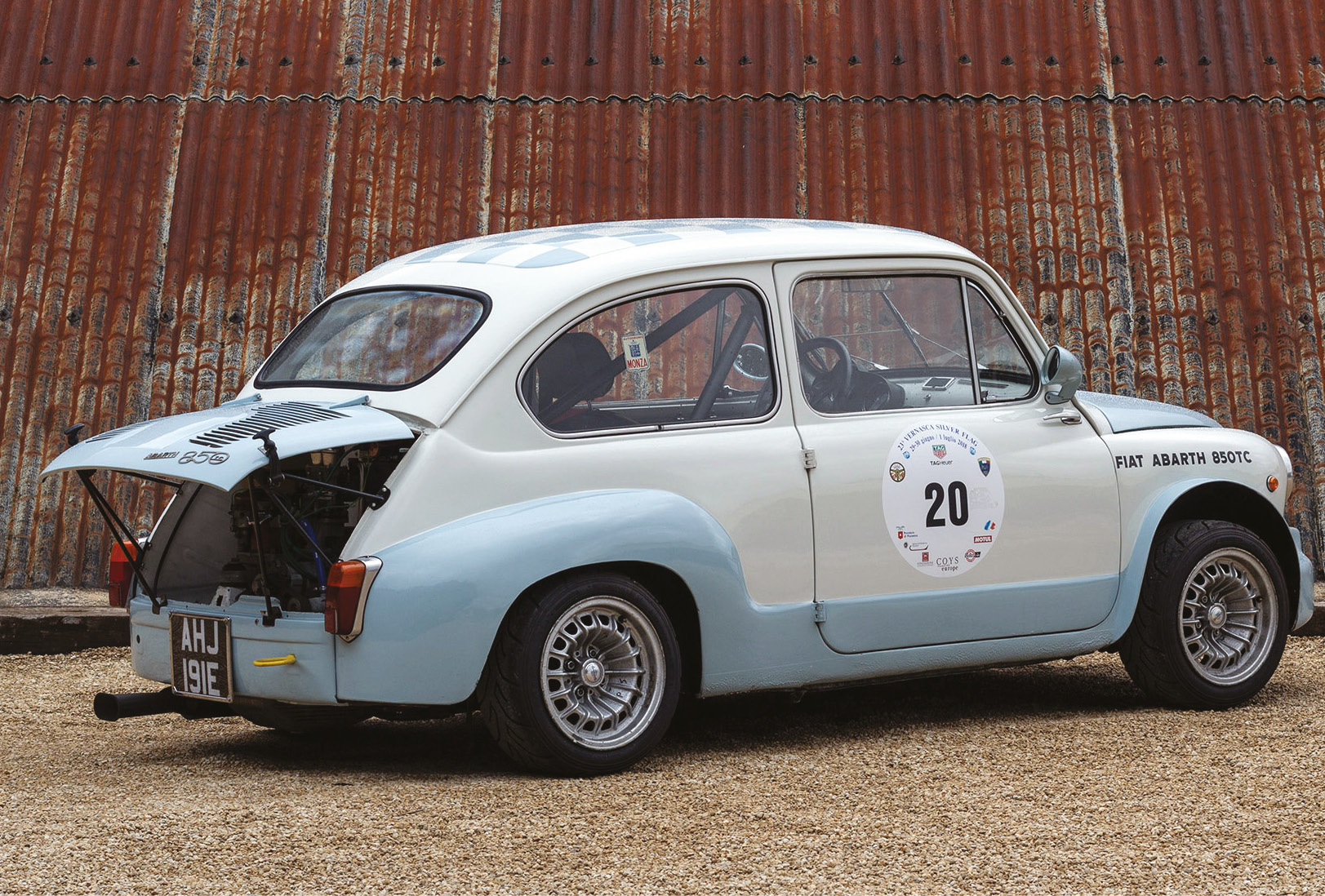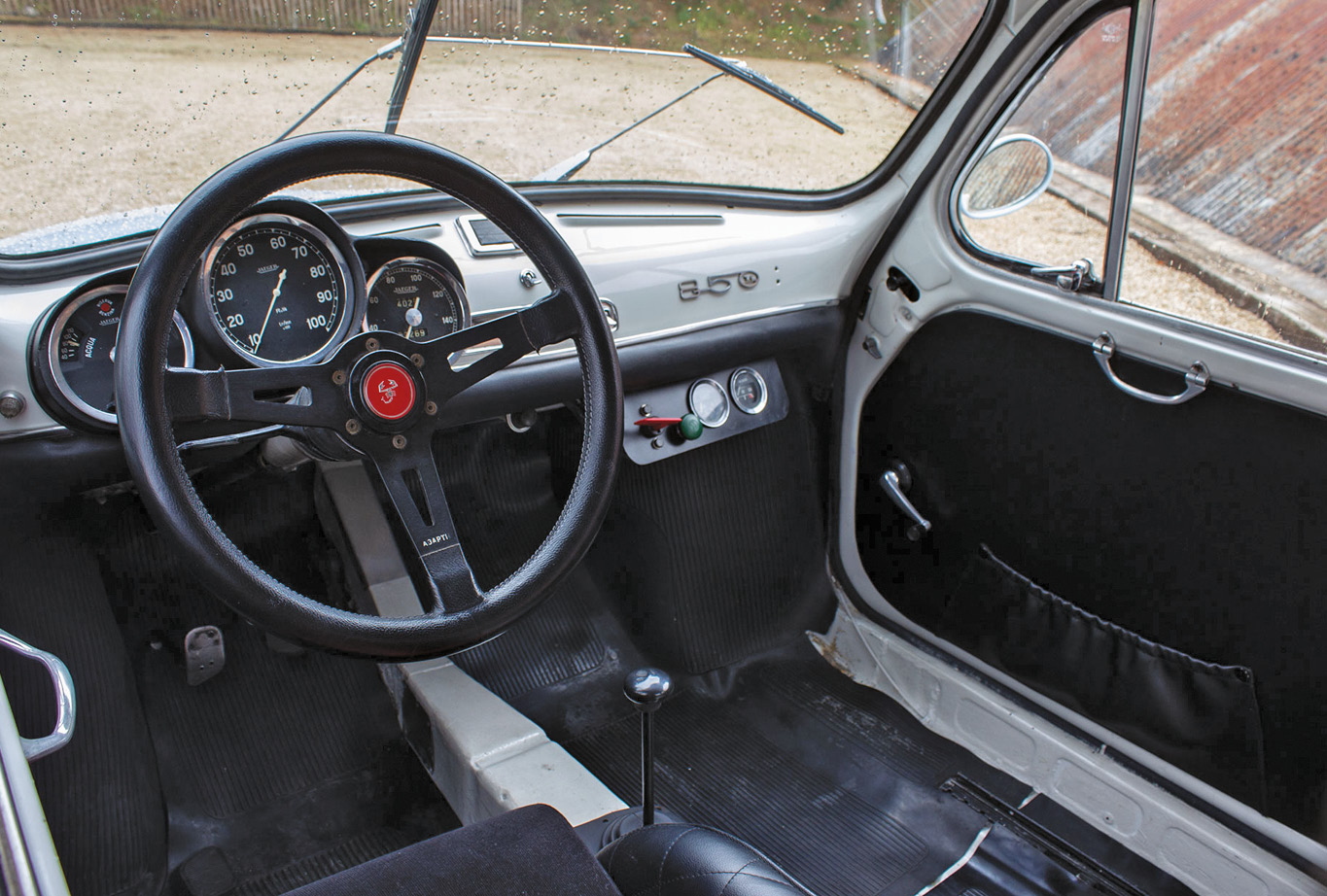 Based on the standard Fiat 600, the 850 TC was heavily upgraded by the Abarth wizards to feature a 51bhp 848cc motor (the standard car having a 633cc 28bhp unit), a modified front end with integrated oil cooler, larger wheels and the distinctive, propped-open engine cover.
The car, which remained in Italy up until last year, is almost entirely original save for the flared, 1000TCR-style bodywork (believed to have been added around 40 years ago) and aftermarket Campagnolo wheels.
Aside from that, the car is absolutely correct, retaining its original Veglia instrument cluster with 10,000rpm rev counter, correct Fiat and Abarth number stamps, the proper magnesium sump and carburettor and Carello external oil filter.
The four-speed gearbox is also an original Abarth item, as are the special fuel tank and the Stinger exhaust system – which is described simply as 'loud'.
Inside, the car has been stripped for race use and fitted with an OMP seat and harness combination and full roll cage, while the austere painted metal dashboard carries an original '850 TC' badge.
Offered with a packed file containing expired FIA and FIVA papers, it has clearly seen some track action within the past 15 years and is described to be 'on the button' and ready to go. It simply needs a new owner with around £45,000 to spare on a pocket rocket – and, of course, plenty of  sprezzatura, as the Italians would say.
1963 Fiat-Abarth 850 TC. On offer at The Classic Motor Hub, Bibury, UK. £44,950 classicmotorhub.com
---
In the market for a racing micro machine?
It's not all about the size, you know… big fun can be had in small spaces