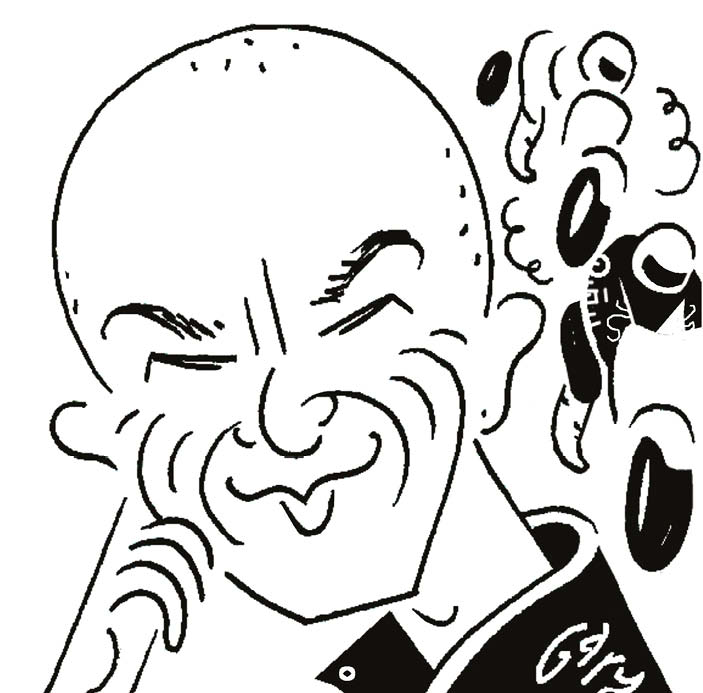 Marc Márquez has been the dominant force in MotoGP since he graduated to the premier class from Moto2 in 2013. During the last seven seasons the extravagantly talented Spaniard has won five MotoGP championships and is currently on his way to a sixth. Meanwhile his younger brother, Álex, leads the Moto2 world championship, with plans to join his big brother in MotoGP in 2021.
The pair and their father Julià have been a familial presence in the MotoGP paddock for nearly a decade. They are a family that plays together and stays together. When Marc wins a race the first person to hug him in pit lane is Álex, and it's the other way around when Álex wins.
When the brothers are at home in the Catalan town of Cervera they spend a lot of time training on motocross bikes and flat-track bikes. Márquez the elder is known for not taking prisoners whenever he's on a motorcycle, so the riding gets rough.
"Sometimes in flat track we crash into each other, but it's no big deal," Álex grins. "We ride like that because we enjoy it. In motocross Marc is really, really fast, but in flat track I can push him, if I fit new tyres. We've always been close because since we were kids we've always been at the racetrack. We have more or less the same hobbies but we're not really similar. I'm a bit more calm, whereas Marc has more energy to burn."
The Márquez family is a motorcycling family. Father Julià, a digger driver by trade, did marshalling duties for their local enduro club, while mother Roser made the sandwiches. No wonder that Marc and Álex were soon riding and racing.
In 2014 they made history as bike racing's first simultaneous sibling world champions, when Marc won his second MotoGP crown and Álex took the Moto3 title. That same year they also became the first siblings to win grand prix races on the same day.
Álex followed his brother's footsteps into Moto2 in 2015, but had a topsy-turvy first four seasons in the intermediate category: three grand prix victories against 71 crashes. Finally, this year he has come good, largely thanks to the championship changing its spec engine and spec tyres. The greater torque of Triumph's 765cc three-cylinder engine and the improved grip of Dunlop's latest Moto2 rear slick suit his technique.
"Everything now comes more naturally to me, because of the extra torque and the bigger rear tyre," explains the 23-year-old, three years his brother's junior. "Also, the balance of the Triumph engine means I can stop the bike better, so I can use a softer front tyre. The soft tyre gives me a lot more feel, especially on-edge grip. With that extra confidence to stop the bike better I can now turn it at the right moment and pick it up faster to accelerate earlier."
"I crashed many times, and when I didn't crash I would finish 20th"
Álex's four grim seasons in Moto2 – 19 crashes in 2015, 18 in 2016, 15 in 2017 and 19 last year – took him into some very dark places. Luckily his big brother was around to guide him out.
"I crashed many, many times. In 2016 I crashed out of eight races, or something like that. During those moments I stopped with my brother at home. I said, 'wow, what can I do?' Because I was pushing, crash, pushing, crash, pushing, crash. Then when I didn't crash I finished 20th. Then when I tried to push again: boom, crash? What can I do?"
Although he didn't stop crashing his results did improve, from 14th and 13th overall in his first two seasons in Moto2 to fourth overall in 2017 and 2018. Of course, it wasn't only his brother that helped him; there were also technical reasons.
For the 2017 season top Moto2 chassis constructor Kalex built a more forgiving chassis, while Öhlins improved its Moto2 suspension. "From that moment everything was better." This year the new engine and rear tyre squared the circle for the youngster.
Álex now has a clear plan to graduate to MotoGP at the end of next season. Inevitably the media is already spending ink on imagining the ultimate sibling rivalry, but the younger Márquez isn't having any of it.
"It's one thing to go to MotoGP and it's another to compete with my brother. He is the fastest rider and the most complete rider, with a lot of abilities. So I don't know… My dream is to share the track with him in the premier category of motorcycle racing. Then we will see. For sure he will be a lot of help for giving me advice."
Some years ago, before his Moto2 career went awry, Honda was keen to bring Marc's younger brother into its MotoGP squad. Now that seems less likely, but it's no problem.
"Nowadays we are lucky because there are many factories with which you can fight for the championship. Already you can win races with Suzuki, Yamaha, Ducati or Honda. And even in a satellite team you can have a really good bike and equipment. So at the moment I don't have a preference. I'll wait to see who I can get offers from and then I will decide: Okay, this bike is better for my riding style and I believe in that project. But I've got no offers so far."
If Álex does work out how to extract the maximum out of a MotoGP bike it will quite something to watch two brothers battling.
---
Mat Oxley has covered motorcycle racing for many years – and also has the distinction of being an Isle of Man TT winner
Follow Mat on Twitter @matoxley
---
DIGITAL EXTRA