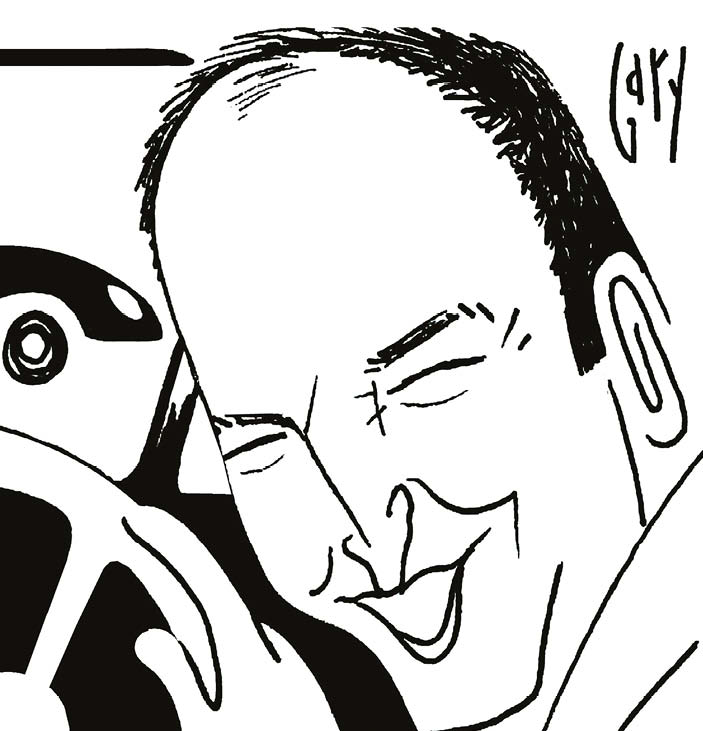 I have no idea why it made it so difficult for itself, but Land Rover has pulled off the coup of the year by nicking the Frankfurt
Motor Show from under the noses of its German rivals. Launching its new Defender at what is regarded as the fortress of the German car industry was brave (some, including me, thought it foolhardy) but from what I've seen from the coverage at home and abroad, it appears to have worked.
The Defender has come as something of an antidote to a show otherwise dominated by electric cars from VW's crucial, Golf-sized ID 3, to the sleek and rather gorgeous Mercedes-Benz EQS concept. There sat the Defender, brand new, but at the same time angular, with a transfer box and rubber mats in its footwells. Having missed my first Frankfurt show in 18 years to drive the new McLaren GT (page 36), I have not seen the Defender in the flesh and will reserve judgement until at least then or, more likely, until I've driven it. But I admire Land Rover for having the chutzpah to launch it like that.
That said, the least anyone is going to pay for a new Defender is £40,000 (unless they can get the VAT back) and some models can be specced up to £100,000 with ticks in the right options box.
I understand that in the Defender Land Rover has a sub-brand that can do no ill right now, and that such a commodity can therefore be priced to make a swift return on investment. And I find it hard to be overly critical of the approach given the recently dire financial straits of parent company JLR. But I wonder how many people thought about how the car's predecessor built the brand, without which there would be no Defender at all. And it wasn't by appealing to wealthy fashionistas more concerned with a car's image than its substance.
The new Defender quite understandably seeks to exploit the authenticity of the original, a car built as a purely utilitarian vehicle. But surely there should be within the range cars that seek to do the same? I'm not just craving the old times here, I'm
being brutally commercial. Just as Porsche maintains its brand credibility by building microscopic numbers of lightweight, driver-orientated GT 911s, so Land Rover should be reminding its customers that while it remains focused on the future, it has not forgotten from whence it came. It is the GT 911s that provide the brand legitimacy that makes people want to buy Porsche SUVs, and the it is Porsche SUVs that provide the profits to make and sell the GT 911s. It is the ultimate automotive virtuous circle and one reason why Porsche is, per unit, the most profitable car company on earth.
Even so, there will be versions of the new Defender built for military and humanitarian purposes, so perhaps there is in the pipeline a stripped-out, affordable variant that will reclaim sub-Saharan Africa and the Australian outback from the Toyota Land Cruiser. I certainly hope so.
---
I spent a quite delightful Saturday in early September, helping judge 50 or so Bentleys that had assembled on the lawn of Blenheim Palace for the Salon Privé concours. I should say now that while I like to think I know a bit about Bentleys and once wrote quite a long book about them, if I opened the bonnet of a 1927 3-litre and found an SU 'sloper' carburettor at not quite the right angle, I would not be able to tell. There are experts with clipboards and scoring sheets infinitely better placed to do that than I. But to just wander around spotting rare, important or just plain beautiful Bentleys made me a very happy boy.
Most of all I was surprised not by the shininess of the cars presented, but the fact that most were as used as they were loved by their owners. Yes, there were one or two show queens there looking far better than the day they left the factory, but the vast majority of cars were not treated as ornamental artworks, but as cars that could never be enjoyed to the full without being driven. One owner of a gorgeous R-type Continental even turned up on a set of perforated wheels I did not associate with the type. Turns out he spends so much time charging around Europe at unpublishable speeds he had them specially commissioned because he didn't trust the originals.
---
"Reports of the death of diesel have been greatly exaggerated"
If I may briefly both plagiarise and corrupt the famous Mark Twain saying, it seems that reports of the death of diesel have been exaggerated. I've noticed for a while that grandstanding politicians and ill-informed journalists in the mainstream media have fallen somewhat silent on the subject of late, but have been waiting for some empirical evidence to suggest that the tide, if not exactly charging back to shore, is at least turning back in diesel's favour. So I am grateful to Ola Källenius, the new boss of Mercedes-Benz, for providing it. Speaking at Frankfurt he revealed that sales of Mercedes diesel cars are actually on the rise, reversing a long standing trend. And quite right too: modern diesels are as clean as petrol motors while providing around 15 per cent better fuel consumption and, therefore, lower CO2 emissions. As Källenius says, "the good thing about facts is that they are facts".
---
A former editor of Motor Sport, Andrew splits his time between testing the latest road cars and racing (mostly) historic machinery
Follow Andrew on Twitter @Andrew_Frankel
---
DIGITAL EXTRA