Spa and Monza were realistically going to be Ferrari's final opportunities of the year to win a race. The lap time reward for the SF90's horsepower advantage/low drag were greater than at all the other tracks – and the punishment for its relative lack of downforce was at its absolute lowest at Monza.
That much was known going into these back-to-back races. But once the wheels began turning at Spa there was surprise at Mercedes at just how much faster the red car was in a straight line. It was way more than a proportional advantage to the length of the straights; there is something about the car that exaggerates its speed advantage as everyone takes a lot of drag off their cars.   
At Spa that was countered by the twists of sector two where the Ferrari was losing 0.4sec to the Merc. That still put it 0.7sec faster overall – but only over a qualifying lap. The way the rear has to be mechanically compromised in order to give the car a balance because of its aerodynamically weak front meant it heat-degraded its tyres faster than the Merc. So the Ferraris had track position, but the Mercs – or that of Lewis Hamilton at least – were faster in the race.
Within this dynamic, one Ferrari was potentially going to be the Hamilton-blocker while the other escaped. The escapee was Leclerc, who duly won his first grand prix, a breakthrough within a tragic backdrop, given the death of his friend and karting rival Anthoine Hubert in Saturday's F2 race.
Sebastian Vettel simply could not live with Leclerc at Spa. But that shortfall was quite possibly what won Ferrari its first race of the season. It allowed Leclerc to build up a useful lead that would form a cushion later on as Hamilton eventually got past Vettel. By the time Hamilton had used up his tyres cutting that 6sec gap down, his rubber was no better than Leclerc's. It took until the penultimate lap for the Merc to get within the leader's DRS zone – and all Leclerc had to do was stay cool to record his maiden win.
"On the one hand I've got a dream [I've held] since being a child that has been realised," said Ferrari's youngest-ever grand prix winner, at 21. "But on the other hand it has been a very difficult weekend. We have lost a friend first of all. It is very difficult in these situations, so I would like to dedicate my first win to Anthoine. We have grown up together… I can't enjoy fully my first victory but it will definitely be a memory I will keep.
"For me it was definitely the first situation like that where we lose someone on track – a track that you need to race the day after. So it's obviously quite a challenge to close the visor and go through this exact same corner at the exact same speed you do the day before."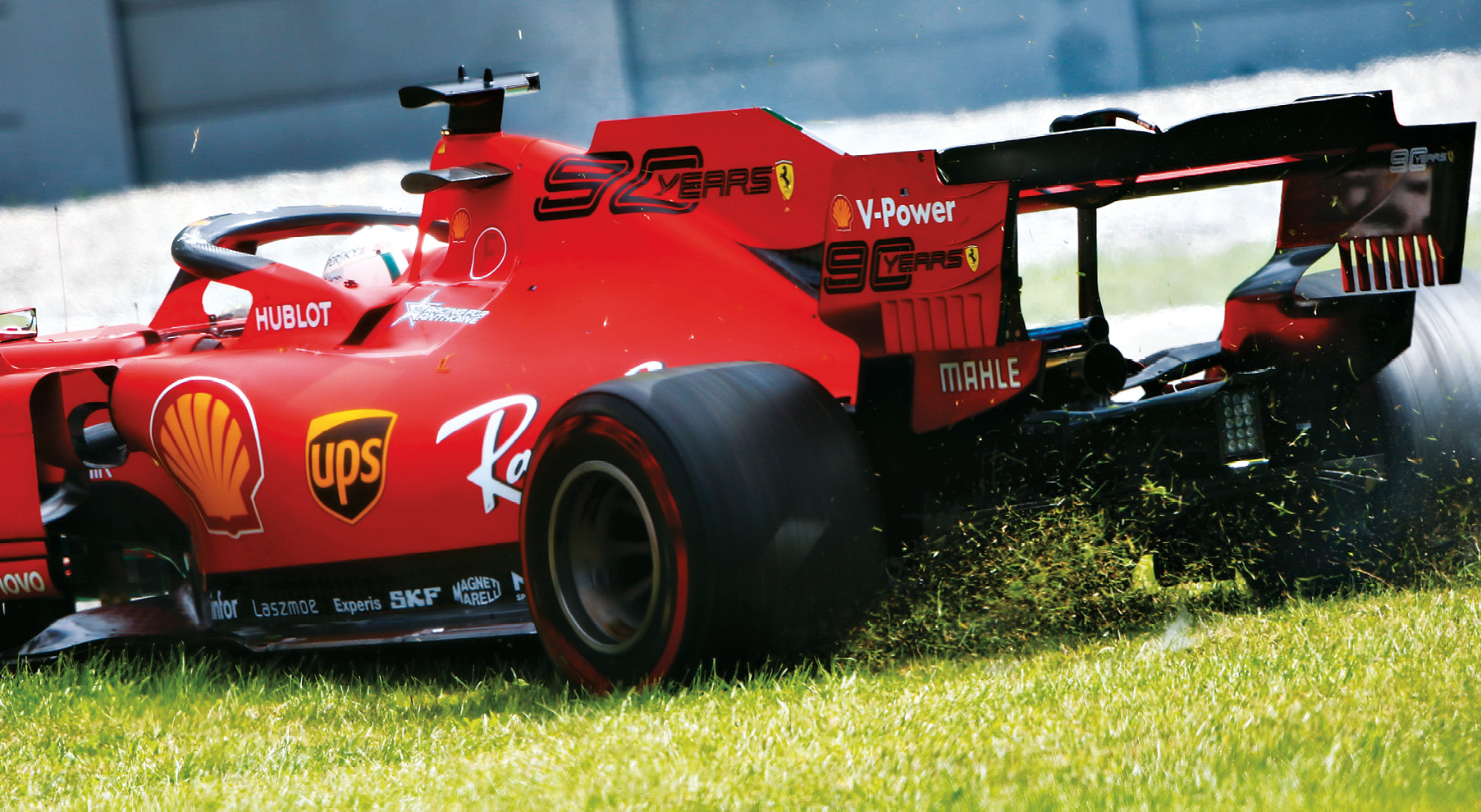 For Vettel too, this was a very troubling weekend, albeit for different reasons. Qualifying 0.7sec adrift of his young team- mate and unable to run at his pace on the Sunday thrust him into the support driver role. Helping Vettel hold off Hamilton for as long as he did was the Ferrari's straight-line speed advantage – enough to repel even a DRS-assisted Merc – but Hamilton's chance came as Vettel ran off the track and lost momentum and needed to use up his energy store to regain it. Which a lap later left him defenceless, minus the battery's extra 160bhp at the end of the straight into Les Combes and Hamilton was through, to chase after Leclerc. Having used up his tyres, Vettel was forced into a second stop, which allowed Valtteri Bottas to pass for the final podium place. Vettel didn't appear at the team's post-race press conference…
That was the delicate dynamic as the Scuderia decamped to Monza for its home race. Vettel desperately needed to rebound with a performance around a track at which he has shone so often in the past. His underlying pace was good, the Spa chasm to Leclerc was gone. In qualifying it was all going to come down to the tow. This is where it all went wrong for Vettel at a moment he could ill afford it, through a combination of circumstance and Leclerc's ruthless streak. To understand exactly what happened in Q3 that left Vettel so angry (and Ferrari siding with Vettel), requires an explanation of the nuances of the slipstreaming procedure.   
At Spa and Monza – tracks at which there is more lap time to be had from a drag reduction than a downforce increase – the tow is more important than ever with the current cars. The bigger, taller rear wing creates a lot more drag and so a) the car ahead punches a bigger hole in the air and b) the car behind loses more drag than it did with the previous wing. Get it right at Monza and the tow can be worth 0.7sec. With maybe only 0.1sec between Ferrari and Mercedes here it could not be ignored, hence the in-team agreements about which driver would be towed and which would be towing. Both teams alternate races for each driver to decide where he wants to be in the final Q3 running order, ahead or behind. Ahead is better on the downforce tracks, behind is favoured for the low-drag tracks.
Which meant at Monza that the driver whose turn it was to be doing the towing at the end of Q3 both needed to maximise his first Q3 lap when it was his turn to be towed and ideally needed to find a tow from another team's car on his final Q3 lap, as he was towing his team-mate along.
It was Vettel's turn to choose the order in Q3. So for the final runs – when the track is theoretically at its quickest – he chose to be towed. For the first Q3 runs, therefore, he was to tow Leclerc.
It has become customary at the 'towing' tracks for other teams to wait until Mercedes sends out its cars before they then follow. So to prevent Ferrari using the Mercedes tow for its lead car, Merc had repeated its Baku 'dummy' in the first Q3 runs, pulling off to the practice start apron at the end of the pitlane after setting off and triggering the others into following, but with no room to line up behind the Mercs on the apron. Hence in those first Q3 runs Vettel was without his own tow as he towed Leclerc around to a provisional pole. Bottas was set to eclipse that time with his Hamilton-aided lap, but was forced to back off when Kimi Räikkönen crashed his Alfa at Parabolica.
Nobody, least of all Vettel, was convinced by Leclerc's 'what could I do?' stance
That's how it was poised for the final runs, with nobody wanting to be first on track, everyone trying to leave it until the last moment, so as to pick up a tow. It became a game of Mexican stand-off – and at the last possible moment, everyone went out together, headed by Nico Hülkenberg's Renault and Lance Stroll's Racing Point. As Stroll fell back, so Carlos Sainz's McLaren was side by side with the Renault, both crawling along, wanting the other to go first. They were in effect blocking the track at a crawl and in so doing ensuring not everyone was going to make it to the line in time to begin their final laps.
Vettel was dismayed to note that Leclerc opted to back off in response rather than force his way through, apparently using the Hülkenberg-Sainz blockage as a convenient excuse not to be in a position to tow himself off provisional pole. Vettel accelerated past his team mate – and then the Renault and McLaren in a desperate bid go get to the line in time. As Leclerc eventually followed him through – and was therefore in a position to receive the tow from Vettel – he was instructed to overtake and give the tow, as agreed. Vettel had to back off to enable this – allowing Sainz to re-pass and be the only one who made it to the line in time to begin a lap. Hence Leclerc's previous attempt stood as pole – with Vettel's un-towed time leaving him only fourth, behind Hamilton and Bottas.
Nobody, least of all Vettel, was convinced by Leclerc's 'what could I do?' stance and the team debrief was reportedly stormy.
As Leclerc danced off to his second win in seven days, brilliantly – and occasionally robustly – withstanding a two-pronged attack from Mercedes, Vettel spun out of fourth at Ascari early on, then snagged Stroll as he rejoined, requiring a stop for a new front wing. A subsequent stop/go penalty for the incident left him nowhere – and with many questions hanging over him. Is he a victim of the turning of the generations?
Scuderia boss Mattia Binotto hailed his young driver's victory: "Congratulations Charles, all is forgiven." And like that, it may have turned.