In many ways, McLaren Automotive is entering the most critical stage of its young life since its birth eight short years ago. It has come an astonishing distance since the botched launch of the MP4-12C and produced some landmark cars along the way – the P1, 675LT and 720S to name just three. Sales are on course to hit 5000 units this year, and it only wants to reach 6000 by 2025.
Yet every one of those cars has been a mid-engined, two-seater with a carbon tub, a twin-turbo V8 engine and a seven-speed double-clutch gearbox. But Ferrari offers cars with two, two-plus-two and four-seat configurations, with front- or mid-engine locations, eight- or 12-cylinder motors, one fully convertible model and, soon, an SUV. By considerable contrast, McLaren has stuck rigorously to the formula upon which its greatness has been built.
But you only need look at this new McLaren GT to sense the desire building within Woking to let the brand branch out, now that its roots are down and its core is strong. It has already spoken of its intention to offer hybrid versions of every model and it's a poorly kept secret that it's developing a new V6 motor with this in mind. I get the impression too that a McLaren with more than two seats is no longer one of many ideas flying around the ether, but something that's been grasped, evaluated and is now being actively considered.
In the meantime the GT's aim is to be McLaren's most user-friendly car yet, a car that takes the ball lobbed by the 570GT and runs with it over the hills and far away.
As the name implies this is the car McLaren wants people to think of as its Grand Tourer, a car in which you can cover vast distances, but which will still be fun to drive when you reach your destination.
To that end almost two-thirds of its components are not shared with any other McLaren. Indeed the company says it doesn't even belong to one of the Sports, Super or Ultimate Series families, although I also get the impression the company is tiring of that nomenclature, so it may be no surprise it's not adding to the respective numbers.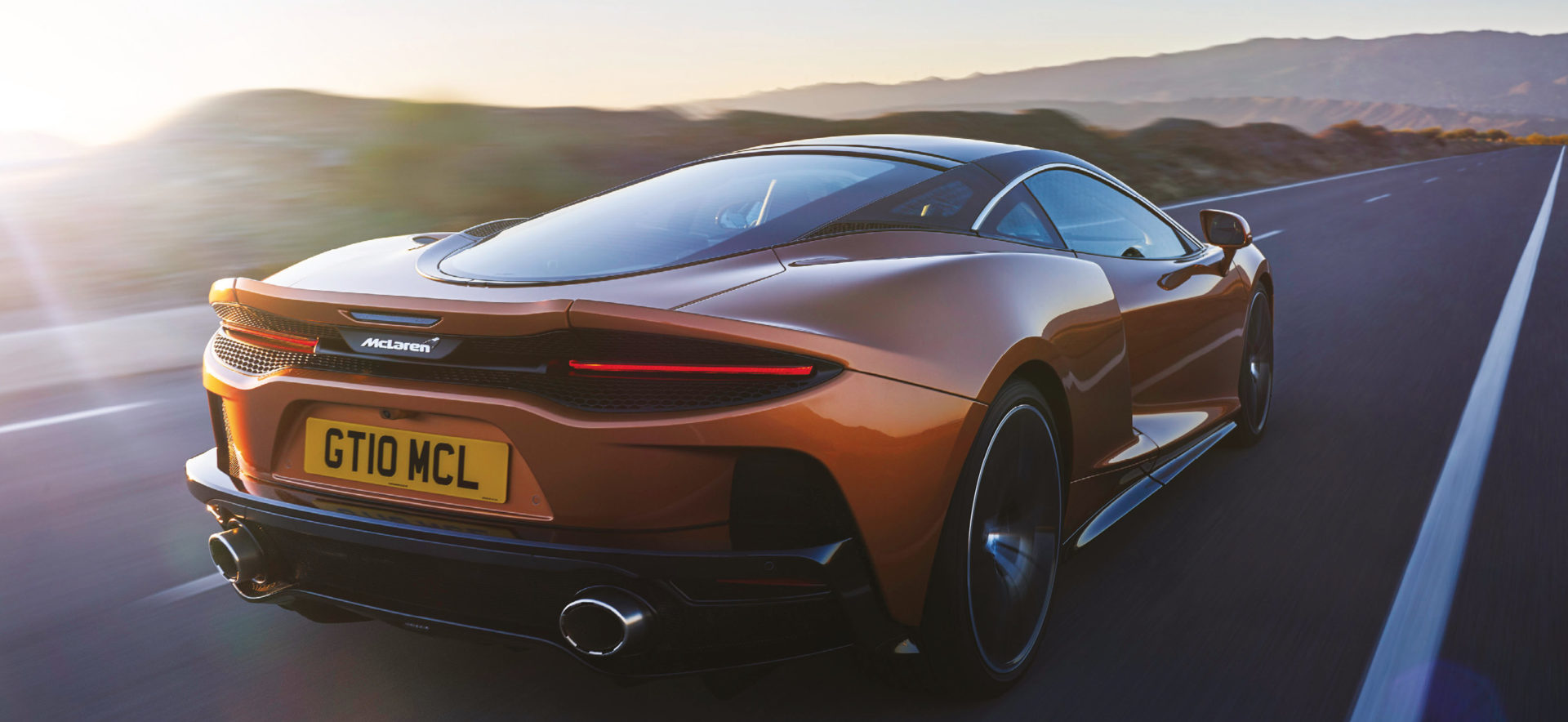 At the heart of the GT lies a new iteration of McLaren's carbon monocell as used in the 570S and 600LT, but with the 4-litre engine from the 720S and Senna, albeit with a bespoke tune to flatten its torque curve and restrict its output to 612bhp. Its suspension has its own settings, as do its steering and brakes, while its Pirelli tyres have been specially developed for this car alone.
Most importantly, says McLaren, the engine has been lowered to provide more luggage space while its ride height has been raised to improve ground clearance. It can carry up to 570 litres of clobber in its front and rear compartments, which is more than you'll fit into the boot of a Mercedes-Benz E-Class saloon.
To maximise comfort on the road the suspension has been softened, valves inserted in the exhausts to limit noise on part throttle and sound-deadening material strategically placed to damp out undesirable noise sources such as those from the wind, road, and some elements of its powertrain.
"In performance terms, its rivals wouldn't even see which way the GT went from point to point"
And yet, when you climb in, fire it up and aim the GT up the road, it feels instantly like a McLaren, different in certain aspects for sure, but a McLaren long before it is anything else – including a Grand Tourer.
The cockpit feels better-built from more premium materials, but the amount of space it offers has not changed: it's snug like a supercar, not spacious like a Grand Tourer. I offer this neither as praise nor criticism, just as something worth pointing out. Likewise the engine is more sharp than sonorous. Like all McLarens, the V8 with its flat-plane crankshaft has a voice more urgent than musical and, in my view, more suited to a supercar than a comparatively lazy and luxurious Grand Tourer. Which is why its rivals from Bentley and Aston Martin offer large-capacity 12-cylinder motors despite having very little additional power.
In fact and in performance terms, such competitors would not see which way the McLaren went from point to point, not least because even the Aston is over a third of a tonne heavier. This may be McLaren's GT model, but it's still an electrifying way to travel from one place to the next. The motor lacks the 720S's more psychotic tendencies in the upper reaches of its rev range, but it responds faster from lower down and requires fewer gear changes to keep it on the boil. And its handling bears no relation to that of any other GT I've driven, despite its at times bizarrely absorbent ride quality. There's no need to be conservative with entry speed, you just dive in, trust the fabulous grip and the chassis's ability to minutely adjust its line, and then exploit its mid-engined traction away from the apex. Drive it like that and you will not think this car is a GT.
If I have a concern with this car, it is that it will be misunderstood. People will look at that GT name and make a number of understandable assumptions as a result. They will then discover a car with, by GT standards, quite a small cabin and quite a raucous engine. It doesn't really feel like a GT. Think of it instead as a supercar designed with the real world in mind, where people who do distances also carry luggage, and suddenly it makes perfect sense. And at £163,000 it also seems reasonably priced in comparison, given the performance on offer and the brand that is providing it.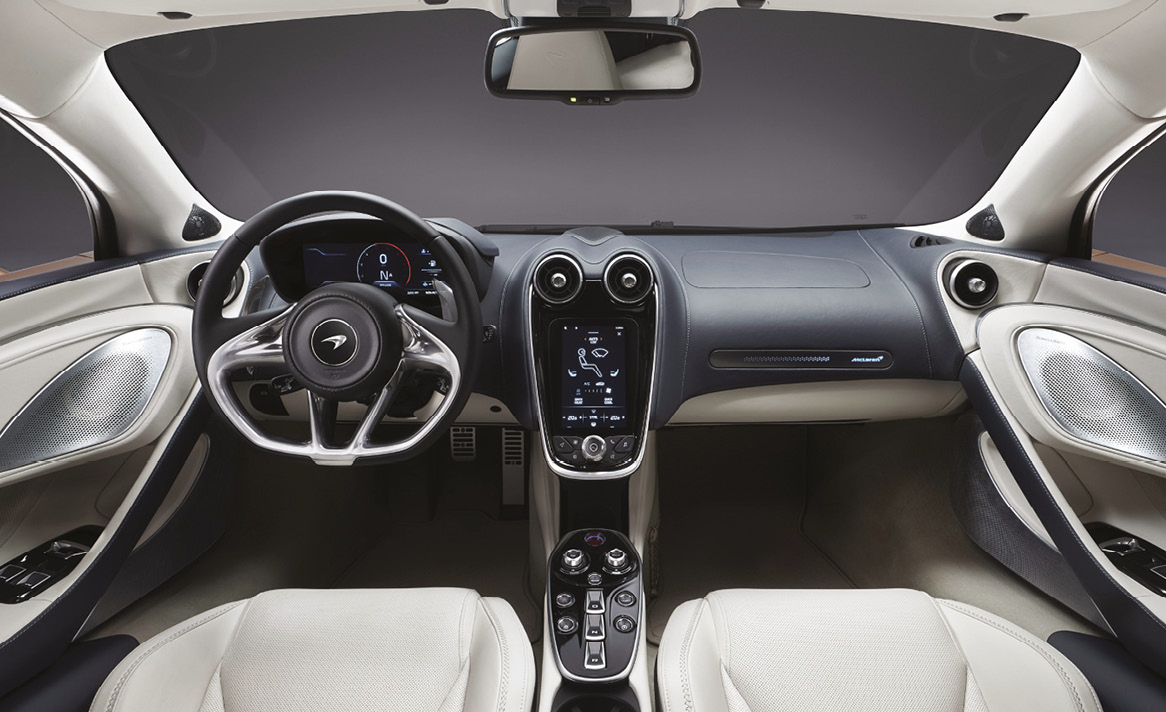 ---
McLaren GT
Price £163,000
Engine 4.0-litres, eight cylinders
Power 612bhp
Weight 1530kg
Power to weight 400bhp per tonne
Transmission Seven-speed double clutch, rear-wheel drive
0-60mph 3.2sec
Top speed 203mph
Economy 23.7mpg
CO2 270g/km
Verdict A McLaren, but more usable
---
DIGITAL EXTRA