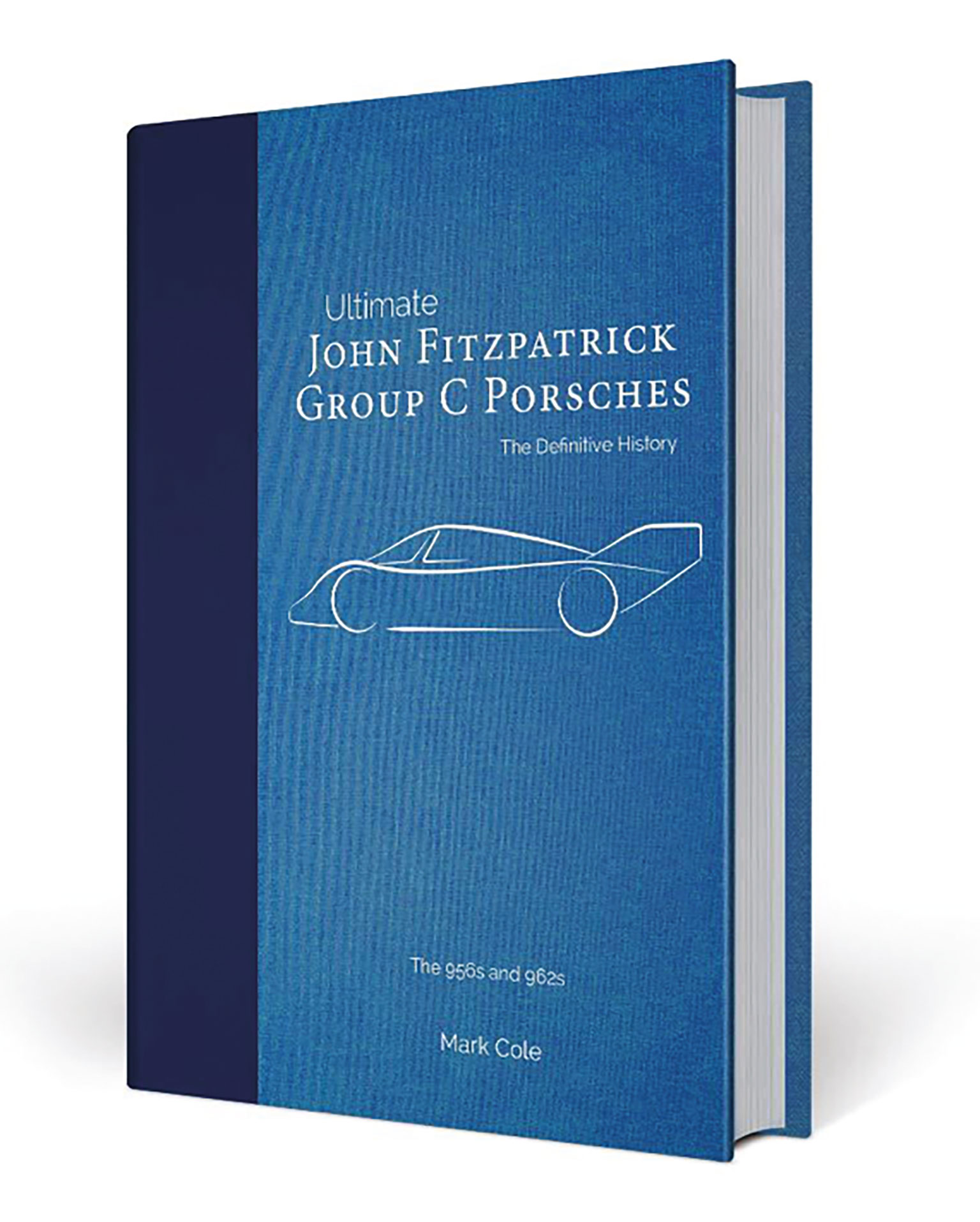 John Fitzpatrick: Group C Porsches
Mark Cole, published by Porter Press, £225,
ISBN 978-1-907085-88-8

I know, I know… not another book about the Porsche 956/962! Few racing cars in history have inspired such a flood of literary works, but stick with me here, because this one is rather different.
Here at Motor Sport we are blessed with heaving bookshelves of titles from hundreds of different authors, their works dedicated to manufacturers, models, drivers, events and venues from all walks of the sport. Porsche dominates our collection, largely thanks to the swathe of 911 titles on the market, but the 956/962 runs that topic a close second.
Therefore, to stand out from the crowd, any new title has to do something different, to find a new angle. And that's exactly what author Mark Cole has gone for with John Fitzpatrick Group C Porsches – The Definitive History.
As the title suggests, this work is angled around John Fitzpatrick, the driver, team boss and outright most successful customer during the 956/962 era. Acting as part biography, part technical history, part archival race report and part novelty piece, few books cover as wide a spread of life as a privateer in Group C racing as this.
During his many years as a journalist, Cole was tasked with covering the World Endurance Championship during the early days of the Group C era, meaning he attended every WEC event John Fitzpatrick Racing entered – barring one – making him rather well placed to be the leading authority on this particular topic.
"IMSA – by now sick of Porsche winning – re-wrote the rules deliberately to exclude the 956"
He clearly has a strong relationship with Fitzpatrick, as there are nuggets of behind-the-scenes information sprinkled liberally throughout, adding some much needed perspective to the trials of being the leading privateer of the era. The book also doesn't have to flatter manufacturers or series, like some more sanctioned titles do. Such an example is exposing the tactics of IMSA founder John Bishop – by now sick of Porsche winning everything – and his deliberate wording of the GTP regulations to exclude the new 956 on the technicality that its pedal box was located 12cm ahead of the front axle. Unfortunately for IMSA, Porsche moved it backwards by extending the wheelbase of the later 962 design to comply, and promptly carried on winning everything after its enforced two-year hiatus.
The book opens, as you'd probably guess, with a biographical look at Fitz's storied racing career – covering his early success in Minis prior to becoming the youngest-ever winner of the British Saloon Car Championship, then on to Porsche and GT racing before finally settling on big-power sports prototypes. It's a predictable, yet useful opening that tells the story of his career path and interactions with leading names like the Kremer brothers, Tom Walkinshaw, Dick Barbour and many more. But the rest of the work is much more than a simple love letter to the man in its title.
As you'd expect, the development story of the 956 and 962 is covered, as is the rise of the Group C era as sports car racing sought to lure more manufacturers in, whilst also boosting privateer involvement through the advent of turn-key prototypes. These were the days when you could buy a top-line racing Porsche for good money and know it would be identical to those of the works team.
The real meat of the piece is the super-detailed story of when Fitzpatrick opted to go it alone and form his own team from 1981 onwards. Each of the team's 66 Group C entries and 44 WEC races between 1983-86 is covered in detail, telling the story of the plucky British squad's efforts against the factory big guns. Each specific event is also accompanied by an artwork on the page – whether it be the programme cover or a promotional poster, which adds a nice collectable touch to the whole package.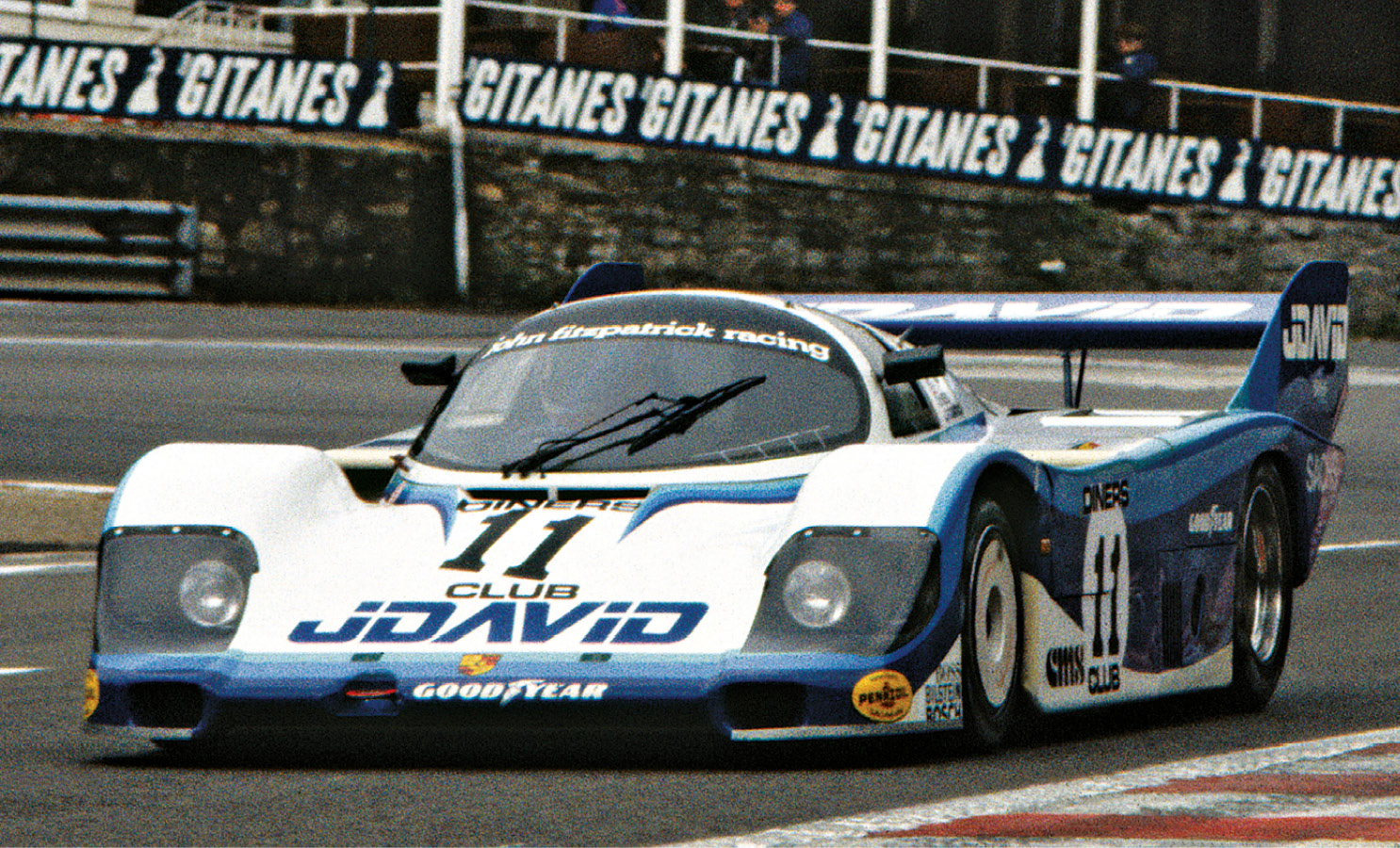 Key members of Fitz's squad are also put into the spotlight, with mini biographies on drivers such as David Hobbs, Derek Warwick, Peter Brock and Guy Edwards, to team managers Keith Greene and David Prewitt – who would go on to form their own GP Motorsport team, having used the JFR organisation as a springboard.
A more surprising addition is a chapter with Henry Pearman, the notable Group C collector and historic racer, who makes both his impassioned story and impressive range of classic Porsches available. It also touches on his work establishing the Eagle marque that pushes out modern evocations of E-types.
There's also a nice feature with leading Group C restorer/preparer Katana Limited and its founder Trevor Crisp, which gives intimate technical detail on the operation and maintenance of 956/962s and covers the sometimes dull nuts and bolts section with a fresh and entertaining twist.
Throughout the book is dripping in beautiful imagery, sourced from leading archives like LAT, Sutton, Getty and Revs Institute, plus more than a few of the author's own shots, too. There's also a lovely section purely reserved for detail photographs and studio imagery, plus an extensive chassis history of the five JFR cars – all of which still survive – where and when they raced, what they achieved and where they can be found today.
It's an all-encompassing work that sheds a light on a different side of the now well-trodden story path of the 956-962. It may be more niche than a general 956/962 work, and the reader needs to have more than a smidgen of admiration for Fitzpatrick's career to get the most from it. But overall, it's a beautifully presented, well written and refreshing take on a defining section of sports car history.

---
DIGITAL EXTRA