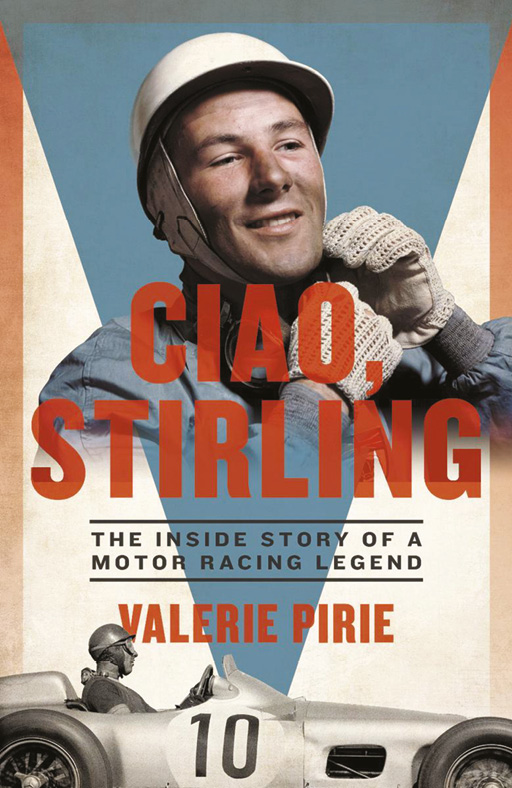 Ciao Stirling – the inside story of a motor racing legend
Valerie Pirie, Published by Biteback, £20. ISBN 978-1-785-9063-9
When you're 17 and your very first secretarial job is working for the great Stirling Moss at the height of his career, it must be seriously daunting. But Val Pirie quickly learned to give as good as she got from the impatient, demanding racing ace, and soon became indispensable to his lifestyle. Pirie became travel organiser, chauffeur, house build overseer and racing team manager, and more importantly his confidant and friend. Sixty years on, here is her riveting memoir of working with, socialising with and, frankly, putting up with the man who 57 years after his mainstream career ended remains Mr Motor Racing.
Anyone who has had dealings with Stirling will recognise the man she portrays – angling for discounts as he equips his gadget-laden new house, splitting a restaurant bill into 'who ate what', cramming in as many events as possible, and always rushing, rushing to the next venue, whether a race or a date in a nightclub. What this frank and sometimes funny book also shows is Stirling unwinding, off-duty, looking after others in his circle. While bickering about petty cash he lends money to friends and pays for a holiday for Val to recover after a car crunch. (She notes casually that "Fangio and Jim Clark both winced" when she admits the crash, expecting Moss to explode.) She often collected her boss from the airport (because he'd lost his road licence, again) and the late-night Chinese meals when Moss dissects his last race and computes possible improvements on scraps of paper are telling.
Over the years they became very close, though never 'an item'; instead Val was one stable element in Moss's urgent life, whether supporting him when his marriage broke up or fending off the press. One of the most famous men in the world, he was hounded everywhere, and there's a tale of him adopting a false moustache and glasses to visit an exhibition.
Life in the office was rarely calm. In fact, she resigned frequently, but as he relied too much on her to let her go she remained a key part of his inner circle. She also sat by his bed talking to him for hours to rouse him from his post-accident coma, and relates that his first word was not "Mum" as reported, but "Bastard". It's the sort of human detail that makes this absorbing memoir a fascinating and illuminating picture of a great man.
For extracts from this book, see The Secret Life of Stirling
This title is available from the Motor Sport Shop
---
Taken by Speed
Connie Ann Kirk, Published by Rowman & Littlefield, £25. ISBN 978-1-4422-7761-8
Unusual offering this, given that Kirk's own intro serves as a keen answer to the question of why an author so dedicated to the biographical research and analysis of historical poets and authors such as Emily Dickinson, Jane Austen and Sylvia Plath should change tack to motor racing literature.
But the finished product is a refreshing look at some of the biggest personalities to have sadly been lost in the sport. There's a section analysing quite why human beings have been so drawn to the sport and its dangers, before each chapter focuses on one of the sporting legends who sadly met their end at the wheel, from Alberto Ascari to Bruce McLaren, via Ayrton Senna and François Cevert. There's also a lucky escapes section with input from Stirling Moss, Jackie Stewart, Brian Redman and the late Niki Lauda.
It's well researched, and there's a sprinkling of images throughout, but many are rather uninspiring. Still, it's an entertaining read. RL
---
Black & Gold: The story of the John Player Specials
Johnny Tipler, Published by Coterie Press, £50. ISBN 978-1-902351-63-6
Any book is the better for having an insider as author, and during the John Player Special Lotus era Johnny Tipler was part of the JPS promotion machine. And what a machine it was, eclipsing with style Marlboro's huge budget. Lavishly illustrated and impressively produced, this hefty work describes how the branding evolved and spread from motorhomes to lighters – and even an Allegro. With extensive examples of promotional items, the book interweaves car facts, racing history and interviews with everyone from Andretti to the motorhome crew, shining fresh light on the subject, including that the only paperwork was an annual letter to Chapman saying "We'd like to sponsor your cars. How little will it cost?". Shock news: the 'gold' was never gold – it was yellow! GC