On the surface it's a typical Goodwood track day, freshly minted E-types and suchlike gently being fettled in readiness for more robust track activity at the forthcoming Revival Meeting. But away from the preparatory activity, there's a flurry of interest around the dummy pits at the main paddock's northern fringe. The trigger? Jaguar's XJR-15.
It was a rare sight in period, but this morning two have their snouts poking out into the sunshine. Over the next couple of hours that brace becomes three, five, eight and finally 11. Such improbability is also fairly typical at Goodwood.
There is no immediate commemorative cause for such a gathering. It is 28 years since the XJR-15 became the backbone of the Jaguar Intercontinental Challenge, a one-off series that embraced three grand prix support races – Monaco, Silverstone and Spa – in 1991, but long-time motor sport enthusiast (and XJR-15 owner) Valentine Lindsay is trying to drum up interest in the model ahead of that initiative's 30th anniversary in 2021.
"Since buying my car I've got to know other owners," he says, "and we've started finding XJR-15s all over the place, so we decided it would be good to organise a get-together. We want to increase awareness and in 2021 we hope to put on demonstration events at Monaco, the British GP, which is already arranged, and Spa, as well as running the cars during events like the Goodwood Members' Meeting."
The XJR-15 was conceived by the late Tom Walkinshaw, head of Jaguar's racing partner TWR, following the firm's Le Mans 24 Hours win in 1988. "I think Tom fancied trying to cash in on that victory," says Tony Southgate, who designed the XJR-9 that achieved it and also played a part in the XJR-15's genesis.
"Of course, Jaguar had its own XJ220 supercar project at the same time, though with a V12 engine and four-wheel drive that didn't seem terribly realistic. It would have weighed about two tons and nobody could manufacture tyres capable of dealing with that kind of bulk and performance. The XJ220 ended up being a much nicer, lighter car, with a V6 turbo, but Tom didn't want to tread on the toes of that project so a lot of the XJR-15 planning was done in secrecy.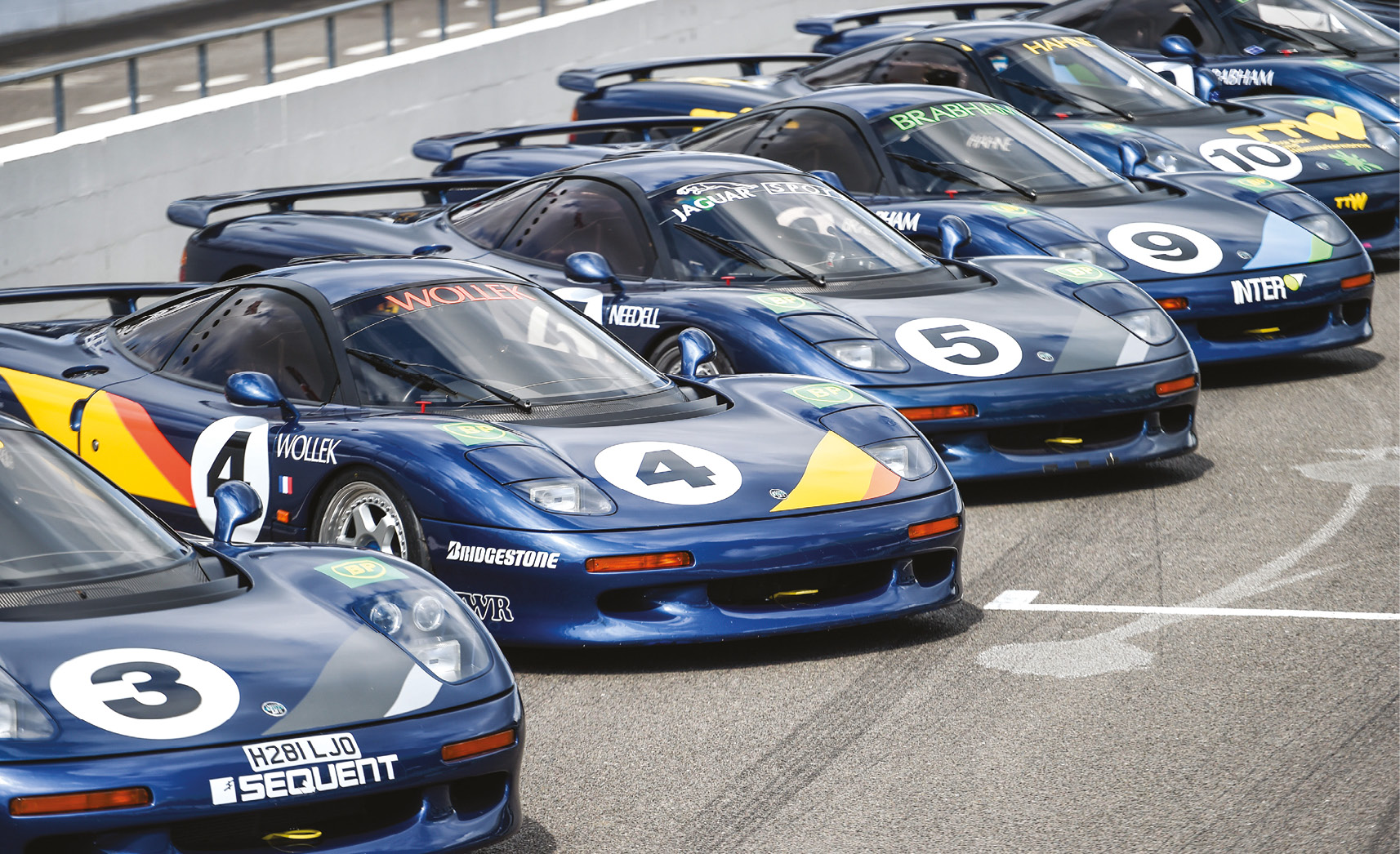 "Most of the Jaguar Le Mans cars from that period had the same monocoque structure and suspension. After that we carried out aero and engine adjustments, but that was it. It would have been very expensive to change the tooling for the main carbon-fibre structure, so we didn't really want to do that.
"The original idea was to produce a road-going equivalent of the Le Mans car, which was a good-looking machine. But naively, as a racer, I always designed cars around my own average height and fairly slight build, because you wouldn't want a driver who was much bigger than I was. I'd base everything around me, then allow another two inches or so just in case. But of course, many people buying this type of car were fairly big blokes – so I soon realised that they weren't going to fit. We had to build in a little hip room…"
Southgate didn't stay for the project's duration – he went off to design a stillborn Le Mans car for Aston Martin – but one of his key early collaborators was designer Peter Stevens, later responsible for the shape of the McLaren F1. "It was such good fun," Stevens says, "a project with no egos, no personalities and no politics, which was a real treat. It didn't have to be like a racing car in the wind tunnel, because the idea of the race series came later. They were going to be road cars, but the fact that Tom also got the job of building Jaguar's XJ220 meant we had to adjust the project to have a racing element…"
If the XJR-15's rear lights look slightly familiar, incidentally, there's good reason. "Tom had a series of Mazda dealerships," Stevens says, "and they came from the 626 Coupé because we could just get the bits from the store…" The interior door handles, meanwhile, came from a Renault 5, the suggestion of body engineer Jim Router who happened to own one at the time and felt them to be suitably functional.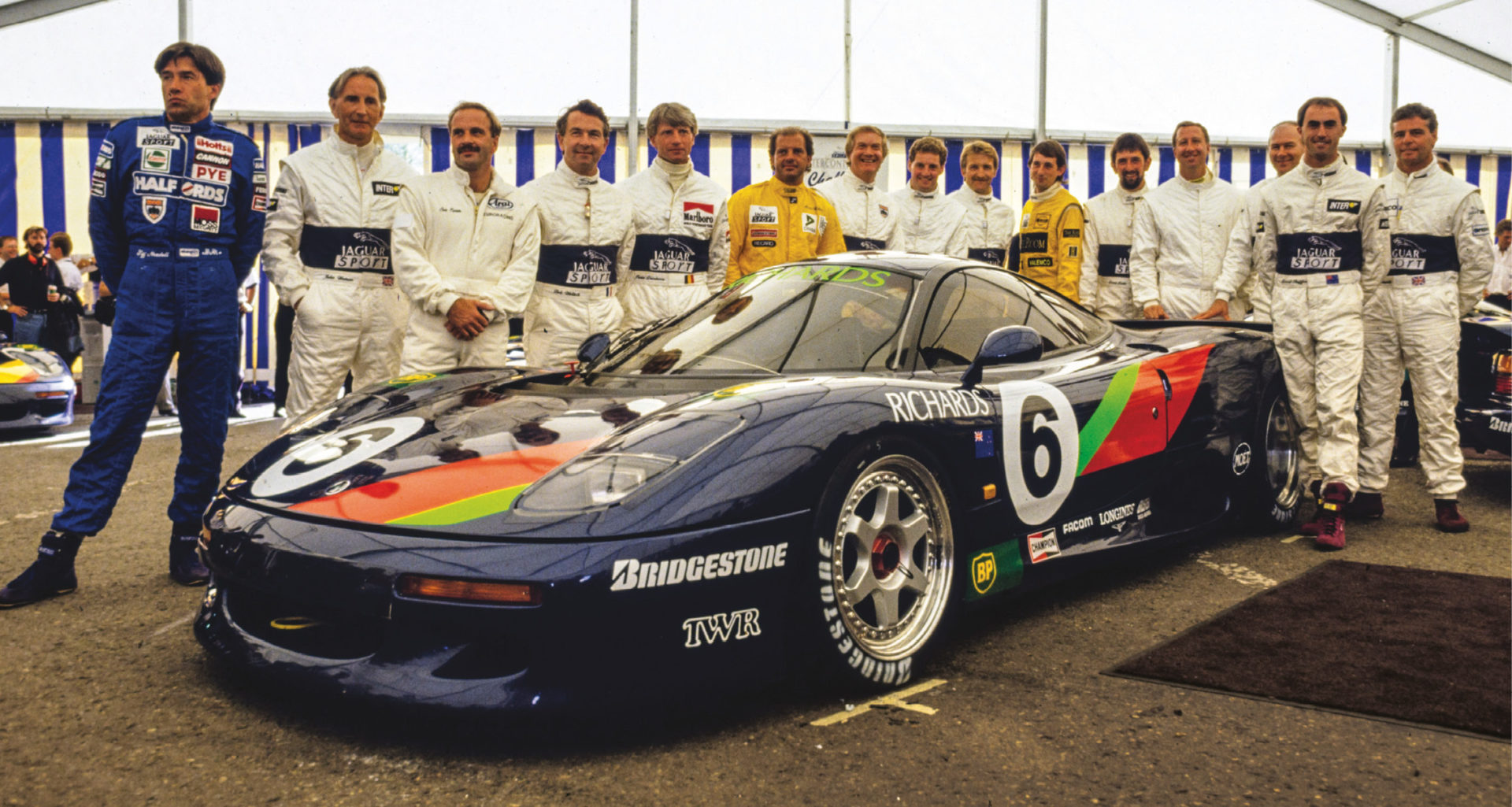 Router also later worked with Stevens on the McLaren F1, but regards the XJR-15 as the best-looking car with which he's been involved. "I thought so at the time and still do," he says. "It's very subtly cool."
Powered by a 6.0-litre, 450bhp V12 and retailing for £500,000, the XJR-15 was announced in November 1990 and the car was formally launched at Silverstone. Fifty were built (including five 7.0-litre LM models, all of which are thought to be in the hands of one Japanese custodian), plus two R-9R prototypes, and the three-race series involved a significant carrot: the main prize at the first two events was a JaguarSport XJR-S coupé, while a $1 million winner-takes-all purse was on offer at the Spa finale.
At the time, in the January 1991 issue, Motor Sport described the idea as being "reminiscent of the BMW Procar series of 1979-80" and Walkinshaw said "There will be no favouritism. We will prepare the cars and take them to the races. They will be as near identical as we can make them. Ideally, the owners will take delivery after Spa, in August, and I'd expect them to be seen in museums and private collections."
Buyers were permitted to compete so long as they had a suitable licence, but for the most part the cars were entrusted to seasoned professionals – many of them with strong TWR affiliations.
"Some have road cars that they may not know are ex-racers"
Derek Warwick won the rough-and-tumble opener, Juan Manuel Fangio II triumphed at Silverstone (where 11 of the 16 cars sustained some form of damage) and the 'money race' was a curious affair that began without drivers knowing how many laps they had to complete – a bid to avoid any of them striking mutually convenient pre-race deals and sharing the pot. They knew only that they had to race for at least six laps – and the flag was eventually shown after 11, by which stage Armin Hahne had a fairly comfortable lead… at the wheel of a car owned by Walkinshaw.
"As far as we can ascertain," Lindsay says, "Tom owned six or seven of the 16 racers, those he'd been unable to sell. Some went back to the factory and were later converted into road cars, which involved changing the gearbox, adding air-conditioning, indicators, headlights and so on, then selling them on. So a few people have road cars that they might not realise are actually ex-racers. We've already found a couple like that."
The XJR-15s were raced by 23 different drivers, most with serious top-line pedigree – for instance Warwick, John Watson, Bob Wollek and David Leslie – though record producer Matt Aitken, also a keen amateur racer, was one of the nine drivers who took part in all three outings.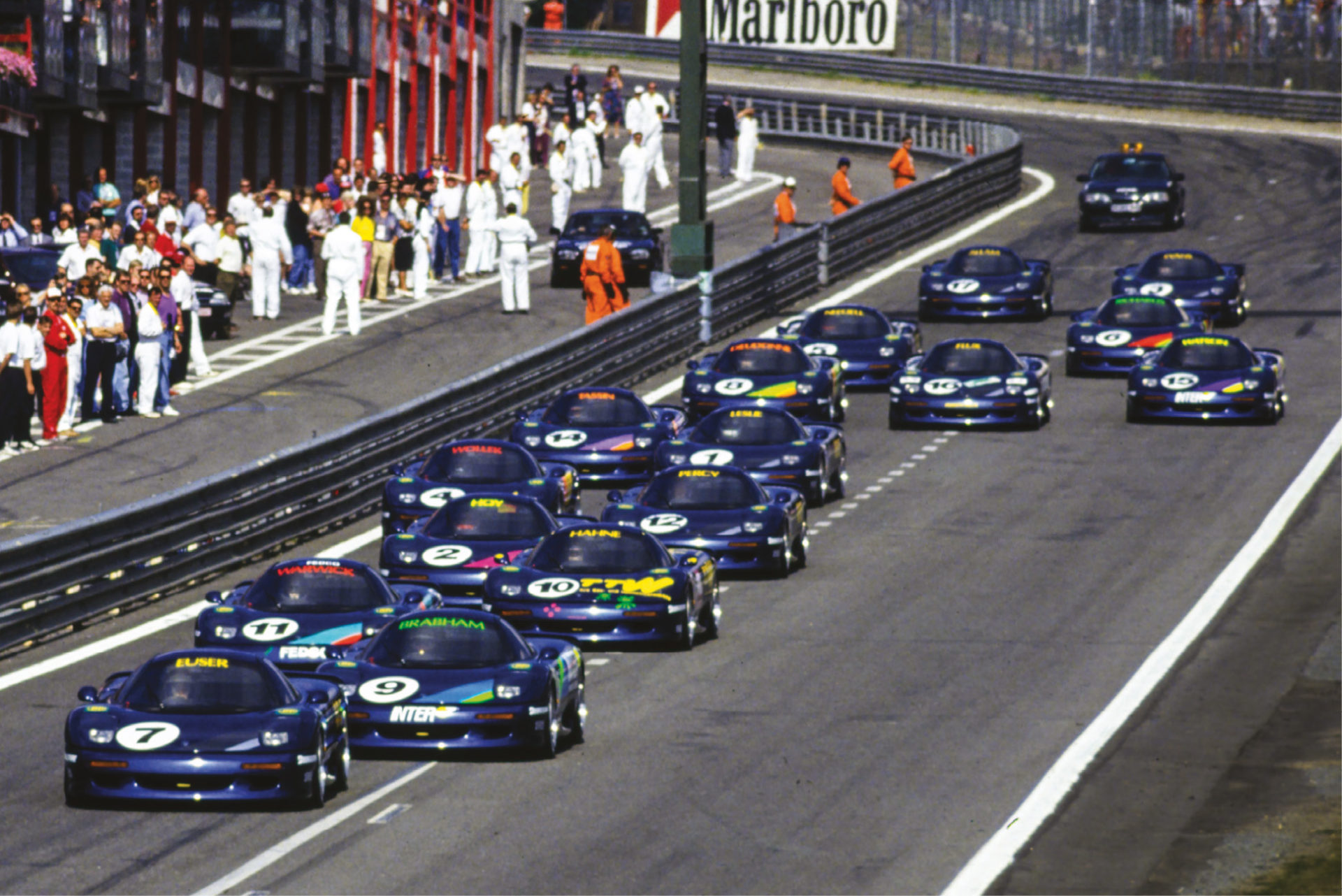 "My professional career effectively concluded at the end of 1990," Watson says, "after a few seasons in Jaguar's Group C cars. I did only one XJR-15 race, at Spa, and having come out of XJR-7s, 8s and 9s, which were high-downforce, high-grip cars, the 15 was a bit of a wake-up call, with ostensibly 10 per cent as much downforce and a very high centre of gravity. I didn't adapt particularly well to it either.
"In the race, going up to Les Combes, I was running just behind Tiff Needell – but when he braked I backed off and simply lost control, spinning up the grass and then hitting him. I think it was probably easier to adjust for those who were more accustomed to touring cars, so my memories are short and not particularly sweet."
Touring car star Jeff Allam also made his series debut at Spa. "I'd had a long relationship with Tom Walkinshaw," he says, "racing his Rover SD1s and so on, but I'd never driven anything like this. Tom just phoned me and told me I was doing it, as team-mate to [winner] Armin Hahne.
"We had one set of fresh tyres for the weekend and could use them whenever we wanted. It was best to qualify on whatever they gave you and use the new rubber for the race – though I have a feeling that Armin got more than one set! The cars were quite difficult to drive, with so much weight at the back – quite oversteery and under-tyred for the power they had. It was alien to me, so I'm not sure I'd have wanted to do Monaco…"
Having spoken to many former drivers and owners, Lindsay understands that the car evokes mixed memories. "For some they were a step up, for others a step down," he says. "They didn't have much downforce, the engines were very heavy and they did only three races, so they never got to be developed. If you look at the Porsche 917, it was hated for the first 18 months of its life but then evolved to become one of history's greatest racing cars. The XJR-15 never had that opportunity."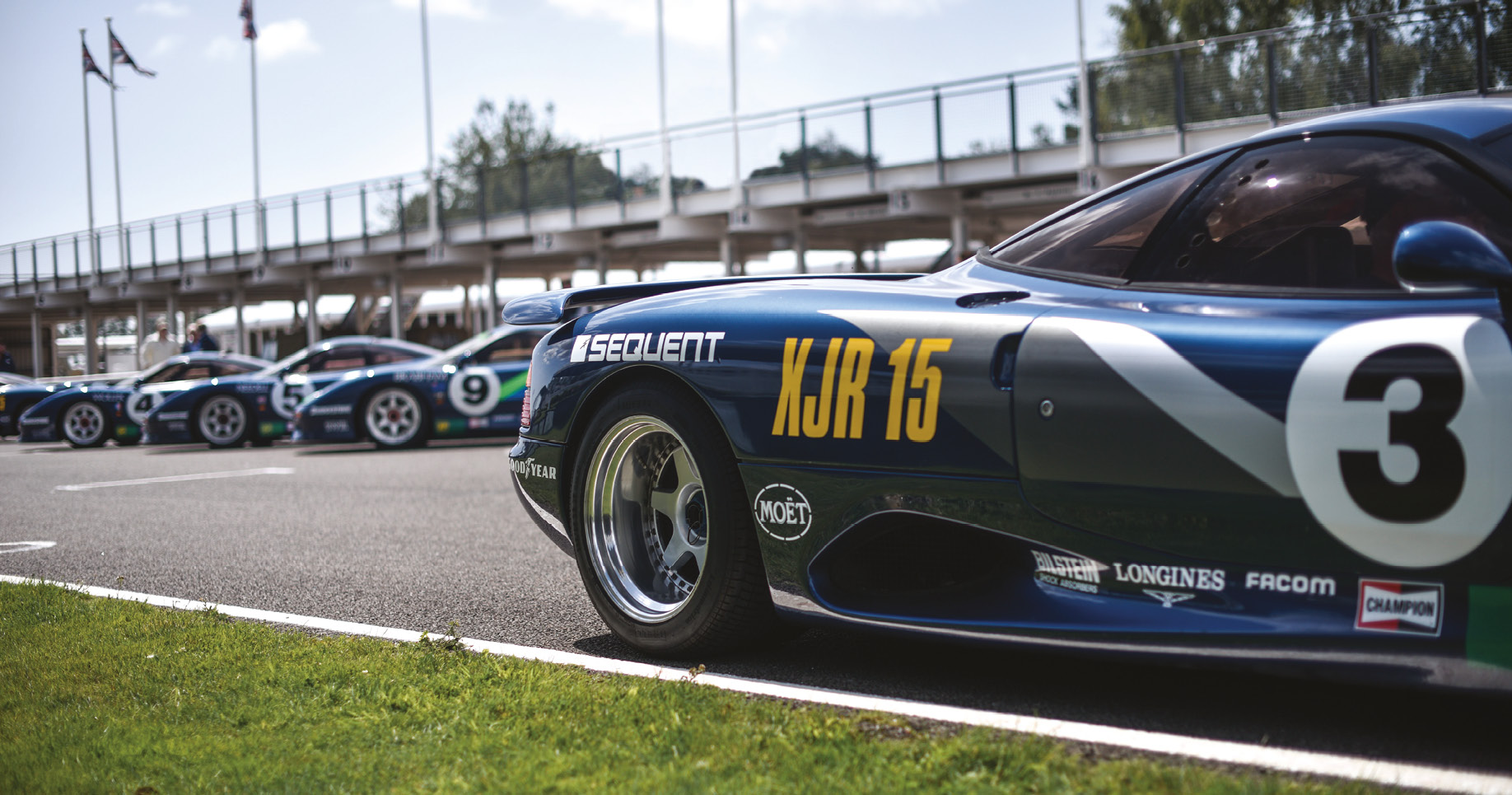 ---
DIGITAL EXTRA