Sophia's choice
In 2018 came that Macau crash. Now fully fit, Sophia Flörsch is focused on making her mark among the men. We speak with Formula 3's female trailblazer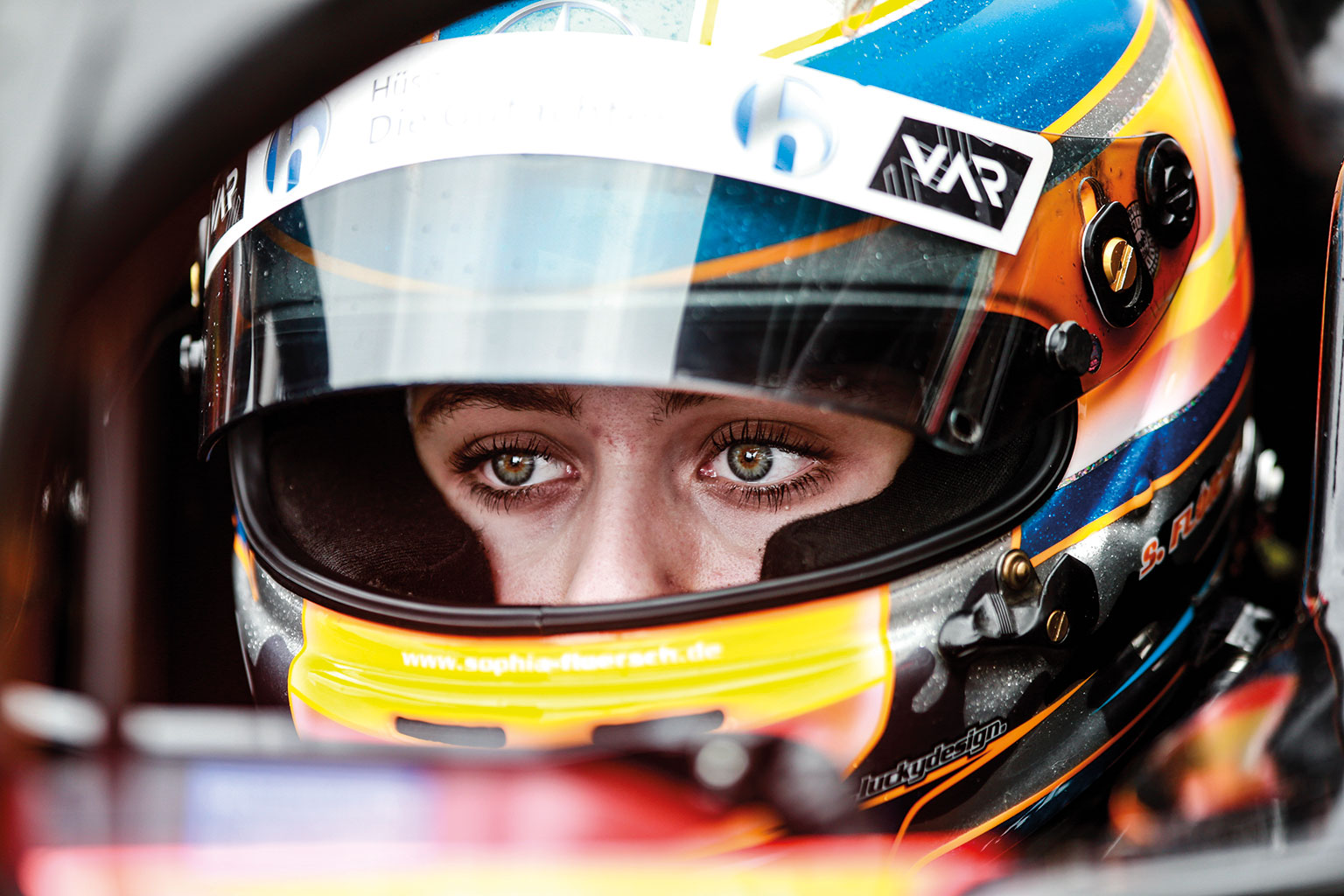 If you happen to follow Sophia Flörsch on Instagram – and you'll be in the company of 370,000 other people if so, which is more followers than a couple of this year's Formula 1 drivers – you'll see on her biography that she describes herself as "Just a normal girl racing against the clock and the boys."
That's not entirely true, as Flörsch, a 19-year-old racing in FIA Formula 3 this year, is far from normal. Instead, what the world wants to know is just how different she is.
Not unexpectedly, maybe on account of her German passport, Flörsch comes across as pragmatic. Her racing career and the challenges she faces are logical problems to be solved in the most efficient way possible.
She doesn't shy away from striking a pose on those Instagram pages because she knows that this is what people like to see, which in turn raises her profile when it comes to sponsorship. No other Formula 3 driver comes close in terms of visibility. It's just a question of trying to use every opportunity and extract the maximum advantage from each single element. Which is what every racing driver does.
Most of all Flörsch is refreshing, as despite all of that, she's not one to politicise the whole 'women in motorsport' subject. In fact, you get the impression that she's slightly bored of talking about it and has a distinct horror of being defined by it. Her view is that she's a driver who happens to be a woman, rather than a 'woman driver'.
And if there were a magic way for her to remove that whole context, to allow her just to drive with no other questions asked, she'd probably be happy to take it.
But that's never going to happen, so why should Flörsch discount her looks or her gender? Better to embrace it, make it work for you. And that's exactly where she's at with her personal marketing.
"Social media is important and fun: it's what sponsors are looking for," she points out. "Of course, sometimes you get haters, let's call them that, or people who don't support you, but that's normal. Nobody has only lovers or haters. I can cope with it."
With the first elephant in the room despatched – as motor sport is now an increasingly politically correct place – let's move onto the second: that crash.
Flörsch's accident in Macau two years ago made headlines all over the world, with the sort of high-speed flight straight out of the movies. Unfortunately it was very real, and everybody who saw it instantly had the sickening realisation that she wasn't going to be walking away from this, and that the injuries were likely to be multiple.
Miraculously, she survived – but sustained a spinal fracture that required a full 11 hours of surgery to correct. Yet, she was back in action within a few months. Although the consequences were minimal compared to the size of the accident, the objective fact is that she was still badly injured. Everyone forgets about this, firstly because it seems incredible that Flörsch is still alive, and secondly because she herself does her best to minimise it.
It's a similar attitude to the one she has towards the 'women in motor sport' theme. She sees it as slightly embarrassing, attention she would rather not have if it detracts from the focus on her driving. But if it's there, she may as well make the most of it.
"Macau is now part of my life," says Flörsch. "I can't rip that page out but at the same time, I don't want to be just the girl who had the crash. I want people to be talking about me because of good races, good results and then the crash. That's my main point to be honest."
That attitude led her to the conclusion that if the page can't be ripped out, it may as well be read aloud. Following the accident, Flörsch embarked on what felt like a never-ending tour of talk shows and interviews. On that side of things, she says, "It's not something I can be sad about. All the attention after the crash was certainly a lot higher."
She genuinely sees what for most people would be a life-changing event complete with post-traumatic stress disorder as no big deal. Anybody who ever doubts her intrinsic core of sheer grit needs to spend only five minutes chatting about Macau to realise what Flörsch is made of.
"Everything is completely recovered, just a few scars and that's it," she says. "There's something in my blood that makes me a positive person, and it could have been a lot worse. The important thing is that I can continue racing."
Flörsch's father Alexander raced Formula 3 in Germany. "He started when he was too old and never had the money," is how she describes his story, which will sound depressingly familiar to many amateur racers. Instead, Alexander realised that the family's best racing hopes lay in his daughter, who started racing karts when she was eight and idolised Michael Schumacher.
From then on, everything fell into place and Flörsch rose through the ranks of karting, Ginetta Juniors (becoming the youngest driver to win a race), Formula 4 (becoming the first woman to score points) and all the different iterations of Formula 3, ending up in the FIA Formula 3 Championship that supports Formula 1. 
It's a steep learning curve, but Flörsch isn't one to shy away. You have to confront your challenges, deal with them one by one, she firmly believes. And with a few races under her belt, Flörsch is already certain about where she needs to improve.
"Qualifying is my weakest point," she says. "I think I need to work on that, because in F3 it really sets the tone for your whole weekend. My starts also need to improve. Especially with the hand clutch [a spec component in the latest-generation F3 cars] – it's my first time using it – but you need to adapt quite quickly. So I think those two points are going to be important for me across this year."
One stepping stone that Flörsch famously didn't take is W Series, the all-female championship that goes against her ideology by putting the accent on the difference between male and female racers.
Another supremely refreshing thing about her is that she's happy to slip the bonds of political correctness and speak her mind, even if that might upset a few people.
"I'm against W Series but there are different reasons," she points out. "The goal for me was always to be the best in my sport and not just the best female driver. I want to win and lose against the boys, not some other girls. What W Series is doing wrong is that they're saying they're going to bring the next woman to F1, which in my opinion is not right because the car they're driving there is Formula Regional and you still have two or three steps between this and F1. So, saying that they're going to make a new F1 driver is, in my opinion, completely wrong. Look at [reigning W Series champion] Jamie Chadwick. She's a good driver but now she's doing Formula Regional with Prema. You know, at some point she is going to have to do FIA F3 and then we'll see."
Flörsch is already there, trying to fast-track her progress. There's a clear plan. She will do F3 again next year before progressing to F2, and from there aiming for F1. A few top-10 finishes in F3 this year would be beneficial. Then she wants to build on that next year to be challenging at the front. Ultimately, she believes that there's no physical reason why a woman can't drive an F1 car as well as a man.
She isn't affiliated to any team. Flörsch is racing for Campos in Formula 3, but has informal connections at Mercedes, which could prove to be a big asset in the future.
Her learning curve is accelerated because she's doing a European Le Mans Series campaign in parallel with F3 this year, as part of an all-female team with F2 driver Tatiana Calderón and sports car racer Katherine Legge – whose season got off to a tricky start when she broke her leg in a practice crash at Paul Ricard. So, if the F1 dream doesn't work out for Flörsch, there are always sports cars or Formula E. It's important to have a plan B. In the meantime, she's in for a busy year, also squeezing in as many promotional opportunities as she can in the perennial search for budget. There's no time to ponder philosophical abstractions about the role of women in motor sport. She's too focused on making it happen.
"Budget is probably the most important aspect of our sport," points out Flörsch. "Being here without the same sort of budget as the others and fighting for a seat each year is mentally not easy. You can't always have the best car but you always have the pressure to perform, otherwise it's all over. That's part of the deal, though."
Surprisingly, there's only a small team behind Flörsch. Her dad is her constant supporter and "sort of manager". Former racer Facu Regalia from Argentina is her driver coach. Thomas Strerath, a well-known marketing expert from Germany, helps look after the commercial side.
This year, the pressure will be on. "What makes Formula 3 special is that we are 30 drivers who are all really quick," Flörsch points out. "It's so close, which means that you need to work at your best, and also the car needs to work at its best. Just one tenth can make several positions, and you only realise that when you're there and doing it."
There's no place to hide. But Sophia wouldn't want it any other way.
---

The view from trackside
Racing coach Regalia is pushing the German teen to make the grade
Facundo Regalia is an Argentinian racing driver who competed in the forerunner to the current FIA Formula 3, GP3, and is Sophia Flörsch's driver coach. He heads up the Road to Success driver coaching and management programme, and has worked with Flörsch since 2018.
'Facu' assists Flörsch not only through practical sessions but also trackside. "I have a bike and I go out and watch her at various points on each circuit," he says. "You learn a lot about a driver just by watching. I always have a video camera with me, so I record her compared to the fastest people in the session, and then we analyse and compare afterwards."
Regalia already has a clear picture of Flörsch's style. "Her biggest strength is her consistency in race pace," he says. "She's strong in that area and there's no doubt for me that her pace is top 10. But she's new to F3 and there are areas to improve, which is important because the margins in this championship are small. We're working on aspects and you can see the benefits are coming already."
As well as Formula 3, Flörsch is also regularly driving an LMP2 car, which she will use on her Le Mans debut this year.
"Normally, I would say that jumping between two cars makes life harder," adds Facu. "But the LMP2 car actually has a lot of downforce, so you end up driving it in a similar way to a formula car. It's more seat time for Sophia this year, which is really positive for her future development."