1984 Italian Grand Prix race report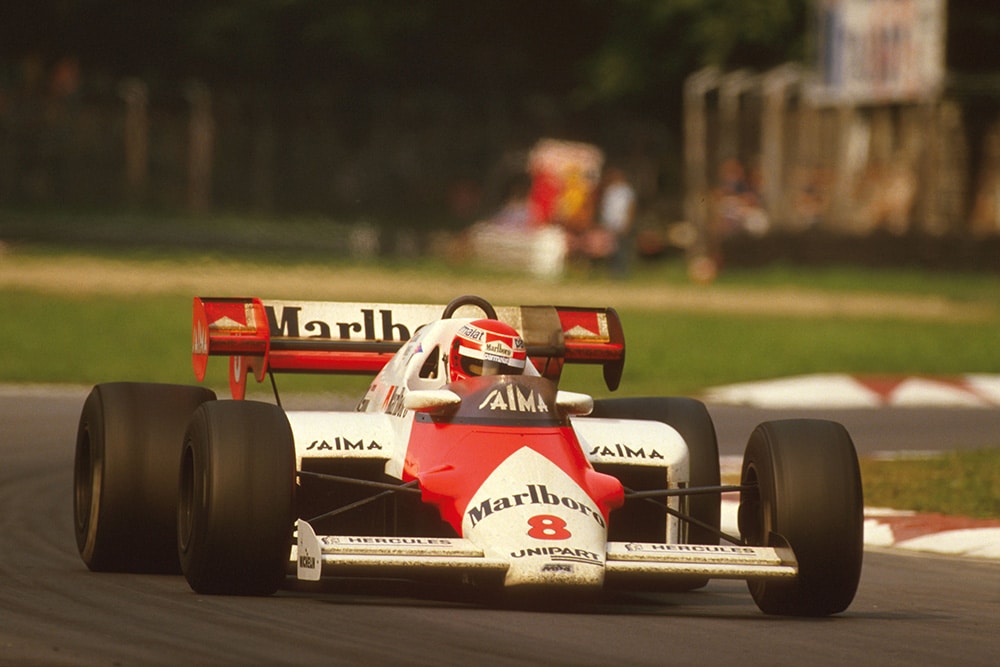 The Italian Grand Prix
Yet another McLaren win
Monza, September 9th IT happened at Imola in the spring and now it has happened at Monza in the autumn. Definitely a bad season for the fans of Ferrari. I refer to the awful showing of the Scuderia Ferrari on their home ground and once again to the "deafening silence" of the Italian crowds this time at the Italian Grand Prix.
Even before practice began there was not much hope, for the last fete Grand l'rix races have seen the Maranello cars hopelessly outclassed by McLaren, Brabham, Renault and Lotus. There was much internal strife at the Ferrari factory and Mr Ferrari was forced to have a press conference for the Italian troubleinakers to confirm his faith in his engineers, led by Mauro Forghicri and Harvey Postlethwaite and his drivers Rend Arnoux and Michele Alboreto, and to more or less tell the outside world to mind their own business. He, more than anyone, knew they had their backs to the wall in the face of German, French and Japanese engine expertise, though the V6 Ferrari engine was not yet an obsolete number as far as sheer power was concerned.
Qualifying
When the red cars appeared in the pit lane on Friday morning there were smiles from the McLaren team for two of the cars had McLaren-type rear bodywork style of aerodynamics in which the sides are narrowed into the gearbox with a rising undershield under the rear suspension. John Barnard designed this into his Cosworth-powered MP411 series of cars and continued it into the Porsche-powered MP4,2 series, so that the end result has always looked beautifully homogeneous. When you try and modify an existing car to this rear-end shape it is never as convincing.
Patrick Head did it on the FW09 Williams half-way through the season and now Ferrari has done it, which meant relocating the side-mounted radiators, placing them above the inter-coolers. Next to the McLaren pit were the Euroracing Alfa Romeos and they had a similar treatment which actually looked quite neat, but Barnard smiled wryly and said "They haven't got it quite right, but it's not a bad attempt". The important thing to remember is that Barnard knows why he designed the back of the McLaren the way it is, and that it is not vital on its own. It has to be integrated with a lot of other things, many of them not obvious or visible. The pit-lane wags were suggesting that Ron Dennis was marketing a "Barnard conversion kit" after Patrick Head had proved he prototype, so that now Ferrari and Alta Romeo had bought the production models! However, these days aerodynamics are not the be all and end all that we used to be told in the days whets everyone had 525 bhp front Cosworth and any advantage had to be gained by the team's atrodynamicist. Now it is rather the other way round, power outputs are anything up to 700 bhp and depending how much more you have over your rivals determines your acro$namic configuration. To some teams the power of the Porsche engine in the McLaren is disturbing,. judging by the aerofoil angles they can run and still come out near the to, in the maximum speed contest. Its all a fascinating contest of power and during the qualifying hours for grid positions it is a question Cif how much boast your engine can stand. Figures are rising above 42 Ibisq in above atmospheric, and that is a lot of manifold pressure. even ,1 it Is only a la,
or two. Although the real Monza has been emaciated by three chicanes just at the points where speed was getting exciting, the circuit is still fast and strong and powerful engines are all important.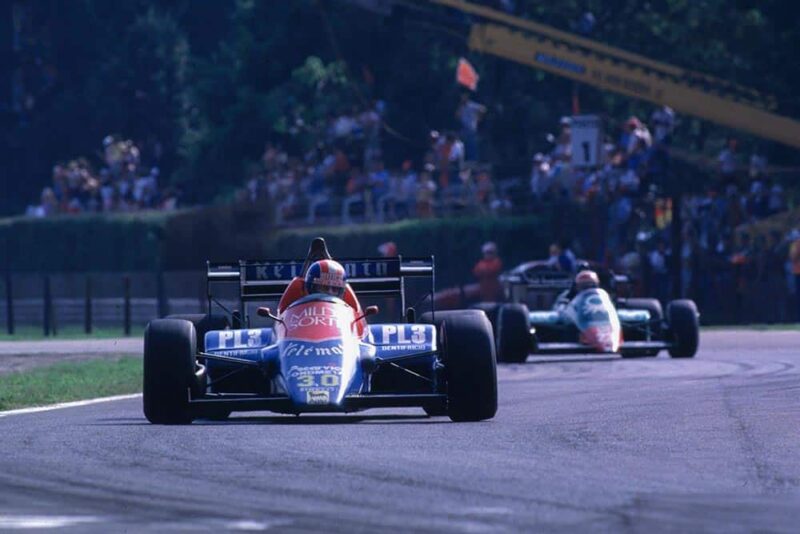 Friday morning passed peacefully, with barely a murmur from the surprisingly large crowd of spectators, for neither Ferrari driver was anywhere near the pace of Piquet, Press, Lauda and Mansell who were up at the front. The Monza organisers had built a fine ness grandstand opposite the length .of the pits and high enough to see over the protecting walls and give a good view into the piston: itself, where much of the excitement happens. Out on the track:: was pretty exciting as is-ell, for the fastest cars were crossing the timing line at over 185 mph after a lap at an average of nearly 145 mph. The name Monza has always been synonymous with speed and in spite of attempts to slow things down it was maintaining its traditions. In the pit lane it Was noticeable to everyone that Alboreto had a new Ferrari engineer looking after his car and there was no sign of Forghieri or Postlethwaite, .not that they attend every race, but Monza Without Forghieri seemed all wrong. He was giving it a miss as a mild protest against the Italians who have been rubbishing him recently.
In the mid-field area and towards the back there were also some faces missing. The Toleman team had suspended Ayrton Senna in view of his mismanagement of signing for Lotus for next year. As the 'Nieman Group are taking proceedings against Senna and his confederates it was deemed legally prudent to not let him drive a Toleman car until the matter was settled. In his place was the amiable Swede Stefan Johansson, who seemed to be more than capable of matching the performance we have come to exp.., from Senna. In the second Toleman, merlY to make up the numbers, the young !taboo F3 driver Pier-Luigi Martini was being given a chance. .Hardly missed by ri people w. the Tyrrell team, absent in its entirety not by choice, but by law An International Ccnirt ot Appeal had sat after the recent Dutch Grand Prix and Team Tyrrell were still found guilty (.)1 transgressing numerous rules regarding weight and construction, discovered a,f,er Brundle had finished second in Detroit. fhe resttlt was that Team Tyrell are banned from the rest of the X.'orld Championship races ()._ 1984 and lose any points gained. This Johansson and Bella on the unemplo) ,.-.
; list, and Brundle who has nearly recoset! ,f,rth)m, Th(i)sk i e,d, pa tj(Dzilniass,,,rich At the top end of the pits them tin:gime little engine troubIds. mostly to
with electronics and injection systems, while at the lower end the trembles were physical. Winkelhock had a driveshaft break on his ATS which in itself was not serious, but it flailed round the broke the rear suspension and that pitched him .off into the barriers which did a lot of damage to the car. Gartner in the second•Osella V13.•also hit the harriers pretty heavily and damaged the right front comer. Just as the morning test-session finished a sprinkle of rain fell which was just enough to wet the circuit and make it slippery for racing tyres. and not wet enough to justify needed rain-tyreS, so that when the qualifying hour got under way at 1 pm the scene was rather low-key. In the morning testing Piquet had cracked the I min 30 sec barrier .d five others were vvithin a. fraction of no doing, but now qualifying times of 1 min 34 see were appearing, which was simply unreal.. Luckily once the sun appears in Italy it does a good job and before the end of the hour the circuit dried rapidly and we were able to get on with the real business. Lap speeds soon reached 1 min 30 sec and then dropped dramatically below. with de Angelis (Lotus), Piquet Brabliam Fabi (Brabham), Alboreto (Fermi faint cheer,— Prost (*McLaren, all breaking the barrier, the 'first two being well into the 1 min 28 sec mark, but there was a lot more to come for the track was not completely dry where it passed under trees. Even so de Angelis made fastest qualifying lap at over 147 mph and Piquet recorded 193.5 mph past the pits. That was in the Brabham T-ear, well tweaked up for Piquet's second rue and it ended with a mightly explosion and oil dribbling out through the lout, '1 the engine cover and the whole rear end looking as though it had just been freshly cellulosed! A huge cloud of smoke in the pit lane announc.ed tine ,trri va I of Rosberg with a
Honda engine in pieces in the back of his Williams and Hart engines were breaking in the RAM ears. Renault were in different troubles, 'Cambay spun and stalled as he accelerated away from the pit lane before the track was properly dry and was forced to abandon his car and return on foot to take the spare car, and Warwick could not get vvith it, hating. the •circuit with its silly .chicanes itist as you were getting going. All the expected drivers were up at the top of the list, but it was not conclusive as conditions were far from perfect.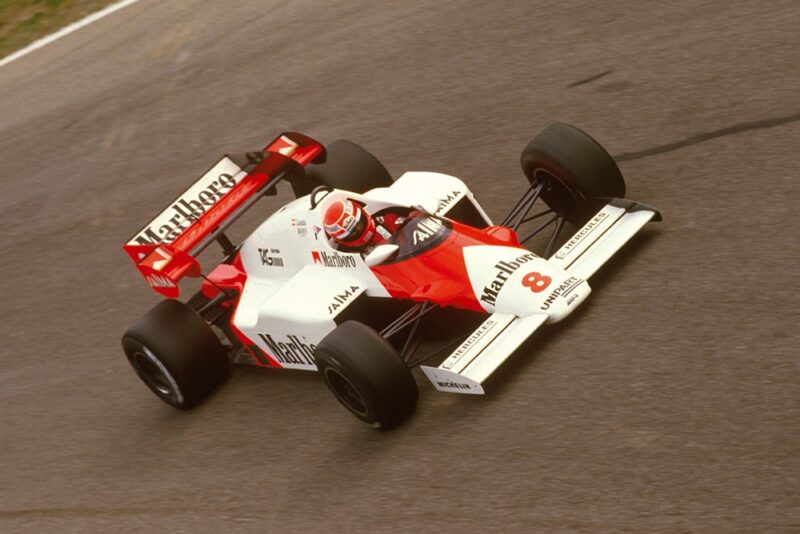 With Ferrari cars fourth and eleventh there was not much to shout about in the Saturday morning papers, and the crowd was visibly thinner, the fine new grandstand being almost empty. Although the weather was grey and dull, at least it was dry and looked like staying so. Engines were still the keynote eif the testing session, Palmer's Hart engine needing to be changed in his RAM car, the fourth failure the team had suffered already. Proses Porsche engine in his !vie:Laren went off-song and needed changing,. se., he took the rear and the BMW engine in Surer's Arrows lost its oil-pressure, which forced him into the Tear. Boutsen was fairly happy with a brand new Arrows A7 to replace the ODC damaged at Zandvoort. Saturday afternoon was perfect and it was now that the grid positions were going to be
,eiticd once and let all. A flurry around the mcLaren pit showed that Lauda had strained his back during the morning but his personal medic had worked on hint and he was keeping his fingers crossed. In the Brabham pits a new tactic had been planned, and it nearly caught everyone else on the hop. Normally the qualifying hour starts off with the "rabbits" scuttling round to record a time and then get out of the way before the "big boys" appear after about 20 minutes •for their first attempts.
Then there is a lull until the final pandemonium in the last 10 or 15 minutes when all hell breaks loose. This time Piquet whistled out in the Brabham Tear amongst the "rabbits" and before anyone had fully appreciated it he had done a lap in 1 min 26.584 sec, one and a half seconds quicker than best Friday time. This was an average speed of 149.8 mph, with a speed-trap reading at the end of the pits of 195 mph! Instantly, Rosberg Tambay (Renault), Prost t McLaren Alboreto (Ferrari) and most of the other her shoes" were out there and at it. Lotus were running with the boost-control valves removed completely from their Renault engines, letting the turbines spin until they "choked" hoping that the engine could stand the boost pressure. The fur was beginning to fly among the manufacturers' teams and we were getting a foretaste of the power
ENTRY AND PRACTICE
No Driver put Remarks Pate pos?Pon EicCrItTril FFINISPi MP4 fVIP4 2 WinriOr Dutch GP
T; Saturday in or 9. in car 31 rAt HAN pm 81 [Vintel Li hi ock 28./01.11T 1.6.584M 1 29 383 1 28 587 :30.578 '22 'c',1/71T1 18,1 1 1′; 1f1Z 1;8011: 1 31 7, n
Noo,.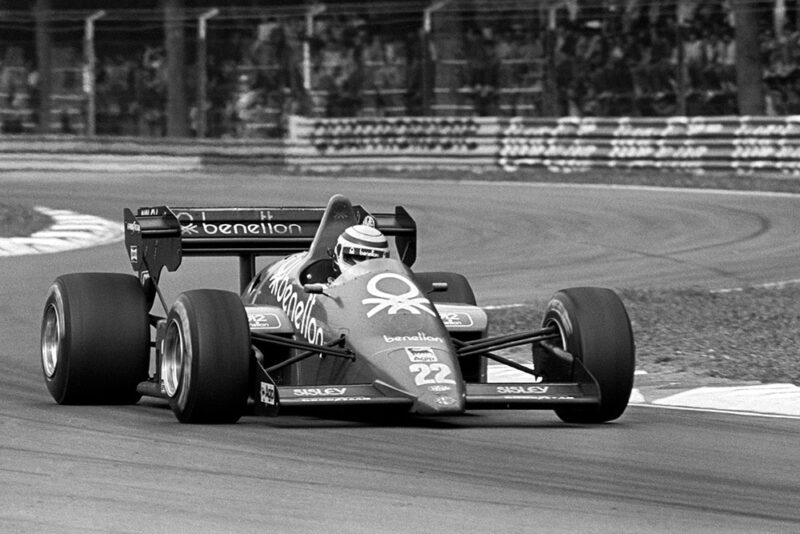 Barclay N.,. ""aht Sports ock Nat Team Tr'y'rrr:1111 Wilke McLaren WANI""n lLiA,"?5 ,r rows trlerTa." Tilloirmn Ortello rE)11:o Car Type ,ITt3
Fr rt:5147TC,ipt. r,r,Vcatr," 2(c),17,Zr:1; Pi tell, i(C,7rci,ector Lioodvear 1):41.11Y1171″
Pirelli Goodyear Goodyear Piro. Yol Br ock 31 549 Engine 1111:1Aii 1.31 ; ri,Z; 4 r tItmoult V6 " ern" Yyl kr:
development trends that the coming winter will probably see. Meanwhile the Brabham lads had changed the tyres on the Brabham T-car, fitting Piquet's second marked set, put in a few more litres of fuel, stuffed an asbestos glove up the exhaust pipe to quell any insidious gas burning, refilled the water tank for the intercooler spray, and placed an electric cooling fan to blow on the turbocharger unit. In other words everything was ready for Piquet's second qualifying run while the opposition were scrabbling to match his first time. Prost was using the McLaren Tear whiles new engine was being put into his race car, and he soon challenged the Brabham time with 1 min 26.671 sec but nobody else was in their
league. De Angelis knocked half a second off his Friday time, which was a fine effort, but it was not good enough tortes worry Piquet or Prost. Then Piquet went out to have a go on his second net of qualifying tyres and just as he got fully wound up all the boost pressure disappeared and he was back in the pits. Working with asbestos gloves and buckets of water the mechanics removed the turbocharger unit and installed a new one. The turbine had seized and sheared the shaft to the compressor. Everything was fettled up in double quick time, just in case anyone beat Piquet's pole position, but it was not necessary. The only one who looked like getting near it was Prost, and he had failed. The Brabham mechanics quietly stuck another tiny gold star on the monocoque of BT53/3, its seventh pole position this season in Nelson Piquet's capable hands. In other places it may have been recorded as BT53/6, but that is entirely due to paperwork complications. All this excitement was accompanied by the well known "deafening silence" from the small crowd, for Alboreto was I 1 th and Arnoux was 14th. That was bad news for the Ferraris:I bits worse still was the knowledge that the Alfa Romeos of Patrese and Cheever were both ahead of the Ferraris. The Alfas were showing an improvement in speed with their revised McLaren-like rear end, but in truth it was more due to the fact that the revisions had given the turbochargers more breathing space, so they were probably working more efficiently. Sunday was a beautiful day for going to the lakes or the mountains, yet a surprisingly large crowd turned up at the Autodromo di Monza in the vain hope that some miracle ordained by the Pope would salvage something from the wreckage of the practice days for the Ferraris. The morning warm-up session saw Maranello hopes look even less likely, as both drivers opted to take
their spare cars, which were to the old (!) Zandvoort specification, with tubular rear suspension and side radiators. Other teams were thrown into chaos for different reasons and luckily there was a good three hours before the start. Both Honda engines in the Williams cars gave trouble, so a new engine was installed in Rosberg's car and Laffite had to take the Tear, which he had not even sat in before. Both the Porsche engines in the McLaren race cars developed ominous water leaks, so Prost was relegated to the rear, which he had already used in qualifying and which had a new engine in it, and Lauda had a new engine installed in his car. Renault were also in trouble and Warwick had to take the spare car, which was RE50/09, abandoned by Tambay in favour of the older RE50/02 and Johansson caused a panic in the Toleman team when he favoured the engine in his race car but the chassis of the Tear. There was something wrong with TG184/05 in its handling, but he could not pinpoint it and while the swap was being made a serious flaw was found where the engine is attached to the monocoque. Piquet's BMW engine had another
turbocharger failure and rather than risk starting the race with a brand new one. the one off the T-car was put on BT53/4 as it had done a small amount of running and was a known quantity, and a new unit was put on the T-car as a standby. There were busv times for the workers, while the spectator's and time-wasters swanned about in the sunshine.
Race
When the pit lane opened for the cars to drive round the circuit to the dummv-grid, the two Brabhams led the way to the accompaniment of whistle, and cat-calls, for the tifost have no time for -little Bernie's cars" — nothing personal against Piquet or Fabi. Normally when a Ferrari appears the whole grandstand by the start-line erupts in sheer boy, but this time there was silence, knowing that Alboreto was going to line up on 11th position and Arnoux on 14th. As de Angelis left the pit lane seven people clapped rather unenthusiastically, but at least it was a small show of appreciation of him being Italian. Mere boos and whistles as Prost appeared, but overall the scene was very quiet. After a lap Winkelhock returned to the pits and when he went off again, with only 15 seconds before the exit was closed, the A'S was in dire trouble in its gearchange department. Long after everyone was lined up the ATS took its place on the grid, Winkelhock got out, said some terse words to the team owner and stalked off never to be seen again. He had had enough of the shambles. The car was wheeled off the grid. Piquet led the field round on its parade lap, they took their positions, all except Surer whose Arrows-BMW was pushed into the pit lane, and then the starting signal was given. From pole position Piquet did not make a perfect start and Prost was alongside as they got going, but de Angelis had made a real "screamer" and was between them as they disappeared down to the first chicane.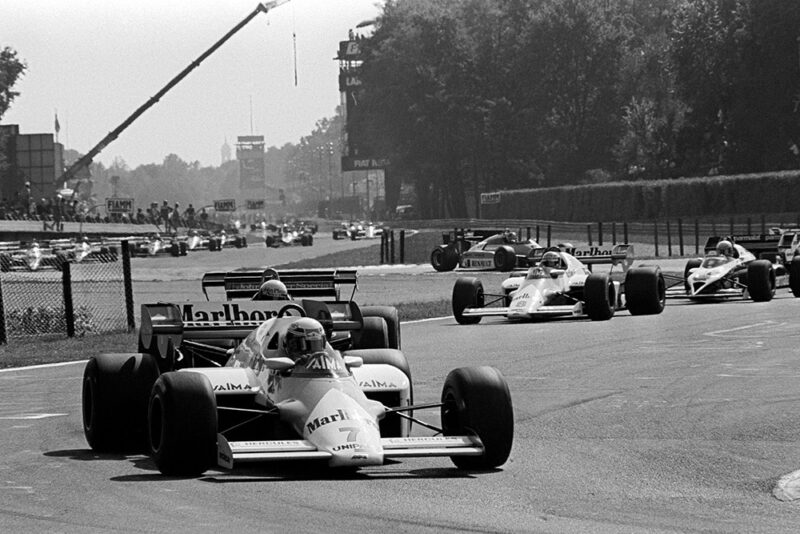 Nobody did anything stupid and the 55th Italian Grand Prix was under way Ion! laps of the 5.8 kilometre circuit. It was the old familiar one-two of Piquet leading Prost, but hard after thee' oUt Patrick Tambay who had made a terrific start from the fourth row, and he Wa, followed by Fabi in the second Brabham. For a brief moment de Angelis had held third place, but as things settled down the Lotus dropped back into fifth place. By the end of lap 3 Piquet, Prost and Tambay wer.c out on their own and nose-to-tail, with Fab, Lauda, dc Angelis, Mansell, Alboreto and Cheater following. The 'Nieman driver, Johansson had muffed his start and was las, into the first chicane but then started forceful climb up through the tail endersn; while Surer had been forced to start frohe the pitline after everyone had completed t first lap and was alsoistriving to make 01° d The first three had hardly gene out sight on their fourth lap whend loudspeakers screamed hystericallY whole crowd stood up and cheered. Frost had pulled the McLaren off onto the grass after the first chicane with clouds of smoke coming from a very blown-up Porsche engine. As the dejected Frenchman climbed from the car the crowd hurled abuse and handfuls of gravel at him, not so much in their objection to him and the car, but tc STARTING GRID (IF:711'ii'"/FIF):11`) (LotUtrtiV6, 131,17irintrset , 9 TO ierr/;:.*ZitTryl I., IT rrTi g '31.838; esO I 18 64 I'M L.7311;47c, t ati'tit;2'31.422sOtc, •• s"":TimP" Ian° till.rVilsassisLci ""N-sTA:TER " MICL °ten al 3 I'llga3657.6gcs4t3Tcl) c 4 111%1?r188225s:c) " 391(171111493./.4333tc0c) (Al/NS:nee vetj8 3011 TMili$37.966gice'd D. Wia6rwir 27111″VC33.1335;esceel 0,,!eux 5 11174057137:c 26 'rer.nR;Cilt Ve6er lLrar.oeraee en rot 7 I lnrren 36.893ssee, F. He2snault 11″;Ii17413372;()0.1:0 T.SW8e4rcy/ 5 (1'7,117234V:0 P 4n, a re 281, s1″rin"i 33.8′.5063rsceel J. G3a?t"er 10 iflAd-ILTrZy, re/ 15I(77259:196;escecl rt, lin 35.840 sac .3?Cordoci T. lab 421, MI r2i 837.391 /escocl (7211111)11P3'.411:i01:1 12 N. Mansell 131, TIVV.6990;escee/ 22 fali :7471%8 te, 271(rinT3185278ceel :113T1Irilinlr1r9Cs'f21 5 AN00a4H=TV6 t.0111 8117:11"30:87:0 • give vent to their feelings at the Ferraris being so outclassed. For a time it was all over, for Tomboy could make no impression on Piquet, but he could not relax because he had Fabi behind him, so he was the meat in a Brabham sandwich. The quiet little Italian was giving it all he had got, for this was his great moment of truth before his home crowd, and he was doing fine. Arnoux disappeared with gearbox trouble, hardly having featured, and de Cesaris went out when his Renault engine blew up and his team-mate Francois Hesnault spun off on the oil. Then Rosberg's Honda engine blew up as he passed the pits and he pulled off on the right .d while he was walking back to the pits the same thing happened to Laffite. The attrition rate was getting embarrassing, and it was not over. Mansell spun off into retirement while braking for the second
chicane and almost at the same time de Angelis almost stopped opposite the pits as he stirred around with the gear lever to try and find another gear, and next lap he was into the pits and out of the race with gearbox failure. As Piquet started lap 16 his BMW engine gave out a strange brrrp noise and by the time begot back to the pits it was all over, another wrecked BMW engine, well and truly cooked due to all the water leaking out through a radiator fault. So now Tambay was firmly in the lead, but he had Lauda and Fabi behind him. The little Italian had performed a remarkable spin, which dropped him from third place to eighth place, on lap 8, had gathered it all up without losing his momentum and within five laps was back up with Lauda, passing him on lap 17 to put himself in second place behind the leading Renault. Warwick in the second Renault was trailing along in mid-field, eventually scratching his way past Cheever's Alfa Romeo and Johansson had pulled right up to seventh place and was now having a good race with Cheever. On lap 25 Tambay came up behind Boutsen's Arrows, which had been delayed by a pit stop, and the Belgian was about to pass Gartner's Osella, so things got a his crowded for a while and this allowed Fabi and Lauda to close right up on the Renault, but once by Tambay re-asserted himself in the lead, but even so he could not relax as the other two were not that far behind.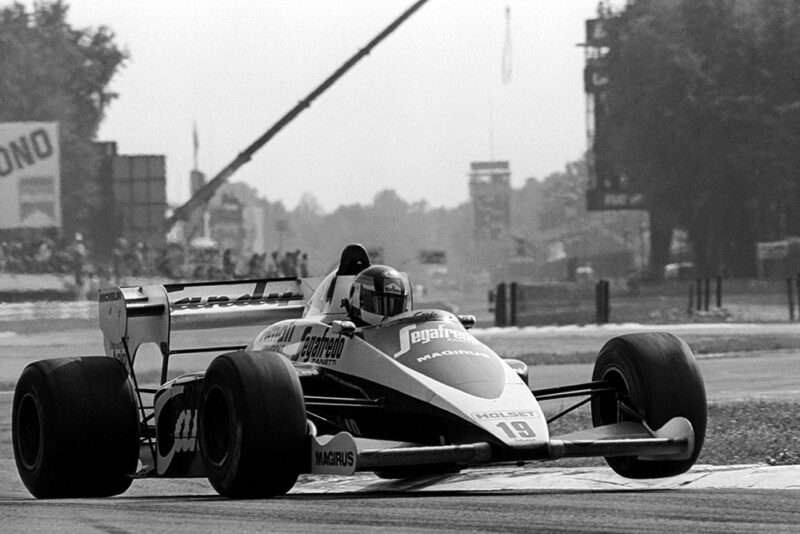 Warwick's miserable run came to an end when his oil pressure warning light shone brightly, due to IOW pressure, and before disaster struck he switched things off. Lauda now felt it was time to do something about little Teo Fabi and the red and white McLaren began to pressure the Brabham, no much so that Fabi's mirrors must have both been full of the dreaded number eight on the nose of the McLaren, here lie was unperturbed and stood up to the pressure splendidly. Twice Lauda made a pass at going by as they raced for the first chicane at 175-180 mph, but Fabi would not give in, and twice Lauda had to drop back in behind the Brabham, but as they ended lap 39 with the run down the back straight to the Curva Parabolica Lauda made his move in a very determined manner and was by the Brabham as they went into the braking area. With 10 laps to go Tambay had lapped Patrese's Alfa Romeo, which was cruising round in seventh place, trying to conserve fuel, while Cheever in the other Alfa was trying to hold off Johansson jesthe Toleman, with his lingers crossed that he would not run out of fuel, for the V8 Alfa Romeo engine is a thirsty beast. As Johansson took fifth place from Cheever, Lauda was beginning to move in on Tambay, for the Renault's throttles were reluctant to open and the Frenchman was having to press harder and harder on the accelerator pedal. All this time Alboreto had been running consistently with the lone Ferrari, and had it not been for the crowds he asset Id have been overlooked. Starting in I 1th place he was quickly up to eighth place, .d as people dropped out he gained positions. For a long while he ran a very distant fourth without much encouragement, but when it was seen that Fabi's Brabham was wilting, the crowd stood up and urged Alboreto to greater efforts, for third place is an honourable one, whereas nobody bothers about fourth place. -11-he oil scavenge pipe union teethe right
hand side of the BMW engine in Fabi's car had sheared off flush with the sump and the engine was losing oil though still maintaining pressure as the left hand sid,, scavenge pump was still doing its stuff. Eventually there was no oil left to scavenge and on lap 43 the engine seized as Fabi passed the pits, pulling off on the right of the track to a loud chorus of jeers and catcalls, aimed solely at the Brabham of Mr Ecclestone, for the Italian crowd make no bones about their dislike of "little Bernie". When Fabi climbed out of the car the jeers and catcalls changed to applause and cheering in appreciation of the first class drive that Fabi had done and you could sense the sympathy extended to the little Italian. However, there was now delirium for Alboreto who was third, a place of honour and he was encouraged all round the circuit.
Almost unnoticed Lauda had taken the lead from Tambay just before the demise of Fabi's Brabham and then on lap 44 as the Renault accelerated out of the Curva Parabolica the throttle cable snapped as clean as a whistle, at the point whcrc it entered the linkage on the front of the engine, and with a loose pedal down to the floor the throttles snapped shut and Tambay could do nothing except coast to a stop right beside the Renault team at the pit wall. Almost in tears at being robbed of a much needed victory, Tambay clambered over the wall and Alboreto went by into second place, while the crowd shouted, waved and cheered. There was a Father Christmas after all, and the Pope had done his work well. All round the circuit the crowd urged Alboreto onwards, but he was much too far behind Lauda to be able to do anything about it. But what a glorious second place for the Ferrari record book: in years to come everyone will have forgotten that it was by default. As Tambay was being struck down Johansson was in fourth place in the Toleman, but the back end was wandering about and, just as he should have inherited third place with the retirement of the Renault, he decided to stop at the pits to see what was wrong, which automatically let Cheever through into third place, bathe was fast running out of fuel and slowed dramatically as hr crossed the line in third place. He staggered round for one more lap and then came to rest with a dry tank and third place had gone out of the window. The Toleman trouble was a driveshaft joint breaking up, but it was not terminal and Johansson was told to try and nurse it through to the finish, and he rejoined the race in fourth place, but a lap down on the leader. It looked pretty secure for Patrese's Alfa Romeo was miles behind but the Toleman could only go at a relative crawl and Patrese took fourth piaci front Johansson just as Cheroot rolled to a stop, so the slightly bewildered Italian found himself in third place, albeit a lap and more behind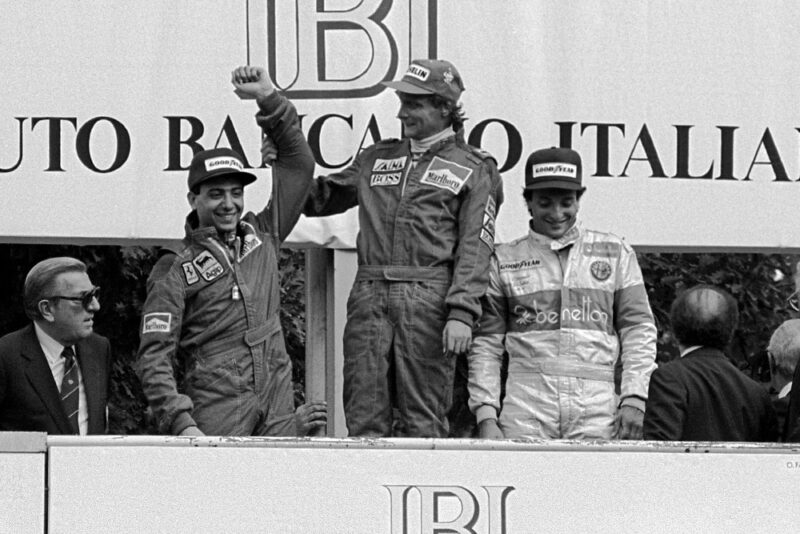 the majestic Lauda who was cruising home, to a hard earned victory, his fifth this season' and his 24th in total, a total which now equals that of the legendary Fangio, who was at Monza watching the race.
As Lauda reeled off the last two laps the survivors were still in trouble. Both Osellas had run splendidly for a change, and Ghinzani had kept his end up well and was in a thoroughly deserved fourth place, only to run out of fuel and coast to a stop as he started his 49th lap. This let his team-mate Gartner go by into fifth place, but as he ended the lap, his last one, he too ran out of fuel, but by switching on the electric starting pump the engine gave onc final burst which gave him sufficient impetus to coast up to the finishing line and hang on to fifth place. Behind him in sixth place was young Gerhard Berger, in only his second Formula One race, after driving his ATS-BMW smoothly and neatly and coping without fourth gear for most of the latter part of the race. Three laps behind came Rothengatter in the Spirit, having raced with Berger for quite a large part of the race, and the only other healthy runner was Thierry Boutsen, whose Arrows-BMW had been delayed by three pits stops for repairs. It had been a race of attrition with three different leaders, a well earned victory for Lauda and the remarkable sight of three Austrian drivers in the first six and a splendid showing by Johansson on his first drive with a really competitive car. With Michele Alboreto up on the winner's rostrum alongside Lauda, who after all used to be a Ferrari driver, the crowd went wild with delight and anyone arriving in the Autodromo at that moment could have been excused for thinking Ferrari had won the 55th Italian Grand Prix, instead of only being a rather distant second. There were a lot of drivers who should have been second, had their machinery not let them down, as well as a handful who should have been first but for the same reason, but "to finish first you must first finish" which is precisely what the wily Lauda did. — Os ea de tretar.s irtg:rtegdi (Cr'r, ; s
mi(:).02;84T. 4.' inst oat 4773;1-1: 27:d Z1'."ChLe'll'etboreto 3rd • Riccardo Petrel* 4th edenJohansson Oth • Rotheogatror
itth le Charm! 10th Masan Jo ITALIAN GRAND PRIX — Formula One — 51 laps — werm and dr, IFAoga4. l26C4 07611T I hh; 300 am:no i3 306.5 rect — 220.514 ko !McLaren MP4 2.1) Toln *IV1.8::,,J,021)1T1 lap behind laps behind ;P' brerig:VI ;:ii!rps — out of fuel 'go, Mansell' Leff ite 7rerlilli:/dredb:ennonn:Illarillp — udnu'0"' rr:;;;Idi Orr: = rtIcri s Heirmtault rie";;:g C:rn' II:rr; ed Winkelhock :Vcrreigtas7514P—Igearbox t F.test leo Nilo Lauda IMclaren2:1:487,..14on 1,117":1,2s4rIs min 31.912 Secs — 227.173