1989 Italian Grand Prix race report
Food for thought
Six years ago, Alain Prost was the most vilified man in Italy. He was hated so much by the tifosi he had to be protected by bodyguards during the Italian GP. He even received death threats. When his Renault broke he faced a long walk back to the pits, and was stoned by Ferrari's faithful supporters.
Times change in F1, but nothing is more mercurial than the tifosi's affections. On lap 40 of the 1989 Italian GP they faced a dilemma. Nigel Mansell 'Lion Nigel' as the supporting banners called him was clearly in some sort of trouble and wasn't going to win for Ferrari. And Prost was closing in on Gerhard Berger's second-placed F1/89. They'd cheered the Frenchman on the formation lap, but what to do now? A lap later, the deed was done as Prost scythed inside the Ferrari going into the first chicane, right under the noses of the tifosi. By then the reaction had been sanctioned. Here, after all, was the true 1990 Ferrari driver disposing of the traitor who was turning his back on the Prancing Horse to drive for the enemy next year. Never mind that the Austrian had been the hero of the hour the previous year when he smashed McLaren's hopes of winning every 1988 GP. That was then and this was now.
There was more to come.
You didn't have to be able to see up to the Parabolica on lap 45 to know something horrible had befallen Ayrton Senna. The scream of the tifosi and the flurry of their banners was graphic enough indication. As far as they were concerned the right McLaren was now leading.
The Brazilian had, quite simply, annihilated the opposition in qualifying on Saturday. The day before, when the track itself was faster, he'd struggled to get within three tenths of the Ferraris, yet by Saturday McLaren Honda had found a massive 1.3s at a time when the Ferrari drivers had lost two tenths apiece. Ayrton might have bodged his first run with a missed gearshift, but on the second he slammed round in 1m 23.720s to leave the rest gasping.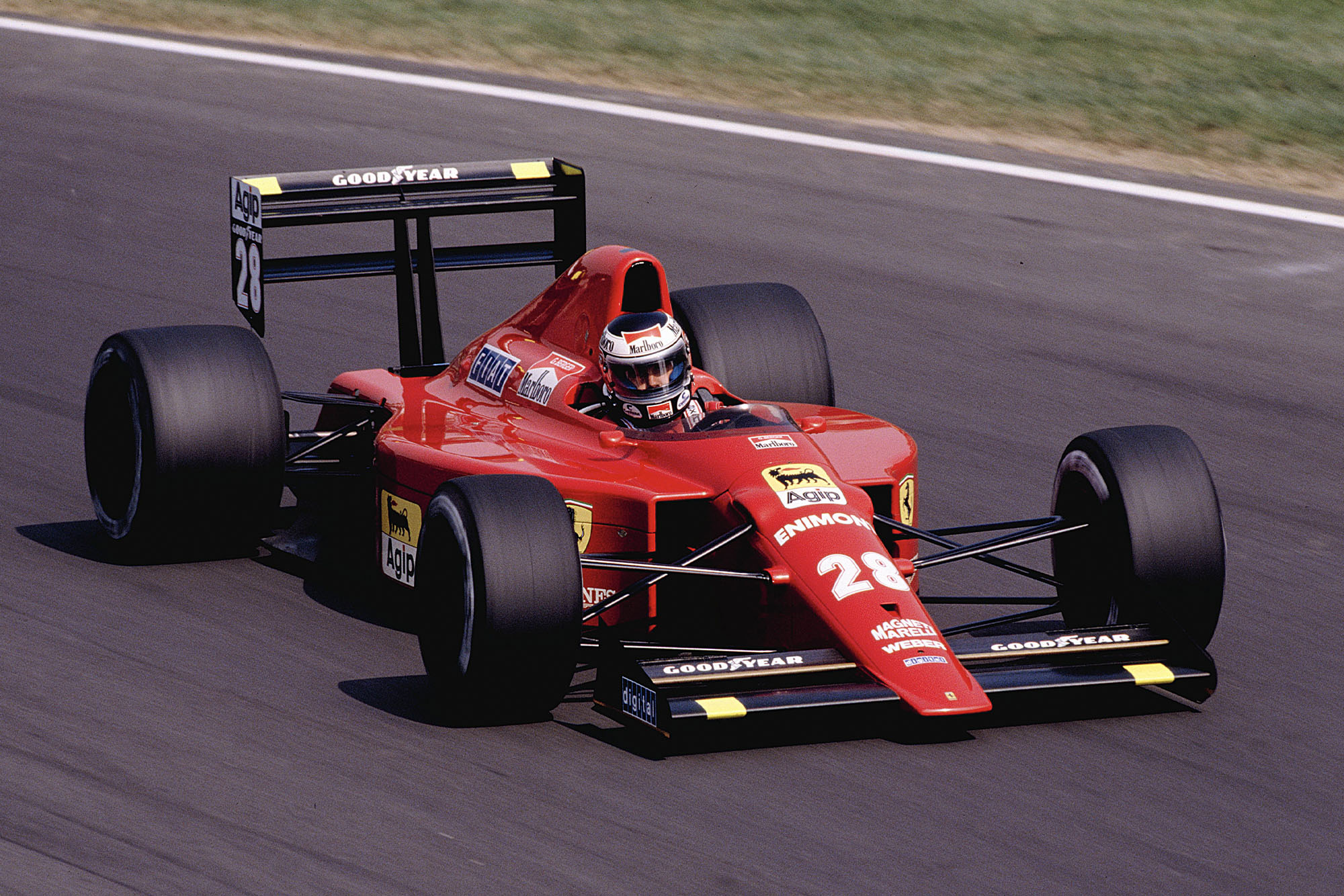 Prost, unhappy with his chassis set-up and engine response all through qualifying, looked shattered as he climbed out of his MP4/5, a best of 1m 25.510s putting him behind the Ferraris and dangerously close to the hand of Riccardo Patrese in his Williams.
That was when all the aggravation was stirred up again within the McLaren camp. Prost did his best not to say outright, as he had after the Mexican GP, that he felt his equipment was inferior to Senna's, but there were plenty of others in the pit lane ready to voice his thoughts for him.
"Five clicks faster on the straight?" said Mansell as he looked at the relative times for the two McLaren pilots and dabbed a digit at Senna's 321kmh top speed. "It's obvious they're up to their tricks again."
Keke Rosberg, another ex-Williams Honda driver with what he feels to be good cause, was adamant the Frenchman was not receiving parity. In their Williams day: both Mansell and Rosberg cite times when they felt their engines were definitely not on par with their team-mates'. The rumours began to spread again, just as Ron Dennis and Osamu Onto were thinking they had put a stop to them by Hockenheim the first time around. Then they had painstakingly, they said, told Prost, that he wasn't using full revs as long as Senna was, that he would have to adapt his style to the characteristics of a Honda V10 that wasn't as strong at its bottom end as it was at the top. Senna, they said, knew how to drive, and blipped the throttle in the corners just as he had done in the turbo era. Then it was to maintain boost; now it was to maintain revs and keep the engine within its optimum range. Prost, the smoothest driver in the business, would have to start using the throttle more.
The man himself, not surprisingly in view of his Grand Prix victories record, was rather less convinced. True, he would admit, he had had a different chip sorry, EPROM in his management system, to richen the low-rev mixture and alleviate the pick-up problem. But in testing at Ricard prior to Canada, he said, he had been given the use of a chip he'd never heard of before, the one which Senna had had all year. Since Montreal, his car had been back on the pace.
Now, he claimed, his engine was off-song, and though there were other factors in the equation in Monza qualifying, such as an inferior set-up and more wing, he didn't feel he was 5kmh slower than Ayrton Senna as a driver of a supposedly identical car. French and Swiss television quoted him as threatening to quit before Suzuka and Adelaide if he ever thought he and Senna had unequal cars. Dennis pushed a bung into the leak by holding a press conference for the national daily journalists, while Goto maintained a discreet silence and evinced none of the enthusiasm for lecturing the press that he had when 'putting the specialists right' in Germany.
So Senna went off from pole like tomorrow had been cancelled, and led right through to lap 45, when his lead over Prost was 21.78s. Blown off? It appeared so. Some pointed out that Prost's fastest race lap, set on lap 43, was faster than Senna's best, also set that lap. But Senna himself admitted he had been conserving revs from the start, and nursing fading oil pressure from lap 40. Since then, he had backed off the throttle even more.
As he coasted hazily into Parabolica on lap 45, oil erupted from the V10 and the slick coating over his rear Goodyears sent him sliding into a spin and the already inevitable retirement. Throughout the entire furore he maintained a diplomatic silence, neither fuelling an ugly situation, nor apparently reacting to it. Regardless of whether Jean Marie Balestre was correct when he asserted on the victory rostrum that Prost had driven brilliantly to win in a car with 20bhp less than his, he had driven another faultless race, only to be robbed eight laps from home. So Alain Prost took the chequered flag for the 39th time in his GP career, and in the process won McLaren another Constructors' Championship and edged it level with Lotus' tally of 79. A dull race was over, but the real story of the Italian GP was about to reach its climax.
On the rostrum, Prost handed down his trophy to the eager tifosi, already cementing his relationship with his new friends. In doing so, however, he may well have shattered his relationship with Dennis forever. As he witnessed this act of treason, Ron exploded. Trophies mean a lot to McLaren, especially in the foyer at Albert Drive, and here was a McLaren trophy going to Ferrari's fans. It was all too much, and Ron slammed his own trophy down at Prost's feet before storming off, leaving the bewildered Frenchman to chase at his heels.
Neither disclosed what they'd said to each other, but Alain was deeply hurt to find a Ferrari sticker on his helmet and pasta in the cockpit of his car when he returned to the garage. And to find some of his closest friends in the team voicing criticism of his criticism of the chassis set-up. "After all," said one, "he's the one who sets it up … "
Against that bitter backdrop, Ferrari's situation didn't seem so bad after all. After annihilating the McLarens on Friday, when Berger edged Mansell out for fastest time by five thousandths of a second, neither could hold a candle to Senna on Saturday, even with the latest development V12s. But despite morning transmission trouble caused by a faulty bush, Berger started from the front row and did a sensible job to bring his F1/89 home for the first time since Japan in 1988. Those six points were well worth the new restraint he forced into his usually exuberant style.
Mansell, meanwhile, found his gearbox losing hydraulic pressure due to the progressive failure of an internal O-ring that had been nipped during assembly. As gearshifts became more difficult, he lost ground to Berger, was finally passed by Prost on lap 21, and then succumbed to Boutsen on lap 42, just as the unit failed altogether. As it did, Patrese had a major moment avoiding him, coming on the near-stationary Ferrari at 240kmh.
For Boutsen, scraping past Mansell was the highlight of a race in which initial pressure from Sandro Nannini's Benetton had evaporated as the Italian lost downforce in his wake and ruined his front tyres. After a very fast stop for replacements, he was making inroads into Patrese's troubled sixth place – the FW12C was pulling hard right whenever he backed off – when he ran out of brakes. Team-mate Emanuele Pirro had been very little slower in qualifying (even though Benenon has dispensed with his 1990 services in favour of Nelson Piquet) but fell out of an initial 10th place on lap one when he was punted on to the grass and broke the transmission.
In bringing his Tyrrell 017 home fifth Jean Alesi not only plastered a larger smile than usual on Ken Tyrrell's cheerful countenance, but further endorsed his burgeoning reputation. He'd had a nasty moment when he awoke to rain on Saturday, since a small, rear wing infringement had nullified Friday's times, but he was lucky. The track dried and he carried on as if nothing happened to qualify an excellent 10th.
He couldn't hold Patrese in the early stages, managed to shrug off a strong threat from a flying Nelson Piquet as the Brlzilian's Lotus was dogged with a faulty clutch following a morning engine change, and then succumbed to Capelli's ' flying March until the Leyton House car capped a fraught weekend for the team by blowing up on lap 31. Thereafter, though Martin Brundle staged a late challenge, the Frenchman had his measure since the fresh tyres Brundle had had fitted on the grid rotated on their rims and created severe vibrations.
Pirelli's other leadin'g lights fared less well. Modena didn't even make the start, after he was thrown out on Saturday afternoon for failing to stop at the red pit entry light for a mandatory weight check, while Pierluigi Martini survived an opening lap clash with Michele Alboreto's Lola to take seventh. With his slightly damaged Minardi, he was in no position to fend off a growing threat from the Dallaras of Caffi and de Cesaris in the closing stages, but as each passed him, so it blew its engine. He was thus left to lead home team-mate Luis Sala, who was 27th fastest in qualifying but was allowed through on Modena's exclusion.
Piquet's challenge eventually ended when Bertrand Gachot, having just left the pits after a tyre change, got the second Lesmo wrong and left Piquet nowhere to go but the barrier in avoidance.
Philippe Alliot might also reasonably have expected something from Monza, after qualifying seventh and being within the top seven all weekend, but his throttle stuck open and sent him into a sandtrap on lap two, and 13 laps later Alboreto's battle to stay ahead of Warwick, Grouillard, the Dallaras and Nicola Larini's Osella came to an end with electrical failure. All six retired, in fact; Grouillard and Larini with gearbox maladies, and Warwick joining the Dallaras in the engine category when a morning warm-up fuel system fault persisted.
Gachot's struggle with his unbalanced Moneytron Onyx ended with overheating after a stone had pierced a radiator, and Mauricio Gugelmin parked his March with a severe variation in handling between right and left corners. That left Rene Arnoux to soldier home ninth ahead of Satoru Nakajjma, whose Lotus broke itssuspension with three laps to run, and the non-running,Caffi. Jonathan Palmer might have made eighth had he been able to keep going, having started from the back of the grid rather than his scheduled 14th slot after forgetting he had a new clutch and stalling on the parade lap, but his engine also expired.
Senna's was the most celebrated engine failure of the day, however, and as the F1 field headed for the Iberian races which Prost so dominated in 1988, the Brazilian had much food for thought as he eyed his team-mate's 20-point championship lead. DJT