Damon Hill makes it two in a row at Spa. This time, his major rivals stayed around to keep him on his toes
The warning had been there right from the morning warm-up at Spa-Francorchamps, when Michael Schumacher lapped within three tenths of a second of Damon Hill, and a second quicker than Alain Prost.
"My car felt fine, but we just don't know how much fuel he might have been using…" said Hill. "All we do know," he added reflectively, "is that he was too close for comfort."
As usual the two Williams-Renaults had wrapped up the front row of the grid, but again Schumacher had been the closest as a demon lap from Jean Alesi had deposed Ayrton Senna. Unusually, Prost led from the line, making his second best start of the year (Monaco was superior) to lead into La Source. Hill didn't exactly stumble, but Senna and Alesi both squeezed by at the hairpin. Hill duly disposed of the Ferrari on the run to Eau Rouge, but it took him another lap and a bit before he breezed by the Brazilian on the climb to Les Combes. By then, Prost was away up the road, already looking set for his 52nd Grande Epreuve success. Fate, however, had other plans. What had been a relatively tame race for the first half suddenly developed into a real humdinger as it neared the 22 lap mark. There were several reasons for this late maturity.
The first was Schumacher's appalling start. Just as in Canada, when Benetton tried traction control for only the second time, it was caused by a technical glitch.
There was a new starting system on both B193Bs, which was being used for the first time in a race after extensive testing, and both would suffer identical problems. Effectively, it's similar to the Williams system and allows the driver to sit with whatever throttle setting he requires, but controls the revs as and when he flicks out the clutch. Thereafter it's supposed to launch the car, but something went badly wrong on both Schumacher's and Patrese's B193Bs and they staggered away. "It was like trying to start a road car in top gear," said Michael.
Engineering Director, Torn Walkinshaw: "We tested it lots of times, but that weekend was the first time we'd actually tried it with the Ford Series VIII engine. We don't yet know what went wrong; we are still processing the data. It was okay during practice, when Michael and Riccardo tried six starts without problem.
"Most of the testing was on the Series VII engine and we must have done several dozen starts with that. Maybe it was because the start is on a slight incline and the drivers' feet were still just holding the cars on the brakes to stop them going backwards…"
On this occasion backwards is precisely where they went. At the end of the first lap Schumacher was only ninth, Patrese 7th. The German, however, was soon flying. In qualifying he had set the fastest time on the section between the start and Les Combes, and was again very quick on T3, from Stavelot to the finish. Where he was losing out was in T2, which connected the two. The section through Rivage, Pouhon and Les Fagnes to Stavelot demands a very high level of grip for good lap times, and he confessed that the Benetton lacked this in qualifying trim. While the figures suggest that the B193B has very good aerodynamics in a straightline, the Williams FW15Cs could run more wing with their extra Renault urge recently reckoned at 60 to 70bhp over the Ford so while their T1 and T3 times were just similar to the lead Benetton's, their all-important 12 times gave them an appreciable advantage.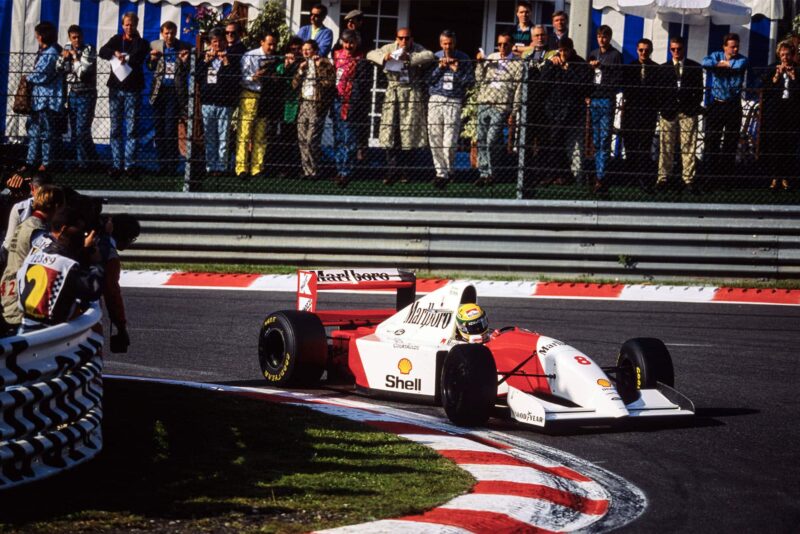 In qualifying trim, in the race it was a different matter. Schumacher was right on the pace. Interestingly, some suggested too that Elf's newly homologated 108 blend of fuel, which FISA had been unhappy about after Barcelona but which is now deemed fully kosher, had better suited the HB V8's combustion chambers than the RS5 V10s.
Once he had outfoxed Senna during the first tyre stops, Schumacher began to haul in the Didcot cars. At the same time, Hill was closing rapidly on Prost, the latter having a particularly difficult time with a slowing Ukyo Katayama at the Bus Stop chicane on one lap as the Japanese driver headed for the pits. From 6.19s by lap 14, just after their first tyre stops, the Frenchman's margin had shrunk to a tantalising 0.184s by lap 24. As they approached Les Combes on lap 25 Damon drew alongside just after they had lapped a duelling Andretti and Warwick, and for a moment he seemed poised to challenge for the lead. At the last second, however, Williams number dropped back in line behind Williams number 2.
This was not team orders, however, for Schumacher's continuing pace allowed for no such luxury. "I overstressed. my tyres catching and passing Senna," admitted Hill, "and when I tried to pass Alain it completely cooked them. I got right up alongside him going up to the corner, but I was on the right-hand side of the road right on the dirty side and it was the classic recipe for a major cock-up. The only thing to do was concede the corner!" As he did so, and Prost enjoyed a clear run again, the World Championship leader sped away again.
Hill, his Goodyears finished, could only slither about in his wake and plan another quick stop. This came on lap 29, but Prost's scheduled call was delayed a crucial two laps. His radio connection was malfunctioning and as he missed his pit board, he stayed out until lap 30. Then, two factors worked in Hill's favour. It needed a second attempt to mount Prost's left front wheel, and there was a minuscule delay as one of the Saubers sped into its own pit down the far end of the lane, forcing Williams to hold Prost in his berth a fraction longer. As he rejoined, Hill was coming out of La Source and his superior momentum and warmer rubber took him into the lead.
Worse still for Williams, Schumacher had the bit between his teeth and, following his own second stop on lap 27, was menacing.
Now the roles were reversed. Prost's chassis had felt very good in the first two thirds of the race, but now the edge of its balance had gone away slightly. Hill, meanwhile, having been unhappy with his FW15C's initial behaviour, now found his chassis perfect.
Schumacher lost no time pulling on to Prost's tail, and as they went up to Les Combes on lap 32 he dived for the inside and snapped ahead, pluming smoke momentarily from his front Goodyears to indicate just how close to the margin he was. The cryptic Comment in my notebook simply said: 'Is Hill up to it?' at this stage, for now, surely, had come his moment of truth as a Grand Prix driver?
Prost was no longer a threat, although he would finally set fastest lap to indicate that there cannot have been too much wrong with a car in which, at times, he had to take Eau Rouge in fifth instead of sixth. The real challenge was now coming from a wholly hostile source, a German anxious to repeat his maiden success from the 1992 race. The answer for Hill was affirmative. "I felt good about my race," he said with modesty afterwards, and well he might, for under the most intense pressure he did not put a wheel wrong. When Schumacher began piling in fastest laps, Damon responded in similar style as the leading trio far outstripped their opposition. Their respective fastest laps 1m 51.095s for Prost, 1m 51.212s for Hill and 1m 51.242s for Schumacher gave them an unrepresentative edge over the next best batch because all three had stopped a second time for crucially advantageous fresh rubber, whereas fourth fastest Senna (best lap 1m 54.059s) only stopped again with three laps to go when he investigated a worrying vibration that kept his final laps beyond two minutes. Nevertheless, this was pukka motor racing, real edge-of-your-seat stuff.
Notably, Hill's passing moves on Patrese, Alliot and a helpful Herbert were clean and decisive, no-messing manoeuvres that brooked no argument. He would not, he admitted, have felt so confident about them without his success in Hungary, but that's what winning does for you.
Such confidence held until the flag, which he duly took 3.668s clear of Schumacher after both had driven splendidly. A further 14s back, Prost had faded somewhat after his burst of speed on lap 41. Perhaps he was thinking of championship points, perhaps not. But for Hill it was a back-up triumph that answered many of the questions that remained after his Hungarian cakewalk; for Schumacher further indication not only of his fighting spirit, but also of the serious progress Benetton-Ford has made in 1993. Schumacher's slothful getaway caused plenty of others serious problems. Herbert came within a whisker of running into the back of the Benetton as he concentrated on what Lehto, just ahead of him, was doing. And as Johnny took avoiding action, Brundle had to swerve to avoid him. "Suddenly I was face-to-face with a Benetton. Whatever happened, I thought it would be better to be hit in the side or hit someone in the side than run into the back of a very slow-moving car," said the Lotus pilot.
Blundell was also delayed, and so was Wendlinger, who hit the rear of another car and whose windscreen was struck by debris. The airflow over the cockpit thus disturbed, it wouldn't be long before he had to stop at the pits for repairs. After that low oil pressure blighted his race until his Ilmor engine expired at Stavelot. In a weekend in which he was already wound tight from transitory inter-team tension, Herbert further had to shoulder sole responsibility for Lotus after team-mate Alessandro Zanardi crashed heavily at Eau Rouge not long after free practice had got underway on Friday morning.
The Italian lost control over a bump and spun wildly into the unforgiving barriers. He was hospitalised overnight with whiplash injury and heavy bruising, but his survival was testimony to the strength of the monocoque. The Lotus lost all four wheels, but the tub emerged with nothing more serious than a crack in one flank, after the most serious shunt in F1 since Martin Donnelly's at Jerez in 1990 in a Lotus 102.
Herbert upheld team honour superbly, with his best race performance of the season. He passed Warwick's ill-balanced Footwork coming out of Eau Rouge on lap four, then his chase of Lehto brought sixth place on lap seven when the Sauber driver ran wide coming out of Rivage and he managed to get the Lotus down the inside. "He's a hard man to pass," he observed of the Finn. "He brakes so late that you can't get inside him, but he's clean. Very fair."
He had caught Suzuki's Footwork too by the time Aguri pitted for fresh tyres on lap 14, and when the Japanese driver retired a lap later Johnny moved neatly into the fifth place he would hold to the end.
In the closing stages it was intriguingly obvious from Hill's onboard camera just where his advantage lay in relation to Herbert's Lotus as he lapped the Castrol car and obvious too where the Lotus was doing so well. "It was very, very good through Eau Rouge," enthused Herbert. "But what interested me is that if l went through there like I did, I still couldn't catch people on the run up to Les Combes. Damon could. Okay, I know Damon lifted there on that last lap, but I had this problem all through the race.
"I found the same thing with Schumacher when he came by right at the end. He was closing through Stavelot but I expected it would be the braking area for the Bus Stop before he was on me. As it was he blew by long, long before that. It must be pure power. When I was following the Williams it just went off the corner, launched itself out of it. It's not as if we were running much downforce, because we'd taken it off steadily as the weekend progressed. And our maximum speed was as good as the Benettons', so it's all on acceleration, really."
When Hill lapped the Lotus he pounced on to its tail coming out of La Source on sheer acceleration, but as Damon eased through Eau Rouge and treated television viewers to a great perspective of the Lotus as it sped through, it was not until the end of the long climb through Raidillon to Les Cornbes that the leader was close enough to assert himself, whereupon the gentlemanly Herbert waved him through.
It was an interesting little insight, and one which insiders believe bodes very well for the Hethel team when it gets pukka Mugen-Honda power in 1994.
If there were three outstanding drivers in Spa Hill, Schumacher, Herbert there were at least that number who were disappointed Alesi, Suzuki and Warwick.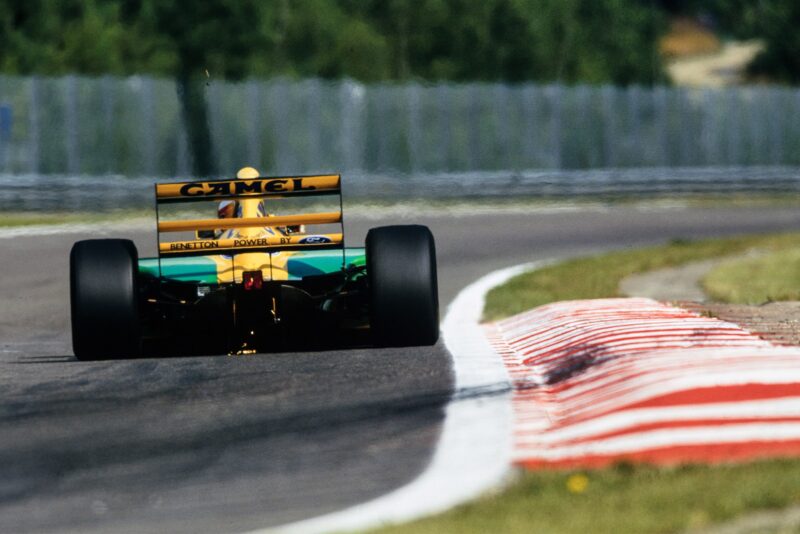 Alesi's qualifying performance was sensational, one of those laps when you know it was much more a product of the driver's will than of the car's inherent qualities. Ferrari, as ever, was in all sorts of handling difficulties throughout qualifying, and in desperation the team literally threw a set-up at the F93A and was amazed when it worked as well as it did. Sadly, a problem during the morning warm-up on Sunday sowed the seed of the Frenchman's downfall.
The kerb-hopping that both drivers had to indulge in upset the rear suspension's pushrods, which required urgent beefing up for the race, and this in turn threw out the set-up. Within a lap lean found his car bottoming and pitching about, and after four he pulled in to retire. "In this state the car is undriveable," he said flatly, and if it was bad enough to oblige him to give up, you knew that it was Bad with a capital B.
After its qualifying promise, Footwork Mugen-Honda likewise had an unhappy race. Suzuki looked very strong throughout practice on his way to sixth on the grid his and the team's best-ever position while Derek Warwick sprang up to seventh once he adopted his team-mate's set-up. Suzuki was hanging on to fifth place in the race, until the Milton Keynes team's threat evaporated with transmission failure and he rolled to a stop on the exit to the Bus Stop chicane on lap 15. Warwick, meanwhile, felt his handling losing its edge right from the start, as the morning warm-up had suggested it might, and he dropped back steadily before stopping with an hydraulic leak which put his TAG active suspension out of sorts.
You could add another three in Lehto, Brundle and Blundell. The Finn enjoyed his superiority over team-mate Wendlinger in both qualifying and the race, but was unable to maintain his sixth place in the face of Herbert's challenge, and persistent understeer eventually dropped him back behind Martin and Michael Andretti, who drove well on what will probably be his only visit to the Hautes Fagnes track but was delayed during a tyre stop when he stalled.
Brundle had been buoyed with fifth fastest warm-up time after a weekend in which his Ligier's highspeed aerodynamic balance did not allow either him or Mark Blundell to exploit the power of their Renault engines. For the first time in a long while Cyrile de Rouvre's reborn team really struggled, and this seemed a positive sign, but then a rise in ambient track temperature for the race ultimately robbed the two Britons of grip and the chance to score points. "I was happy with the way I drove, but not the result. I've driven worse races and got on the podium," said a glum Brundle afterwards.
There were also three bad guys Senna, Patrese and Berger. As he struggled with a McLaren that was again little better than an upper midfield also-ran, Senna chopped Schumacher ruthlessly as he pulled out of the pit exit after the first tyre stops. The German was forced to put two wheels on the grass at over 100mph in avoidance on the run down to Eau Rouge, and since the Benetton was demonstrably so much quicker than the McLaren it was difficult to see the point in such tactics.
Patrese, rather more inadvertently, caused Brundle, Lehto and the lapped Wendlinger some heart-in-mouth moments in the same place on lap 18 when he spun exiting the pits and then tried to recover with a quick spin-turn. That folly threw away the benefit of a brilliant tyre stop by the Benetton crew, which had got him on his way in a mere 4.75s.
Thereafter he drove a subdued race to sixth place, apparently having given up even before his dreadful start. After a catalogue of ignition problems on Saturday afternoon he had bumped Lehto and Herbert on the last qualifying lap. Faced with an eighth spot on the grid which at least 18 others would have given eye teeth for, he then spoke unhappily of having to drive a conservative race. Gerhard Berger was even worse off than the Benetton drivers after having to start the spare Ferrari (which he preferred) from the pit road because of the delays in strengthening its rear suspension.
Even so, that didn't excuse his latest indulgence in loutish behaviour as he put two wheels inside Mark Blundell's in the closing stages. He had shrugged off the pain from his injured elbow and done well to rise to eighth, challenging Brundle. But once a moment at Pouhon had sent him across the gravel trap when his foot slipped off the brake, he recovered two places further adrift and then had his incident with the Ligier driver. Mark was already very unhappy with the Austrian's tactics in Hockenheim, and this did little to enhance their relationship.
"The crazy thing is that after he'd put me off and don't forget, I nearly flipped over he just shrugged and said it was only a game," he said, "it didn't matter when you were fighting for 10th place. . ." Last year former Lotus team manager Peter Warr was brought in as permanent Chief Steward for FISA and immediately promised serious penalties for drivers who transgressed so blatantly. Sadly, it became apparent immediately that this was hot air when, in Brazil, Jean Alesi had Martin Brundle into the pit wall and escaped with only a ticking off. Now, Warr has departed the scene, but the problem remains. If FISA doesn't tighten up driving manners in its premier championship, somebody is going to get hurt. And as long as the top stars such as Senna and Berger are seen to get away with it, younger pilots competing in the lower formulae are going to ape their role models. The thing becomes self perpetuating. . . D J T