After Barcelona and Silverstone, it was Prost's turn to lose through engine failure at Monza as Hill scored his hat-trick
In Hungary, the early baths of his principal rivals gave him what in retrospect was a cakewalk to his maiden victory. In Belgium, he proved that he could do it under pressure. And in Monza, as he completed the only GP hat-trick ever scored by an F1 driver in his first full season, Damon Hill proved that he can also win with a bit of luck and after fighting back from adversity.
Alain Prost went to Monza determined to take the eighth victory of his season and thus to clinch his fourth World Championship, and he began his campaign well enough by taking his 12th pole position from the 13 races. Hill was close behind in second place, as usual these days, convinced that if he had not inadvertently ventured out on to the track at the very moment that the other 25 cars were all also using it, he might have given his partner a better run for his money. But now the two have subtly swapped roles. Initially it was Prost who made bad starts and Hill who led but suffered lack of reliability. Now, however, Prost finally seems to have his starting technique down to pat (in races, at least) and as the green lights blinked at three o'clock that afternoon in Monza he spurted down to the Rettifilo in first place.
Hill was pushed down to third by lean Alesi's Ferrari, and as they turned into the silly little corner, he was rudely assaulted by Ayrton Senna as the Brazilian tried unsuccessfully to squeeze two cars through a space wide enough for only one. His McLaren vaulted over Hill's left rear tyre and then swerved violently to the left as it crashed back down. He was indeed fortunate that he didn't flip over, since at least one other car would have been certain to run into him. As it was, he gathered up the car and continued, finishing the lap in 10th place right behind Hill.
Damon, too, had been lucky after the attack, which pushed him off course and over the gravel. As he regained the track Berger swiped the side of the Williams, but it was otherwise unharmed. They build strong cars in Didcot and Woking these days. Though the visual evidence strongly indicated that Senna had not overtaken the Williams, Ayrton felt the blame lay with Hill, because "he insisted on trying to stay on the outside and we touched". This from a man whose car was still behind the one it was seeking to pass. The outside in the left-hander, of course, was the inside for the right that followed immediately. With his principal rival already in trouble, Prost made the most of his opportunity, stamping in a series of fastest laps on the first, second, fourth, fifth, sixth, seventh, eighth, ninth, 11th, 12th, 21st and 22nd laps, and though Damon had responded by clipping his time for the seventh tour, he was 15.3s adrift of Prost as his pushy recovery drive had brought him up to third place by lap 21.
Between them was Michael Schumacher, whose Benetton had been transformed from the recalcitrant beast in which he had only been able to qualify fifth, to something that was happy over the bumps of the historic track. Now the German had a car that he could really race, and he was making the most of it. This time he had made a good start, and in the interest of playing safe the team had left its 'autostart' system at home. Since Spa it had determined that the drivers were indeed to blame for their appalling getaways, since they had kept a foot on the brake pedal to prevent their cars rolling back on the grid and thus fooled the software into thinking that high revs were not required.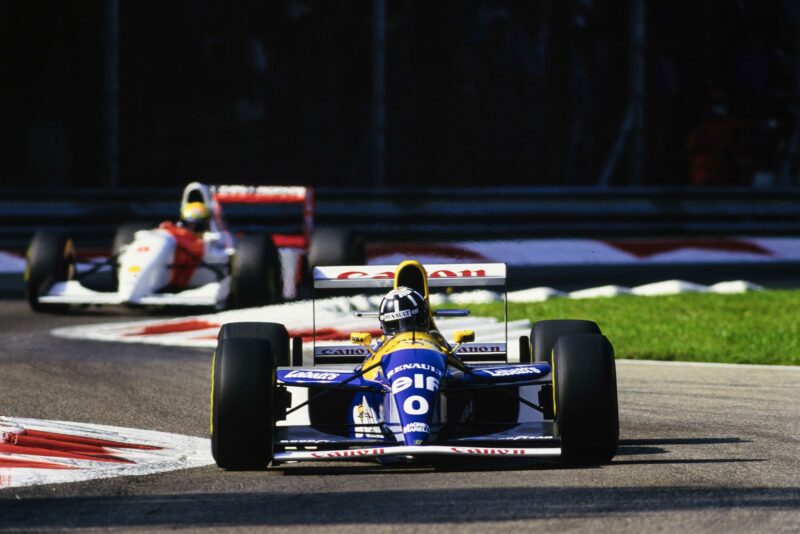 Even when they called for them there, the system had overridden the command initially, and hence they had struggled away until the system's 'brain' had caught up with what the drivers wanted. Sometimes modern technology isn't all it's cracked up to be.
At Monza Schumacher thus had no such problem, and by lap four had taken over second place. He'd set fastest laps on the second and fifth laps too, beating Prost's times as he crossed the start/finish line around three seconds later, and though the gap would grow to as much as 8.3s by lap 18, some determined motoring and some traffic for Prost had reduced it to 6.2s three tours later as Schumacher pulled away a little from Hill. That, however, was when Monza took its toll on the Benetton. As it had left the dummy grid for the formation lap, its Ford HB had belched a large cloud of smoke, and now as the German left the Rettifilo on lap 22 he heard unpleasant noises over his shoulders.
By the time he reached the second Lesmo he knew his racing was done, and he pulled off with a suspected dropped valve. As events were to show, this was a race he might well have won. Schumacher's misfortune was Hill's gain, for now he had a clear run at Prost, who was 18.4s ahead. Each made a clean tyre stop (on laps 27 and 26 respectively), and once they'd settled down again the gap stabilised at 19.9s. All Prost had to do now was stroke it home for the remaining 23 laps, and Nigel Mansell's crown would be his.
Both Williams pilots had been warned by Renault to watch their engine temperatures, so Prost was now in the perfect position to ease back while Hill felt obliged still to keep pushing very hard. From lap 31 all of the fastest laps eight of them belonged to him as the gap steadily shrank. He had one slightly anxious moment in the Parabolica on lap 42 as he threaded his way through a hammer and tongs fight for what had become 10th place between Luca Badoer's Lola-Ferrari and Christian Fittipaldi's Minardi-Ford, but bit by bit he closed on his team-mate until they were a shade over half a second apart on lap 46. Would they now race each other?
Damon was curiously cagey about team orders afterwards, but Frank Williams and Prost left enquirers in no doubt that the usual orders had prevailed: race until the final 10 laps, then hold station. Prost, secure in the lead, had been gauging the gap so that by the time Hill did get close, they would be within that 'safety' period. To him there was simply no point in overstraining the machinery.
That made it doubly ironic, then, when a plume of smoke suddenly erupted from his Renault RS5 on lap 49, and he pulled unhappily to the side of the road. The title would have to wait yet again.
"Of course I'm disappointed," he said, with commendable understatement. "There isn't a lot to say. That's motor racing. This is the first time I have had a mechanical failure this year, and it has come on the wrong day. Everything was working perfectly. I was not pushing hard and I was driving at a normal pace. I was trying to secure a first place finish, and suddenly the engine stopped . . .
"We saw nothing on the telemetry and for us it was so astonishing that for a few minutes we were wondering if it really was an engine problem," said Renault Sport technical director Bernard Dudot.
Hill was now home and dry, and as he backed off to monitor his own engine temperatures, he crossed the line to take a historic hat-trick, 40s ahead of the nearest opposition.
It was a lucky win to some extent, but it balanced his ill fortune from Spain, Britain and Germany and he wasn't going to worry too much about the manner in which it came. "I didn't believe it was possible to be happier than I was in Belgium," he laughed.
"I'm delighted, I really am especially at a place like Monza where everyone comes out. Naturally, they come here to see Ferrari, but i think it is great to be part of the event. And to win three races on the trot is, really, a dream come true. After I had won Hungary. Frank said I would probably win the next few races. I thought that was a nice thing for him to say. But now I have won the next two races and I can't believe it!"
The man who had run second to Prost initially, and who Schumacher had had to pass on the fourth lap, was lean Alesi, and to the unalloyed delight of the tifosi the Frenchman brought his Ferrari home to an excellent second place. In qualifying he had been simply electrifying, taking third place in each session with a mixture of sheer bravery, brio and ruthless determination.
Of course, the sight of a Ferrari ahead of a McLaren and a Benetton on home ground sent the cynics into overdrive, especially as last year a team insider had admitted in similar circumstances that it had taken liberties in certain technical areas on the first day. It is accepted as a good ploy to pull in the crowds, and in a year when the weather and high ticket prices certainly seemed to be taking their toll, according to hotel owners who spoke of vacant rooms, it worked. The place was positively heaving on race day.
Neither Alesi nor Jean Todt would hear anything said about the F93A, and the latter had simply retorted to those bold enough to venture uncharitable suggestions: "Wait until tomorrow, and see what the race brings."
Well, it brought Alesi second place until Schumacher went by on lap four, and it did indeed bring the Scuderia its best result of the year after a steady, unspectacular run. Said lean: "There are no miracles in a sport as technically complicated as Formula One. This is the result of sheer hard work. The whole team has worked incredibly hard. We got second place here purely on the basis of that work."
There were numerous contenders for third place. Gerhard Berger, who had survived a lurid accident during the slowing down lap in final qualifying, could have been the final figure on the podium. In that accident he had failed to see the chequered flag which ended second qualifying, and at Ascari had plunged into team-mate Alesi as lean cruised home waving to the crowd. It was a nasty incident that earned the Austrian a serious reprimand from the stewards and worried friends who have seen him crashing a little too often of late, but it did not affect him in any way for the race. Initially he was fourth behind Prost, Alesi and Schumacher, then dropped to fifth as Hill stormed by at the Parabolica on lap six. Herbert, well wound up after qualifying his Lotus-Ford seventh on a power circuit, would also pass the Ferrari at the end of the back straight, but there was heavy irony and a heavy shunt in that manoeuvre. The Austrian was already planning to pit at the end of the 15th lap, to retire with a detached suspension sensor, so had he but known it, Herbert need not have made the move. As it was, having squeezed by the Ferrari he got out of shape and went off hard into the barriers.
"Having just passed Gerhard I missed the apex to the corner very slightly and got the left rear wheel on to the dirt," said a crestfallen Herbert. "After that I just couldn't get it back on. The marbles on the outside there just sort of dragged the car off the road. It was a very, very small mistake, but a big exit!" A podium place was precisely what both driver and team needed at this crucial part of the year when sponsorship deals and driver contract negotiations are so rife.
Brundle and Senna, too, were contenders, but neither made it home. After the incident with Hill the Brazilian found himself bottled up behind the Ligier-Renault, and made a mistake on lap nine which took them both out. Braking for the second chicane, he simply misjudged things and ploughed into the back of the blue machine. Both spun, hitting the barriers backwards.
"The rear of the car had been feeling light under braking for a while," said the former champion, "and when I came up to Martin I just could not hold the car. I was very close with him and without the downforce the car lacked grip in the rear; then under braking I lost it and hit him." Through all this came Michael Andretti, whose race had yet again seemed a lost cause when he spun at the second chicane on the second lap, and had to make a lengthy stop for fresh Goodyears and to have grass cleaned from the radiators. "The car felt a little funny, and then it just got away from me," said the American. As he trailed round 21st and last on lap three it seemed like just another disaster in the Michael Andretti Book of Disappointment, but this day the former IndyCar champion would show his true mettle, just as he had in Magny-Cours.
There was overtaking to be done, and he did it cleanly and forcefully. He sliced through the enduring Fittipaldi/Badoer duel, then Lotus debutant Pedro Lamy succumbed. A tyre stop on lap 21 again put him back behind the fighting Lola and Minardi, but he jumped both again five laps later and instantly homed in on Erik Comas. It was noticeable that each time he came upon another car, Michael would size it up and pass without hesitation. It was a nice, flowing drive, like Senna's recovery at Hockenheim. By lap 29 it had taken him right through to seventh place, chasing Martini's welldriven Minardi. That presented no problem on lap 34, but then he was faced with Karl Wendlinger in a Sauber C12 that was finally running the latest version of Mario Illien's Ilmor V10.
The Austrian was Andretti's Nemesis in the early races in Brazil, Donington and Imola, yet this time there was no problem. Down to the Parabolica on lap 43 Michael dived for the right, but Wendlinger defended himself. Then Andretti tried for the left, only to find Karl again moving over. In a final effort he dived down the inside on the entry to the corner, and for a moment it looked uncertain as the Sauber wobbled momentarily to block again before Wendlinger thought better of it. The McLaren was through, and though it ran a little wide, the place was Andretti's. And since Riccardo Patrese had stopped for a second set of tyres, Michael was now up to fourth.
With Prost's retirement came the final promotion and it was somehow apposite that his first rostrum placing should come on the circuit where his father first drove an F1 car back in practice for the 1968 race. Interestingly, it was also McLaren's first podium since Monaco.
"It was a tough way to get here, but now we made it," he grinned. "To have done it at Monza makes it even more special. I made that mistake on the second lap which got me into a bit of trouble, but we were able to dig ourselves out of that, and I'm happy. It took a bit of luck too, but it worked out."
It might also just have thrown his fading F1 career a lifeline.
Wendlinger's fourth was well deserved, although he had at one stage during Andretti's chase angered Alesi by steadfastly refusing to move over as the Ferrari driver tried to lap him. He had fought well with Blundell for sixth place in the opening stages, and when the Englishman got the exit to Parabolica wrong on lap 21 and whacked the Armco hard enough to force retirement with damaged suspension, he had a clear drive to the finish. Patrese hung on to finish fifth, unhappy with the handling of his Benetton and worried enough that he had a puncture to make that second stop. Comas, despite a new traction control system that didn't work, was delighted to bring his Larrousse home sixth.
The Italian GP was one of those curious races that account for potential strong runners early on, and that first lap melee between Hill and Senna had an ongoing effect for, as Wendlinger came to the bottleneck, the two Footwork drivers found themselves with nowhere to go and crashed into each other. Neither of them could carry on. Further back Lehto and the two Jordans got involved too, all three retiring on the spot. The poor Finn's splendid efforts in qualifying had already been negated when his new Ilmor engine had stopped (not stalled) as the grid went off on its formation lap, and like Prost in Hungary he was obliged to start from the back.
"It wasn't my fault," he explained. "The car was moving in first gear, and the engine just stopped. The telemetry shows it." From the back of the field he made a demon start down the righthand side of the grid, but when he got to the chicane it all went wrong again. Opinions as to who shared the blame differed alarmingly. JJ thought that Jordan debutant Marco Apicella hit someone, who then came across and hit him, forcing him to spin. With his engine stopped he couldn't continue. Apicella had a different view, having deliberately tried to be careful through the corner because his experience at Monza has always told him it's an easy site for a first-lap accident. "Somebody hit me in the first corner. I saw Rubens spinning, and as I tried to miss him someone hit my front suspension."
Jordan team-mate Barrichello said: "Just before I braked for the corner somebody hit me hard from behind. It was a big shunt because the back of the car was actually lifted up and spun round. I don't know who it was but as I spun I saw Lehto so it could have been him. I'm not sure.
"Whoever it was should have a big penalty because everybody knows that this track starts wide and becomes thin at the corner. It's not fair to drive like that. There are four straights here where you can overtake: it was a totally unnecessary accident."
All this was good news for Lamy as he threaded his way through and made up many places after qualifying a disappointing 26th, and thereafter the F3000 star drove sensibly and maturely and was headed for ninth place until his Ford HB cut out on the 49th lap and forced him to coast by the pits into retirement. The start/finish line was also the focus of the race's final drama. From laps nine to 43 Fittipaldi and Badoer had waged an excellent war, each driving cleanly and maximising their respective cars' advantages. Lap after lap Christian would slipstream the Lola past the pits, but each time the latter's Ferrari power would just keep it ahead into the chicane.
On lap 35 it finally seemed as if Christian's patience had been rewarded as Luca ran wide on to the kerbs there, but he immediately accelerated back alongside the Minardi and the status quo was maintained.
This was a really good fight that was finally resolved in Fittipaldi's favour when he found a way by on lap 43 as Hill lapped them, and once by he sped away in pursuit of team-mate Pier-Luigi Martini, who was in trouble with a sticking gearchange. Through the Parabolica on the last lap they were nose-to-tail, but as they charged for the line both moved to the right. Fittipaldi's car was launched into the air just like Patrese's Williams had been at Estoril last year, and for a horrible moment it seemed as if it was going to flip on to its back at 180mph. Mercifully, its momentum carried the back end through in a complete arc as it somersaulted, and after landing on its right front wheel, the right rear hit the tarmac and effectively slapped the car back down again, preventing it from rolling over. The dazed Brazilian then steered it across the line, to maintain his eighth place.
"I kept my eyes open all the way through it," he was able to joke later after cycling round the paddock, "because I wasn't sure if I was ever going to be able to open them again!" It was, by any standard, a phenomenally lucky escape not only for him, but for the team personnel who were standing along the pit wall and a chilling post-script to a good race D T