Dinner with... Rubens Barrichello
He's started more World Championship F1 races than any other driver, but his passion for the sport remains engagingly intact...
What the history books tell you first about Rubens Barrichello are the statistics: and they are indeed extraordinary. This man was 20 when he came into Formula 1, and 39 when he left it. In 19 seasons he raced in more Grands Prix than anyone, ever: 322 of them. He racked up 658 points, 14 poles, 17 fastest laps, 11 victories and 68 podiums.
But I was covering F1 for most of those 19 seasons, and that's not what first comes to mind when I think about Rubens. It's his ever-present broad grin. Whatever might have been happening to him on the track, his approach to life was always unshakeably cheerful. It stood out at a time when, every weekend, the Fl paddock seemed to get more and more straight-faced, and smiles became ever rarer in that deadly serious, big-money world. "I always tried to take the negatives and turn them into positives," Rubens says now. "Most people in Fl — not just the drivers, the team people also — they don't smile, because they forget how lucky they are to be there. They're meant to be enjoying themselves. Plus, at the end of the day they are getting paid for it! When a racing driver is doing badly, he should remember that he does what he does because he enjoys it. If he wasn't racing cars, maybe he'd be working in a bank, or in a supermarket.
"Once when I was up on the podium, and I felt a bit pissed off about finishing second, my son Eduardo — he was about six years old then — was watching it on TV at home in Brazil. Later he said to me, 'Why weren't you smiling?' I said, 'Well, Daddy could have won that race.' And he said, 'You are on the podium, Daddy. Think how many people in the world want to be up there.' Of course he was right. After that, you never saw me go to the podium without a smile." He also developed his little trademark dance on the podium, which he called his samba. It surprised the VIPs in blazers who were handing out the trophies but, as he says, "It stopped the podiums being too boring." Today, 35 years after he started in karts, this charming man is still racing, because he loves it. After a brief sojourn in IndyCar, he now races Brazilian V8 touring cars and Grand-Am in the USA. He also commentates for Brazilian TV at every Grand Prix, with a grid walkabout.
So after Friday practice for the German Grand Prix I pin him down not for lunch but for dinner — a plain steak and salad, one glass of wine, nothing else — in the circuit hotel at the NiIrburgring. Since the previous weekend's British round at Silverstone he's fitted in a quick trip to Portugal for his first attempt at hot-air ballooning, which put an even wider smile on his face. Then, arriving at the 'Ring on Thursday from the airport in a hire car, he took three Brazilian friends for a few laps of the Nordschleife. More wide grins. "I never raced on it, you know, and by today's measures it is just an unbelievable place. My friends were sweating a bit. I thought I was leaving my braking quite late and one of the locals came past me on his big motorbike, still hard on the power. We had fun."
Rubens was brought up in Sao Paulo, not far from the Interlagos circuit, which also had its own kart track. His uncle raced karts and Rubens was only eight when he caught the bug, getting full support from his father. He is a passionate believer in the value of kart racing from a young age. "At least 50 per cent of all the important basic lessons I learned about racing — discipline, organisation, racing wheel-to-wheel — came from karting. I raced karts for eight seasons, and I won five Brazilian championships and one South American championship. By my teens, maybe I did start to think about racing full-size cars, but my father always taught me not to spend all my time dreaming about tomorrow, but to enjoy today, to live for now. And always I have done that. Kids today are so focused on where they want to end up, always thinking ahead. They say, by 2020 I will be in that place. They forget to enjoy 2013."
At 16 Rubens forsook karts for local Formula Ford racing. "I won my first race, and finished fourth in the championship, but I didn't really have the right equipment. Looking back, that was a really good thing for me, because it didn't all come too easy, so it taught me more. The bad things can teach you to be better, and I really had to be on the limit in that car to get anywhere. Then, when I was still 17, my father did a deal to get backing for me from a Brazilian food company, Arisco. So I was able to come to Europe, and I drove for the Italian Draco team in Formula Opel in 1990. With the same equipment as everybody else and a really good team behind me, I was able to show my worth, and I won the Euroseries title. "To start with I lived on my own near Oxford, at Cumnor Hill. That winter it was snowing in England, but I didn't have the money to fly back to Brazil. Also I thought it was important for me to be on my own so that I could learn English more quickly, so I enrolled at a language school. For a while I was racing at weekends and going to school in the week. It helped me to make friends. Brazilians need people, and if I'm not with family I need to have friends around me. Later I moved to Cambridge where there was a bit of a Brazilian community and we had some fun together.
"For 1991 I moved to Formula 3, with Dick Bennetts and West Surrey Racing. Everybody remembers that F3 season, and my battle with David Coulthard for the championship. I won it in the final round at Thruxton. Dick was so methodical with every detail of the set-up at every race, and that taught me a lot, too."
With two seasons in Europe and two championships won, Rubens' next move for 1992 was Formula 3000. "I could have gone to an English team, but my Italian was quite good after my time with Draco, and Alex Zanardi, who I rated really highly, had been doing good things with II Barone Rampante. I finished second in my first F3000 race, had lots of fastest laps, but mid-season we switched from Judd engines to Cosworth, which lost us a bit of momentum. And I had a big accident at Enna, the Pergusa track around the lake in Sicily. A truck was recovering another car, but there were no yellow flags. At Enna things were always a big confusion, and the marshalling was not good. I crashed into the truck and turned over. They took me off in the ambulance to what turned out to be the hospital of the local prison, and some of the other patients were a bit surprising. It's a good story to tell now, but it didn't seem funny at the time. Fortunately they just checked me over and let me go.
"In the end I was third in the Formula 3000 Championship, but already during that season Formula 1 teams were starting to talk to me, especially Ken Tyrrell and Eddie Jordan. I still had the Arisco backing, which helped of course, but it wasn't a lot of money. The deal I had with the owner of Arisco was that he would pay for me until I got to Fl and then, once I was earning, he would become my partner, and I would pay him 25 per cent of everything I made. Later the company was sold, but I continued to pay that guy a quarter of all I earned, and still do to this day. That was the deal, and I feel quite happy about it. It took $2 million to get me to the point where I was earning my way in Formula 1, and without him I couldn't have done it. If I have 10 bucks today, it's because he put in two bucks 20 years ago. "So I signed with Eddie Jordan for 1993, and there I was, in Formula 1. Eddie was funny — he still is funny. At first I think he was just after my money, but when he saw what I was capable of doing in his car, he changed a bit towards me. My third Fl race was the European Grand Prix at Donington Park, in the wet. I was still only 20. You remember it was very wet and slippery. I was 12th on the grid, and at the end of the first lap I was fourth." Even more incredibly, by two-thirds distance Rubens was up to second behind Ayrton Senna's flying McLaren. Another pitstop dropped him to third, but he was looking sure of a podium when, with five laps to go, the car stopped. "I had run out of fuel, but Eddie told the journos it was a fuel pressure problem, because that sounded better."
During that first season Rubens had several more strong races in the little Jordan-Hart, scoring his first points at Suzuka with fifth place. For 1994 Eddie Irvine was in the team, although Rubens scored more than three times the Irishman's points total that season. In the opening round at his home circuit of Interlagos he was fourth, and in round two at Aida he climbed to second before losing out to Gerhard Berger's Ferrari in the closing stages and finishing a delighted third — his, and Jordan's, first podium. Remarkably, at this stage in the season he lay second to Michael Schumacher in the World Championship.
A fortnight later came the tragic events at Imola. The first bad accident was in Friday qualifying when, on his first flying lap, Rubens went off at the Variante Bassa.
"I had done a good time in the morning, I had new tyres on the car, and I reckoned I could qualify eighth. I was flying. But [Jordan technical chief] Gary Anderson said on the data I was 8kph faster there than I had been before, so maybe I was just a little bit too quick." The kerbs launched the car, which cartwheeled into the debris fencing before bouncing back to land on its side. "I had a big bang on the head, so I don't remember much about it. Prof Watkins told me later that when he got to me I had swallowed my tongue, I was choking to death. He put his hand down my throat and pulled it out. He saved my life. When I came round in the medical centre, the first face I saw was Ayrton's, with tears in his eyes. I had never seen that with Ayrton before. It was as though my accident had happened to him." The next day Roland Ratzenberger was killed when his Simtek went off at Tosa, apparently because of a front-wing failure. Then in Sunday's race came Ayrton's own fatal accident. "I had a bond with Ayrton from when I first came into Formula 1. He was already threetimes world champion, of course, but when I did my first Grand Prix, at Kyalami in March 1993, he took time to come down to the Jordan pit to see me. He seemed to like it that there was another young Brazilian coming in, and I think maybe he saw a little bit of himself in me from his early career. I appreciated his support very much. Afterwards, all the headlines, all the grieving around the world, all the media attention, it was a terrible time. I had never been to a funeral before. Luckily I don't remember very much of those days after Imola, because I was still recovering myself, and that helped me to move on."
There were five third-row grid positions and four more fourth places that season, but the high spot was pole for the Belgian Grand Prix at Spa, another first for Jordan. On Friday, on a wet track that was beginning to dry, Rubens gambled on slicks in the dying moments of the session, and beat Michael Schumacher to provisional pole. "I prayed that the weather would be even worse for Saturday, so nobody could beat my time. And it was. My time survived." At 22 years 3 months 4 days, he was then the youngest driver to take an F1 pole.
Eddie Irvine proved an unusual team-mate. "He was a different kind of guy, and I had to learn about him. I'd ask him, 'What gear are you taking at Copse?' And he'd say, 'I dunno.' Like he was being secretive, but it wasn't that. It was because he just didn't care. I was young, and I thought he was trying to play with my mind. But he wasn't interested in that stuff. He did what he was supposed to do, he enjoyed the speed and that was it. As soon as I understood that, we got on pretty well." In 1995 Jordan switched to Peugeot engines.
"We were expecting to be much more competitive than we were. We now had left-foot braking, and the telemetry never told me that I was sub-consciously letting my left foot ride a bit on the brake, just enough to create some friction in the carbon brakes. We couldn't understand why I was 6kph slower than Irvine on the straight. We changed engines, we changed all sorts of things, and the problem was me. I was just so slightly putting the brakes on! For Canada I went back to right-foot braking, and I finished second. "In 1996 my high spot was second on the grid at Interlagos, but by now Eddie Jordan and I weren't working so well together. And I was having problems with somebody who later became a really good friend: Martin Brundle. Martin joined the team when Irvine went to Ferrari.
He was having some difficulty early in the season and I was helping out every way could, and then there was a race when I was behind Martin and I was faster, and suddenly I was the enemy. I didn't like that. As for Eddie, he seemed to lose me that year, and I didn't feel so wanted any more. Nowadays I have a good love for Eddie, but I decided after four seasons it was right to leave Jordan. I told myself I had to put my pride in my pocket and drive as fast as I could with a smile on my face. And so for 1997 I went to the new Stewart team.
"Going from Eddie Jordan to Jackie Stewart, you can't imagine two more different bosses. The first thing Jackie did was make me buy a new suit to meet the sponsors! But unlike what he did with some of his other drivers, driving them around, giving them lessons, Jackie never told me how to drive the car. He seemed to be happy with the way I did it. The first four races I did for him, we had failures in all of them. Then we came to Monaco. And it was wet, which of course means less strain on the car."
For Rubens it was a stunning drive. With the tight streets of Monte Carlo awash and grip in short supply, he went from 10th on the grid to fourth by lap two and second by lap six. Then he pursued Michael Schumacher's Ferrari for the rest of the two hours. "The pit was saying, 'Slow down, you're catching Michael, you need to preserve the car'. I was saying, 'Guys, we could win this!' In the team's fifth-ever race, that second place was a boost for us all." Rubens' next season with Stewart brought him little joy.
"The 1998 chassis was not good. The 1999 car, the SF3, was altogether better, faster and more balanced. In Brazil I qualified third and led the race, ahead of Schumacher's Ferrari. The Interlagos crowd went crazy, and I did too. I led until lap 26, made my pitstop, got back to third. Then the engine went." Rubens was on the podium at Imola, and then had a brilliant weekend at Magny-Cours. Once again rain in qualifying helped him to a finely judged pole position, and in the race he led 44 of the 72 laps before his final pitstop dropped him to third. There was a podium at the Nurburgring too, when Johnny Herbert finally scored Stewart's first win. For a while Ferrari had been stalking Rubens.
"Jean Todt talked to me, one to one. It didn't take very long to do the deal. I said to Jean, 'If you're going to give me a contract that says I always have to stay behind Michael, I'll say, thank you very much, but I'm happy where I am.' Jean said, 'No, no, no, we don't want anything like that.' And the contract I signed had nothing like that in it. So at the first races in 2000, when I saw that the T-car was just set up for Michael, I said, 'Why is the T-car not alternating between the two of us?' And they said, 'Because it is in Michael's contract that the T-car is always his.' There was nothing in my contract about that. Then I began to discover that there were a lot of things in Michael's contract that were not mentioned in mine."
During that first Ferrari year, the first race where Rubens outshone his team-mate was that muddy April British Grand Prix. Yet again he used the changing wet conditions to take a brilliant pole position, and he led from the start while Schumacher languished in eighth place. But just after half-distance a hydraulics malfunction sent him spinning into retirement. At Hockenheim his car failed on his first flying lap of qualifying, and while he was waiting until Schumacher had finished with the spare (Michael had crashed his race car that morning) it began to rain. Rubens scraped into the race 18th on the grid. But come the race, while Schumacher was eliminated in a start-line pile-up, Rubens tore through the field to be third soon after half-distance. Then the rain returned, falling quite hard in the stadium area.
"Mika Flakkinen and DC, who were 1-2 in the McLarens, both stopped for wet tyres. Ross Brawn was on the radio to me saying, 'You'd better come in for wets'. I said, 'No way, I can deal with this. I'm not stopping.' Then he said, 'Well, your last lap was pretty good. If you can keep up those times you're going to win the race.' And I did."
From 18th on the grid to first past the flag, it was a victory that displayed remarkable speed and judgment in difficult conditions. It was a hugely emotional Rubens who stood on the top step of the podium while the Brazilian anthem played, and then dedicated his victory to the memory of Ayrton Senna. He hadn't won a race since his last F3 success almost a decade earlier.
In 2001 Schumacher was conclusively champion, with nine victories, and Rubens backed him up faithfully. His closest shot at victory came at Monza, when he outqualified Michael again and fought for the lead with Juan Pablo Montoya's Williams-BMW. A fault with Ferrari's refuelling rig lost him about 8sec; he finished second, 5sec behind the Williams. But the differences in treatment between the Ferrari team-mates became publicly visible in that year's Austrian GP. While Coulthard's McLaren led to the flag, Rubens was established in second place ahead of Schumacher.
From the pits Jean Todt issued orders that Rubens move aside to let Michael, the championship leader, increase his points score. None too pleased, Rubens did so on the final lap on the run up to the flag, leaving no one in any doubt about what was going on. "Afterwards I talked to Jean, and asked him why it had to happen. He said, 'Well, because of this, because of that.' So I said, 'What if I had been winning?' And he said, 'We would never have asked you to move aside if you were winning ' So now we have to talk about just one year later, Austria again. And this time I was winning "
In fact Rubens had been in dominating form all weekend. He had just signed a new contract with Ferrari, extending his relationship with Maranello for another four seasons. In qualifying he outpaced Schumacher on his way to pole position, led the race from the start and was a couple of seconds clear in the closing stages. "Then Ross comes on and tells me I have to slow and let Michael win the race. We argued about it on the radio for eight laps. I thought, I am not going to do it. I don't deserve this. I was still thinking that as we started the last lap. The final corner was approaching, and I had only two or three seconds left to decide. And then I thought, I have to move aside, because otherwise it will be very negative for me. Ferrari is not thinking straight, and my job should be to change Ferrari, help them to learn to think straight. And the best way to do that is away from the circuit, away from the public. What I didn't realise was that I would never be able to change Ferrari."
So, as the two red cars approached the chequered flag, car no 2 moved aside; car no 1 crossed the line first. The crowd booed their displeasure at this obvious fix. On the podium Michael made an embarrassed Rubens stand on the top step, but it was Michael who had the 10 championship points. The FIA summoned both drivers and the Ferrari management to a disciplinary hearing. But FIA president Max Mosley conceded that there was nothing in the rules forbidding team orders and, if there were, teams would just do it more covertly. All the hearing could do was fine the team because their drivers had failed to follow correct podium protocol. "But," says Rubens now, "I think that day was really a changing point in Formula 1. You never saw such blatant team orders after that. Nowadays it's different anyway, because what is said on the radios can be heard by everyone."
After the Austrian debacle Rubens went on to lead Michael home at the NiIrburgring , the Hungaroring (from pole) and Monza. Then came the farcical finish in the US GP at Indianapolis, when the Ferraris were comfortably ahead of everybody else. Schumacher apparently tried to organise a photo finish but misjudged it, so that Rubens' nose was just ahead as they crossed the line. Or was that repayment for Austria?
"We never discussed it. Every time I tried to talk to Michael about it, he would change the subject. When I saw he was slowing down, I slowed down too, because I didn't want any artificial result like that. I even braked — you can see that on the video. Then he slowed down even more, and as we crossed the line my nose had gone ahead. But nothing was planned."
In 2003 Rubens took three more poles, and victories at Silverstone and Suzuka. In 2004 he was once again championship runner-up, and once again he led Michael home to win at Monza — taking pole and setting fastest lap. He also won the inaugural Chinese Grand Prix, again from pole. So, as Michael Schumacher's team-mate for six seasons, how did Rubens actually get on with the seven-time champion?
"The first thing I have to say is, I'm very thankful to have been able to work with him. He was the guy you wanted to have on your team, very precise developing the car, and I learned more from him than any other team-mate I ever had. In the car he was superb, he achieved so much. Out of the car we had our differences sometimes. He was vulnerable when he got beaten, he didn't know how to lose. But we also did promotional events together — and after a couple of glasses of wine he's good fun.
"Well, I said after Austria 2002 I was going to work behind the scenes to change Ferrari's approach to how they set about Formula 1. But in the end I realised I was never going to change Ferrari, so I decided to quit the team at the end of 2005, one year before my contract expired. I knew I needed to keep the smile on my face, and move on. So for 2006 I went to Honda, alongside Jenson Button." That year's Honda was plagued with handling problems and results were patchy, although Jenson and Rubens managed to finish sixth and seventh in the championship. Probably Rubens' best race came at Monaco, where he finished fourth despite a pit speeding penalty. The 2007 car was an aerodynamic disaster, and this was the only season in Rubens' long career when he scored no points at all. Meanwhile Ross Brawn had left Ferrari and was on a sabbatical year.
"Of course I told the people at Honda what a wonderful man Ross was to work with, how intelligent he was, what a super guy to develop a team, how he could solve our problems. I pushed very hard for Honda to talk to him. I don't know what difference it made, but Ross duly joined Honda." It was too late for him to have much effect on the 2008 car, but Rubens yet again showed his extraordinary speed in the wet with a great run in the slippery British GP, rising from 16th on the grid to the podium.
Then in December his world fell apart. Honda abruptly announced that, due to the world financial crisis, it was pulling out of F1 with immediate effect, and putting the 700-strong Brackley-based team up for sale.
"All the other teams had fixed their drivers for 2009, and it looked like my F1 career was over. Then in Brazil three months later my phone rang. It was Ross, telling me he had bought the team, and asking if I could get to England the next day to sign a contract. Within hours I was landing at Heathrow.
"Back on slicks and with a lower centre of gravity from the Mercedes engine, the car was so much better balanced. When Jenson came into the pits after the first test in Barcelona I waited for him to talk to the engineers, and then I went over and said, 'How was it?' And he said, 'We'll have some fun this year'."
And so it proved. Jenson went on to be World Champion, while two more victories went to Rubens. In the European GP at Valencia he scored the 100th Grand Prix win by a Brazilian driver, and his first for five years. Then he did it again at Monza two races later, leading Jenson home in a Brawn 1-2. Rain in qualifying at Interlagos signalled yet another slippery Rubens pole position, and he led the early stages, although a puncture late in the race dropped him to eighth. He ended the season third in the World Championship, behind Button and Sebastian Vettel.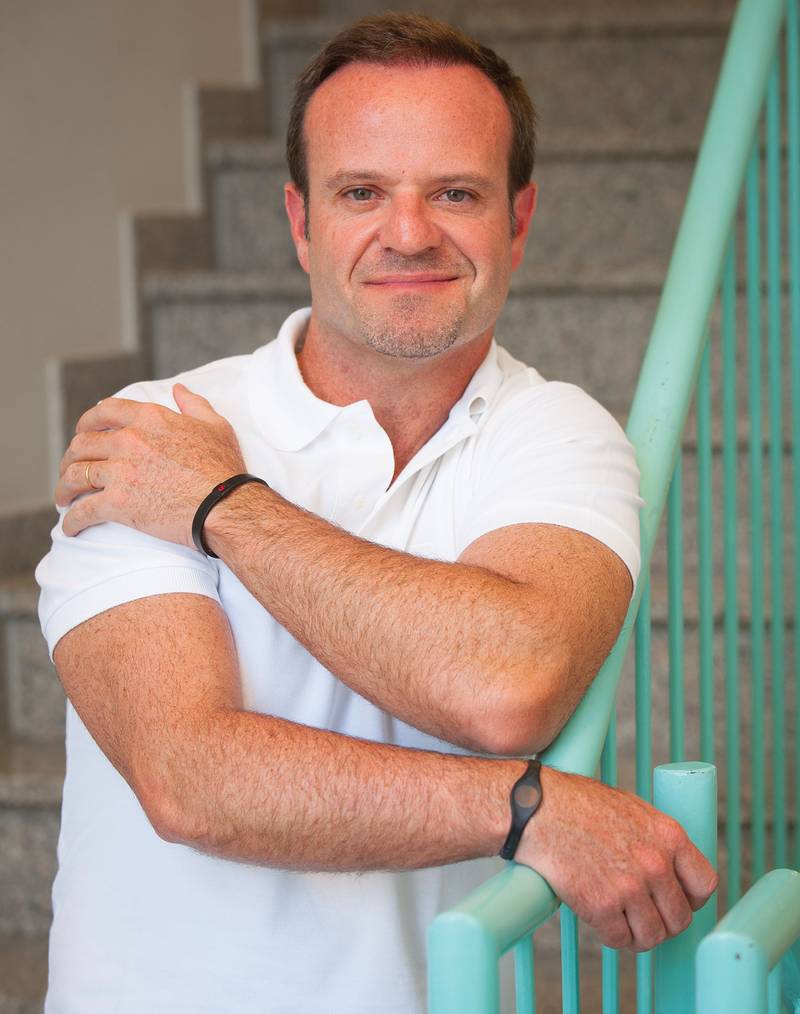 For 2009 Brawn became Mercedes, with Michael Schumacher and Nico Rosberg as drivers, and Rubens accepted an offer from Frank Williams. "Williams is a wonderful team with a great history going back 40 years, and when I joined I felt the vibes of all that. Sir Frank is very passionate, and his presence in the team is wonderful. But by the time I got there he was already being driven a lot by the decisions of others. Adam Parr was the CEO; he was a lawyer and a financial man, not a racer, so he didn't understand my requests."
Nevertheless, Rubens flung himself cheerfully into the task of racing the Cosworth-powered Williams FW32, and finished in the points on 10 occasions, including fourth at Valencia and fifth at Silverstone. But the 2011 FW33 was not a competitive car, and Rubens had to endure a frustrating and depressing year. "And early during that season my real friend and ally in the team, Sam Michael, left. It became clear that for 2012 Williams would need drivers who could bring a big pile of sponsorship money, which is why they hired Bruno Senna. So I had a phone call from Frank, very cold, very businesslike: 'We don't need you for next season, thank you, see you around.' It was the end of something that could have been very special — because the 2012 car was much better, I could have won with that car. But I'm a happy guy, I turn the page. A lot of people in Formula 1 talk about the 'if onlys', but I don't do that. I move on.
I'd always said that when i was done with Formula 1, I'd stop everything, and spend a year with my family, going to Disneyland. So I relaxed with my wife Silvana and my sons Eduardo and Fernando in our place in Florida. Then my very good friend Tony Kanaan, the Brazilian Indycar driver, called me and said, `Rubens, you must test my car.' At first I said no, I was happy with my family, but he kept on. So I tested it at Sebring, and I thought it was great. It lacked the finesse of F1, but I knew I would have fun racing a car like that. Silvana was against it. We'd been watching a few months before when Dan Wheldon was killed, and she turned to me, crying, and said, 'Please tell me you're never going to do that.' So I had to talk to her honestly, to try to change her mind. I said, 'It's what I do, it's all I know.' If she had still said no, I would not have done it. But she said, 'If you are happy, I am happy. So go and do it.' So I did a full season with KV Racing alongside Tony. And I never even spun that car. My guardian angels were with me.
"Racing on ovals was some kind of experience, I can tell you. Actually I was more competitive on the ovals than on the road circuits, because the low downforce brought a bit of the finesse back, and the steering was lighter. I don't understand why Indycar doesn't bring in power steering; it took me three or four months to get used to that. In the Indianapolis 500 I led the race, and finished 12th, so I got Rookie of the Year — just after my 40th birthday! I was pretty sure I would be more competitive in Indycar in 2013, but it didn't happen because people were asking for money. I said, 'You don't have to pay me, I'll do it for the fun of it, but I can't put in money from my own pocket. My family doesn't deserve that.' "Also in 2012 I did three races in Brazilian V8 stock cars for charity, raising money for the Barrichello-Kanaan Foundation, which I started with Tony in 2005. It helps vulnerable kids in Sao Paulo city, because now my life is not so busy I have the time to help others. I liked the stock cars, so this season I am doing the full Brazilian series.
"It is so different — different technique, different lines, different everything. And it's a contact sport, that's something new to get used to. But the crowds are huge. We get up to 100,000 spectators, and up to 10 million watching on TV. I am finding my form now — I have had a second and a fourth recently. I can go on doing this until I'm 60 — that's what Silvana fears!" Then in July came news that Rubens would do the Indianapolis Grand-Am race, and maybe the full series next year.
"Of course in Brazil I get no peace. I have been a public person for a long time now. But that's fine with me. When Ayrton was alive he was an example to so many people in Brazil, at so many levels. When he was killed I never wanted to replace him, I couldn't have done that, but you have to treat people with respect, you can't brush off requests for autographs. People don't deserve that. Sometimes my kids get mad about it when we are trying to move around Sao Paulo, but I tell them it's part of what my life is, and I have fun with it. I am a Brazilian: I love people." That's Rubens Barrichello: more than 30 years a racer, 19 seasons of ups and downs in the tough world of Formula 1, and today, on the no-holds-barred grid for one of his V8 stock car races, the smile is as wide as always. And, if he gets on the podium, he still does that little samba for the crowd. This is a happy racing driver: motor sport needs more like him.
RUBENS BARRICHELLO CAREER IN BRIEF
Born: 23/5/1972, Sao Paulo, Brazil
1981-1989: karting.
1990: GM Opel Lotus Euroseries champion.
1991: British F3 champion.
1992: FIA F3000, third.
1993-2011: F1 with Jordan, Stewart, Ferrari, Honda, Brawn and Williams. 2012: IndyCar.
2013: Brazilian stock cars.