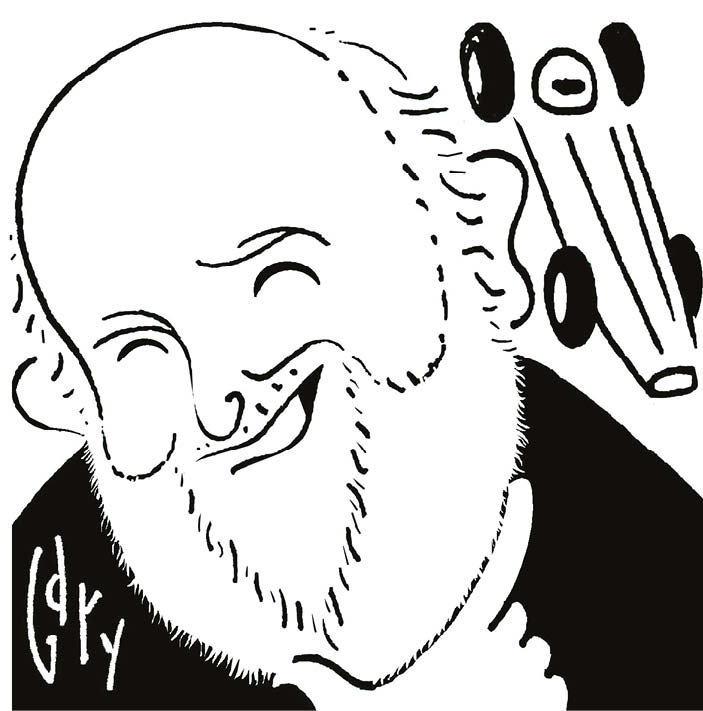 Reflecting upon this year's extraordinary German Grand Prix, one might reasonably assume that hell will freeze over before the current Mercedes-Benz F1 team management will ever again let the parent company's promotions and PR department dictate frontline racing affairs.
I suppose it just seemed like a good idea when some bright spark identified the Hockenheim race as being the brand's 200th F1 Grand Prix, and in Mercedes-Benz's 125th anniversary year, too. How fitting for the race in question to be a German GP – the three-pointed star's home event. From that point forward I assume that the momentum to "do something special" became unstoppable.
So, Mercedes-Benz did three things. It opted to repaint the W10s in a special livery. It opted to have a Netflix film crew embedded with the team that weekend. And it opted to have its pit crew and executive personnel rigged out in various forms of allegedly 'vintage' racing attire…
I can picture our old friend, this magazine's Continental Correspondent Denis Jenkinson, gnawing his lower lip over the very notion. He would then have skewered one of the PR people with his most penetrating gaze – and have barked either "Harrrummpphhh" or – I'd guess much more puzzlingly for a German audience – "Rhubarb!" – a derogatory phrase borrowed from the Goon Show.
Well, it's all in the record book now how the race went for Mercedes: two starters, race led, one finisher, 11th place subsequently upgraded to a points-scoring ninth thanks to rule infringements by a rival team.
Three things strike me about Mercedes' three fateful pre-race PR decisions. The first is that any company proud and protective of its public image is well advised to be extremely wary of consorting too closely with an embedded independent film unit. One awaits with interest any finished documentary result. Significantly, Lewis Hamilton declared post-race "I won't be in the Netflix show much, because I was sick the whole time – I won't let them release that".
"In their 1950s garb, Mercedes' pit crew executed a 1950s stop"
As for the supposedly 1955-garbed pit crew. Well, to a man they seemed almost suicidal over the unexpected and pretty much bungled 50-plus second pit-stop triggered by Hamilton's own error, when he knocked off his front wing against the outfield barrier. What struck me was that in their '50s-style white overalls they demonstrated a genuine '50s-style pit stop.
And then we come to the question of the team's white-nosed 'celebratory' – or 'semi-retro' livery at Hockenheim. The promotional people at Mercedes have clung firmly to the company legend that when their 750kg Formula Grand Prix cars made their winning debut in the 1934 EifelRennen at the Nürburgring, they had been delivered to the circuit painted in the contemporary German national racing colour of white.
In his autobiography, one of retired team director Alfred Neubauer's jolly yarns claimed that in Nürburgring scrutineering the cars were found to exceed the 750kg maximum weight limit. He promptly ordered them to be stripped of their white paint. In bare aluminium the cars just scraped under 750kg, enabling them to start the race – and for works driver Manfred von Brauchitsch to win it.
Well, it's always been a nice story, but the balance of contemporary evidence exposes it as simply untrue. That EifelRennen debut for the new W25 GP cars took place on June 3, 1934. It shouldn't have been the W25s' racing debut. That had been scheduled for the previous weekend's AVUSRennen, in Berlin, on May 27. There, both the new rear-engined Auto Unions and the W25s had appeared in practice, but only the Auto Unions actually raced. The Mercedes were withdrawn with fuel system problems.
Surviving photographic evidence confirms that the new Auto Union P-Wagens were finished in polished aluminium or silver – not white. Three Mercedes-Benz W25s practised – driven by Caracciola, Brauchitsch and Fagioli. At best only one of the cars was painted white, the other two bare aluminium.
The following weekend at the EifelRennen only two W25s competed, driven by Fagioli and Brauchitsch. This was run to Formule Libre rules, not to the 750kg GP Formula, so beyond useful practice before the German GP (on July 15) there was no need to scrape in below a weight limit. Long-surviving works mechanic Eugen Reichle recalled: "The cars never had been painted white, so there was no paint to grind off…". The photo record shows bare aluminium W25s, even in practice.
So Mercedes' paint-scraping legend just doesn't hold water. In 2007 I was involved in a symposium at Daimler-Benz Fellbach, which pretty much debunked the whole thing. Neubauer's ghost writer Harvey T Rowe (of the contemporary Quick magazine) was present. He defended Herr Neubauer's reputation while admitting he just made notes as the great man told his stories.
Plainly, the great Mercedes' PR unit still seem schooled to think otherwise. At Hockenheim, 2019, such freewheeling with the truth didn't do them great honour… But I will admit to being glad the team – the pure-bred Racers – then made up for it in Hungary.
---
Doug Nye is the UK's leading motor racing historian and has been writing authoritatively about the sport since the 1960s
---
DIGITAL EXTRA