It used to be so simple. There was a time when all cars came with manual gearboxes and normally aspirated engines. There was no other way for a car to be. Now some small family hatchbacks and shopping cars can be so configured, but sports cars? Machines you might actually choose to drive for fun from mainstream manufacturers?
Well happily Mazda still makes the MX-5 that way, as does Toyota with the GT86. After that, I'm struggling. You can't even buy a normally aspirated Lotus any more. Audi still makes an R8 without turbos but the third pedal was lost long ago. So thank heaven for Porsche, for this new Cayman GT4 (and its open equivalent the Boxster Spyder) has swapped the unlovely flat-four turbo motor for a new 4-litre flat-six breathing air at atmospheric pressure, and automatic gearchanging is not even an option. In anything you might remotely describe as 'its class', that makes it unique these days.
It shows proper commitment from Porsche to create this new motor for such an apparently niche product. It's based on the 3-litre engine in the new 992-series 911, but shorn of its turbos and necessarily bored and stroked out to the requisite four litres. Indeed this seems like such an effort, I'd be amazed if the same engine is not used for the next GT3, albeit turned up to 11. As it stands it produces 414bhp, a useful 54bhp improvement upon the next most powerful Cayman GTS. Then again, the GTS has more torque and the option of paddle-shifts meaning that, on paper, the GTS remains the most accelerative Cayman despite being the best part of £15,000 cheaper.
A missed opportunity, then? By no means. Porsche has built some very rapid GT-series cars in the past, but not even the very fastest ever felt like pure speed or (the rapid acquisition thereof) was its reason for being. What matters about these cars is that they must be exquisite to drive, even by the lofty standards of 'normal' Porsches.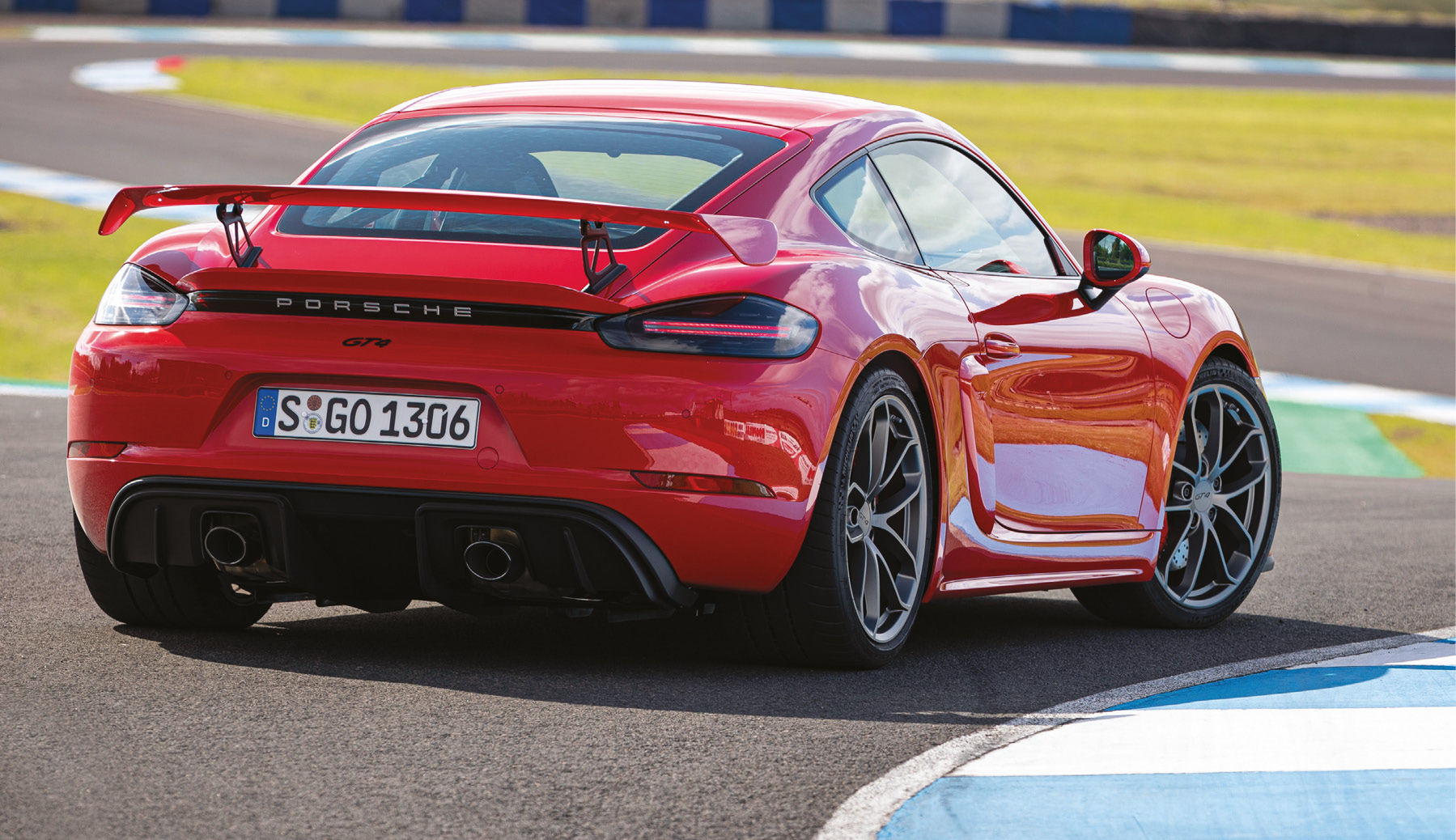 And the GT4 is. Eventually. I'll share with you that I was a little disappointed at first. I'd read all about the engine and its GT3 front suspension and its bespoke spring and damper rates and got really rather excited by the prospect. But once you've walked past the car with its new aero pack (which doubles the downforce of the old Cayman GT4 with no increase in drag) and settled in the cabin, it all looks very familiar. There's a bit of Alcantara here and there and the odd GT4 badge, but save the optional carbon- fibre seats in the test car (try before you buy, especially if you're generously proportioned), it's very standard in here.
Even the flat-six motor doesn't thrill when it fires up because engines of this configuration were always in Caymans until three years ago and this one doesn't sound particularly savage at all. So you start driving and it feels lovely, but so do all Caymans. There's not much to mark this out as being a particularly special version. Not yet at least.
You have to find some space and make it work, and that requires you to make an effort too. In these days of instant turbo gratification and seamless automatic shifting, you forget you can't just plant a foot on the floor and expect the car to do the rest for you. You have to change down a gear or three, and even then let the revs rise before the engine will do its best work: peak torque doesn't arrive until 5000rpm. The GTS not only has more, it's all there at just 1900rpm.
"It does that thing where its responses are so close that you feel a part of the machine"
But how those efforts are rewarded! I won't be the first to observe that the amount you put in is commensurate to what you are able to extract, and it's not just the engine that responds to a bit of engagement from the driver: the whole car comes alive.
It does that thing, increasingly rare these days, where its responses are so close to your instructions you feel so much part of the machine that where you stop and it starts becomes increasingly obscure. You can be reminded by some lousy heel-and-toe work that it's not always man and machine in total harmony, but it's even got that covered thanks to an 'auto-blip' button that matches revs to your downshifts. I didn't use it much because I liked the discipline of trying to get it right myself, but I appreciated the thought.
But not as much as I liked the way the car manages to maintain its ride height across the most challenging landscapes of strange cambers, unpredictable road surfaces and tightening radii, while retaining ride quality I'd put at least on a par with that of a normal Cayman. Such interests are usually diametrically opposed. So too the provision of outlandish levels of mechanical grip with just about the sweetest breakaway characteristics I've had the pleasure to encounter in a mid-engined machine. Those who describe its handling as akin to that of an Escort MkII are of course wildly over-egging the pudding, but I can see from whence they come: with a diff strong enough to allow drifting on demand but sufficiently gentle not to permit unchecked understeer, it is a fantastically faithful machine. And as most owners will take theirs on a track, this is an important characteristic, too.
What, then, to make of this split personality? The old Cayman GT4 was somehow a more special car just to get in and drive, but it was slower, its limits lower. This GT4 is almost too quiet and comfortable most of the time because it does too little to remind you what a special car it really is. Then again, in these days of paddle-shift transmissions and turbocharged engines, any sports car with three pedals, a great gearbox and an unadorned multi-cylinder engine will always have a head start over the rest that do not. And when it matters, it delivers absolutely on the promise of its looks and GT badge.
And that is what matters most.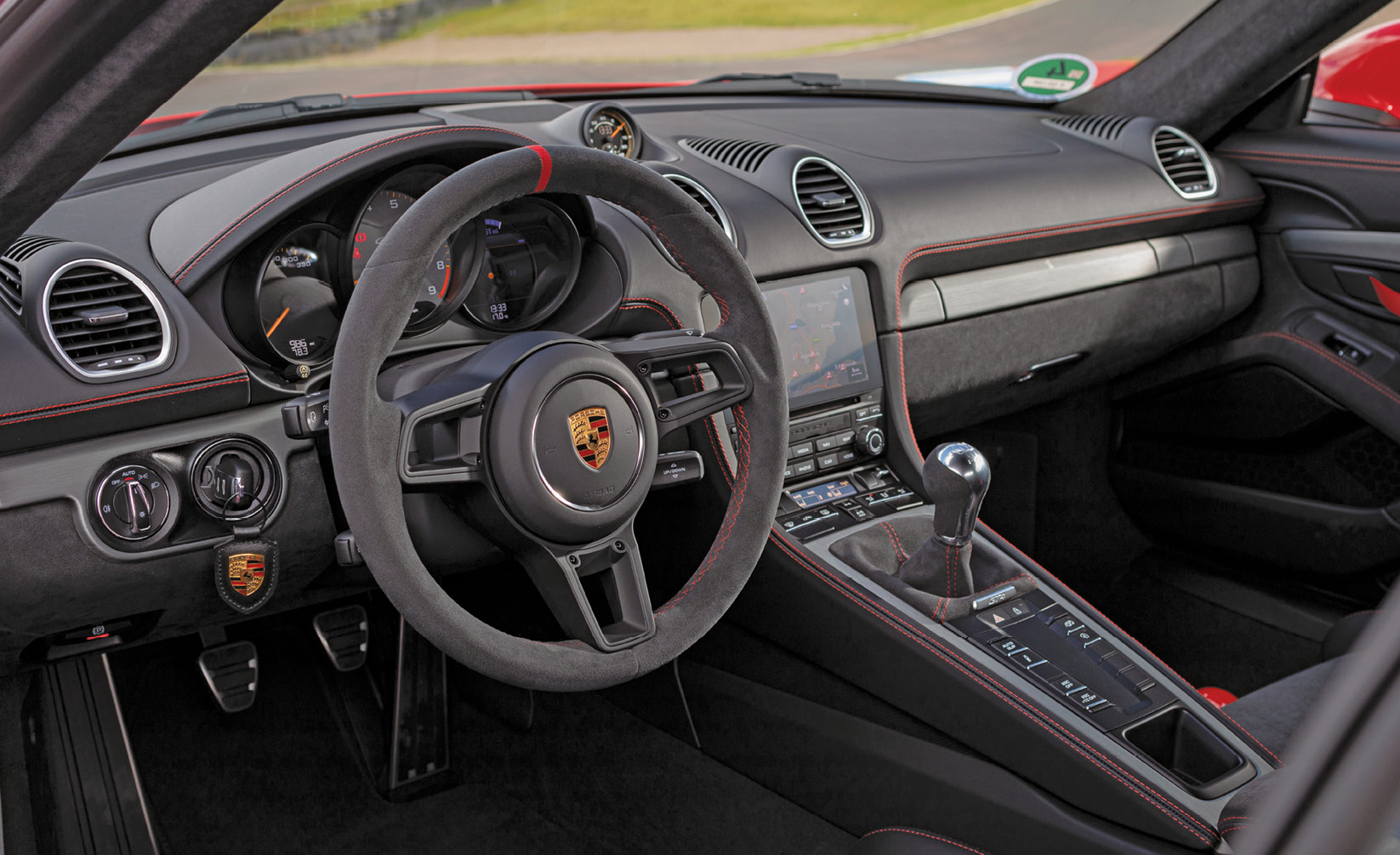 ---
Porsche Cayman GT4
Price £75,348
Engine 4.0-litres, six cylinders
Power 414bhp
Weight 1420kg
Power to weight 292bhp per tonne
Transmission six-speed manual, rear-wheel drive
0-60mph 4.4sec
Top speed 188mph
Economy 25.7mpg
CO2 251g/km
Verdict No gadgetry is a big bonus
---
DIGITAL EXTRA