Delivering Jim Clark's Lotus Cortina — with Dario Franchitti
The sun is breaking through to the east of Gleneagles railway station. There's the occasional car passing on the A9, 200 metres to the west, but it's quiet enough to hear the starlings and pigeons. Until, that is, the dawn chorus is broken by a popping, banging, four-cylinder motor.
Around the corner comes the unmistakable Ermine White and green flash of a Lotus Cortina. A waiting van driver looks on in amusement – it's not every day you see one of Ford's finest here in the Highlands. What he may not have known, though, was exactly which car this was. Or who was behind the wheel.
This is BJH 417B, Jim Clark's 1964 British Saloon Car Championship-winning Lotus Cortina. In typical Clark style, he won his class in every round he entered that year, and even won three races outright when the quicker Galaxies faltered. His results in this little Cortina were superb: Oulton Park (twice) and Crystal Palace – first in class and first overall; Snetterton, Brands Hatch and Goodwood – first in class and second overall; Aintree and Silverstone – first in class and third overall. It was utter domination.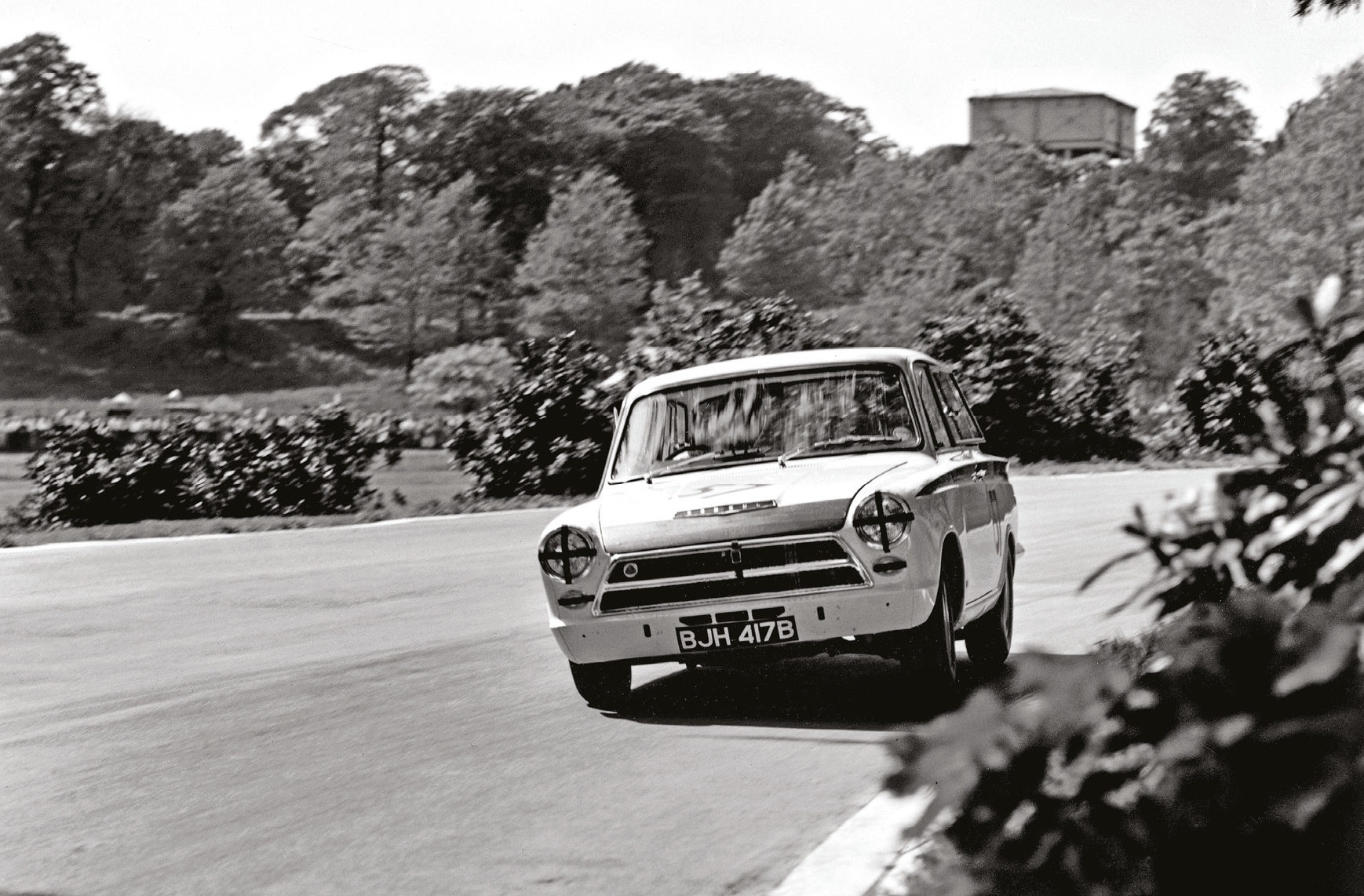 Three-time Indy 500 winner and four-time IndyCar champion Dario Franchitti pulls up by the early 20th century railway station with a cheery, "Morning mate!" Dario is a self-confessed Jim Clark nut and this Cortina is one of his most prized possessions, something he spent many years pursuing. The mission today is simple: deliver BJH 417B to the newly extended and refurbished Jim Clark Motorsport Museum in Duns, two hours to the south. This is prime Clark territory as, after being born in Kilmany, Fife, he moved to Edington Mains Farm just outside the pretty Borders town of Duns.
"I'm not 100 per cent sure you're going to fit," says Dario looking back at the Cortina, wary that the Formula Junior seats were not made for my 6ft 7in frame. Relief. I can get in, even if it looks as though Dario is giving Harry Potter's Hagrid a lift.
"He won his class in every round he entered that year. clark's results in this little Cortina were superb"
Bar the Formula Junior seats, the interior is as you'd expect – rear seats, a minimal dash, no carpet and no seat belts. To the left of my shin, or most people's knee, is the windscreen washer bottle. "This steering wheel was favoured by Jim," Dario says as I'm looking around. "It's the one he liked to have in his cars. It's really flimsy, but it feels good. The steering is actually quite heavy because it has a load of castor. If you pull away from a junction with a lot of lock on, you have to give it some throttle so that it doesn't stall."
Is that because he needs to go to the gym a bit more often? "Probably correct," he says. "I don't frequent the gym nearly as much as I used to."
We head off onto the A9, bypass Stirling on the M9 and then head around Edinburgh, eventually splitting off the ring road onto the A68. After a stop for fuel, we get onto the A-roads that will take us to Duns and the Cortina starts making sense. The car is running better – it has been sitting idle for a while – and Dario's face lights up as the two lanes become one ahead of us.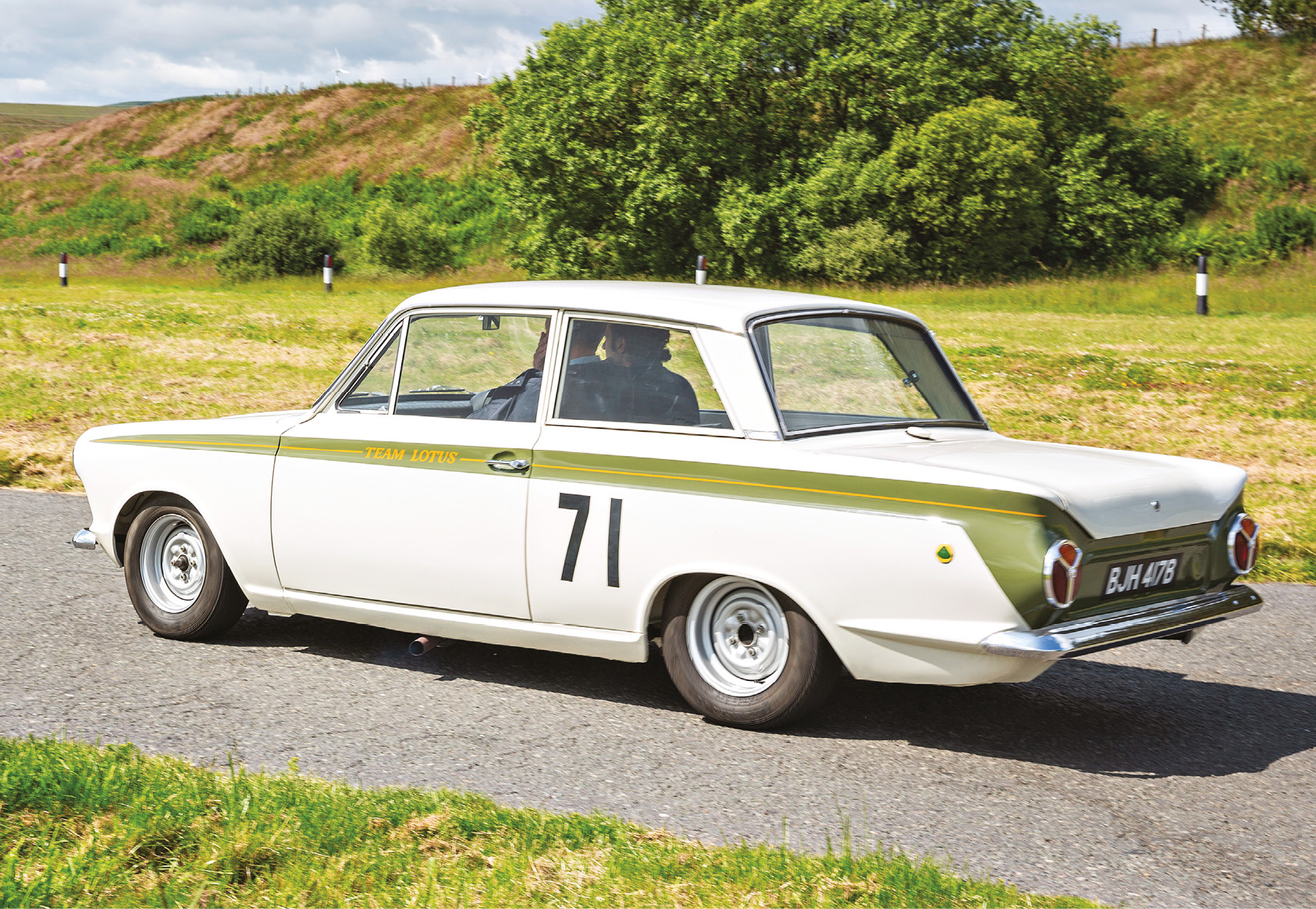 "These are the roads he would have driven in his Cortina road car – 550 VAR," Dario shouts over the noise of the engine, "and I guess, at times, they would have tested the D-type around here. The Aston Martin DBR1, too. If it needed some modifications or had a problem in the race before, they would have taken it on these roads and given it a wee clean-out. To be driving this car, on these roads, is really something special. It just feels… right."
I'd never sat in an ex-Clark car before, so the mixture of this Cortina, these roads and this location are enough to send your mind spinning back to the early '60s – an age of no speed limits, plus the chance of seeing world champion driver Jim Clark out testing in some exotic machinery.
Peeling off the A68 onto the A697, we pass The Lodge at Carfraemill. "This is where Jim and the guys from the Border Reivers team would stop after races either to commiserate or, more often, talk about their win," says Dario, offering a small glimpse into his astonishing knowledge of all things Jim Clark. "A pretty neat part of history. Now the roads from here to Duns get really cool."
Having not spent much time in road cars with professional racing drivers, the Cortina trip was an eye-opener. Apexes were hit with zero fuss, while braking, changing gear and accelerating were effortlessly smooth. It was initially quite alarming how close Dario would get to cars as he overtook them, but the throttle was always kept steady, there was never a panic. I guess that's what happens when you spend your career inches away from 20 other cars on an oval, at average speeds of more than 200mph…
"The museum had welcomed more than 300,000 visitors, including Ayrton Senna"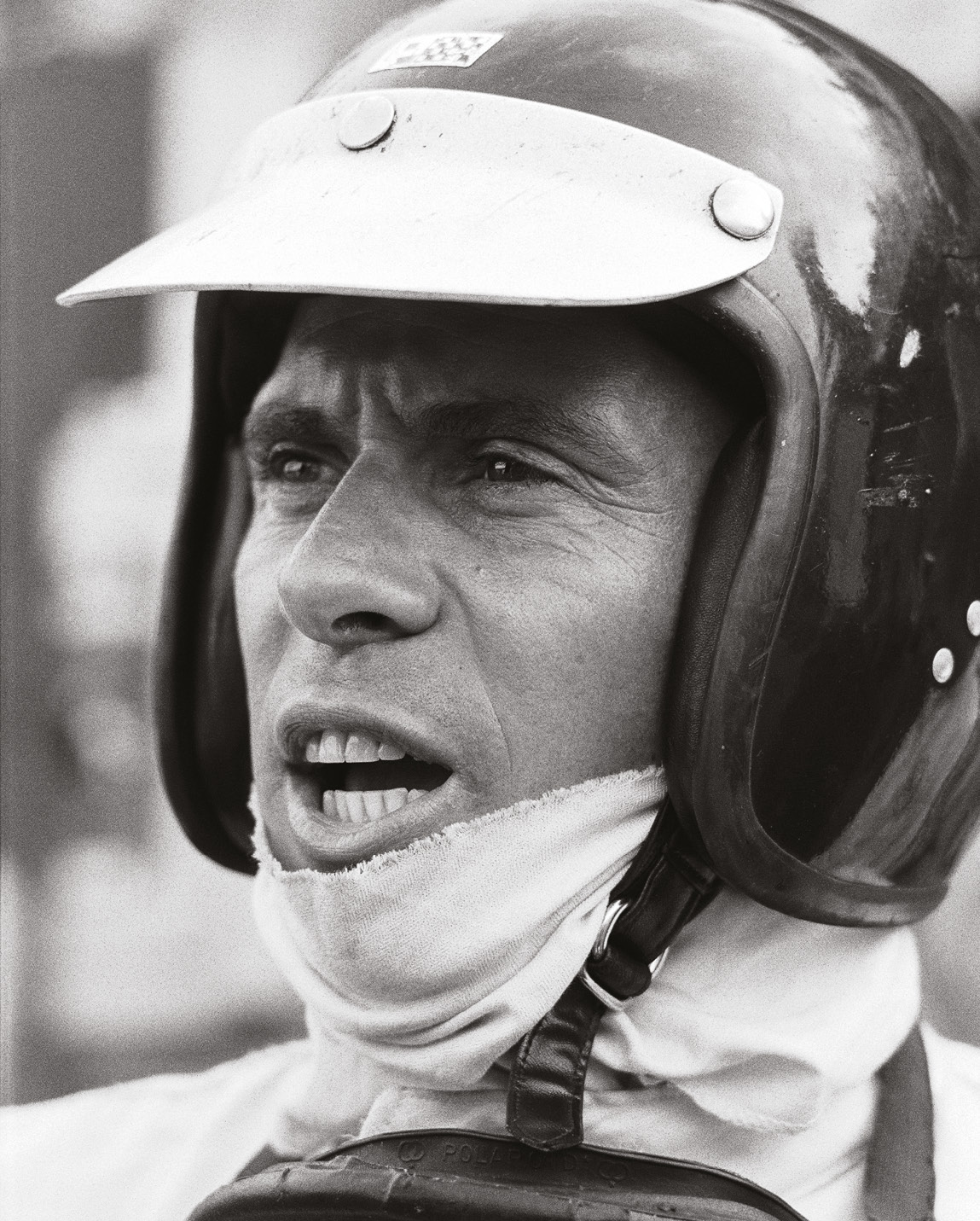 We made good time, despite a diversion, and pulled into Duns on schedule. There was a small amount of relief on Dario's face – despite a tiny oil leak from the oil filler cap, BJH 417B didn't miss a beat. At the museum, a camera crew, two photographers and various journalists were waiting for him and the car. I made myself scarce and capitalised on a chance to look around the soon-to-open (at the time of writing) museum while everyone else was outside.
The Jim Clark Motorsport Museum was formerly a 'room', which opened in 1969. It had welcomed more than 300,000 visitors, including Ayrton Senna, before the decision was made six years ago to expand the site. The room was filled to the rafters with trophies and Ben Smith, one of the three Jim Clark Trust trustees, admits that only a few were ever on display. The £1.6 million museum extension will rectify that.
When we arrived, boxes were still being unpacked below the Lotus green lampshades and much of the memorabilia was being carefully assembled for display. Three walls of one area were covered with the aforementioned trophies. "You could spend a whole morning just in there," Dario says between filming duties. What the extension aids is the journey through Jim Clark's life, from quiet farmer to Indy 500 domination. Films can be played via touch-screen menus and the space for cars means that Dario's Cortina will be joined by Clark's Lotus Type 25/R6.
Ian Calder, one of the trustees, and Jim Clark's nephew, has been at the forefront of the renovations. "Originally the Scottish Borders Council wanted to move the museum to an old high school along the road," he says. "It was quite far out of town and it was Sir Jackie Stewart [the honorary president] who said that it would be perfect here. Over the last few weeks it's been all hands to the pump and there are still lots of things to finish. When it opens, it'll be tickety-boo. The job of the trustees [Ian, Ben Smith and Doug Niven] is now to keep it alive for the next 30-40 years, and we have plans on how to do that. The North West 500 [a Scottish road trip] has been a huge success and we're looking at a route around The Borders."
"Of all the stuff here his Indy memorabilia has a special connection to me"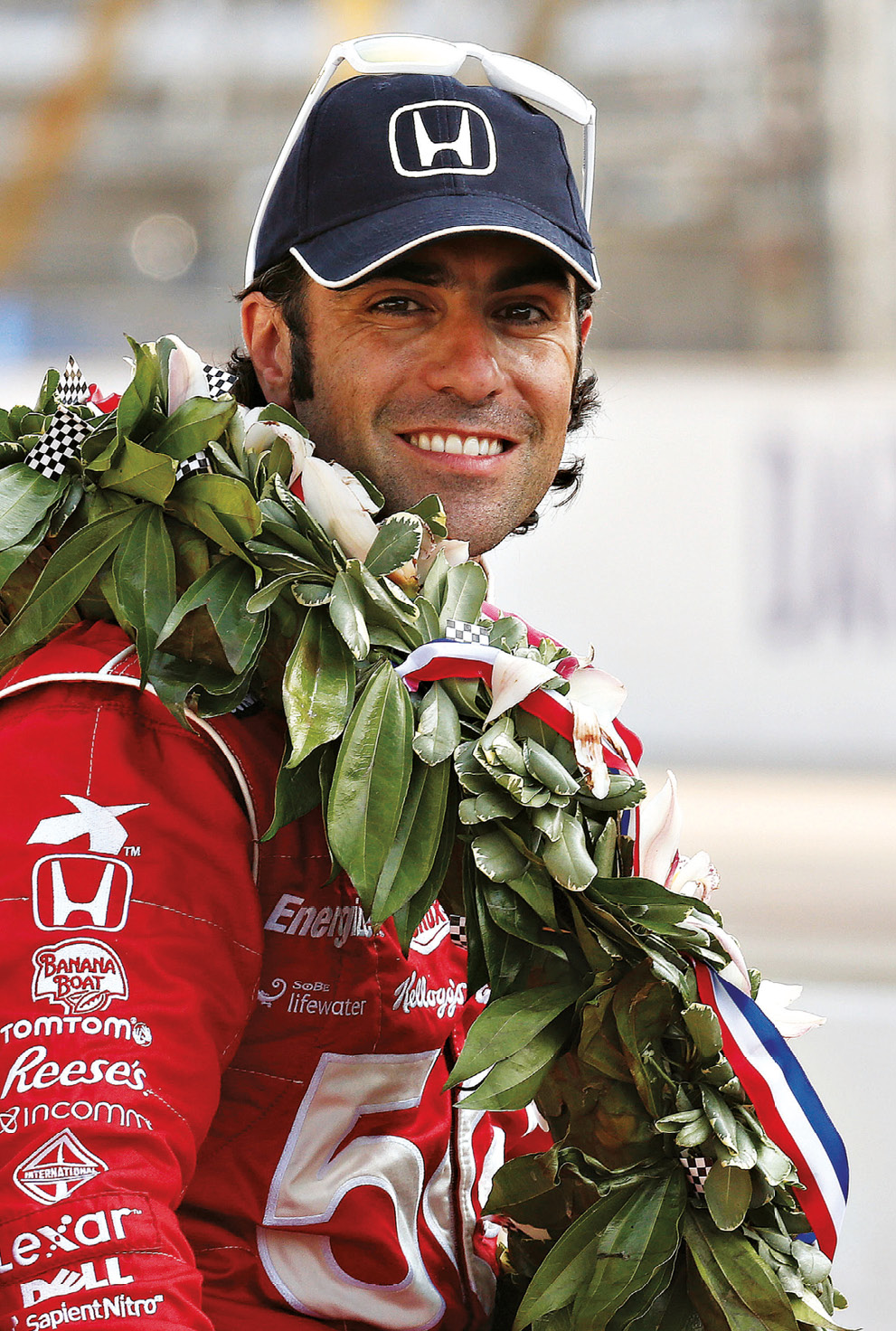 One of the star exhibits will be a gold and silver helmet, presented to Jim Clark after his 1965 season. The third-scale helmet is covered in jewels: an emerald to indicate home, and rubies around the 'world' for each race that he won that year. It is truly a one-off, and just to recreate it, without any of the history, would be nearing six figures.
"The helmet is going to be amazing," says Dario. "When I came here a month or so ago, I was chatting to the trustees and they were saying: 'Where is that helmet?'
'I don't know, is it at your house?'
'I'm not too sure. Isn't it in a bank vault?'
"Turns out it was at someone's house! The cars are obviously cool, but the helmet really stands out.
"I remember coming to the Jim Clark room after my first Indy win [in 2007]. It just felt like something I should do. I wanted to come and have a look, reconnect with it. I jumped in the car, blasted down, wandered around on my own and went home. It was good, but this is on a different level.
"Of all the stuff in here his Indy memorabilia has a special connection to me. There's his Indy suit on display along with his Rookie jacket. Then his Indy helmet, plus the winner's plaque you were given up until the mid-1980s. After that you were given a 'Baby Borg' [the Borg Warner Trophy being the main silverware] and some of the earlier winners have asked if they can have one. I presented 1963 winner Parnelli Jones with his in 2012.
"When I saw Jim's face on the Borg Warner Trophy after my first win, someone captured it on film. We had returned to the circuit the day after and I was… severely hungover. I saw his likeness and that was the moment I realised I was going to be on the trophy with him."
As we carry on walking around the museum, Dario keeps spotting pieces that strike a chord. "There's one of the Indy bricks… I love the Indy stuff as it's so familiar. It's amazing what you get nowadays. I have a gold gun at home, a Winchester, although it had to be deactivated. It's gold! It's literally gold!" I mention Dario should be giving guided tours around the new museum. He laughs, "That's my retirement sorted!"
The Jim Clark Motorsport Museum is simply a 'must visit'. The soft opening was on July 11, while a grander commemoration, with Jackie Stewart, was held in late August.
What would Jim Clark have made of it all? He'd probably wonder what all the fuss was about.
---
DIGITAL EXTRA