2020 Aston Martin DBX review: The saviour has arrived
Aston Martin needs a hero at the moment, and has a lot riding on its gamble with the DBX. Andrew Frankel gives his verdict
Regardless of whether it works or not, the creation of the Aston Martin DBX will go down in the history of the marque as one of its defining moments, right up there with combining Bentley's engine with Claude Hill's chassis to create the DB2, and taking on a rejected plan for a reskinned Jaguar XJS and creating the DB7. For this tiny company decided to build a kind of car it had never made before, on a new platform unrelated to any other, and if that wasn't difficult enough, build it in a brand-new factory, too. Mercedes-Benz would have taken a deep breath before going down that road.
And yet the DBX is here and is, to me at least, by a distance the best looking of all the super-luxury SUVs. It is notably spacious inside, and makes convincing, Aston-esque noises when you fire up its twin-turbo 4-litre V8 motor even though, of course, it is a Mercedes-Benz unit. It's also quite light, at least by the disgracefully heavy standards of such cars: 2245kg sounds heavy, I know, but it's 150kg less than Bentley's Bentayga V8.
So the fundamentals are right. But even before you drive it, there are clear areas of concern. First, the options list will make the interior trim as luscious as your bank balance will tolerate, while too many controls remain sourced from the Mercedes-Benz parts bin, even if far greater efforts have been made to conceal their origins by refacing them. They all work well enough but do nothing to add to the sense of occasion of a car costing the inconvenient side of £150,000. Also, those hoping to lug race cars need to know it is only certified to tow 2700kg, while a Bentayga, Porsche Cayenne and, of course a Range Rover are all rated at the maximum 3500kg allowable by law. And why no rear washer/wiper?
Its biggest problem, however, is likely to be the lack of a hybrid version. I really didn't like the Bentayga hybrid, but you can't ignore that plenty of people want a luxury SUV with a sporting image, but need a manageable tax bill and have no interest in driving fast.
My first experience in the car was guiding it over a quite short off-road route near Aston's remote testing base at Silverstone. It wasn't particularly challenging and the DBX coped with it no better or worse than any other car with the requisite ground clearance and four-wheel drive. A more interesting test would have been to try to drag a trailer across a sodden field.
The second was to drive it around the tight and twisting Stowe circuit, a track that must count among the least likely in the UK to suit such a car. In reality the DBX was so preposterously capable that it made me wonder how it might feel on the Grand Prix Circuit, which I know is a fairly ridiculous thing to say about an SUV. Its composure was remarkable for such a high and heavy car, I could place it wherever I liked and it resisted understeer like no other car of this kind I've driven. And if you put it into Sport Plus mode and separately switch off the stability control, it will oversteer anywhere you like.
This in itself may not be a particularly useful facility for owners of a car like this, but it is instructive to observe how hard the engineers have worked to make sure the DBX is more than an Aston Martin in name alone. It gives the car character. It is genuinely fun.
My final task was simply to drive it home, a 150-mile journey on roads I've known for decades. And it was bloody good there too: it rides as well as any SUV I've driven (though my request to have a steer in the Rolls Royce Cullinan fell on determinedly deaf ears), and the performance level from the 542bhp V8 felt entirely appropriate to the car's abilities and badge. Not once did I find myself wishing it were any faster. I did think the nine-speed gearbox could do a little less hunting around its ratios and I should tell you that even if you drive quite sensibly, you may struggle to get the fuel consumption out of the teens.
Gallery
2020 Aston Martin DBX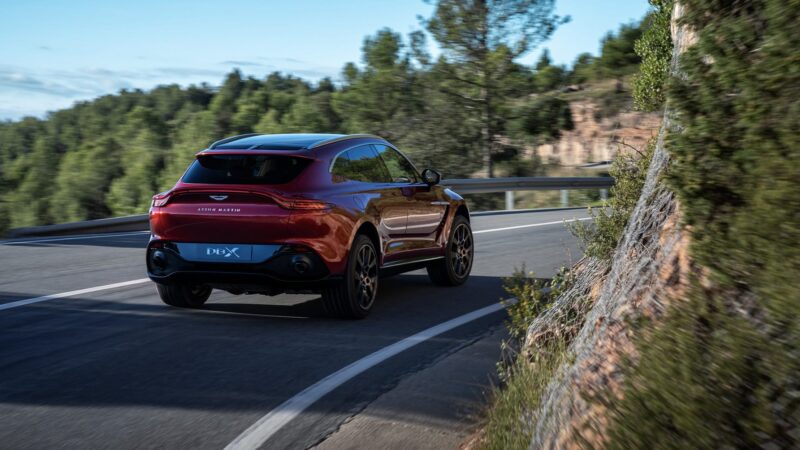 In the main, however, and despite its quite short but still significant list of flaws, the DBX sits at the upper end of expectations. The market will not care just what an achievement it represents given the size of the company, team and budget that created it; all that matters is how it stacks up against the opposition and whether it provides that justification for purchase so crucial to any car looking to establish a presence in a new part of the market.
This the DBX does with space to spare. It is the most rewarding and enjoyable car of its kind I have driven and, to me at least, the best looking, although I accept this is entirely down to individual tastes.
Nor does it insult the badge. I expect most people reading this would prefer Aston Martin only to make low-slung beautiful Grand Tourers, but the DBX at least seems closer to the heart of its company than do the Porsche Cayenne and Lamborghini Urus to theirs. It may not be a great Aston Martin, but it is a really good SUV, and for now that will suffice.
Because the DBX is a car with a job to do: Aston Martin needs this car and desperately so. If it is those beautiful GTs that has built the brand that makes an SUV buyer want an Aston Martin, so too is it the profits that DBX will hopefully yield that will help get the beleaguered company off its knees.
2020 Aston Martin DBX statistics
Price £158,000
Engine 4.0 litres, 8 cylinders, turbocharged
Power 542bhp
Weight 2245kg
Torque 516lb ft
Power to weight 241bhp per tonne
Transmission nine-speed double clutch, four-wheel drive
0-62mph 4.5sec
Top speed 181mph
Economy 19.3mpg
CO2 n/a
Verdict Could very well be the car that keeps the Aston name alive
---
Digital extra