A day at the E-races — 2021 London ePrix
When the London ePrix was last held – at Battersea Park – the locals were not amused. Five years on, Formula E returns to the capital in the dystopian setting of the ExCeL. James Elson rides the DLR to take in FE rounds 12 and 13
The silence, as they say, is deafening. Blinding artificial light bounces off gleaming bodywork as drivers sit motionless in their cars, while four Porsche pitcrew members stand stock still, directing what seems for a period like absent stares towards blinking screens.
Suddenly the team radio crackles into life and the drivers robotically reply, before gliding out into the pitlane in their electric machines. It feels like being inside an '80s sci-fi movie. But this is London 2021 and a Formula E race.
Motor Sport has found itself at the back of the Porsche Formula E pit garage, within the steel cathedral that is the Exhibition Centre for London (ExCeL) for the first ePrix race held in the UK for five years – and then another one, as this weekend is a double-header with Races 12 and 13 of the championship over a weekend.
It's also being held at the first ever inside/ outside circuit. The paddock and pit complex are held within the cavernous interior, before the track heads outside, runs past some bemused passengers of the Docklands Light Railway, winds around the building before heading back inside.
Last time FE visited these shores, the Battersea Park-based circuit was stymied by, among other things, dog walkers complaining their routines had been upset – the whole event ultimately turned out to be a bit of damp squib. Could FE's 'London Calling' be any better this time round?
The event is officially being held behind closed doors due to not making the cut as a Covid test event, but we've been invited down as a guest to see what the noise (or some might say lack of) is all about.
Earlier that morning, we scurried through the ExCeL's bowels to emerge on a viewing platform looking down on the back straight of the circuit, as different coloured Spark SRT05e FE cars pierce the air and rain below us.
Vortexes of water swirl around rear wings as they squirrel towards the double hairpin below, the challenge presented by conditions, car and course all too obvious.
Mercedes driver Stoffel Vandoorne does his best to demonstrate the difficulty as he hits a puddle, nerfs into the wall and smashes the right-front suspension of his car.
While hardly a comparison for pre-hybrid F1 cars, these ones aren't exactly quiet, the whir of the electric motors being almost jet-like (emphasis on the almost). Low-slung and sleek, the cars have considerable aesthetic appeal too.
What's immediately clear as the cars surge down the back straight is that Formula E struggles to communicate through TV broadcasts how much more entertaining it is in real life as opposed to on-screen.
Do they find the spectacle of electric racing exciting? "For sure," one long-time GP attendee attests. "But compared to V10 F1… well, there isn't any comparison." A compliment of sorts.
Eastender Alex Lynn puts his Mahindra on pole at his home race, as the challengers found themselves bogged way down.
FE's qualifying system sends the cars out in groups to set their fast laps, in order of championship position, with those higher up the table having to go out first. With the track evolving and 'gripping up' (or drying out on this occasion), the championship stragglers tend to get the more valuable real estate on the grid. Hence we have title challengers Sam Bird, Robin Frijns and António Félix da Costa qualifying in 18th, 22nd and 17th respectively.
Lynn was ahead of countryman Jake Dennis, driving for BMW, with former Toro Rosso man and three-time Le Mans winner Sébastien Buemi in third.
"It's going to be a shuntfest. I prefer circuits where you can overtake"
A 22-turn, tight and twisty challenge, the ExCeL circuit doesn't offer up much in the way of overtaking, and Formula E pilots in the paddock explain the ultimate effect of this.
"It's going to be a shuntfest, for sure," Virgin's Robin Frijns tells us in between mouthfuls of energy bar, as he stocks up for Race 12. "I think it's a tiny and very technical track –I prefer circuits where you can overtake."
Asked whether he likes the track at all, the Dutchman simply replies, "No."
Two-time Formula E champion Jean-Éric Vergne concurs with Frijns in some ways, saying the track provides a satisfying technical challenge, but leaves drivers with two options – settle for your position or shed some French carbon fibre on the track.
"It's fun, it's a cool track," the DS Techeetah driver says. "Just some hairpins are way too narrow. I think it's gonna be near mission impossible to overtake. I think Spark will be happy. [They will] make a lot of money [as a result of the damage]."
In the Porsche garage, triple Le Mans winner André Lotterer predicts that he can put the car between "first and third" in qualifying (he manages fifth), borrowing a famous Nelson Piquet quote to describe the track.
"Driving here is like riding a bicycle round your living room – La Sarthe is like taking it out on a playground," before retreating to his 'driver lounge', which is more Next sale fitting room than lavish F1 motor home. The German jokes it's due to London's high property prices as he pulls back the curtain.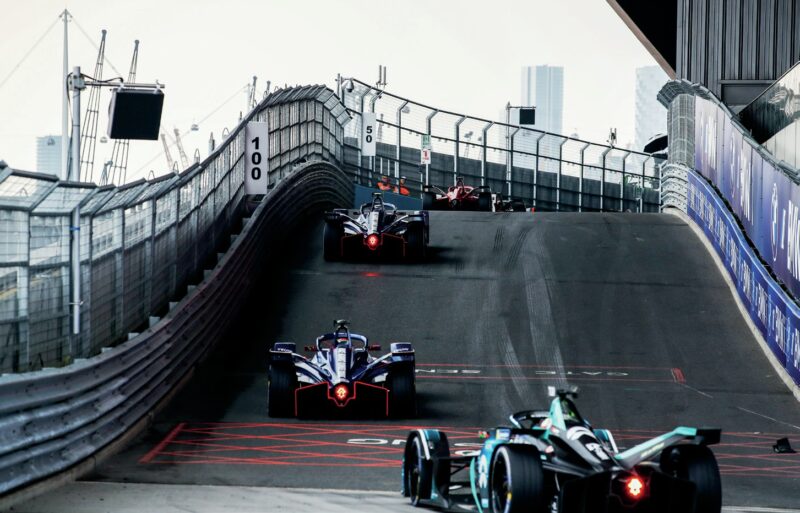 It's incredibly easy – and refreshing – to speak to drivers and team personnel in the paddock. Almost all are approachable and willing to give their time. The openness might be because of the strange circumstances we currently find ourselves in. It might be FE's normal way of operating but it could also be because the majority of the lucky few present are either minor celebrities, social media 'influencers' or corporate guests – plus a few scruffy journos.
Many present at the ExCeL appear either uninterested or unable to understand what's going on – more interested in FE guest of honour and supermodel Cara Delevingne getting a seat in a demonstration car rather than the fact they might have a multiple Le Mans winner in their midst.
You see similar scenes in F1, but the difference is this championship is struggling to engage the public. Perhaps if it had allocated more of the entry passes to real racing fans, as opposed to not many fans at all, it might start to gain more traction in the real world, too.
Endurance legend Allan McNish now heads up the Audi team, which recently announced its FE departure to focus on a Dakar assault next year and Le Mans in 2023. The team is still keen for a farewell win though – how would his outfit do so on such a difficult track to overtake?
"I think we can move up the grid," he says. "I think there's a few options."
These turn out to be prescient words. In the second race the day after, his driver di Grassi pulled out perhaps one of the all-time canny motor sport moves, realising that the safety car was going so slowly during a yellow flag that if he went through the pitlane, he could overtake the field and emerge in front. The Brazilian was only denied by a time penalty for not coming to a complete stop in his pitbox.
"It's fun, it's a cool track. Just some hairpins are way too narrow"
BMW has also announced it's leaving FE to focus on LMDh like Audi. Where does Mercedes stand on its future in the series as it looks to a third-generation car in 2022? "At the moment it's all going good, but it's in discussion," Merc racing boss Toto Wolff says in his usual Austrian drawl, while a Porsche representative stresses that Stuttgart is very much committed to the series, seeing a clear lineage through energy management learnings from its Le Manswinning 919 through now to its FE car.
Once the race squeals to life at 3pm, to a blizzard of flashing lights and rousing pop music, the carbon crunching immediately commences. Championship leader Sam Bird is taken out at the third turn along with fellow Brit Alexander Sims.
Nuneaton's Jake Dennis would win that round, before the next day the 'shuntfest' predicted by Frijns does unfold. Vandoorne is T-boned out of the lead by careering Oliver Rowland, Lotterer inadvertently drives reigning champ da Costa into the pitwall, René Rast ploughs into the side of Buemi and di Grassi is black-flagged for ignoring his original pitlane penalty – which is then rescinded.
Lynn emerges victorious from the chaos to take his first-ever win in the series, on what proves to be a thrilling weekend of racing.
Despite this, the series still suffers an image problem: the cars also looked embarrassingly slow when racing in Valencia earlier this season, the bad image compounded when a miscalculation meant nearly all of the cars ran out of energy before the end of race.
Organisers hope that the new third-generation (Gen3) FE car which offers a considerable increase in performance will add to its appeal. A boost in power from 250kW (335bhp) to 350kW (470bhp), while the regen will be 600kW (800bhp) in total, 350kW from the front and 250kW from the rear, should improve the spectacle if nothing else.
Mark Preston, former Super Aguri team principal and now boss of reigning champion team DS Techeetah thinks so. "The amount of power going back in the batteries now is quite incredible," he says. "When you look back to where we started [in 2014] to where we are going to be in January, it's a really nice progression and hopefully all that incredible power and speed goes into the road cars."
Long-time green energy advocate di Grassi is fully invested – in every sense. Without a berth for next year due to the Audi absence, he's desperate to stay. "If I could choose between WEC and FE, I'd choose the latter," he says.
Could FE's new generation win over a few more of the detractors? The championship is certainly competitive. Incredibly, heading into these London E-races, the fourth and third-to last of the season, all 24 drivers still had a mathematical chance of winning the title.