Porsche 911 Leichtbau Collection
These four lightweight Porsche 993 rarities are in need of a loving home. Simon de Burton weighs up their pedigree credentials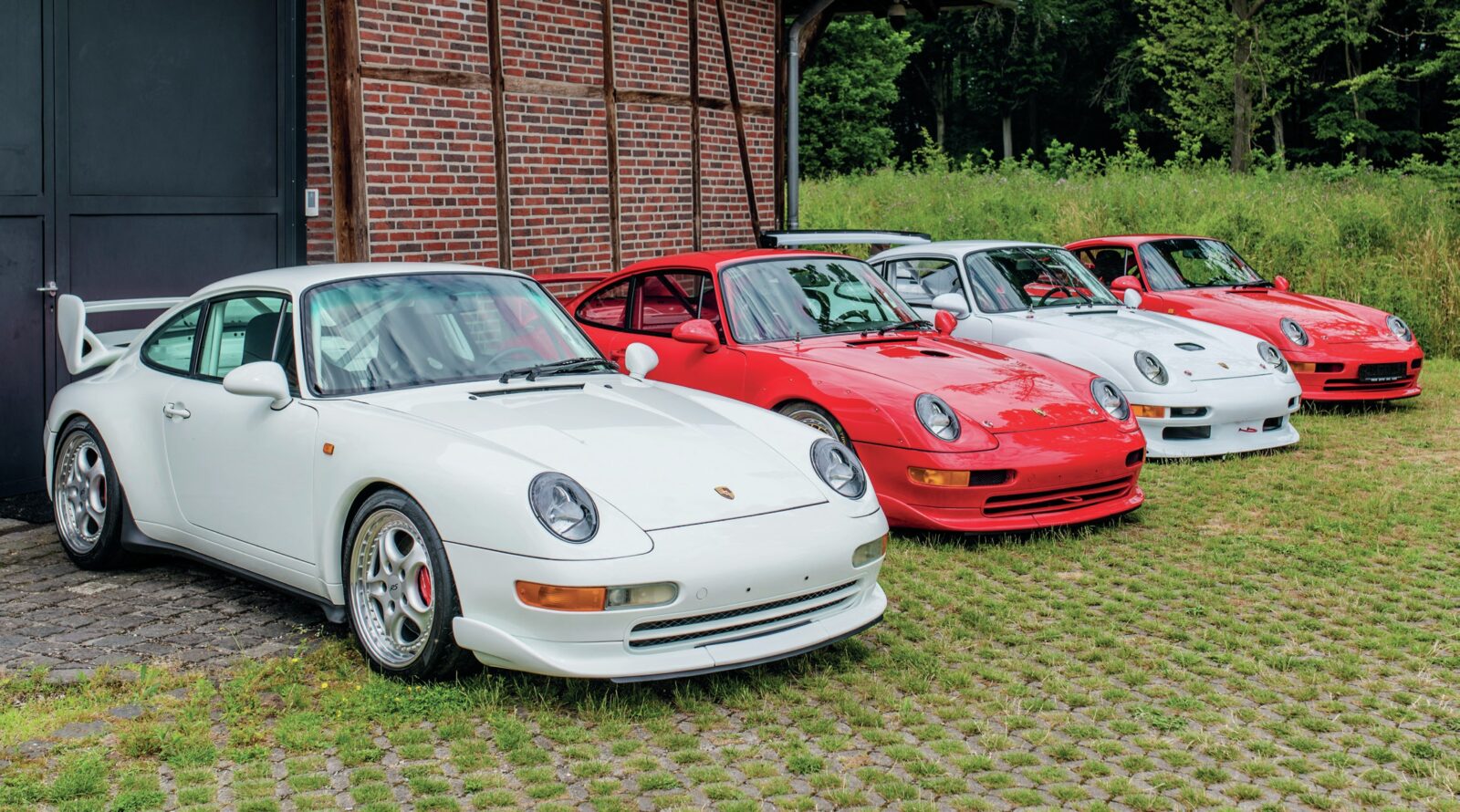 If you've always fancied an ultra-high-performance version of Porsche's legendary air-cooled swan-song, the 993, German dealer Jan B Lühn might leave you spoiled for choice with this remarkable quartet of examples which he's selling on behalf of a die-hard enthusiast who spent five years seeking out the best of the best. Not content with the regular coupé, cabriolet or Targa iterations of the perfectly-proportioned 993, he went on the hunt for the beefed-up RS and GT2 varieties in both road-legal and track-only forms – and the result is the so-called Leichtbau Collection (for 'lightweight') that you see here.
The most 'pedestrian' is a late 1995 RS model with the highly desirable M003 option code, which means it has Clubsport equipment. Only 217 of these cars were built, all featuring 300bhp flat-six engines with big valves, forged pistons and upgraded electronics. This one earned its Leichtbau label thanks to an alloy bonnet, race seats in the front, none in the rear, wafer-thin glass, minimalist door cards and reduced soundproofing.
Other Clubsport deletions include carpets, electric windows, air-con and the radio, while additions include a rollcage and the aero kit comprising front and rear spoilers, side skirts and an engine lid air grille.
The second car is one of just 21 GT2 Clubsports homologated for the international GT2 class – hence the 3.6-litre twin-turbo engine from the standard four-wheel-drive road car, but this is rear-drive only and, thanks to its lighter weight, can touch 190mph with acceleration to match. Despite being treated to a restoration costing £125,000 by Porsche Classic in 2014, the car has barely been driven and is said to be one of the best examples of its type in existence.
The remaining two 993s are track-only models, the first being a Cup 3.8 RSR – Porsche's 'off-the-shelf ' endurance racer that Lühn describes as "the last, truly hand-built 911". Just 30 were made, with this one being supplied new to the Zakspeed racing team which campaigned it from 1997-2000.
Finally comes a GT2 R which was the first of the 13 made in 1998 after the success of the original double Le Mans class-winning 450bhp models began to wane. As a result, this car boasts 485bhp, wider wheels, a revised aero package and better suspension.
Delivered new to Canadian endurance racer John Graham, it went on to enjoy a decidedly active racing life until 2000, competing everywhere from Daytona to Le Mans and chalking-up several podium finishes. Fully restored at Freisinger Motorsport in 2013, it remains – like the other cars in the collection – in superb condition.
Lühn is offering them all 'price on request' and they can be bought individually or as a ready-made collection. It all depends on how much of a 993 itch there is to scratch…
The Leichtbau Collection Porsche 911 993s
On offer individually or as a whole, price on request, with Jan B Lühn, Münster, Germany
janluehn.com