October 2021 auction results: The Wisdom of a replica C
Simon de Burton rounds up the month's notable sales, including a faithful Jag copy
2014 Realm Heritage C-type
Sold by H&H, £67,500
It may be 'just' a replica, but the new owner of this Realm C-type certainly shouldn't be embarrassed by that. The kits supplied by Realm Engineering are of excellent quality, but it was the attention to detail which made this one so special. Created in homage to endurance racer Tommy Wisdom's works-supported C-type, it featured a 4.2-litre engine with triple Weber carburettors to give an output of almost 250bhp. Completed in 2014, it had covered just 4,500 miles and remained virtually 'as new'. Had the body been made from aluminium rather than GRP it might have made double the money.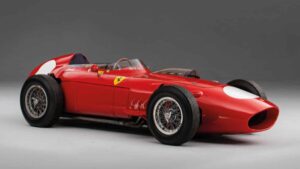 1950s Ferrari Dino 246/60
Sold by Bonhams, £967,000
This F1 car wasn't quite what it seemed. It was sent for scrap from the Maranello factory but ended up being sold as a collection of parts to an enthusiast. After years of inactivity, it has huge potential.
1968 Irwin Manx
Sold by RM Sotheby's, £18,300
Imitation may be the sincerest form of flattery, but it put Bruce Meyers out of business when everyone began copying his legendary Manx beach buggy. One of the more blatant was this, the Irwin Manx.
1950 Motoconfort Twin Engine
Sold by Bonhams, £9,200
Some go to great lengths to create unique vehicles, as this elongated bike shows. No one knows who thought it was a good idea to improve performance by adding an extra engine. The idea didn't catch on.
1976 Fiat 131 Abarth Rally Stradale
Sold by RM Sotheby's, £135,840
A trip to the shops might never be the same again for the buyer of this Fiat 131, which was one of 400 homologation models built to enable the marque's assault on the FIA Group 4 Rally Championship.
1928 Maserati Tipo 26B
Sold by Bonhams, £870,833
This spectacular racer was owned from new by Juan Augusto Malcolm, an Argentinian with Scottish roots. He was an accomplished racer but also prone to highly exaggerating his talents.
1977 Saab 96
Sold by H&H, £3,938
The next time someone tells you there are no more bargains to be had, point them towards this solid Saab 96 in factory finish Opalgrun. Ripe for conversion into a long-distance rally car, it was ready to go and, with its Ford V4 engine, easy to fix.
1931 Matchless Silver Hawk
Sold by Bonhams, £20,700
We all know how projects can get left on the shelf. That was certainly the case with this four-cylinder Silver Hawk that the vendor bought 36 years ago. Even so, it must have proved a good investment.
---
Forthcoming car sale highlights
RM Sotheby's, Auburn, Indiana
September 2-5
In addition to the vast array of cars and automobilia from the estate of late Ford salesman Glen Hague, this auction will now include three further, single-owner car collections including lots from the Cayman Motor Museum, one of which is a 1905 Cadillac Model F in virtually 'as new' condition.
H&H Imperial War Museum, Duxford
September 8
This sale includes a 1973 De Tomaso Pantera that was tuned to the max during the 32 years it belonged to a previous owner. The vendor bought it in 2012 after it had been left in storage, got it running and found it to be un-drivable on public roads due to its power. Now 'softened', this rarity could fetch up to £70,000.
Mecum, Dallas
September 8-11
A regular Mecum car auction is bigger than most – so this Texas effort was only ever going to be huge. The catalogue runs to more than 1000 cars, among which is a remarkable one-owner 1969 Ford Mustang Mach 1 with 24,000 miles on the clock – and paperwork right down to the original HP agreement.
Bonhams, Goodwood
September 18
Having pulled-off the Festival of Speed in tricky circumstances, Goodwood's competition crew will be back to organise the Revival – at which Bonhams will stage its usual sale. A full inventory is yet to be consigned, but anyone looking for a Lagonda 2-litre tourer is in luck. There are four 1929 examples.