1966 Dutch Grand Prix race report: Brabham beats them on the beaches
Jack Brabham wins his third race in a row using his own car as Jim Clark's Lotus hits reliability gremlins once again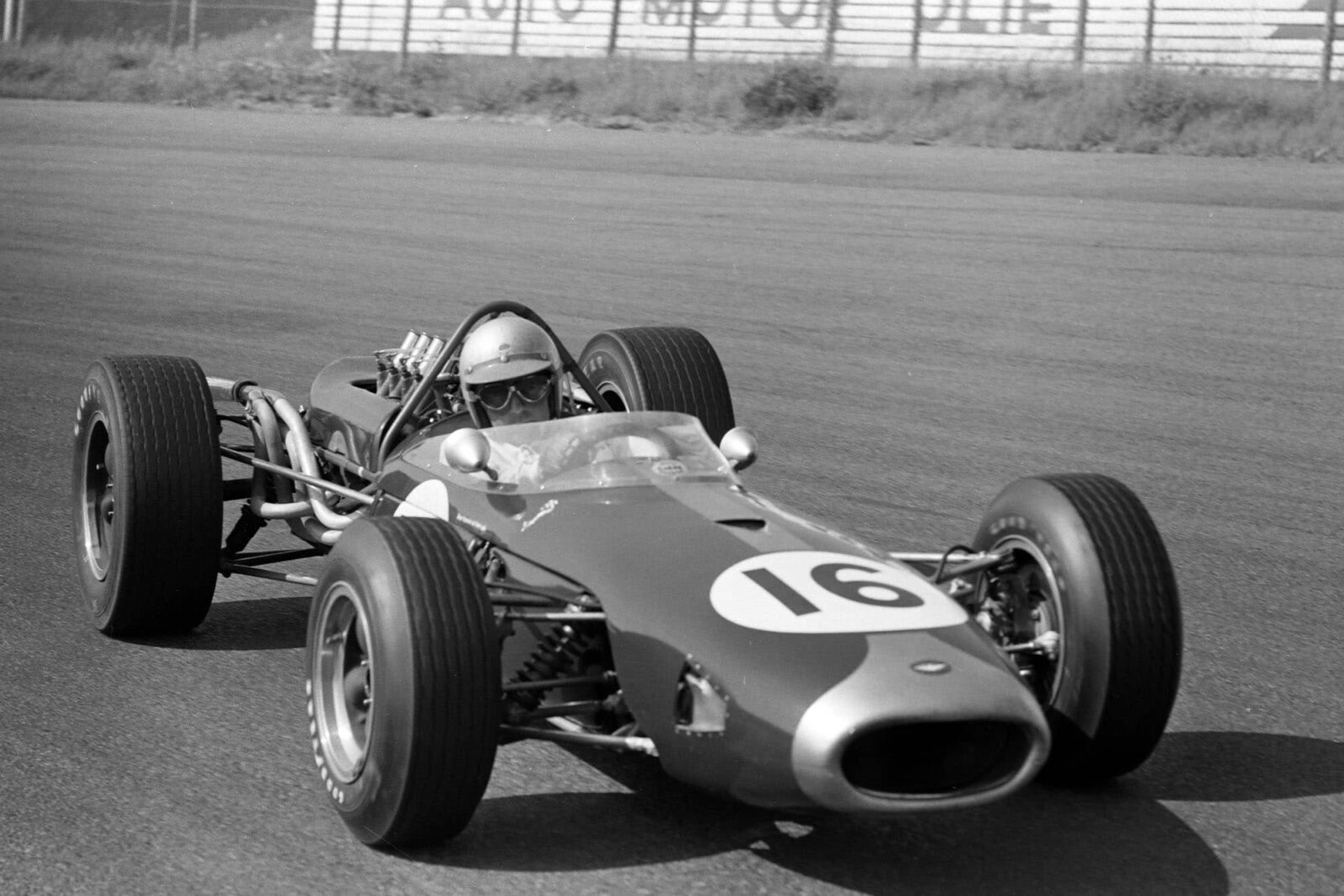 The rules of Grand Prix organisation call for a minimum length of time of one week between events and this is to prevent the holding of major races on successive weekends. Because the British hold their Grande Epreuve on a Saturday and the rest of Europe on Sundays it is possible for the Dutch to organise their event at Zandvoort on the following weekend to the British, the gap being eight days. This allows both races to be held at good spectator times without transgressing the rules, but it does mean that racing teams have nothing like enough time to prepare properly for the Dutch event, especially if they have to return to Italy between the two events.
This too tight schedule probably had some influence on Ferrari giving Brands Hatch a miss, for although the race days are eight days apart the cars and mechanics have to be in Zandvoort by Thursday night, ready for first practice on Friday morning.
In spite of this rush and 18-hour working days for the workers in the teams there was a full and representative entry for the Dutch race. Bandini and Parkes were in the 12-cylinder Ferraris they had previously raced at Reims, modified as regards the rear suspension uprights. The new ones have extra lugs cast on them for different positions for the top radius arms. The windscreens had adjustable deflector vanes on the top, the cockpits were upholstered in black. The front lower wishbones had been plated and there were tubular guards around the back of the gearbox to protect the fuel pump, battery and ignition coils.
Team Lotus were still restricted to one 2-litre Coventry-Climax V8, which was in chassis R14 for Clark, and Arundell had R11, with side-exhaust BRM V8 engine and BRM gearbox. Gurney was still using a 2.7-litre Coventry-Climax 4-cylinder engine in his Eagle but reports on the V12 Gurney-Weslake engine become more enthusiastic at each emission. The BRM team of Graham Hill and Stewart was restricted to two cars, the 2-litre central-exhaust Tasman cars, which they must have found a bit frustrating. The H16-cylinder cars had been withdrawn for improvements to be made to the gearbox.
Jack Brabham and his happy team had the two Brabham-Repco V8 cars that were so successful at Brands Hatch, and the old 4-cylinder car "just in case". Like the Ferrari team, the Brabham team was well organised and had no need to carry "excuses" with them, Brabham and Hulme had 3-litre cars and were ready to race them.
In contrast, the Cooper-Maserati team had sufficient cars and engines, but did not seem confident that they were organised for the Zandvoort circuit and had a programme of "tests" with them which they hoped to get through during practice, especially in order to get the cars to the liking of John Surtees, their new team leader; Rindt seemed happy enough. They had their three works cars, chassis 3, 6 and 7, the two latter cars having engines fitted with twin alternators in series to give the batteries a happier time.
Bruce McLaren's little team was a bit happier after finishing at Brands Hatch and the car still had the V8 Serenissima engine installed. The rest of the field was made up by private teams, Spence driving Parnell's Lotus R3 with BRM V8 engine, Siffert in the Walker-Durlacher Cooper-Maserati V12, Ligier in his similar car and Bonnier with his red and white Cooper-Maserati, all brand new after being rebuilt following the Spa crash. Anderson was in his Brabham-Climax 4-cylinder and John Taylor was driving David Bridges' Brabham-BRM V8 In the background was the MGM film-making circus, cameras in focus and paint-pot and dollar bills at the ready, to alter Grand Prix racing to suit their own ends.
Qualifying
Practice began on Friday morning but was not too successful as the rain came down, and as well as making the track slippery it dampened everyone's ardour. Last year Jim Clark set a lap record of 1min 30.6sec during the race and this time he was well on form, clocking 1min 30.9sec in the poor conditions. It is not often that Clark is off form and Zandvoort seems to have appealed to him over the years, for it is possible to make up for a slow car by driving ability, so that even though he had only 2 litres and about 230bhp, he was putting everything he knew into his driving.
Surtees was only a tenth of a second behind Clark, with one of the 3-litre Cooper-Maseratis, and driving in great form and enjoying the circuit was Mike Spence, who got round in 1min 31.6sec in Parnell's Lotus-BRM 2-litre. In the afternoon the weather improved and everything dried out so that serious practice could begin and the Brabham team really got down to business, both Brabham and Hulme motoring to good effect, having no problems or complaints and quickly getting below 1min 30sec. Remembering that Clark had done 1min 30.6sec in 1965 with 210bhp and 1 1/2-litres, it was reasonable to expect any driver of note to get below 1min 30sec with a 3-litre car, and those with 2-litre cars to equal 1min 30sec.
"Gurney was in great form and in spite of the limitation of his 4-cylinder Coventry-Climax engine in the Eagle he was driving with the sort of fury that was a joy to watch"
Gurney was in great form and in spite of the limitation of his 4-cylinder Coventry-Climax engine in the Eagle he was driving with the sort of fury that was a joy to watch, while Clark was doing incredible things with only 2 litres. Rindt was driving hard, as he always does, but Surtees was more intent on doing experiments than trying for any really fast laps, while Graham Hill was confounding himself and not getting anywhere, even though he had 40bhp more than last year and a 1965 car.
Stewart was hurling his car about in some lovely slides on the smooth surface, but could not get down to bogey time. The Brabham-Repco V8 cars were going splendidly and while Brabham was sitting quietly in the pits, having done some laps at well under 1min 30sec, Hulme was getting into the swing of things and reeled off a 1min 28.7sec.
Brabham went out after this and promptly did 1min 28.4sec, as if to show who was boss of the team, and these two rather overshadowed a fantastic lap by Clark which equalled Hulme's time. It was no surprise that Rindt got down to 1min 29.2sec, for he was really working, and Gurney's 1min 29.4sec needs no comment; it was Gurney at his best and showing that the Eagle lacks nothing in cornering ability. The two Ferraris were going well, but clearly lacked top rank drivers, though both Bandini and Parkes were doing their best, and the young Italian got down to 1min 30sec.
On Saturday the final practice was in the afternoon and before it began the film-makers were allowed a ten-minute session for Phil Hill to drive a camera car round the circuit and many competitors joined in, the two works BRM drivers and McLaren having a little scrap amongst themselves. At 3.30pm serious practice began and the film cars were swept off the circuit and hardly had things got under way than Bandini spun off on some oil and damaged his Ferrari, injuring his right hand slightly in the process.
Clark tried Arundell's Lotus-BRM very briefly and Rindt was out in Cooper number 3, which was the spare car, Surtees still working away on chassis number 6 to get things to his own liking. Parkes made up for the loss of his teammate's car by getting down to some good lap times, while Clark, Gurney, Brabham, Hulme, Stewart and Hill all got into the groove and broke the 1min 30sec barrier.
Gurney was really outstanding and nearly got himself on the front row of the grid, while Brabham went even faster than his best of the day before. Hulme was flat-out past the pits when a connecting rod broke and wrecked his Repco V8 engine and the trail of oil and bits took some clearing up, so that practice was held up for a time. The general pace was getting very fast and furious and apart from the Brabham team's disaster Surtees had his Maserati break in an expensive way as did the Serenissima engine in the McLaren, and while Rindt was having a real go his Maserati engine broke, with oil pouring out of the exhaust pipes as a result.
In the last four minutes of practice Hill and Stewart were out in the BRMs and Gurney joined them with his Eagle and disposed of them very effectively, showing the potential of the AAR car. By the time practice came to an end eight drivers had got below 1min 30sec and the first four rows of the starting grid had equalled or bettered the existing lap record, but the cost had been heavy and there was a lot of all-night work in store. Brabhams and Coopers had to fit new engines, Ferraris had to straighten out Bandini's car, and the unhappy McLaren team had to resign themselves to being spectators for they had no spare Serenissima engine and the breakage had been disastrous, writing-off one side of the engine.
Race
The 90-lap race was due to start at 2:30pm but all day there was activity, with Rindt running-in a new engine in the morning, a session for film-making and some national saloon-car racing. The film-making session was open to anyone who wanted to join in, the more racing cars in the background the better, so Coopers did some more running-in and Hulme took the opportunity to try his car, having had the spare Repco V8 engine installed. Just as he set off the reverse gear selectors got tangled up and locked the Hewland gearbox solid, the broken parts punching a hole in the side of the casing. Unperturbed, the Brabham lads, including Hulme, took the gearbox apart, replaced the broken parts, made an aluminium "pot-mender"-type of patch for the hole and stuck it all together with Honda "goo".
The Ferrari mechanics had straightened out Bandini's car as best they could, and the Cooper team had sorted things out by putting Surtees in chassis number 7 with the engine from chassis number 3, and putting a new engine in number 3 for Rindt to use. With McLaren a non-starter the film-makers had lost their white car, so Parnell let them paint Spence's Lotus-BRM to look like a McLaren, which is supposed to look like a Japanese car anyway (and Hollywood says it doesn't confuse things!).
"It was a perfect start, with wheels spinning, smoke rising and a great crescendo of sound"
In the British GP Spence wore a helmet looking like Mike Parkes', but this time it was yet another colour, representing a mythical driver, and some people actually enquired "what was car No. 32" and "who was driving it?" There were 17 cars ready for a warm-up lap and to line-up on the dummy-grid and there was a mild panic in the Cooper pits when Surtees arrived and wanted the left-front wheel changed as it seemed to he out of balance. In a rush a wheel was borrowed from the Walker team and Surtees was got to the grid in time. There were seven cars on Firestone tyres, six on Goodyear and four on Dunlop, while the petrol companies shared the entry in the proportions BP eight, Shell four, Esso four and Mobil one.
It was a bit after 2:30pm when the 17 cars moved towards the starting grid, everyone ready to go and overhead it was sunny, with the inevitable wind blowing off the sea; the circuit was rather rubbery and slippery from over-use. It was a perfect start, with wheels spinning, smoke rising and a great crescendo of sound as the front row led the drag-race down to the Tarzan hairpin, with Clark trying all he knew to make his 2-litre engine match the Australian 3-litre engines. He didn't quite make it, but got between the two Brabham-Repcos as they took the hairpin.
Brabham was away, but Hulme could not get past Clark, the Lotus driver not giving an inch, and for three laps Clark held second place, but then Hulme got by and he and Brabham worked beautifully together to put Clark in his place. It needed the two Brabham drivers with 3-litre engines to hold Clark down for he was on terrific form, but they managed to block him and hold him back, not lapping at anything like record-breaking speed, so that Graham Hill was able to close up on them and we had Brabham and Hulme setting the pace, closely followed by Clark and Hill.
Already there was trouble behind this quartet for Rindt had muddled a gear-change and spun off into the sand-dunes on lap three, and on lap 11 Parkes did the same thing at the same place and the Ferrari crashed into the abandoned Cooper-Maserati, doing considerable damage.
The situation at the front of the field did not change, though the slightest error by Brabham or Hulme would have seen Clark going by them, for he was not giving up the chase and it was only skilful manoeuvring by Hulme that was keeping Clark at bay. Parkes had held fifth place until he went off and behind him were Stewart and Gurney, with Surtees tailing along behind them. Bandini was being chased by Siffert, Spence, Anderson and Arundell, while Bonnier was lapped in only 11 laps.
On lap 17 the scene took a major change, for Hulme's engine went wrong with ignition trouble and he stopped at the pits and this left Brahham on his own against a really ruthless Jim Clark, who had got rid of Graham Hill. Behind them Gurney had dealt very effectively with Stewart, but his fourth place was short-lived as his engine was losing water and overheating and after stopping for water an oil pipe broke and the Eagle went out in a cloud of smoke. By driving right on the limit Clark was able to stay with Brabham and he was doing all he knew for he could see that they were going to lap some slower cars pretty soon and he realised it would be his only opportunity to outwit the crafty Australian.
After 23 laps they had made up a whole lap on Bandini, Siffert and Spence, who were still in a tight group, and on lap 24 the battling Brabham and Clark were on to Spence and Siffert and in the melee Clark got in front of Brabham to the huge delight of the Lotus fans. For two laps the five cars were in a group and Clark made the most of his opportunity and pulled out quite a lead while Brabham got held up by the slower cars.
Surtees was the next one to be lapped and the ruthless Clark forced his Lotus past the Cooper-Maserati, pushing Surtees on to the rough edge. This was Clark at his very best and even with 3 litres Brabham could do nothing about this sort of driving. Stewart was the next one to be lapped and Clark lost no time in doing it, each of these moves allowing him to gain a few more yards over the more cautious Brabham. By 40 laps Graham Hill was the only one not lapped by Clark and Brabham, and the Lotus had a lead of half the length of the long straight over the Brabham-Repco, and was maintaining it.
This inspired driving by Clark had completely overshadowed the rest of the happenings, but Spence was fighting a spirited battle with Bandini, and Surtees had practically given up, even being lapped by his ex-team mate. Hulme's trouble had been traced to the distributor unit and this was changed, but it meant a lot of work changing the drive gear. Spence was badly baulked by the slow-moving Cooper-Maserati of Surtees, and this allowed Bandini to get away, but a few laps later a front brake locked on and the Ferrari spun all over the road, which let Spence catch up and go by.
However, Bandini continued, and of the remainder Anderson, Ligier, Taylor and Siffert were all running steadily, with Siffert having dropped back due to a stop for water, and Bonnier was bringing up the rear. Hulme joined in again for some laps but was much too far back to do any good so he withdrew. Surtees had retired with a flat battery and a fault in the alternator system and Clark and Brabham were the only ones really racing, the two BRM drivers not being in the running at all, though they were third and fourth.
With the race two-thirds gone Clark suddenly looked over the back of his car as he braked for the hairpin bend behind the pits. He had felt a violent thump and a terrible roughness and thought a drive-shalt had broken; as he accelerated up the hill everything seemed to be working all right, apart front the roughness, so he kept going. What he didn't know was that the vibration damper on the front of the crankshaft had broken, it being located just behind his seat. More serious was the fact that the flying bits had fractured the water pump outlet and the coolant was leaking away.
Brabham was now closing relentlessly on the ailing Lotus-Climax, but Clark was holding off the inevitable moment by some more forceful driving and at 65 laps there was a fine traffic muddle as Clark lapped Hill, just as Hill was lapping Stewart, and Stewart was lapping Bandini. It all sorted itself out but Brabham was getting closer and closer and the Lotus was getting hotter and hotter. As Brabham caught the Lotus at the end of lap 75 and took the lead Clark was forced to stop and he arrived at the pits in a superb demonstration of truly accurate braking from high speed.
"Brabham was now closing relentlessly on the ailing Lotus-Climax, but Clark was holding off the inevitable moment by some more forceful driving"
Water was poured in but he lost a lap on Brabham, though he was still ahead of Hill when he rejoined the race. However, the damage was done and the Climax engine was cooked and all Clark could hope to do was to keep going to the end. Amidst all this excitement Anderson had to retire when a rear wishbone broke and at 83 laps Graham Hill passed the sick Lotus and took second place, but a lap down on Brabham, who was now all set for his third successive Grand Prix victory. Clark had to make another stop for water and it looked as if the Lotus might not keep going to the end.
By now he had dropped back to the same lap as Stewart and as a triumphant but hardworked Brabham got the chequered flag Clark was able to limp slowly in a few seconds ahead of Stewart, although the timekeepers took over an hour to be convinced of the fact. In the closing laps Siffert had been forced to retire out on the circuit and Bonnier had caught and passed Ligier, though the timekeepers were convinced he had caught and passed Taylor as well. Confidence in them had been shaken at the beginning of the race when they credited Hulme with fastest lap on the second lap, even though the leaders were lapping some seconds slower.
Everyone was very happy for yet another win by the 3-litre Brabham-Repco V8 and Jack Brabham had really had to work for this one. Clark was undoubtedly the moral victor and had the satisfaction of knowing that he was still the number one driver in Grand Prix racing even if he does not have the number one car any more.
Zandvoort Zayings
There were some happy smiles in the paddock afterwards, notably on the faces of Fred Gamble of Goodyear tyres, Geoff Murdoch of Esso petrol and oil, and the Brabliam team.
The KNAC were also smiling, they had recorded 78,000 paying customers, all of whom must have seen their moneys-worth of real motor racing.
Arundell's BRM engine died on him out on the circuit and after checking every wire he could see he couldn't find the fault and walked back to the pits. Oil had got on to the ignition pickups on the flywheel, underneath the car, and he didn't know about these.
Spence drove a fine race and Tim Parnell's Lotus-BRM didn't miss a beat. Perhaps it was the cinema disguise that gave the car its speed and reliability.
The BRM team were singularly unimpressive, apart from being reliable, but let's hope they can get the 16-cylinder cars going soon and throw away the Tasman cars, which seem to waste a lot of effort.